Every year, at some point between February and July, you'll see national media outlets unveil their Position U rankings. It's like clockwork.
The Buckeyes have a strong case at several positions based on the studs to come through Columbus in recent years. They could have a strong case at just about every single position – especially DBU.
One position at which Ohio State is almost never mentioned? Quarterback. Truthfully, the Buckeyes don't have any reason to claim QBU. Their only first-round NFL draft pick at quarterback since 1983 – Dwayne Haskins – got benched by the Washington Football Team earlier this year. Plenty of mid-round picks never got their professional careers off the ground, including Troy Smith, Craig Krenzel, Cardale Jones, Joe Germaine and Bobby Hoying. Two of the most recent Ohio State signal-callers to get drafted – Terrelle Pryor and Braxton Miller – played wide receiver in the NFL.
Ohio State isn't QBU to the people who create lists. Going by the traditional definition, the Buckeyes aren't even close. There hasn't been enough success at the NFL level.
However, with Ryan Day at the helm, Ohio State actually is viewed as QBU to the people who matter most: High school quarterbacks.
Quinn Ewers, the nation's top-rated quarterback and second overall recruit, just hammered that point home by committing on Thursday evening. The elite of the elite want to play quarterback for the Buckeyes, and that's what matters most. Not debates about subjective lists in the offseason. All that ultimately matters is how the best young quarterbacks judge college programs, and quite clearly, Ohio State is right at the top with Oklahoma and Clemson fighting alongside them for the title.
Creating QBU at Ohio State has been a stated goal of Day's for a while. Back in the summer, he talked about it openly. He doesn't hide from the long-term goals he wants his quarterbacks to bring with them to Columbus.
"If a quarterback's coming here, they're coming here to be in the Heisman Trophy conversation and winning a national championship and be a first-round draft pick," Day said this week. "If they can't beat out the guy who's here, how are they going to go become a Heisman Trophy winner and a first-round draft pick? And it's all about competing, and I get it. If guys want to play, then maybe Ohio State's not for everybody. The guys who come here, they want to be great."
None of this happened by accident.
Well, except for the beginning of Ohio State's path to QBU. That, in fact, wasn't planned.
The Buckeyes intended to bring in Tristen Wallace in the 2016 recruiting cycle. But he decided to play wide receiver, so they revisited Maryland commit Dwayne Haskins and, because then-assistant coach Mike Locksley wasn't going to be around anymore, Haskins flipped to Ohio State. Unbeknownst to anybody at the time, that was the first domino that led Ewers, six recruiting cycles later, to view the powerhouse in Columbus as QBU.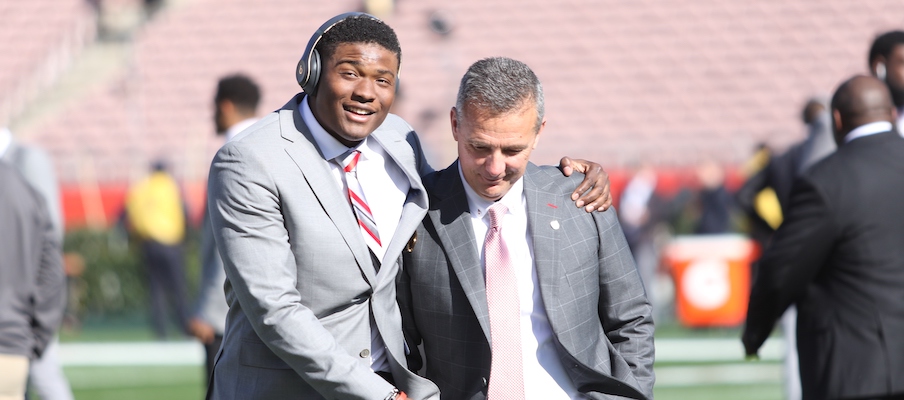 Urban Meyer hired Day as co-offensive coordinator and quarterbacks coach a year later, unknowingly bringing in his eventual successor. Jack Miller committed the next summer. Haskins played himself into a Heisman Trophy finalist nod. Day was named the next head coach, and the path to QBU suddenly came into frame.
Justin Fields, specifically referencing Haskins' success under Day as a reason, transferred to Ohio State. Tate Martell and Matthew Baldwin both transferred, and Haskins got picked in the first round of the 2019 NFL Draft. By the end of the year, Fields became a Heisman Trophy finalist as a first-year starter and Ohio State added a pair of five-star quarterback commitments – from Kyle McCord and CJ Stroud – while holding on to Miller's pledge.
On Thursday, Ewers' commitment was the latest sign of what's been evident since Fields left Georgia for Ohio State in what he called a "business decision." He's in line to be the second-highest rated prospect to sign with the Buckeyes in the modern recruiting era.
You've seen the domino effect work all over this roster in the recent past. 
It happened at defensive end where Larry Johnson brought in the Bosa brothers, followed by Chase Young, then landed Zach Harrison, secured Jack Sawyer and became the favorite for J.T. Tuimoloau. With Kerry Coombs at cornerbacks coach in the mid-2010s, the Buckeyes quickly built momentum with Bradley Roby and Eli Apple getting picked in the first round, soon becoming the top spot for the nation's best cornerback recruits, sending Gareon Conley, Marshon Lattimore, Denzel Ward, Damon Arnette and Jeff Okudah into the first round with Shaun Wade possibly next in line.
Once a position coach at Ohio State gets things rolling, high schoolers will eye them as the best talent-developer at a given position and flock to them. That's what's happening at quarterback right now. With Day a second-year head coach and Corey Dennis a first-year position coach who's unlikely to leave anytime soon, this has the potential to just be the beginning.
The Buckeyes aren't QBU the way many people define it. There's no long lineage of standout NFL quarterbacks who once suited up for the Buckeyes. 
But who cares? 
All that truly matters to Ohio State is whether top-rated high school quarterbacks all over the country see the program's position room – led by Day and Dennis – as the place the best of the best at their position compete for national titles and Heisman Trophies before becoming first-round NFL draft picks, and that's exactly what Ewers' commitment signifies is happening.