For the first time since any of them have arrived at Ohio State, the three quarterbacks who are competing for this year's starting job – Jack Miller, C.J. Stroud and Kyle McCord – threw passes that were televised live for the world to watch during Saturday's spring game.
Saturday's spring game also marked the final opportunity for those quarterbacks to make an impression in an actual football practice for more than three months, as the spring practice season is now over and preseason camp won't start until August. 
The quarterback competition will continue then. Even though spring ball is now over, Ohio State doesn't plan to name a starter yet, as Ryan Day still wants to see more from the quarterbacks this summer before he makes that decision.
But while Day and the other coaches probably won't acknowledge it publicly, it's unlikely the quarterbacks are exiting spring on truly equal footing. Every single pass they've thrown this spring has been evaluated, which should give the coaches a preliminary idea of who their best option – or at least their two best options – could be for the 2021 season.
We don't have access to all of the practice film from this spring, and we don't have a polygraph to know what Day is truly thinking about his three quarterbacks – he's effectively said nothing publicly about how they compare to each other – but we are able to rewatch the spring game and evaluate how all three quarterbacks passed the ball in that setting.
The spring game is just one "piece of the puzzle," as Day said Saturday, and their performances in that game will be far from a sole determinant in who tops the depth chart. Yet it's the only opportunity we'll have to watch the three potential starting quarterbacks throw over the course of an entire game or practice before the Buckeyes open their season on Sept. 2 at Minnesota. With that in mind, we've charted every pass each of them threw on Saturday and gleaned what we can from how they performed.
Below, every pass that Miller, Stroud and McCord threw are charted based on how many yards each pass was thrown beyond the line of scrimmage (or where the intended receiver was if the pass was batted down), though the yards listed are how many yards the passes gained. (Note: The statistics have been adjusted to account for passes that were not included in the official box score, that should not have been included in the official box score because they were whistled dead and that did not list the correct yardage for the play.)
Our look at the quarterbacks' performances from Saturday, which we've compiled in the order in which they entered the spring game, begins with second-year quarterbacks Miller and Stroud and concludes with McCord.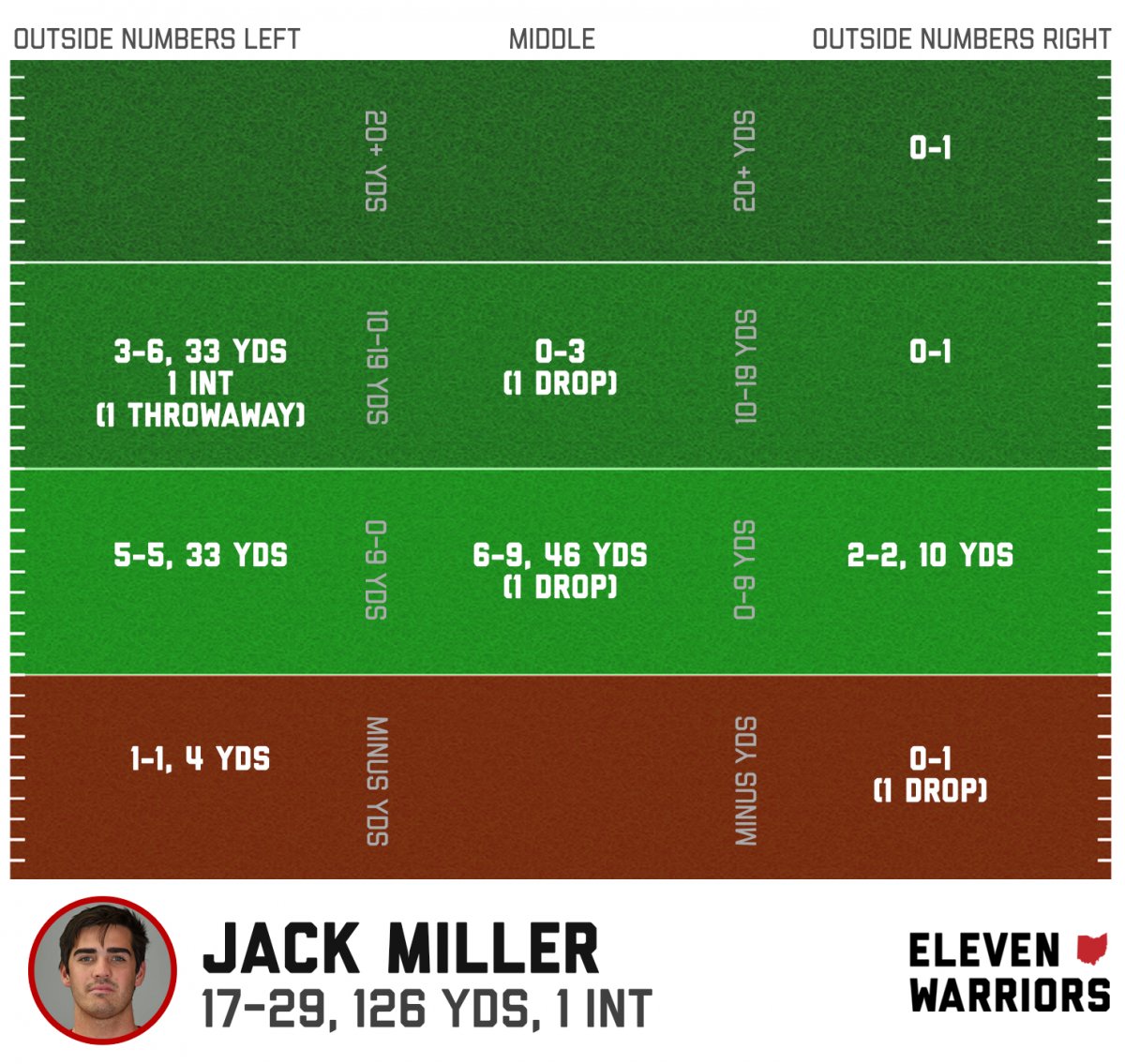 Throw 1: 10-yard curl on right hash dropped by Jameson Williams
Throw 2: 11-yard comeback to Williams near left sideline where only Williams could catch it
Throw 3: 7-yard hitch to Garrett Wilson on left sideline
Throw 4: 5-yard hitch to Cade Stover over middle
Throw 5: 5-yard hitch to Sam Hart over middle for 7-yard gain
Throw 6: 10-yard comeback to Wilson on left sideline just inside boundary
Throw 7: 25-yard deep ball to right sideline intended for Jaxon Smith-Njigba goes out of bounds with tight coverage from Cameron Martinez
Throw 8: 8-yard curl to Smith-Njigba on left side numbers
Throw 9: 15-yard pass up left sideline intended for Wilson into tight coverage, intercepted by Ryan Watts
Throw 10: Misses behind Emeka Egbuka on 15-yard drag over middle
Throw 11: Pass intended for Marvin Harrison Jr. thrown into double coverage at left sideline, knocked down by Lathan Ransom 12 yards downfield
Throw 12: 5-yard drag thrown slightly behind Chris Olave at left hash and dropped
Throw 13: 6-yard hitch to Smith-Njigba just inside left hash for 9-yard gain
Throw 14: Rolling right, throw over Smith-Njigba's head on 15-yard drag to right sideline
Throw 15: Swing pass dropped by Pryor
Throw 16: 10-yard comeback to Harrison near left sideline for 12-yard gain
Throw 17: 5-yard quick out to Pryor over middle going left for 11-yard gain
Throw 18: Pass knocked down by Jacolbe Cowan at line of scrimmage
Throw 19: 2-yard hitch to Harrison outside left numbers for 6-yard gain
Throw 20: 8-yard comeback to Harrison at left sideline
Throw 21: Sawyer hits Miller's hand as he throws, knocks pass down
Throw 22: 4-yard hitch to Harrison at left sideline
Throw 23: Swing pass left to Henderson goes for 4-yard gain
Throw 24: 4-yard hitch to Henderson over middle to convert 3rd-and-4 goes for 12-yard gain
Throw 25: Pump fake, rolls right and checks down 2-yard pass to Henderson just inside right numbers
Throw 26: Moves right in pocket off RPO, misses high and behind on 16-yard pass intended for Xavier Johnson over middle
Throw 27: 6-yard out to Jayden Ballard at right sideline for 9-yard gain
Throw 28: Rolls left, throws pass away with no one open
Throw 29: 1-yard flat route right to Evan Pryor
Analysis: Although Miller played the most snaps (40) and completed the most passes (17) on the highest number of attempts (29), he had the fewest passing yards (126) among the three scholarship quarterbacks on Saturday. The reason why: He didn't complete a pass farther than 11 yards downfield all day, while 14 of his 17 completions found their receiver eight yards or fewer beyond the line of scrimmage.
Miller threw the day's only interception of the opening drive of the spring game, when he tried to toss a 15-yard touchdown to Garrett Wilson up the left sideline but paid the price thanks to strong coverage from Ryan Watts. He came close to throwing another interception on his second series of the game, when he tried to fit a pass to Marvin Harrison Jr. in between double coverage, resulting in a Lathan Ransom pass breakup.
Miller was accurate throwing the ball on short passes. Three of his 12 incompletions came on dropped passes, while two of his passes were knocked down by defensive lineman and one was a throwaway out of bounds when no receiver came open. While he made a couple of questionable decisions throwing into coverage, there weren't many examples of Miller throwing the ball far off-target.
The fact that Miller went 0-for-4 on pass attempts of 15 yards or more, however, leaves unanswered questions about his deep passing ability. That's not to say he can't make plays downfield, but most of the plays called for him in the spring game were short passes, and he wasn't effective on the few occasions where he did look to throw long.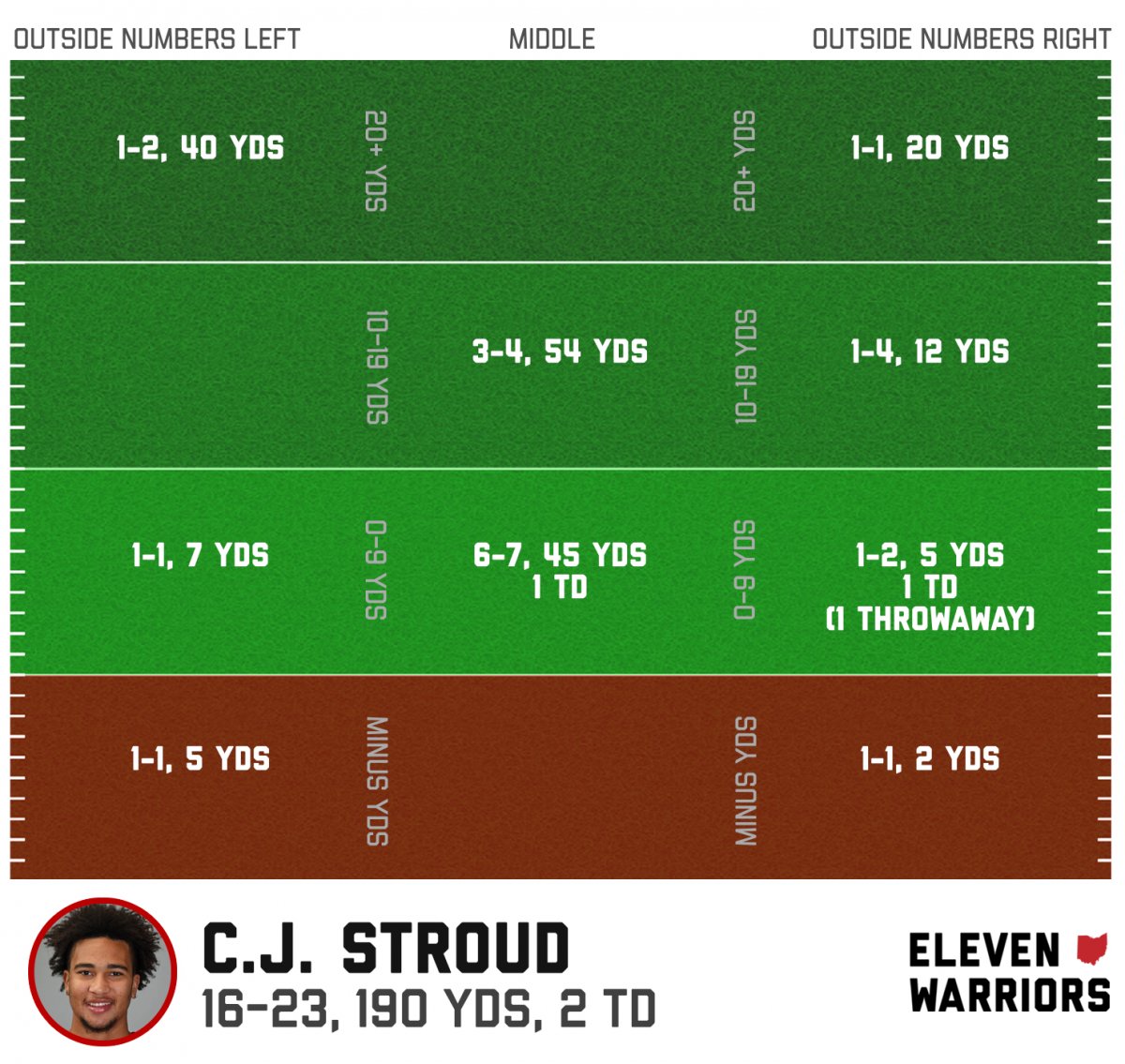 Throw 1: Hit by Taron Vincent as he throws, completes 20-yard drag to Egbuka near right sideline
Throw 2: 40-yard deep ball up left sideline complete to Olave, who makes jump-ball catch over Demario McCall
Throw 3: Swing pass left to Miyan Williams for 5-yard gain
Throw 4: 5-yard slant to Harrison inside right hash for touchdown
Throw 5: Throws ball away out of bounds after Zach Harrison and Javontae Jean-Baptiste force him to run to right sideline
Throw 6: 5-yard hitch to Smith-Njigba between right hash and numbers goes for 8-yard gain
Throw 7: 5-yard drag to Egbuka between left hash and numbers goes for 12-yard gain
Throw 8: 20-yard deep ball up left sideline intended for Mitch Rossi broken up by Craig Young
Throw 9: 7-yard out to Harrison at left sideline
Throw 10: 12-yard comeback to Olave at right sideline
Throw 11: 8-yard hitch to Egbuka up right hash
Throw 12: Incomplete 5-yard hitch to Rossi over middle with tight coverage from Tommy Eichenberg
Throw 13: 15-yard post corner to Rossi out of bounds with Eichenberg in coverage again
Throw 14: 5-yard drag route to Egbuka over middle goes for 10-yard gain
Throw 15: Rolling right, out to Olave halfway into end zone near right sideline for 5-yard touchdown
Throw 16: Rolling right, misses high and wide on 15-yard comeback to right sideline intended for Jameson Williams
Throw 17: Swing pass right to Miyan Williams for 2-yard gain
Throw 18: 11-yard curl to Jameson Williams at left hash
Throw 19: Rolling right, overthrows 15-yard pass to Egbuka outside right numbers
Throw 20: 18-yard drag to Egbuka just inside left numbers goes for 31-yard gain
Throw 21: Rolling right, 10-yard curl to Egbuka between right hash and numbers goes for 12-yard gain
Throw 22: 2-yard drag to Jayden Ballard outside right hash
Throw 23: Underthrows Sam Wiglusz on 15-yard throw between left hash and numbers, hits him in feet
Analysis: Stroud demonstrated his ability to make a wide variety of throws on Saturday, completing at least one pass into nine of the 12 different zones on the passing chart.
His two longest completions came on his first two throws of the day. On his first play in the game, Stroud delivered an accurate strike to Emeka Egbuka 20 yards downfield outside the right numbers despite being hit by Taron Vincent (even though he was wearing a black non-contact jersey) as he threw. On the very next play, Stroud delivered an accurate 40-yard deep ball up the left side of the field that allowed Chris Olave to make a leaping grab over Demario McCall.
Stroud also showed his ability to throw with touch in the red zone by completing a pair of 5-yard touchdown passes to Harrison and Olave – the second of which looked quite similar to Justin Fields' touchdown pass to Olave on his first play back in the game after the big hit he took in last year's College Football Playoff semifinal against Clemson.
The second-year quarterback from California didn't make any obvious bad decisions or throw any interceptions or near-interceptions while completing more than two-thirds of his passing attempts, including six of his 11 pass attempts thrown more than 10 yards past the line of scrimmage.
He showed the ability to extend plays outside of the pocket and throw on the run, though he was inconsistent with his accuracy on those throws. Three of his incompletions came when he was on the move rolling to the right side of the field, but all of them landed harmlessly out of bounds.
Altogether, Stroud looked the part of a future Ohio State starting quarterback, only strengthening the perception among many that he is the frontrunner in the competition.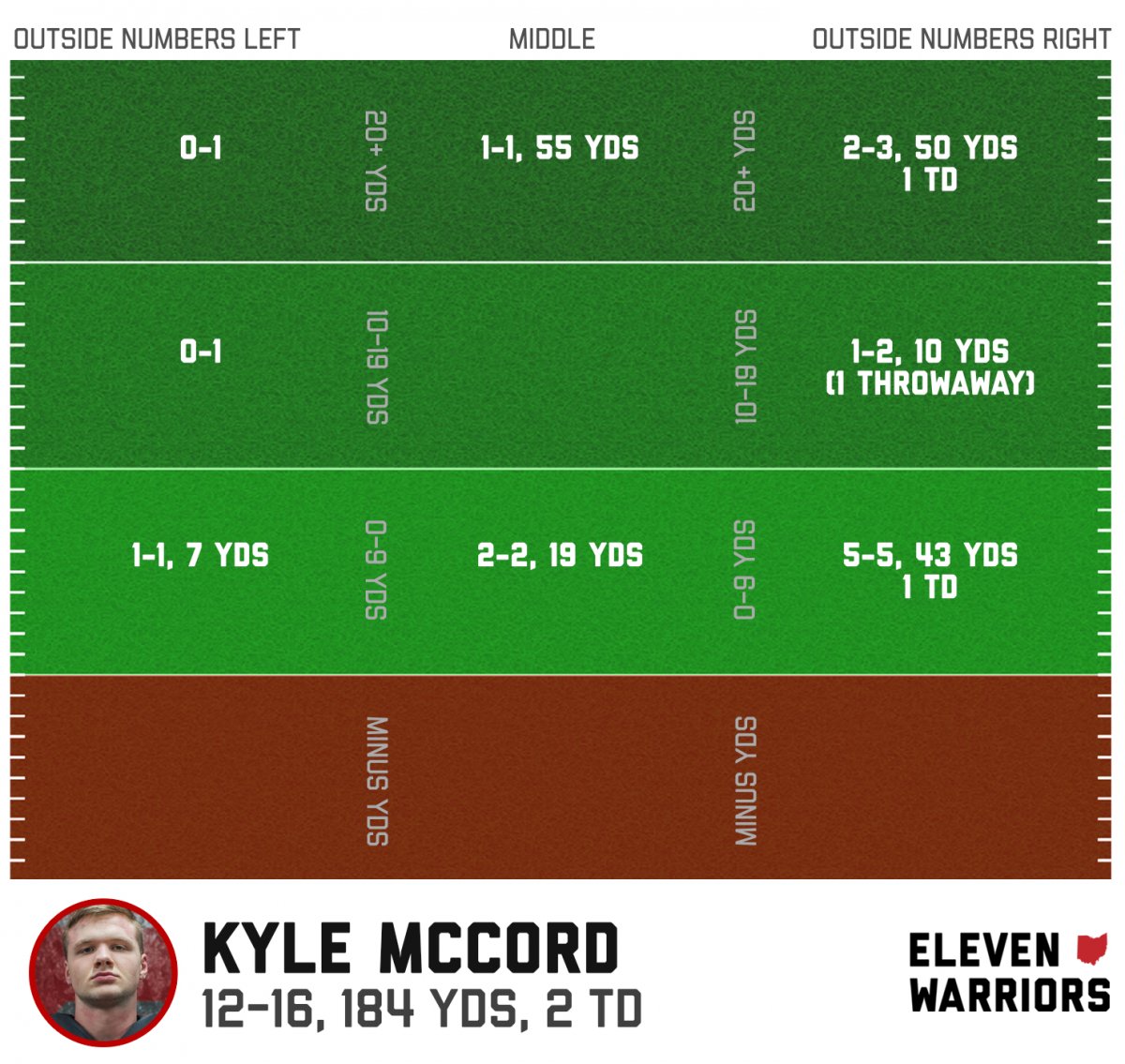 Throw 1: Play action, 55-yard deep ball complete to Wilson over two defensive backs down the middle
Throw 2: Overthrows Smith-Njigba on throw to back left end zone from 19-yard line
Throw 3: 8-yard hitch to Harrison outside right numbers
Throw 4: Nearly completes deep ball to Harrison Jr. between two defensive backs 40 yards downfield up right sideline, but throw comes up slightly short
Throw 5: 7-yard out left to Henderson out of backfield off play action
Throw 6: Apparent miscommunication with Jameson Williams off play action, 15-yard throw out of bounds right near nobody
Throw 7: Rolls right out of the pocket under pressure, checks down to Henderson with 4-yard pass to right sideline to convert 3rd-and-2
Throw 8: 5-yard hitch over middle to Marcus Crowley out of backfield for 9-yard gain
Throw 9: 10-yard comeback to Wilson at right sideline
Throw 10: 9-yard wheel route to Crowley for 12-yard gain up right sideline
Throw 11: 5-yard hitch to Smith-Njigba for 10-yard gain
Throw 12: 15-yard fade intended for Stover to left sideline incomplete out of bounds, but where only Stover had a chance to catch it with Ronnie Hickman in tight coverage
Throw 13: Fade to Smith-Njigba to back right corner of end zone for 15-yard touchdown past tight coverage from Martinez
Throw 14: 2-yard swing pass right to Crowley for 7-yard gain
Throw 15: 20-yard corner route to Egbuka at right numbers, pass slightly behind but caught for 35-yard gain
Throw 16: Play action, rolls right, 3-yard pass to wide open Joe Royer on flat route outside right numbers for 12-yard touchdown
Analysis: McCord made the best throw of the entire spring game on his first-ever snap in Ohio Stadium, when he launched a 55-yard deep ball between two defenders to connect with Wilson for the day's longest play.
He arguably had the second-best throw of the day, too (though that honor might actually belong to walk-on quarterback Jagger LaRoe's game-ending touchdown pass to Sam Wiglusz). McCord capped off his third drive in the game by connecting with Jaxon Smith-Njigba on a well-placed fade to the back right corner of the end zone for a 15-yard touchdown, beating tight coverage from Cameron Martinez on a throw that went nearly 30 yards through the air.
The five-star recruit was also sharp on short passes, completing all eight of his attempts within 10 yards of the line of scrimmage. His only major error of the day came when he overthrew an open Smith-Njigba on what would have been a 19-yard touchdown, which led to his opening drive finishing without points despite the deep ball to Wilson that got Team Buckeye into the red zone.
McCord's grasp of the playbook was also evident, as Day dialed up a wide variety of his plays for his 16 passing attempts, including several play-action throws. He didn't throw outside of the pocket as much as Stroud, but did complete a couple of short passes rolling right, including one to a wide-open Joe Royer that resulted in a 12-yard touchdown.
McCord played the fewest snaps of the three scholarship quarterbacks on Saturday (27 to Miller's 40 and Stroud's 36), and that's probably because the other two quarterbacks have been at Ohio State for a year longer than he has. Yet he showed more than enough passing ability, without making the mistakes one might expect from a true freshman, to make his case that he deserves real consideration in the starting competition.