With Justin Fields now preparing to play in the NFL, Ohio State fans got their first opportunity to watch his potential replacements throw the ball in Ohio Stadium on Saturday.
If the early returns were any indication, there's reason to believe the Buckeyes' passing offense will be in good hands once again.
Both C.J. Stroud and Kyle McCord, in particular, were impressive in Saturday's spring game. Stroud completed 16 of his 22 passing attempts for 185 yards and two touchdowns, while McCord completed 12 of his 17 passing attempts for 184 yards and two touchdowns. 
The talent of Ohio State's loaded receiving corps was on full display, too. Chris Olave skied over Demario McCall to catch a 40-yard deep ball from Stroud. Garrett Wilson made a leaping grab in traffic to snag a 55-yard deep ball from McCord. Jaxon Smith-Njigba made an acrobatic catch in the end zone for a 15-yard touchdown. Freshman wideouts Emeka Egbuka and Marvin Harrison Jr. both made their cases for immediate spots in the rotation as Egbuka caught seven passes for 123 yards while Harrison caught seven passes for 49 yards and a touchdown.
CO2 @chrisolave_ // @OhioStateFB pic.twitter.com/RMnEy98EBX

— Ohio State on BTN (@OhioStateOnBTN) April 17, 2021
Circus catches for @GarrettWilson_V aint hard, but you already know that.#GoBuckeyes pic.twitter.com/kcbE0GTNkn

— Ohio State Football (@OhioStateFB) April 17, 2021
Art.@jaxon_smith1 @kylemccord16 pic.twitter.com/7H5WaylQcX

— Ohio State Football (@OhioStateFB) April 17, 2021
Sure, Saturday was just a spring game, and the rules of the game – which included no tackling and no hitting the quarterbacks – gave the offense an advantage. But you have to consider that Justin Fields went just 4-of-13 in his only spring game as a Buckeye and Dwayne Haskins was 9-of-19 in the spring game before his season as the starting quarterback, and how successful they went on to be.
Stroud and McCord looking as sharp as they did on Saturday, when both of them were consistently accurate throwing the ball and made few glaring mistakes, is exactly what you want to see from a pair of young potential starting quarterbacks. Ryan Day indicated after the game that he saw his quarterbacks make the same kinds of plays throughout the Buckeyes' 15 spring practices over the last four weeks.
"We've seen a lot of things that guys have flashed," Day said. "And there's a lot of positive things happening."
Day also followed that up by saying Saturday was "just a very small glimpse at a bunch of guys taking some reps," and that there's a "body of work" that still needs to be built up between now and the Sept. 2 season opener at Minnesota. It should also be noted that many of Ohio State's top defensive backs did not play in the game, including Sevyn Banks, Cameron Brown and Marcus Williamson, and the fact that the Buckeyes' quarterbacks combined to complete 50 of their 75 passing attempts for 572 yards probably wasn't what Kerry Coombs wanted to see after his passing defense gave up more than 300 passing yards per game last season.
Nothing is more important to Ohio State's national championship chances than the emergence of another elite quarterback, though, and both Stroud and McCord – despite how young both are, as Stroud is a redshirt freshman while McCord is a true freshman – looked the part on Saturday.
Redshirt freshman Jack Miller remains in the competition, too, and we don't know specifically how he fared in comparison to the other quarterbacks over the course of the entire spring, but he didn't perform as well on Saturday. Miller threw for the fewest passing yards (128) on the most completions and attempts (17-of-30) with no touchdown passes and the day's only interception.
While there's a huge difference between playing in a spring game where you know you're not going to get hit and playing at Minnesota and against Oregon in the first two games of the regular season, the arm talent of both McCord and Stroud was apparent on Saturday as they demonstrated the ability to sling the ball downfield, with three pass completions of 15-plus yards each.
And then there are the wide receivers, some of whom we already know are elite (Olave and Wilson) and some of whom demonstrated why they could soon be elite themselves (Smith-Njigba, Harrison and Egbuka).
Harrison could have been mistaken for his father, Pro Football Hall of Fame wide receiver Marvin Harrison, with how well he ran routes and got open on Saturday. And Egbuka showed why he was a five-star recruit as he consistently made plays out of the slot, including two catches that went for more than 30 yards.
Emeka Egbuka showing the athleticism and hand strength that makes him a special talent and someone who has a bright future in Columbus. pic.twitter.com/u2m6zOCsR0

— Land-Grant Holy Land (@Landgrant33) April 17, 2021
@CJ7STROUD @MarvHarrisonJr #GoBuckeyes pic.twitter.com/V5V7x5KUF3

— Ohio State Football (@OhioStateFB) April 17, 2021
Day indicated that each of them – who both lost their black stripes this spring – and fellow freshman receiver Jayden Ballard, who had two catches for 11 yards in the scrimmage, had been showing that playmaking ability all spring before Saturday, too.
"I'm impressed with all the young guys. I think Marvin, Emeka and Jayden have all shown that they have the ability to play this season," Day said. "Now, they're nowhere near where they need to be. They've got a long way to improve over the next couple of months. But bright future there, I think."
Having so much talent at wide receiver, plus one of the nation's best tight ends in Jeremy Ruckert, is another reason to be confident that Ohio State will have a starting quarterback that can get the job done this fall – as the Buckeyes don't need that quarterback to try to do too much by himself.
"Somewhere along the line, when the game's coming down to the fourth quarter, yeah, they're gonna have to make plays," Day said. "But we're hoping early on that with the talent that's around the quarterback that if he can just kind of keep the offense moving and get the ball into the right skill players' hands and keep the chains moving, that that's a great start."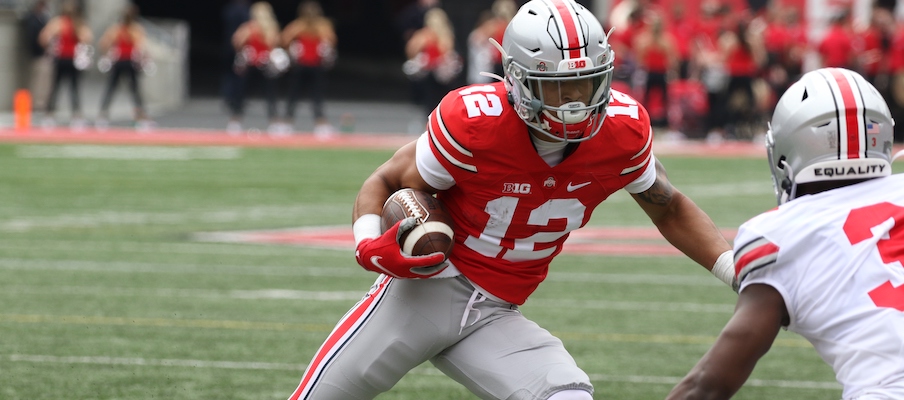 We probably won't know for sure until some point in August – or perhaps not even until the season opener begins – who will be Ohio State's starting quarterback this fall. Stroud has been the perceived frontrunner all spring, and his spring game performance only strengthened that, but McCord also showed why he deserves continued consideration in the competition.
That said, left tackle Thayer Munford – another reason, along with right tackle Nicholas Petit-Frere and the rest of Ohio State's talented offensive linemen, why there's reason to be optimistic about the Buckeyes' 2021 offense – said he'll be confident no matter which quarterback Day and Corey Dennis pick to lead the way.
"I feel very comfortable with all of them," Munford said. "I believe that whoever's gonna be behind me in the fall is going to do tremendous."