It's a game day during his senior season, and in the hours leading up to kickoff, C.J. Stroud unlocks his iPhone, taps it to play the song that motivates him most and begins getting his mind ready on a Friday night playing for Rancho Cucamonga High School.
Whether a home or away game, it's always the same song that allows him to zone in — Meek Mill's "Wins and Losses" pounding into his ears, as he envisions scrambling for a 37-yard rushing touchdown and tossing an 80-yard touchdown pass in California's Division 2 state semifinals.
Listening to this song is an all-day routine on game days for the blue-chip quarterback, but the final minutes before kickoff are when those lyrics and beat create its biggest impact. 
He stands in the locker room, shoulder pads and helmet on, and watches as a Cougars assistant coach motions to the team and yells "Three minutes! … Two minutes! … One minute!..." before he walks to the field with his teammates.
A sampling of those lyrics:
You have to eat the dream, you have to sleep the dream, you have to dream the dream … you have to see it when nobody else sees it / Mama told me if you fall, never stay down / Stand up, I can never lay down / Wins and the losses, it come with being bosses...
Those three minutes are when Stroud gets goosebumps, the chills heavy enough that even six weeks after the final high school game of his career – on a beautiful early January afternoon on a San Antonio practice field in preparation for the All-American Bowl – there are still thrills in his voice as he talks about it. 
"I play my song, and I go crazy," Stroud says. "I go out, and I got this look on my face. … I start thinking about my life and think about the things I've been through, and I just go out there and play. All the things I've gone through. And I'm doing it for my mom and my brothers and my sisters; my family at home. Just those things."
Before Stroud won MVP at The Opening Finals last July, kick-starting one of the fastest national recruiting rises in the country, jumping him from three-star to five-star prospect in a matter of months… 
Before he led Rancho Cucamonga through the forest of an 0-4 start to six straight wins and an improbable playoff berth and first-round upset win as a junior, and before he threw for 3,878 yards and 47 touchdowns as a senior, taking the Cougars to their deepest playoff run in three years with that semifinals appearance… 
Before he was offered a scholarship by more than a dozen major college football programs, including Oregon, Georgia, USC, Michigan, Baylor and Ohio State… 
Before all of that, Stroud was a kid, angry and confused about the adversity hitting him while growing up under rough circumstances in Southern California.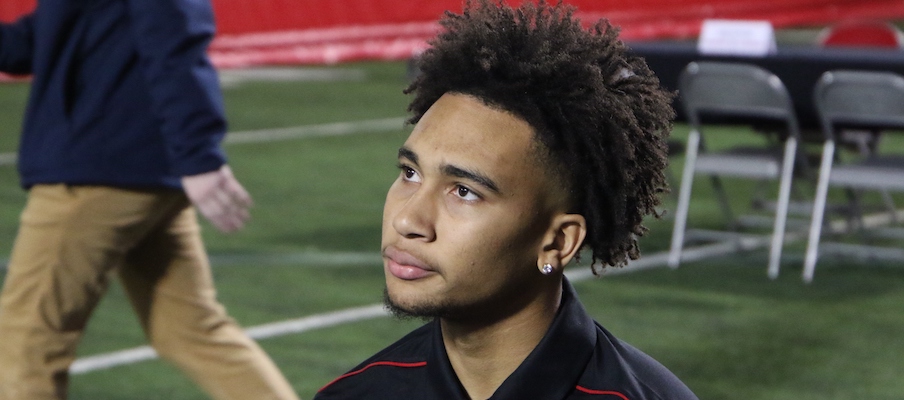 So years later, after making it through some of the darkness, as his Beats by Dre headphones pump those lyrics and adrenaline into his body and brain, Stroud thinks of his freshman math teacher who, when Stroud told him he was going to play in the NBA or NFL, grabbed a marker and on a dry-erase board wrote the number "0.078," representing the tiny percentage estimate of high schoolers who move on to play professional sports. ("Now," Stroud says, "he's, like, my biggest fan.")
He thinks of his mom, Kimberly, the mother of four – Isaiah, Asmar, Ciara and the youngest, C.J. – who was so impactful that one of his future goals, hopefully after reaching the NFL, is to start a charity for single mothers and have his own mini ESPN "30 for 30" documentary. One that would show other kids who may be going through the same things as he did that there are success stories born from the dark times. 
He thinks of his dad – his best friend and the man who taught him how to play basketball and how to play quarterback, putting both sports into his life at the age of 5. He thinks of that man who means so much to him and whom he "loves to death" and is still close with but now has to have most conversations with through the phone – ever since his dad was taken away to prison when C.J. was still in middle school.
There are countless other past experiences Stroud remembers from his days growing up in Los Angeles that he saw or heard that he doesn't wish to share. Not yet, anyway. He doesn't feel ready to talk about them, but he says he will one day. It's important to discuss them so that he can show others they can emerge from what they're going through, too. 
"It's typical stuff, but it's hard. It's hard," Stroud said. "People read it and are like, 'Oh, that's a regular black kid's story.' But it's not. It's really hard. You go through things you don't wanna do and see things you don't wanna see. You can't eat. It's little things like that, that people don't know.
"My life has been like a roller coaster. It's been up and down. I've been through hell and back. I've been through so much in my life. … I was young. I was a kid when this stuff happened. I had to grow up early. I had to grow up really fast."
"if I can scratch and claw through life and the things that I've been through, football will take care of itself."– Ohio State quarterback C.J. Stroud
Stroud doesn't discuss the specifics of things that happened, and he doesn't have to in order for us to understand the importance of his past. It was those experiences that shaped him into someone who, well, let's have him explain it if he can… 
"I can't explain it. But I get chills whenever I'm competing. I get a grit to me," Stroud says. "I'm angry – I'm not angry, but it's like, I'm at your neck. I don't care who looking or who watching. I'm not (gonna) be disrespectful to nobody. I'm gonna be a good teammate, but I'm a competitor. When you go through those things, it makes you scratch and claw."
So fight he did, finding solace in something that had wavered tremendously: his faith. 
He says something in him snapped, and he started reading the Bible more, going to church and praying every day. At a make-or-break time in his life, faith is what kept him afloat.
"The only thing that keeps me grounded is God," Stroud said. "It's something that you can't really explain. You just feel it in your heart. He sends you signs and shows you things. You pray every morning. Whenever I pray, my day doesn't go bad. That's why I'm so big on God because I could've been dead in a ditch right now.
"I could've been still in the streets, or I could've never been playing football. I could be doing something – I could be in jail right now. You never know what could happen in a young black man's lifestyle. But God, he won't tell you really, exactly what to do – but he'll open that door for you to be able to put your feet in the water and see what things are like. I think that's what he did with my life."
Growing up in rough circumstances produced Stroud's fight-for-every inch, battle-for-every-penny competitive drive, and those circumstances turned him to faith. And in the same way he believes God has been his leader, leaning on his faith is what helped foster what Stroud believes is his "natural-born" ability to lead. 
---
The All-American Bowl is a mostly meaningless exhibition game – though it did give Ohio State fans a brief glimpse, in one drive down the field, of Stroud's run-pass versatility and his calming touch in the midst of chaos:
C.J. Stroud showed his elusiveness on two runs and this scramble, though it falls incomplete on fourth down pic.twitter.com/CdEMwnZrdt

— Zack Carpenter (@Zack_Carp) January 4, 2020
But the bowl's main purpose for the future Buckeyes who traveled down there was to further establish bonds, and for Stroud and receivers Gee Scott Jr. and Jaxon Smith-Njigba, it was a major moment for them to continue building what had begun last summer at The Opening Finals in Texas.
"We instantly bonded (at The Opening)," Scott told Eleven Warriors in early January, discussing him and Stroud's friendship. "I even vividly remember feeling a weird feeling. This was before he was even a commit. I felt like telling him, 'Man, you're gonna be a Buckeye. I can just feel it.' Randomly, right when we met, we started having a deep, spiritual conversation for some reason. We started talking about God and how some people are a certain way.
"And then the first day, everybody has some free time to go and hang out, and we actually decided to stay on the field and actually get some timing down. Why not throw around a little bit? I liked where his head was. That was before The Opening even started."
On the field, Stroud says his connection with Scott was "automatic," and throwing with Julian Fleming, "was like the easiest thing ever. He's amazing." He didn't get to throw with Smith-Njigba, but he says "Jaxon was so easy to get to know."
The pair went out to eat while in Texas, got tighter during their trip for the Michigan State game in October (Scott, Fleming and Lejond Cavazos, another quick bond at The Opening, visited that weekend as well), and when Stroud decided to commit to Ohio State, his already firm brotherhood with those guys played a critical role. 
Fast forward to January, when Stroud and Smith-Njigba finally began throwing together and each looked at the bowl practices as the time to see if they could establish a connection. 
Mission accomplished. 
For two days, Stroud was slinging the ball seamlessly to Smith-Njigba, like they had been throwing together for years, and the two gained momentum among national analysts for being arguably the most impressive quarterback and most impressive receiver on either the East or West teams. And then, in his last rep of the day in one-on-one receiver drills, Smith-Njigba rolled his ankle and went down in pain. Of course, there was Stroud, literally having his receiver's back, his arm wrapped around the bottom of Smith-Njigba's shoulder pads, helping him to get up and limp off the field.
Because that's what leaders do. They rush in.
"You can tell he's already stepping into that leader role, and I love it. That's what he needs to do," Smith-Njigba told Eleven Warriors two days after sustaining the injury. "We've already had these conversations, like, he's got my back through anything, and I've got his back through anything. Same with Gee Scott. Same with the rest of the guys. 
"Me and him, specifically, we sat down, and he's like, 'I got you on anything.' And he knows I got him on anything. He's there for me. He cares for my health. He doesn't just see me as a receiver that catches balls. He sees me more as a person and a brother."
Stroud's teammates love him. This process is in the infant stages, but it's already becoming apparent they have some loyalty to him and have respect for him. It's obvious to say, but intangibly the most important characteristic for a quarterback to have is the ability to lead and for that loyalty and respect from teammates to follow. 
It was clear to see the belief Justin Fields instilled in his teammates when he heaved bombs as part of a Heisman-worthy highlight reel, or when he got popped on dives into the end zone before standing up, emotionless, and walking off the field without even a tiny sense that the hits bothered him. Or when Michigan linebacker Cameron McGrone hit Fields out of bounds late, and Branden Bowen sprinted over to get in McGrone's face to send a message of you don't mess with our quarterback.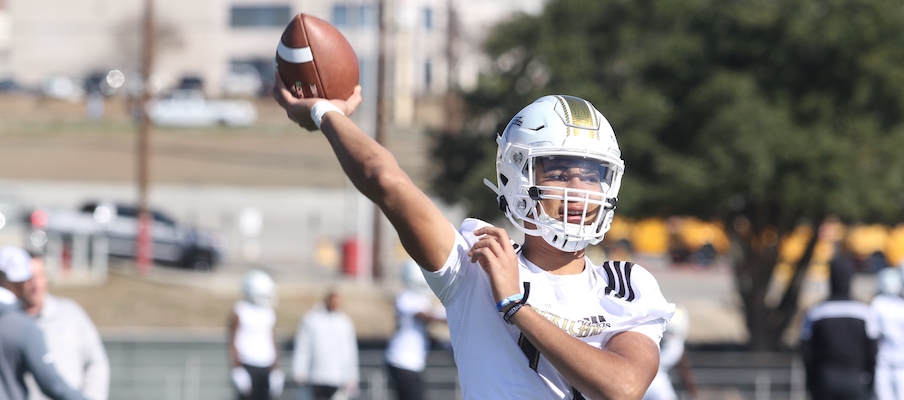 It was clear to see the love Fields' teammates had for him when he huddled his receivers, quarterbacks and running backs and hit the Woah, or performed other types of dance moves, following final pregame warmups at the Shoe. Those things sound trivial when you read them, or even when writing them. But they're not. They do matter.
Again, there's obviously a long way to go here. Stroud has to get it done on the field, in workouts and film sessions for all of this to mean something more. He has to get better, stronger and continue proving himself. But you can't help having the feeling that the on- and off-field comparisons between him and Fields have a true chance of being justified one day.
Standing in front of Paris Johnson Jr. in a Texas hotel ballroom, trying to get a stronger sense of why Johnson and his other soon-to-be teammates unintentionally start flashing big smiles on their face when talking about Stroud as a person and player, it was the massive offensive lineman who possibly gave the most subtle, but important, insight into Stroud. 
"Him and Dwight McGlothern are the funniest guys I've ever met in my life," Johnson said of Stroud and the 2020 LSU cornerback signee. "I feel like he's gonna add something not only as a leader, (but also) as an athlete and as a person. He's gonna add a lot of humor."
So he's a comedian, too?
"Oh, he's just the funniest," Johnson says, pausing to look in the air, laugh and clap his hands together. "He's funny at, like, comparing people to what they look like. He saw (Clemson defensive line signee) Bryan Bresee, right? They were having this banter between each other, and C.J. was like, 'That's why you look like Big Hero 6.'"
So he's really quick with trash talk and roasts like that?
"Yeah!" Johnson shouts, eyes widening. "He's like boom-boom-boom. It's so funny. And Ryan Watts, C.J. says he looks like Chris Bosh. It's out of nowhere. He's so quick. You'll say something, and he's like boom-boom-boom. It's so funny. He's cool. He's energetic. He's the funniest."
Moments later, there's Stroud, walking up to Johnson – about an hour after Johnson had been named the All-American Bowl Man of the Year and Offensive Lineman of the Year – and shouting "Yessirrrr!" before dabbing Johnson up and bellowing "Congratulations, boy!"
"He's a great person," Johnson says after Stroud has walked away. "Comes from a great family. I'm excited that he's joining Ohio State."
That was the second time an interview involving Stroud was interrupted. Flash back to Stroud answering questions on the practice field earlier that day, when an Ohio State fan – possibly the parent of another Buckeye recruit – walks up and says with heartfelt sincerity:
"Everything they say about him and write about him, it's not enough."
But maybe this is a start. And maybe we're seeing the beginning stages of what the next great Ohio State quarterback will look like. But Jack Miller – and eventually Kyle McCord – will obviously have something to say about that. 
We've gone 2,502 words without mentioning Miller, and there's a reason for that. The story of Stroud possibly becoming a Buckeye star cannot be told without Miller, and it's certainly possible Miller earns that spotlight instead.
But the stories of the impending competition between Stroud and Miller have been written, and there will be dozens more written over the next two years or so – and with good reason; they're both terrific talents, high-rated recruits who will fight to start at the sport's most important position. When McCord arrives, it will add another layer to those stories.
For now, though, this is Stroud's story, and it feels like one that we may look back on as the start of something special. Although the truth is, the beginning of Stroud's story came a long time ago, and that beginning came with hard times when life almost fell off the rails.
"It's just that some circumstances in my life went the wrong way, but I wouldn't change any of this for nothing," Stroud says. "It taught me so much. It taught me how to not take things for granted. It taught me how to love people and taught me what compassion is. It taught me so much that I would never, ever wanna go back. I've been through a lot, but I would never wanna go another way."
There can be beauty in the pain of life's struggles. It's impressive that at just 18 years old, Stroud already understands that.
"I look at it like this – if I can scratch and claw through life and the things that I've been through, football will take care of itself," Stroud said. "I've been competing my whole life so I'm not worried about it."