SCOTTSDALE, Arizona – Jack Miller wasn't going to go back on his word.
When Miller committed to Ohio State on July 1, 2018, he made up his mind that he would be the Buckeyes' quarterback of the future. And that didn't change even when it became apparent that Ohio State also wanted to add C.J. Stroud to its recruiting class of 2020.
Ohio State hadn't signed the first quarterback to commit to one of its recruiting classes since Joe Burrow became a Buckeye in 2015, and when the Buckeyes' pursuit of Stroud ramped up over the past year, speculation began of whether Miller would follow in the footsteps of Tristen Wallace, Danny Clark, Emory Jones and Dwan Mathis and also decommit.
Miller, though, stood firm in his commitment to Ohio State, just as Ryan Day and the Buckeyes did in their commitment to signing him. He understood that the Buckeyes needed to sign two quarterbacks in 2020 in order to get back to their desired number of four scholarship quarterbacks on the roster, and he wasn't going to turn his back on the class he helped build.
"I feel like it's just who I am as a person," Miller told Eleven Warriors during a December interview in his hometown of Scottsdale, Arizona. "I feel like I can never just decommit from somewhere after I've poured myself into there and recruited other guys to come there with me. I feel like I just couldn't walk away from that. 
"I feel like if you say you're gonna do something, you do it and you go."
Although Miller was Ohio State's primary target for most of the 2020 recruiting cycle, earning an offer from the Buckeyes while he was still just a freshman in high school, Stroud is no secondary option. He's ranked as the No. 41 overall prospect in the class of 2020 – nearly 300 spots ahead of Miller – after soaring in 247Sports' composite rankings over the past year.
Miller wasn't going to run away from competition, however. He's still confident that he'll be Ohio State's next starting quarterback after Justin Fields, and he's looking forward to the opportunity to show what he can do alongside Stroud.
"They told me they were gonna probably offer somebody else and take somebody else, and I told them 'Take in whoever you want, I'll beat him out, I'm not worried,'" Miller said. "I love competition, I love competing. That's really what I thrive off of, that type of setting, so I'm excited to get up there. It was never a question whether I was gonna go to a different school."
The loyalty Miller showed to Ohio State throughout the recruiting process, even after the retirement of Urban Meyer (who Miller has known since the Buckeyes' 2016 trip to the Fiesta Bowl, when they stayed at the Fairmont Scottsdale Princess, the resort where his father is the general manager and his family lives) and the Buckeyes' pursuit of Stroud, made an impression on Day, who's excited to watch Miller and Stroud compete now that they're both on campus as early enrollees.
"Jack is somebody that has been committed all along," Day said on Dec. 18 after Miller and Stroud both signed with the Buckeyes. "He was loyal from the get-go. I watched him throw when he was 16 years old, and I saw something in him, and he never wavered, either. And I think he's got a chance to be a really good player."
"I feel like if you say you're gonna do something, you do it and you go."– Jack Miller on honoring his commitment to Ohio State
At 6-foot-4 and 215 pounds with proven passing ability from a high school career in which he threw for 9,440 yards and 115 touchdowns, Miller will bring both a strong competitive drive and natural athleticism to Columbus. Miller has exhibited those qualities for many years, and not only on the gridiron; in fact, Miller actually briefly considered pursuing a career in golf before choosing to focus his attention on football.
"I played like every day one summer, and got pretty good," said Miller, who grew up playing at TPC Scottsdale and has shot under-par for 18 holes. "But I'm glad I picked football. Golf was pretty fun, but I like team sports, and to be honest, I like getting hit and feeling accomplished every once in a while hitting people. I've always loved it."
As a freshman at Scottsdale Christian Academy, Miller quickly emerged as one of the top quarterback prospects for the class of 2020 by throwing for 3,653 yards and 53 touchdowns, setting state records for Division 2A. When Miller committed to Ohio State before his junior season at Chaparral High School, where he transferred after his freshman season, he was ranked as the No. 47 overall prospect in the class of 2020.
Miller's junior season at Chaparral was shortened by a torn MCL, while he missed part of his senior season with a separated shoulder, and he was also hampered at last year's Elite 11 Finals by a back injury. As he played in just 15 combined games over his final two high school seasons, his rankings from recruiting services fell. Those injuries happened in part, though, because of a trait he shares with Fields: toughness, and a desire to play until he physically can't play anymore, though he realizes he needs to be smarter about that going forward.
"If I would've came out of the game when I knew I hurt my shoulder, I would've been back in a week. Instead, I stayed in, dove in the end zone for a touchdown and separated it even more, had to sit out for three months," Miller said. "My knee, I also didn't come out. Fourth play of the game, I was running the ball and I took a helmet to my knee and tore my MCL, and I thought I was fine so I didn't tell anybody the whole game … if I would've came out then, I would've probably been back in two weeks, but most of my injuries have happened because of me trying to prove something I don't have to."
Miller is healthy now, and looking forward to the opportunity to participate in spring practices, where both he and Stroud will have the opportunity to compete with Gunnar Hoak to be Ohio State's No. 2 quarterback in 2020 – a competition that could ultimately set the stage for 2021, when Miller, Stroud and 2021 Ohio State commit Kyle McCord will likely be competing to succeed Fields as the Buckeyes' next starting quarterback.
None of those quarterbacks will make it easy on each other to win that competition, and while Miller is confident in himself, he's looking forward to being teammates with Stroud and McCord too, having spent time with Stroud at the Elite 11 Finals (where Stroud won the entire competition) and McCord at the Rivals Five-Star Challenge.
"I think it'd be awesome," Miller said of competing with Stroud and McCord. "We're all super competitive guys, and I think we're all incredibly talented at throwing the football and to really just play football, so it's gonna be a good competition."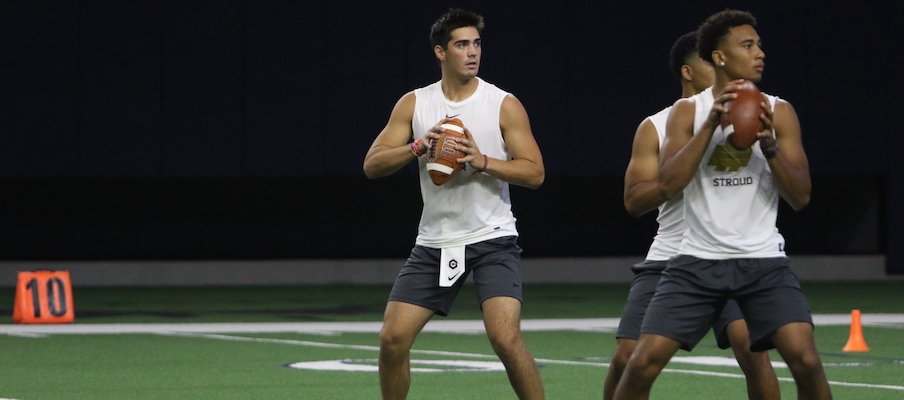 That said, it's not in Miller's nature to want to take a back seat to anyone. So he begins his Ohio State career with his sights set on climbing the depth chart as quickly as he can.
"I feel like you have to have the mindset that says, 'I'm better than you and I'm gonna do my job to my best ability and you're not gonna stop me,'" Miller said. "You have to be able to thrive under pressure."
On the field, Miller describes himself as a "traditional quarterback with the ability to escape and run when needed." He's a pass-first quarterback who admits he won't be mistaken for Fields in the running game, but he still has the ability to make plays with his feet, as he demonstrated by rushing for 1,397 yards and 14 touchdowns in his high school career.
In that respect, Miller's skill set falls somewhere between Fields and that of Fields' predecessor Dwayne Haskins, but one reason why Miller chose to become a Buckeye is because of how effectively Day adapts Ohio State's offense to whoever its quarterback is.
"His football mind, how much he knows about football and how smart he is, I think it shows every single Saturday that he's a genius, and that's who I wanna play for, that's who I wanna get developed by," Miller said of Day.
"I feel like you have to have the mindset that says, 'I'm better than you and I'm gonna do my job to my best ability and you're not gonna stop me.'"– Jack Miller on his approach to competing for Ohio State's future starting quarterback job
Because of how early he emerged as a high-profile recruit, Miller is used to being in the spotlight, which he believes will help him as he begins his career as an Ohio State quarterback. He'll also lean on his family, and the lessons they've taught him growing up, to help him guide him through his journey as a Buckeye.
"My parents have always taught me to be humble and stay grounded and stay with your roots and just don't really get too far ahead of yourself," Miller said. "I feel like that's really helped me a lot throughout this whole process."
At the same time, Miller recognizes that there's an even bigger spotlight that comes with potentially being a future starting quarterback at Ohio State, and he won't know exactly what it's like to be in that position until if and when that time comes.
He just knows he wants to be ready to seize that opportunity when it comes his way.
"I don't know if there's a way to really prepare for it, man," Miller said. "I feel like I've kind of already been pushed into it a little bit my whole life, but nothing really compares to what it's about to be like. So we'll see. I have a really good support system, so I'll take it on."