NORWALK, Ohio – Among Ohio State's 14 midyear enrollees for the recruiting class of 2020, Trey Leroux stands out in multiple ways.
For one, he stands out because of his size. At 6-foot-8 and more than 320 pounds, he's the largest player among the Buckeyes' new crop of freshmen, and that size is one reason why Ryan Day and his staff went two hours north to Norwalk, Ohio to recruit Leroux to Columbus.
He also stands out because while each of the Buckeyes' other 13 early enrollees are top-350 overall prospects according to 247Sports' composite rankings for the recruiting class of 2020, Leroux is ranked outside the top 1,000. That's led some people to question why the Buckeyes recruited him over higher-ranked prospects, and why Leroux would choose Ohio State when he might have a clearer path to playing time elsewhere.
Leroux, however, isn't one to back down from a challenge – or an opportunity to play for his dream school.
"I've always loved competition, so that's no problem," Leroux told Eleven Warriors in an interview at Norwalk High School after signing with Ohio State in December. "But it's more than just me playing. Being a teammate, being a part of something great like Ohio State is even better."
Leroux received scholarship offers from several other Power 5 schools before Ohio State, including Kentucky, Purdue and West Virginia, but once he received his offer from the Buckeyes, he didn't hesitate to accept it. That offer came after Leroux visited the Buckeyes for a spring practice last March, and he committed just three days later.
Upon receiving the offer, Leroux immediately discussed it with his family, and they all agreed that Ohio State – not only for the opportunity he would have on the football field, but everything else the university has to offer, as well – was the right choice for him.
"We talked about what the university would do for me, whether it was a great idea for my major, going into early childhood education," Leroux said. "And you look into athletics, academics, everything like that, and the culmination of everything led to Ohio State."
One might think Tony Leroux would have wanted his son to go anywhere but Ohio State. After all, the elder Leroux had been a Michigan fan since he started watching football.
That said, Tony Leroux never wanted his personal fandom to have any influence on his son's college decision. And once he met Ryan Day for the first time, he felt good about the possibility of Trey becoming a Buckeye.
"We met him for the first time during Urban Meyer's suspension, we went to the first game (in 2018)," Tony Leroux said. "We met Day that day and I mentioned to my wife, I said, 'Now listen, if this dude's the coach, I'm OK with him coming to Ohio State. This guy's great.'
"Coach Day was on a phone call, there was players running around everywhere (in the Woody Hayes Athletic Center), and Coach Day stopped right in the middle of what he was doing," the elder Leroux added. "He said, 'Hey, I have to go, the Lerouxs are here.' He hung up his phone call, gave my wife a hug. It was unreal to me that he took that time."
At that time, Leroux didn't have an offer from Ohio State yet. His recruitment by the Buckeyes didn't really pick up until Day succeeded Meyer as head coach following the 2018 season, though he did have an early supporter in Ohio State offensive line coach Greg Studrawa.
"He's been the one guy from the first time we went (to Ohio State) to the last time that we went that we always felt that he is in Trey's corner," Tony Leroux said. "When Urban was there, Trey was in Urban's office and Coach Stud said 'Can I offer him now? Can we offer him now?' It's the first time that they mentioned interest in him and whatever. But since the beginning, Coach Stud's been in Trey's corner."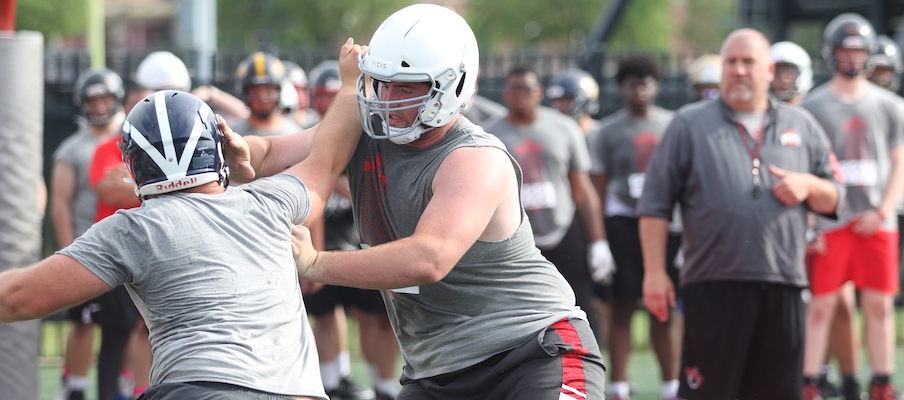 If there was any doubt that Ohio State valued Leroux's place in the class of 2020, Day erased that on Dec. 8, when he visited Leroux's Norwalk home just hours after getting back from Indianapolis – where the Buckeyes had played in the Big Ten Championship Game the night before – and learning that the Buckeyes would play Clemson in the College Football Playoff semifinals.
Had a great home visit with Coach day! @OhioStateFB @ryandaytime pic.twitter.com/aRfqzsn5WR

— Trey Leroux (@trey_leroux) December 8, 2019
"It meant a great deal to my family and I that he took time out of his busy schedule, of course with everything going on, that he saw us, especially being one of the first guys," Leroux said. "He's absolutely a family man. When he says tough love, he means it. Anything that he says is what he truly feels. There's no hiding it."
As for Tony Leroux, the longtime Michigan fan will now soon have an image of an Ohio State helmet tattooed on his arm. Two years ago, he got a tattoo of a set of lockers paying homage to each of his sons – including his older sons Keyan, who is in the Air Force, and Tche, who plays for Bowling Green – and soon, the helmet above Trey's locker will be filled in with Buckeye leaves.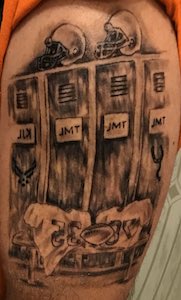 "I always liked Toledo also, so my son chooses Bowling Green and my other son, I'm a Michigan fan and he chooses the Buckeyes. So I'm starting to think that they don't trust me," Tony Leroux joked. "Actually, no, I was on board. When he decided he wanted to be a Buckeye, going to college had nothing to do with me. I didn't play at Michigan, I was just a Michigan fan, that's all."
Since Leroux committed to Ohio State in March, he's become a local celebrity in Norwalk. While he was certainly already visible around town given his large stature, becoming a Buckeye made him someone everyone around town wants to know.
"I can't even go to Walmart without somebody stopping and taking a picture or asking me to sign something, and it's crazy for a small town to be like that," Leroux said. "When I was just getting all the other offers, it was just another offer. 'You're that Leroux kid.' But now, you're that guy that they want to take a picture with. They want you to know who they are."
Now that he's at Ohio State, he'll have to work his way up to earning that kind of status in Columbus. Because of his low recruiting ranking, Leroux isn't arriving at Ohio State with the same kind of hype as many of the other new Buckeyes. While highly touted recruits like five-star offensive tackle Paris Johnson Jr. will be thrust into competition for playing time right away this spring, Leroux will likely be developed at a more gradual pace, with an emphasis on the player he could become over the next four to five years rather than what he is right now.
There are several examples Leroux can look to, though, as reason to believe he'll get his shot to earn playing time eventually. Pat Elflein was the lowest-ranked recruit in Ohio State's class of 2012, yet he went on to be a three-year starter and a Rimington Trophy winner. DaVon Hamilton was the lowest-ranked non-specialist in Ohio State's class of 2015, and he's on his way to playing in the NFL after an excellent senior season this past year.
Dawand Jones, the only player larger than Leroux on Ohio State's 2020 roster, was also ranked outside the top 1,000 in his respective recruiting class. Yet Jones exceeded expectations in his first year with the Buckeyes – so much so that they chose to play him in 10 games and burn his redshirt last season – and now he has a chance to compete for a starting spot on Ohio State's offensive line in just his second year with the team.
"I've talked to Dawand himself, I've talked to all the coaches and they think that I would kind of follow into what Dawand is doing," Leroux said.
Like Jones, who was nearly 400 pounds when he arrived at Ohio State but is now down around 360 pounds, the most important task for Leroux as he starts his collegiate career is to manage his weight. Leroux weighed as much as 365 pounds while he was in high school, but was down to 322 pounds as of December, though his coaches have set a target weight for him of 330 pounds.
Tony Leroux described his son as "part sponge," so they've had to be careful about limiting his water intake – and even his lifting – in order to manage his weight. Trey has proven that he can cut weight before, though – during his freshman year of high school, he dropped from 345 pounds to 285 pounds so that he could make the heavyweight limit for wrestling – and he's confident he'll be able to keep his weight under control with the assistance of Mickey Marotti and Ohio State's sports performance staff.
While Leroux has to keep his weight in check to keep up with the more athletic defenders he'll now face as a Division I football player, his size – and what he is already able to do at that size – is of course a big reason why the Buckeyes wanted him in the first place.
Todd Fox, who became Norwalk's head coach in 2018, said it didn't take him long once he started the job to realize that Leroux had the traits to be a high-level college football player.
"Everybody sees 6-8 – I mean, you can't miss 6-8 – and you see the 315, 320, and you see a kid that can move. Then you start watching, and some of the things he can do physically are just beyond what an average body build can do, whether it be the splits, whether it be his ability to move sideways, his agility, his jumping, his flexibility, things like that," Fox said. "And then to watch him work and do the work that he needs to do to get better, that's when we knew, 'We got someone that's pretty special here.'"
"He's got a long way to go, he's got to step on campus and he's got to get to work, but a few things I know about Trey Leroux is he'll work for it, he's got a huge upside still and he has a great attitude about everything."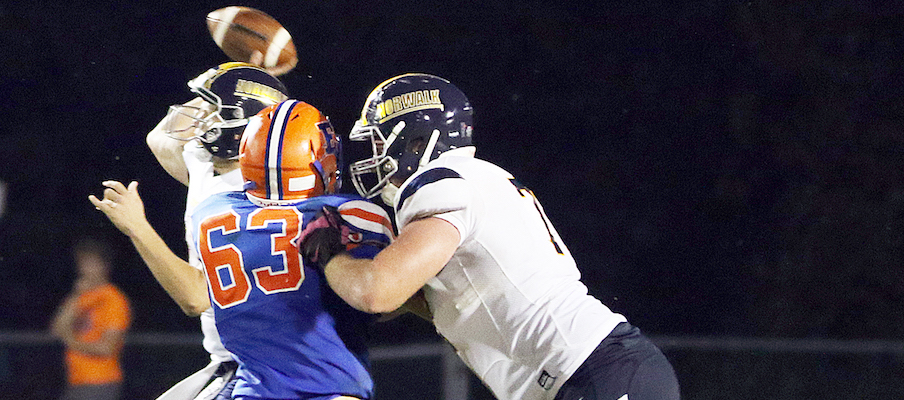 For Leroux to earn playing time at Ohio State, the biggest area in which he'll need to improve is pass protection, as run blocking is his strength right now. Leroux knows that will be a big area of emphasis as he begins working with Studrawa during practices this spring.
What will give Leroux a chance to succeed at Ohio State is his work ethic and willingness to learn. Fox describes Leroux as "a very even-keeled young man" who never gets too high or too low, and he consistently does what his coaches ask him to do.
"He takes in everything that he hears, processes it and then fixes it," Tony Leroux said. "At halftime, I had to talk to him every game. If something was going on, he would ask me, 'Dad, what are you seeing? What's going on up there?' And I'll say 'Well, it looked like this.' ... (Trey would say), 'OK, I'll talk to coach and see if I can go back to what we were doing before because you're right, that's not working.'
"My other son, Tche, he just would have started doing it the way that he was doing it before that did work. Not Trey. 'I'll talk to coach. Even if it's wrong, that's what coach wants me to do, that's what I'm gonna do.' So that's what I think is so special about him is that it's never about him, even when it's about him."
Leroux, as any player would, hopes to have the opportunity to play early in his Ohio State career. But he understands what he needs to do from his end in order to have a chance to make that happen.
"It starts from now," Leroux said. "You have to work harder in the weight room, work harder while you're running, work harder while you're exercising. And then when you get there, you have to focus on your academics, your workouts in the morning, being there on time, studying the playbook and knowing what you have to do."
"I've always loved competition, so that's no problem. But it's more than just me playing. Being a teammate, being a part of something great like Ohio State is even better."– Trey Leroux on why he signed with Ohio State
Leroux is one of eight prospects in Ohio State's 25-man recruiting class of 2021 that isn't ranked within the top 400 nationally, and among those eight players, he's one of six from Ohio and one of four offensive linemen.
That isn't a coincidence. While Day and the Buckeyes are looking to land the top recruits from all over the country, they're willing to take chances on lower-ranked prospects from within the state of Ohio and at positions like offensive line, where they expect most players to take time to develop rather than contribute immediately.
"(Current starting center) Josh Myers, it took him three years to get on the field. There's nothing wrong with that as an offensive lineman. And sometimes that's the best way to go about it," Day said. "Having those Ohio guys here who are loyal, they're going to put years into the program, they're going to develop, they want to get their degree here, they're Buckeyes, that means a lot. You need to have that in the program, and these are great guys."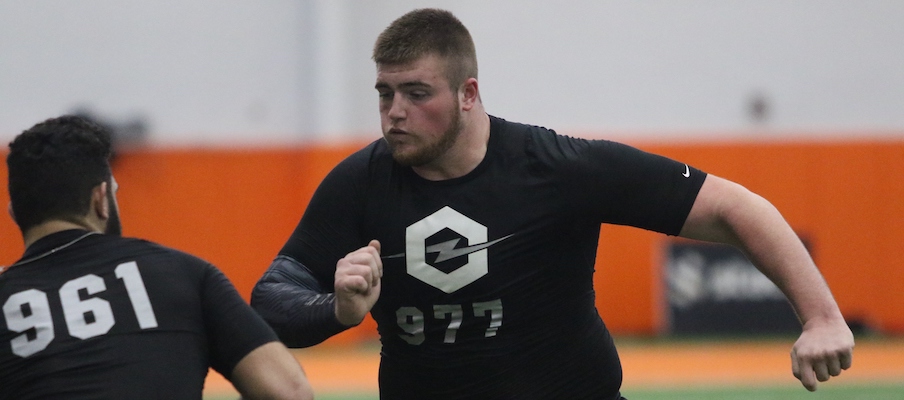 Day wants players who are invested in Ohio State, and that's what he'll be getting in Leroux. In the weeks leading up to his arrival in Columbus, Leroux said he was so excited that he woke up every day with a smile on his face.
"It just means more to be a Buckeye when you grew up watching them, grew up wanting to be them," Leroux said. "You get that opportunity, you try not to waste it. I always wanted to play college football, and the best place to do it's at Ohio State. That's what I always thought."
Recruiting analysts might not have high expectations for Leroux, and there's no question that he has a lot to prove in order to climb Ohio State's depth chart. But he is confident in Ohio State's plan for his success and that his decision to become a Buckeye will ultimately prove to be a great one.
"I've talked to the younger guys like Enokk (Vimahi) and (Ryan) Jacoby, and they have told me that as long as you continue to work, you'll be successful there," Leroux said. "Coach Stud has talked to me, I've talked to Josh Myers and everybody like that and they said that it's one of the best decisions that you can make. And talking to Coach Stud and Mickey Marotti, everybody, you can't beat it."