Dawand Jones had both hands and both knees on the ground, slowly creeping toward Justin Fields, Ohio State's star quarterback who had his back turned as he answered questions from the program's video team in the Woody Hayes Athletic Center team meeting room. Just about a foot behind him, Jones jolted forward, yelling "Boo!" as he touched Fields' chest in an attempt to scare him.
"You always playing, bro," a smiling Fields told Jones when he saw who tried to frighten him.
Previously in the video that Ohio State's football program released via social media on the afternoon of Halloween, Jones had put on a helmet and went shirtless in his attempt to scare Malik Harrison.  Less than two weeks before then, Jones had taken to Twitter to let the world in on a quartet of nicknames: Big Diesel, Big Greasy, Triple D and Big Thanos. Even earlier in the year, he was seen in videos on the team's social media accounts dancing alongside the upperclassmen at the front of the meeting room.
Bye week interviews got a bit...spooky #HappyHalloween #GoBucks pic.twitter.com/C46D1Ihm8Z

— Ohio State Football (@OhioStateFB) October 31, 2019
Most freshmen fade into the background. With a personality that matches his mammoth size as an offensive tackle, Jones did no such thing, ingratiating himself with just about everybody on the team.
"They tell me I'm a guy everybody loves," said Jones, flashing his trademark smile. "I'm just being myself, honestly."
As seamlessly as Jones fit into the team off the field, most expected him to need a years-long acclimation before fully preparing himself to play on the offensive line. 
Instead, he surprised many by not only playing 90 snaps but appearing in 10 games, making him ineligible for a redshirt. To put that into perspective, four of the five offensive linemen who started for the Buckeyes in 2019 redshirted as freshmen. The coaching staff opting not to redshirt Jones lent a peek into how they view Jones' ability to contribute immediately.
The gargantuan 6-foot-8 lineman, who remains closer to 400 pounds than 300 pounds, didn't play any snaps in close games. However, he became a blocker on the kicking unit and served as a backup offensive tackle.
"It was just crazy to see how long I came from, from being on the scout team to now being a two/three, to run with the twos most of the time," Jones told Eleven Warriors in a recent interview.
And now, he's positioned to compete for the starting right tackle job that Branden Bowen has vacated.
"I'm going to try to go get it, honestly," Jones said before the Fiesta Bowl. "If it's up for grabs, I'm definitely going to try to go get it."
Despite a successful first year, Jones has to be viewed as an underdog for the starting right tackle role as a rising sophomore. If anything, that's based on the stiff competition for the spot.
Nicholas Petit-Frere, once the top-rated offensive tackle in the 2018 recruiting cycle, will likely enter spring practices in two months with the inside track. He has bided his time, spent two years as a backup and packed on much-needed weight over the course of the past two years. The rising junior lost the right tackle competition to Bowen last offseason, leaving him on the bench for the second year in a row. And with the incumbent gone, he again 
A true freshman, Paris Johnson Jr., could also factor into the mix. Though first-year offensive linemen almost never win starting jobs – Michael Jordan was the first freshman to start for Ohio State since Orlando Pace – he's physically built in a way most freshmen aren't, which earned him a spot as a top-10 overall recruit in the 2020 cycle. Johnson told Eleven Warriors in December that his goal is to become a freshman All-American.
Jones has already surpassed expectations once, though, so there's no reason to count him out already.
"When I started, I just felt like a little raw, honestly," Jones said. "But I've developed through the weeks, and I just keep on progressing. And honestly, it's just a blessing from God to be where I'm at."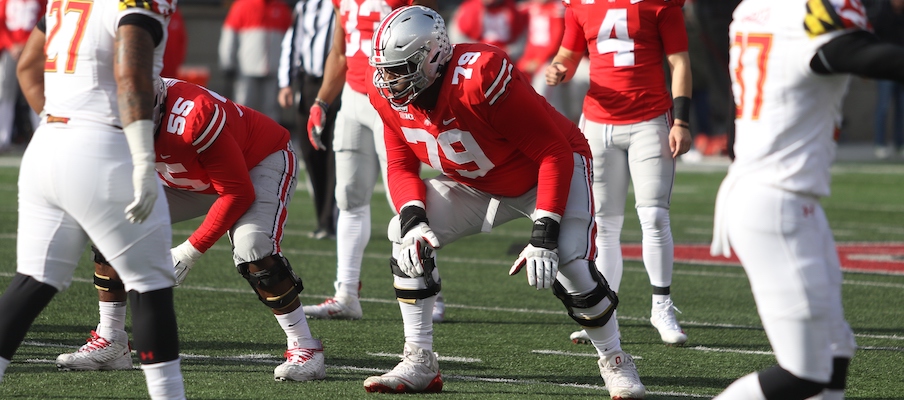 The next step for Jones? Getting his weight in check.
A year ago, Petit-Frere had to go on an 8,000-calorie-per-day diet to add pounds. Jones is going with the opposite approach.
"My playing weight is like 320 for me," Jones said.
At the moment, he's not particularly close to that mark.
In the week before the Fiesta Bowl, Jones said he weighed around 360 pounds. While he still sounds heavy, he has actually progressed significantly over the past year. Between signing with Ohio State and enrolling in the university in June, Jones says he dropped 10 pounds, and once he got to school, he cut another 25 pounds.
Do the math and you realize Jones was pushing 400 pounds not too long ago. He's now crossing the halfway point to his goal weight. Winter workouts begin for the football team in a week, and with Mickey Marotti's help, he'll continue to shed weight before opening spring practice on March 2.
Then comes the battle to start, his first such competition as a Buckeye. And it comes on the heels of a College Football Playoff appearance.
"I knew I was going to be in for a long ride, but I just didn't know it was going to be like this right off the bat," Jones said on Dec. 26. "It's just crazy that I was just in high school playing basketball and playing football, and now I'm here. Me and my high school coach spent a lot of time just thinking about the recruiting process, and now I'm here at Ohio State, here at the College Football Playoff semifinals."
Remember, in a not-too-distant alternate universe, he'd have been entering the third month of Kent State's basketball season as a big man. Instead, he just went to the playoff as a Buckeye.
And now, Jones has an outside shot at a starting job this offseason.