Ohio State has had a bigger presence in the NFL draft than just about any other school in recent years, and that isn't going to change in 2020.
The Buckeyes have had at least two first-round picks and at least seven total selections in each of the past four NFL drafts, and they have another deep class of potential pros entering the 2020 NFL draft that should enable them to hit those marks – and then some – once again this year.
Ohio State's draft class is headlined by its three early entrants: Chase Young, Jeff Okudah and J.K. Dobbins. Young and Okudah are both locks to be first-round picks – potentially both top-five overall picks – while Dobbins is also a real candidate to go in Round 1.
Even without Shaun Wade, and assuming at this point that all of Ohio State's other non-seniors also plan to stay in college, there are at least a dozen other Buckeyes who should warrant consideration from NFL teams as possible draft picks or undrafted free agent signings.
That's not to say that all of them will end up being drafted – that would be an Ohio State record, and probably won't happen – but with a large group of outgoing seniors who were starters or otherwise significant contributors for the Buckeyes this past season, there appears to be a very real chance that Ohio State could have double-digit picks for just the third time since the NFL draft was shortened to seven rounds in 1994.
With Ohio State's class of prospects for the 2020 draft likely set, it's time to take a look at each of the Buckeyes' potential draft picks and why they should be on the radar of NFL teams.
Chase Young, DE
Young isn't just Ohio State's best draft prospect this year, but one of the Buckeyes' best draft prospects ever, and considered by most draft analysts to be the top prospect in this year's draft. A prototype defensive end who has every physical trait that NFL scouts look for in an elite pass-rusher, Young looks like a sure bet to be Ohio State's fifth top-four overall pick in a five-year span.
The consensus among early NFL mock drafts is that Young will be selected with the No. 2 overall pick by the Washington Redskins, where he would join fellow Maryland product and former Ohio State teammate Dwayne Haskins, the Redskins' first-round draft pick last year. Should that happen, Young would be the second consecutive Ohio State defensive end to be the draft's No. 2 overall pick, following Nick Bosa last year.
Jeff Okudah, CB
While Young will almost certainly be Ohio State's first player drafted this year, Okudah might not be far behind him at all. In fact, some early NFL mock drafts project that the Detroit Lions will select Okudah with the No. 3 overall pick, which means Young and Okudah have a chance to become just the second pair of Buckeyes to be top-three overall picks, along with Orlando Pace and Shawn Springs in 1997.
More recently, Joey Bosa and Ezekiel Elliott were the first two non-quarterbacks selected with the third and fourth overall picks in the 2016 NFL draft, and that's the kind of pair the Buckeyes have again this year in Young and Okudah. 
Like Young, Okudah has demonstrated all the skills and physical tools to be an elite player at his position, and he's the consensus top cornerback in the 2020 draft class. A dominant cornerback who locked down his side of the field in coverage this past season, Okudah has the size, athleticism, technical ability and physicality that NFL scouts look for to lead a secondary, and he's the early frontrunner to be the second defensive player off the board behind Young.
J.K. Dobbins, RB
Dobbins legitimized himself as a potential first-round draft pick with his spectacular final season at Ohio State, in which he broke the school single-season record with 2,003 rushing yards, and he now has a real chance to be the first running back off the board this year. 
He won't be drafted as early as Elliott was, but The Athletic's Dane Brugler recently ranked Dobbins as the top running back in this year's draft class while Bleacher Report's Matt Miller ranks him second behind Georgia's D'Andre Swift. 
A well-rounded runner who has the size and power to finish through defenders, the cutting ability to make them miss and the vision and patience to find the running lanes his offensive line opens for him, Dobbins proved he could be a true feature back in his last year as a Buckeye, and it's easy to envision him continuing to be a productive starter in the NFL for years to come.
Should Dobbins join Young and Okudah in the top 32 selections, it would be the first time since 2017 that Ohio State has had three or more first-round draft picks.
Damon Arnette, CB
Arnette made a last-minute decision last January to stay at Ohio State for his fifth-year senior season instead of entering the 2019 NFL draft, and that choice paid off in a big way. Under the tutelage of secondary coach Jeff Hafley in his lone season with the Buckeyes, Arnette had the best season of his Ohio State career by far and finally looked like the future early-round NFL draft pick his biggest believers had thought he could be for years.
Arnette has always had the speed, length and physicality to intrigue pro scouts, but in 2019, he showed he could also be consistent in coverage – all the while demonstrating impressive toughness and commitment by playing the entire season with a cast on his broken wrist. As a result, Arnette appears likely to be selected on the second day of this year's draft, potentially in the second round.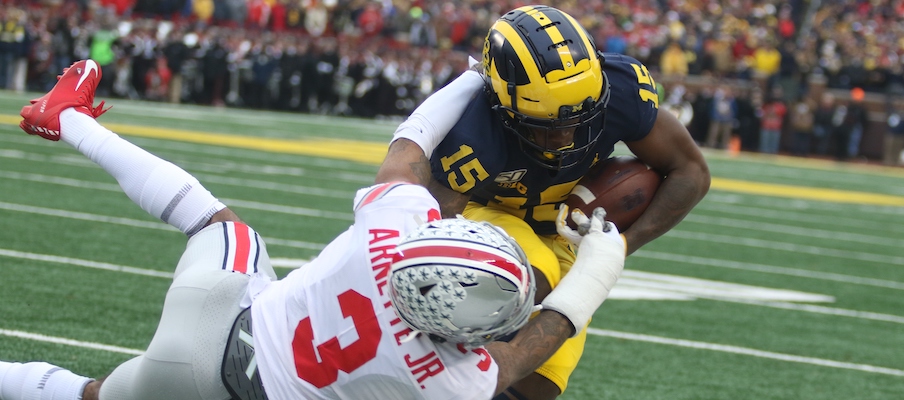 Malik Harrison, LB
Harrison probably never got as much praise as he deserved for his play as Ohio State's top linebacker over the past two seasons – in part because he was overshadowed by stars like Young and Okudah – but he's certainly on the radar of NFL scouts. An outstanding athlete for his size at 6-foot-3 and 240 pounds, Harrison has high upside as a versatile linebacker who could be a fit for any defensive scheme.
As a weakside linebacker at Ohio State, Harrison showed the ability to make tackles all over the field and was utilized both as a pass-rusher and dropping back into coverage. Ohio State's leading tackler for the past two seasons, Harrison combines collegiate production with physical potential, and should test well at the NFL Scouting Combine.
Harrison appears likely to be selected in either the second or third round, and he'll have a chance to solidify his stock as an early-round draft pick when he participates in the Senior Bowl later this month.
DaVon Hamilton, DT
Among all of Ohio State's seniors, Hamilton might be the one who improved his draft stock the most in 2019. In his only season as a starter for the Buckeyes, Hamilton quietly emerged as a dominant force on Ohio State's interior defensive line, leading the Buckeyes' run-stopping efforts from his nose tackle position while also showing an ability to rush the passer that he hadn't in previous years.
Hamilton said before the season that he had dropped his 40-yard dash time from 5.4 seconds to 5.0 seconds, and it showed in his play, as he was noticeably quicker and more disruptive than he was in previous seasons. In the process, Hamilton went from a player who likely would have been a draft afterthought to earning a Senior Bowl invitation, and it would now be a surprise if the 6-foot-4, 310-pound Central Ohio native doesn't go in the middle rounds of this year's draft.
K.J. Hill, WR
Like Arnette, Hill considered declaring for the 2019 NFL draft before returning for his fifth-year senior season, and his decision enabled him to become Ohio State's all-time leader in receptions (201). He also tied Ohio State's school record by catching a pass in 48 consecutive games, and that consistency he demonstrated throughout his Buckeye career should impress NFL teams who are looking for a reliable slot receiver.
Hill doesn't have the elite size and speed that early-round wide receivers typically do, but his knack for getting open and moving the chains in clutch moments should stand out when NFL scouts turn on his tape. He'll probably be a middle-round draft pick unless he can send his stock soaring in Terry McLaurin-esque fashion at the Senior Bowl and NFL Scouting Combine, but Hill's sure-handed and route-running ability could enable him to outperform his draft position and have a lengthy pro career.
Jonah Jackson, LG
Jackson is another fifth-year senior who could have opted to declare for the 2019 NFL draft but instead chose to play for Ohio State last season – in his case, graduate transferring from Rutgers to do so – and that decision should pay off for him this spring, as it gave him the opportunity to make a name for himself while starting at left guard for one of the best teams and more specifically, one of the best offensive lines in the country.
Paired with Josh Myers and Wyatt Davis, who both opted to stay at Ohio State for their fourth-year junior seasons instead of entering the 2020 NFL draft, Jackson was part of arguably the nation's best interior offensive line. He was dominant with a mean streak in the run game, often leading the Buckeyes in pancake blocks, while he was also one of the team's most consistent pass blockers.
Jackson proved to be a perfect fit for a position of need on Ohio State's offensive line this past season, and now, he's a perhaps overlooked NFL draft prospect who has the tools to be a potential starter at the next level. Another likely middle-round draft selection, Jackson will have the opportunity to get more NFL scouts and draft analysts talking about him when he participates in the Senior Bowl later this month.
Jordan Fuller, S
Another senior who gave some consideration to entering the 2019 NFL draft before staying at Ohio State for one more year, Fuller was a stalwart on the back end of the Buckeyes' defense for the past three seasons, especially this past season, when he became the single-high safety in Ohio State's new defensive scheme and was rock-solid in patrolling the middle of the field and eliminating big plays.
Fuller might not stand out to NFL scouts as someone with elite physical traits or who makes a ton of big plays himself, but he's a proven leader who provided reliable play on the field while also serving as a two-time captain for the Buckeyes and excelling in the classroom. He should ace the interview process and will come highly recommended by his former Ohio State coaches, and he has a chance to elevate his draft stock next week after accepting an invitation to the East-West Shrine Bowl.
Branden Bowen, RT
After missing the end of the 2017 season and the entire 2018 season while recovering from a broken leg, Bowen needed a strong senior year to legitimize himself as an NFL draft prospect, and he delivered. A second-team All-Big Ten selection in 2019, Bowen beat out Nicholas Petit-Frere to become the Buckeyes' starting right tackle and performed well all season, especially as a run blocker.
Listed at 6-foot-7 and 315 pounds, Bowen combines excellent size with good feet, and he has proven versatility to play multiple positions after starting at right guard in 2017. His injury history will undoubtedly be scrutinized in the NFL draft process, but as long as he receives a clean bill of health, he'll have a chance to be a Day 3 draft selection. Like Fuller, Bowen has a chance to elevate his draft stock at next week's East-West Shrine Bowl.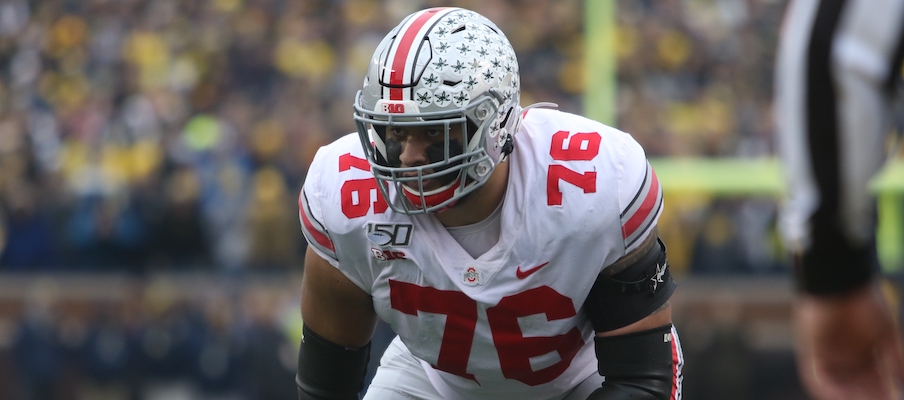 Binjimen Victor, WR
From a physical standpoint, there's no question that Victor has the potential to be an NFL wide receiver. At 6-foot-4 and 199 pounds with long arms and excellent athleticism for his size, Victor flashed big-play ability throughout his Ohio State career, and his upside has always been tantalizing.
That said, Victor never truly emerged as a consistent playmaker in Ohio State's offense – while he made big plays in some games, he was quiet in others – which could make him a difficult projection for NFL scouts. Should he test well in pre-draft workouts, though, he'll likely entice a team to take a chance on him in the later rounds, and he could end up being an impact player and a draft steal if he can continue to develop and maximize his physical ability at the next level.
Victor is also set to participate in next week's East-West Shrine Game.
Robert Landers, DT
Even though he lost his spot in the starting lineup this past season to Hamilton, Landers continued to be a regular contributor in Ohio State's rotation at nose tackle – just as he was for all of his four playing seasons with the Buckeyes – and was often disruptive when he was on the field, showing quickness, strength and block-shedding ability that should intrigue pro talent evaluators.
At 6-foot-1 and 285 pounds, Landers is smaller than most NFL defensive tackles, but the recent success of similarly sized DTs like Aaron Donald and Grady Jarrett is reason enough for that not to be a disqualifier. He's a high-motor player who uses his stoutness to his advantage to maintain leverage at the line of scrimmage, while he's a solid interior pass-rusher who can make plays in the backfield, and all of that should be enough for him to be considered as a potential late-round selection.
Jashon Cornell, DT
Like Hamilton, Cornell moved into Ohio State's starting lineup at defensive tackle as a fifth-year senior and had the best year of his career, in which he emerged as a solid run-stopper and interior pass-rusher while leading the Buckeyes' rotation at the 3-technique position.
He's not quite the physical specimen of his predecessor Dre'Mont Jones, who was a third-round pick in last year's NFL draft, but he has good size and quickness and demonstrated versatility, as he played both tackle and defensive end in his Ohio State career. He hasn't generated a ton of draft buzz at this point and isn't currently slated to play in a pre-draft all-star game, but he should at least get a chance to make an NFL roster as a free agent and could improve his chances of being a late-round pick with a strong showing at Ohio State's pro day in March.
Austin Mack, WR
Like Victor, Mack's production at Ohio State never quite lived up to expectations, and he's on the draft bubble as a result. Also like Victor, though, it wouldn't be a shock if his best football is still yet to come at the professional level.
Mack has good size at 6-foot-2 and 215 pounds and a demonstrated ability to make challenging contested catches. He was also the best blocker in Ohio State's receiving corps this past season and has been a regular contributor on special teams – important qualities to have for a potential late-round draft choice or undrafted free agent signing who could have to compete his way onto a roster.
He missed time with injuries in each of his final two seasons at Ohio State, which could lead NFL teams to question his durability, but that's also reason to believe we possibly haven't seen what Mack is fully capable of yet.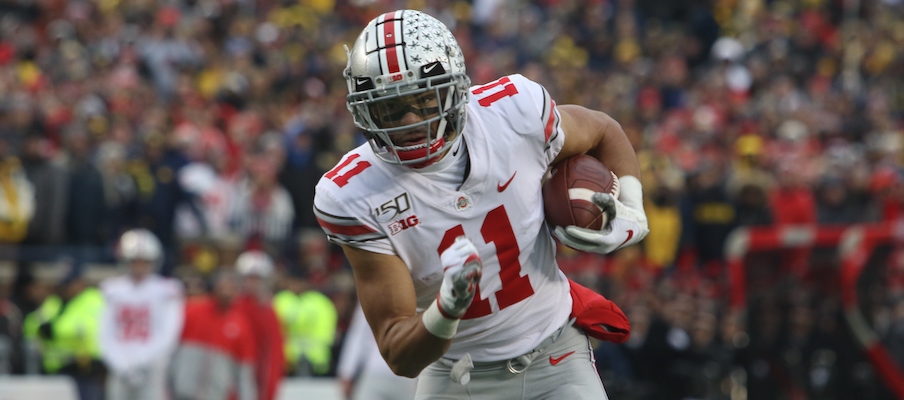 Rashod Berry, TE
Berry didn't put up big numbers in his Ohio State career, catching just 17 passes for 198 yards and four touchdowns, and his chances to prove he should be an NFL draft pick were limited in his senior season, as he fell behind Luke Farrell and Jeremy Ruckert on the Buckeyes' tight end depth chart. He still has some real upside, though, that makes him worth monitoring in the draft process.
At 6-foot-4 and 255 pounds, Berry is a tremendous athlete who performed well as a blocker for the Buckeyes and probably would have made more receiving plays in a more tight end-friendly passing offense. He also spent some time at defensive end at Ohio State – even playing on both sides of the ball in four games as a senior – which speaks to his athleticism and versatility, and could potentially lead to looks from NFL scouts at multiple positions.
Berry will have a chance to improve his draft stock by participating in next week's NFLPA Collegiate Bowl.
Liam McCullough, LS
There aren't many jobs for long snappers in the NFL, considering that each team typically only carries one on its regular-season roster, but McCullough should be among those who get a look this year after four years of rock-solid snapping for the Buckeyes. 
Only the best of the best long snapper prospects actually get drafted – exactly one has been selected in each of the last five NFL drafts – but McCullough should at least earn an invitation to a training camp (many teams carry two long snappers for the preseason), and he could potentially compete his way onto a roster if he lands in the right situation.
Other Possible Candidates
Joshua Alabi is a long shot to be drafted after starting just one game in his senior season, but the backup offensive tackle could earn a free-agent contract or a training-camp invitation if he performs well at Ohio State's pro day.
Backup quarterback Chris Chugunov had hoped to participate in pro day, but told Eleven Warriors that he could have to undergo shoulder surgery, which would likely eliminate any chance he has of earning an NFL opportunity. Backup offensive tackle Kevin Woidke told Eleven Warriors that he is considering slimming down and participating in pro day as a tight end, but he's also a long shot who hasn't decided yet whether to go through the draft process.
Wide receiver C.J. Saunders was still waiting as of the end of the season to learn whether his appeal for a sixth year of collegiate eligibility would be approved, but he could also be a potential pro day participant if not, though he'd face steep odds to land with an NFL team after missing all of this past season with a knee injury.