Chris Chugunov's playing career might be over, but his time around the Ohio State football team isn't quite done yet.
Ohio State's backup quarterback from this past season had his two-year run with the Buckeyes come to an end with their season-ending Fiesta Bowl loss to Clemson. But he still has another semester left to complete his master's degree in sports management, and he plans to not only stay in Columbus to complete that academic commitment, but also spend some time working with the Buckeyes' returning and new quarterbacks this spring.
"I was actually talking to (new Ohio State quarterbacks coach Corey Dennis) about that not too long ago, so I think I'll be around during spring ball," Chugunov told Eleven Warriors.
Chugunov was hoping to participate in Ohio State's pro day in March and take a shot at pursuing a professional football career, but that might not be a possibility anymore. Chugunov told Eleven Warriors that he battled a shoulder injury this past season that could require him to undergo surgery, and if he does, his recovery will take four to five months – which would eliminate his opportunity to throw for NFL teams before this year's draft, and, realistically, would likely end any hopes he has of playing at the next level.
"I was planning to participate in pro day, and I wanted to, but I've been dealing with this shoulder injury all season, kind of under-the-radar type deal," Chugunov said. "So I'm not sure if I'm going to be able just health-wise, as much as I want to. That's obviously something I'd love to pursue, but I have some other options, as well."
Despite that shoulder injury, Chugunov served as Ohio State's No. 2 quarterback all season and played in 10 of the Buckeyes' 14 games for 141 total snaps. He attempted 43 passes, completing 26 of them for 286 yards and six touchdowns with zero interceptions. Perhaps most notably, Chugunov checked in for seven snaps in the third quarter against Michigan – when the game was still on the line – after Justin Fields was briefly knocked out of the game after aggravating his sprained MCL, and kept a drive alive to set up the signature moment of Fields' season, when he ran back onto the field and threw a touchdown pass to Garrett Wilson in his first play back on the field.
Reflecting back on his Ohio State career now, Chugunov – who came to Ohio State as a graduate transfer after starting his collegiate career at West Virginia – lists the Buckeyes' two wins over "the team up north," their two Big Ten Championship Game wins and their Rose Bowl wins two seasons ago as some of his fondest memories in scarlet and gray. Most of all, though, Chugunov just appreciated the chance to be a part of the team.
"I'm just so grateful, honestly," Chugunov said. "That's the one resounding theme that keeps coming to me. I'm so thankful for the opportunity I had there, all the great people I've met and the friendships I've formed, and it's just been awesome. I'm grateful. I know it was a sour end, and that's gonna sting for while – not just for me but for the whole team and Buckeye Nation. But as I reflect on my time there, I'm just filled with gratitude, honestly."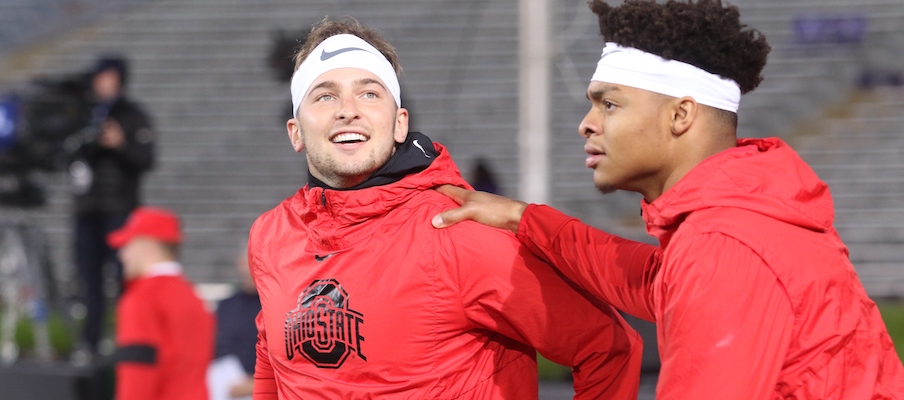 Chugunov is still weighing his options for what's next after football, but going to law school is one possibility. Chugunov has already taken the LSAT, so he's now considering whether he wants to move forward in that direction.
"The good thing is I have time," Chugunov said. "I still don't finish my degree until May, so I'm going to be around the program and stuff for the next four or five months until I have all that sorted out. So it's going to be a fun year, man, I can tell you that."
Following Chugunov's departure, Ohio State only has two returning scholarship quarterbacks for next season in Fields and Gunnar Hoak. That said, he believes the Buckeyes' 2020 quarterback room – which will also include incoming freshmen Jack Miller and CJ Stroud – will be in good hands with the leadership of Dennis, who helped develop Chugunov and Ohio State's other quarterbacks as a senior quality control coach for the past two years, and is now set to replace Mike Yurcich as Ohio State's quarterbacks coach himself.
"He's fun, he's easy to talk to but at the same time, he knows a lot about the game," Chugunov said. "He knows what you have to do there to be successful. He's obviously been very involved these last few seasons, even just since I've been there, the last two with Haskins and Fields, he was instrumental in the success that they had. So I think any QB coming in and that will play for Corey should have a smile on his face, because it's going to be fun and successful."