Even though he played for the Ohio State football team for the last five years, Kevin Woidke never received as much attention for anything he did on the field as he did when he tweeted out his farewell letter to Buckeye Nation on Sunday morning.
Much like many of his other outgoing Ohio State teammates, Woidke shared a graphic produced by Ohio State's social media team with a personal message thanking his teammates, Ohio State's staff and Buckeyes fans for their support during his career at OSU. Unlike some of his teammates' more serious messages, however, Woidke's was written in a self-deprecating fashion, making light of the reality that many Ohio State fans probably never even knew his name.
"I totally understand why nobody would have ever heard of me," Woidke wrote in his letter. "I have done nothing to even remotely warrant attention in any way. I am one of the guys in the hype videos that stands in the back and looks like a mix of Buddy the Elf and Marv from Home Alone. I have silently earned zero national awards and truly want to thank everyone who helped me achieve this honor."
John 11:35 pic.twitter.com/akfIqtf5QE

— Kevin Woidke (@kwad941) January 5, 2020
More people know his name now. Woidke's letter quickly went viral, generating coverage from national media outlets like Bleacher Report and CBS Sports, while his original tweet garnered more than 2,000 retweets and 13,000 likes.
Woidke wasn't expecting that kind of attention when he first tweeted it, however. Truthfully, he didn't even know if Zach Swartz, Ohio State's director of creative media, would make the graphic for him.
"I honestly did not expect it to get nearly as much attention as it did," Woidke told Eleven Warriors on Monday. "I was talking to my buddy Ryan Carey, who was like 'It would be really funny if you made a Mark Titus-type of letter,' and I was like 'Yeah, that's actually a good idea.' So it took me about 20 minutes to write it up, and then I sent it over to Zach, and I honestly didn't think he was going to do it. And then when he sent it to me yesterday, I just posted it, and it obviously took off."
Woidke has never been someone who takes himself too seriously. Around the Woody Hayes Athletic Center, Woidke could often be seen cracking jokes with his teammates or playfully interrupting interview sessions. During the team's infamous hotel check-in day at the start of preseason camp last summer, Woidke showed up wearing a shirt featuring a picture of his friend Owen Morrow and the caption, "This Guy Played JV Golf."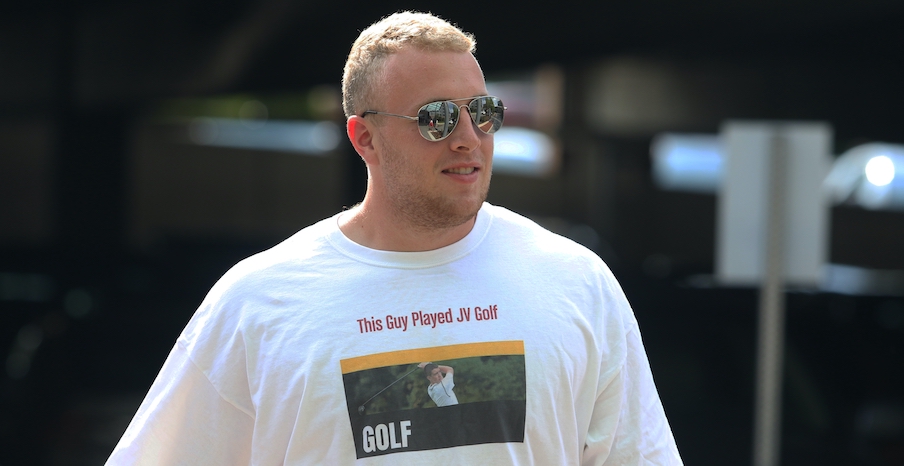 As someone who began his career at Ohio State as a walk-on and understood his place on the team, he felt the best way to maximize his career as a Buckeye was to have fun in the process.
"Honestly, it's just kind of who I am," Woidke said. "I don't like go out of my way to try and find comic relief, I just kind of poke fun at people and they give it right back, so it's always entertaining. And it's like, 'Why not have fun with it?' It's tough to make it through this program to begin with, so if you're not having fun, it's nearly impossible."
Despite what he wrote in his farewell letter, though, Woidke was more than just an anonymous back-of-the-roster player. He played in 12 games in 2017 and every game of the past two seasons at the "rocker" position on Ohio State's field-goal unit, and he even played 37 snaps on offense (including seven snaps in Ohio State's 56-27 win over Michigan) as a backup offensive lineman this past season. He was Ohio State's nominee for the Burlsworth Trophy (which honors college football's top player who began his career as a walk-on) in 2018 and was placed on scholarship for his senior season.
Accomplishing all of that during his five seasons as a Buckeye "honestly meant the world" to Woidke.
"My first goal was just making the travel team, and then actually getting on the field, earning a varsity letter, all the way up to a scholarship," Woidke said. "The only goal that I didn't hit in my time here was winning the national championship, but I mean, after all the stuff I've done, that would have just been the cherry on top. It was amazing what we accomplished as a group for those five years."
Woidke is still disappointed about the College Football Playoff semifinal loss to Clemson that ended his senior season. After graduating from Ohio State in December, he said "it's definitely a bit of a culture shock" not to be back in class and winter conditioning workouts with the returning Buckeyes this week. He and his fellow seniors had hoped their Ohio State careers would continue for a couple more weeks and culminate with a trip to the national championship game. Instead, their time as Buckeyes crashed to a halt when Clemson's Nolan Turner made a game-sealing interception with 37 seconds left on the clock.
"It's always tougher when you don't know when the end is coming," Woidke said. "If we were playing in the Rose Bowl or something, we all knew that was our last game, we could have said our goodbyes, had some fun with it. But we were all thought we were going to make it and go play Joe (Burrow, LSU's quarterback and Woidke's former Ohio State teammate) in the national championship, and obviously it didn't go that way for us.
"It's tough, because it's your life for four to five years, and it just gets taken from you."
The way it ended aside, though, Woidke thinks back on his Ohio State career with fond memories, most of which are centered around the people he had the opportunity to spend the last five years with. From watching the Cleveland Cavaliers win Game 7 of the 2016 NBA Finals alongside his teammates to playing "Buckeye Ball" – an ultimate frisbee-style game Ohio State used to play in the offseason until someone pulled a quad during it – Woidke will cherish the moments he spent with the Buckeyes for years to come.
"You can't look back on it with regrets, because then you're just going to live your whole life just being upset about it, so it's like, you know, I'm just happy that it happened," Woidke said. "I got to know a lot of amazing people."
Now that his time at Ohio State is over, Woidke isn't quite sure what he's going to do next. He hasn't decided yet whether he's going to participate in Ohio State's pro day, but if he does, he's planning to do so as a tight end, as he wants to start losing the weight he put on to play offensive line.
An Academic All-Big Ten honoree who graduated from Ohio State with a degree in real estate and urban analysis, Woidke is considering pursuing a career in commercial real estate in the Cleveland area, where he's from. But he's also open to other possibilities, and after all the attention he received on social media over the past couple days, producing more humorous content just might be one of them.
"I'm not just limiting myself to commercial real estate," Woidke said. "If I have to go into a different type of sales first, like medical sales or something, I'm not opposed to that. And then everyone keeps telling me I should start producing content, which I don't know if I have that ability in me, but they keep saying it would be a good idea, so maybe I'll pursue that."