As he looked ahead this spring to what would ultimately be his final season at Ohio State, J.K. Dobbins made a bold proclamation.
"I just want to be legendary," Dobbins said in March. "I want to be like Ezekiel Elliott and Archie Griffin and guys like that. Write my name in stone."
Dobbins wanted to cement his status as one of Ohio State's all-time greats this season, and that's exactly what he did.
Going into his junior year, which was always expected to be his last year at Ohio State before he entered the NFL draft – a decision he made official on Monday – Dobbins needed a big season to prove that his name belonged alongside the likes of Griffin, Elliott and Eddie George, and he knew it. 
While Dobbins became an immediate star in his freshman year at Ohio State, breaking the school record for rushing yards by a first-year Buckeye (1,403), and became the first-ever Buckeye to rush for more than 1,000 yards in both his freshman and sophomore season, his 2018 season didn't quite live to the hype – he averaged only 4.6 yards per carry after gaining 7.2 yards per carry in 2017 – and he didn't mince words about it.
"Last year was a failure to me," Dobbins said in August.
Most people wouldn't give such a harsh assessment of a 1,000-yard season – especially considering he was splitting carries with Mike Weber for each of his first two seasons as a Buckeye – but that was indicative of the expectations Dobbins had for himself. 
He didn't want to just be a statistically productive running back for Ohio State. He wanted to be one of Ohio State's best running backs ever.
In his final season as a Buckeye, Dobbins undeniably was. Entrusted to be a true feature back this year, Dobbins played the vast majority of meaningful snaps at running back all season, and he performed at the highest level of his career.
Dobbins ran for 2,003 yards this season – becoming the first-ever 2,000-yard back in Ohio State history – all the while averaging 6.65 yards per carry, the best mark in the nation among all Football Bowl Subdivision running backs with more than 200 carries in 2019. He ran for 21 touchdowns, the fifth-highest single-season total in Ohio State history, and also added 23 catches for 247 yards and another two touchdowns.
Even though he lost out to Wisconsin's Jonathan Taylor for both the Big Ten Running Back of the Year and the Doak Walker Award, he made a strong case for being the best running back in college football this season, and he played an enormous role in Ohio State winning its first 13 games of the year and making a run to the College Football Playoff.
In the Buckeyes' biggest games of the season, Dobbins was at his best. He earned Big Ten Offensive Player of the Week honors four times this year for his performances against Indiana (207 yards from scrimmage, two touchdowns), in the regular season against Wisconsin (221 yards from scrimmage, two touchdowns), in the Buckeyes' closest game of the regular season against Penn State (157 rushing yards, two touchdowns) and in their rivalry game win against Michigan (211 rushing yards, four touchdowns).
Ohio State head coach Ryan Day was among those who vouched for his running back's greatness down the stretch of the season.
"I think he deserves to be considered the best running back in the country," Day said before the Big Ten Championship Game. "That hasn't really necessarily been the case. I know that bothers him. I know he runs with a chip on his shoulder because of that. You have to ask him how he feels. I know it bothers me."
While his career certainly didn't end the way he had hoped, with Ohio State coming up short against Clemson in the Fiesta Bowl, it wasn't due to a lack of effort on Dobbins' part. His 68-yard touchdown and subsequent 64-yard run in the first quarter helped the Buckeyes get out to a hot start. His final game had its down moments too, as he dropped two catches that could have been touchdowns and suffered an ankle injury late in the first half. But he battled through that injury to finish the night with 174 rushing yards and an additional 47 yards on six catches.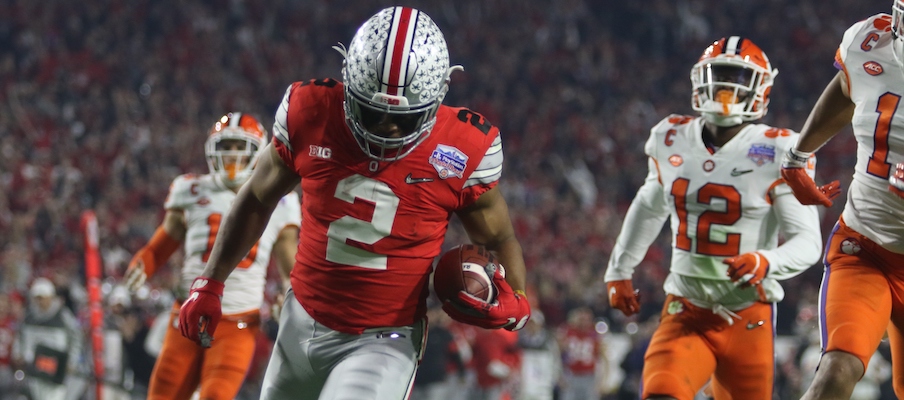 For his career as a whole, Dobbins finishes second in Ohio State history – behind only Griffin – with 4,459 career rushing yards and 5,104 career yards from scrimmage. His 38 career rushing touchdowns rank sixth in Ohio State history, while his 43 total touchdowns scored are tied for fifth among all Buckeyes. His 6.2 career yards per carry is the second-best mark among all Ohio State running backs with 200 or more career carries, behind only Elliott, while his 106.2 rushing yards per game also rank second in school history behind only Griffin.
Ohio State's All-Time Leading Rushers

| Player | Rush Att | Rush Yds | Yds/Carry | Rush TD |
| --- | --- | --- | --- | --- |
| ARCHIE GRIFFIN | 924 | 5,589 | 6.0 | 26 |
| J.K. DOBBINS | 725 | 4,459 | 6.2 | 38 |
| EZEKIEL ELLIOTT | 592 | 3,961 | 6.7 | 43 |
| EDDIE GEORGE | 683 | 3,768 | 5.5 | 44 |
| TIM SPENCER | 644 | 3,553 | 5.5 | 36 |
Dobbins doesn't have a Heisman Trophy to his name like Griffin, George, Hopalong Cassady and Vic Janowicz. He wasn't able to lead Ohio State to a national championship like Elliott, Maurice Clarett or Jim Otis. Chic Harley, Keith Byars and Pete Johnson are among the other running backs who have to be considered in any ranking of Ohio State's all-time greats.
Now, though, that conversation can't be had without Dobbins. His record-setting final season as a Buckeye, to cap off a three-year Ohio State career that was as consistently productive as any Buckeye running back has ever had from start to finish, made sure of that. And as a potential first-round pick in April's NFL draft, he'll have a chance to continue building upon that great legacy at the next level.