In honor of the nine Ohio State signees selected to play in Saturday's All-American Bowl, here are nine observations from the action at the Alamodome, a 33-20 win for the West All-Stars over the East All-Stars.
Stroud shows he's got some Fields in him
CJ Stroud's performance, albeit a brief one, is easily the most eye-popping from an Ohio State perspective, and it was one of the most noteworthy. 
Stroud took over for West Team starting quarterback Bryce Young on the third series of the game.
It was just one drive, but Stroud looked really good. We don't want to get ahead of ourselves because of a few plays in an All-Star game, but he really did look like he's got some Justin Fields in him. On two run plays, Stroud showed off his legs and rushed for 24 yards. After being sacked, Stroud had officially rushed for 19 yards on three carries. Not crazy numbers, of course, but it was good enough to be the first half's leading rusher. 
By far his most impressive play came in the red zone, though, when he showed his pocket mobility and elusiveness before scrambling out toward the right sideline and delivering an absolute dime to the back of the end zone on fourth down for what should have been a touchdown. 
C.J. Stroud showed his elusiveness on two runs and this scramble, though it falls incomplete on fourth down pic.twitter.com/CdEMwnZrdt

— Zack Carpenter (@Zack_Carp) January 4, 2020
If that play looks similar it's because it is. It's the same type of play that made Fields a Heisman Trophy candidate. 
Again, we don't want to get nuts here by throwing the H-word around. Fields is an absolute freak. But that's exactly who Stroud, who saw some more action late in the fourth quarter and finished 4-for-8 for 31 yards, told Eleven Warriors he believes he can transform into.
"I'm not as fast as Justin. I'm not as strong as Justin. But I feel like I can get to that," Stroud said. "Eventually I'll be able to get on that level, and eventually I'll be able to throw like Dwayne (Haskins)."
So if Stroud eventually takes the keys to the offense from Fields, would the offense look that much different from it looked like during the 2020 season?
"No," Stroud said. "That's why they recruited me because it's compared to his offense already."
Though Ryan Day hasn't gone into intense, intricate detail with Stroud on what the offense would look like with him under center, he's given him enough of an idea.
"He hasn't really (detailed) it. He really can't because I'm not there yet. He nut-shelled it," Stroud said. "He wants me to be more like Dwayne but still run a little bit like Justin. I don't think anybody in the country really knows that I can run the ball. I didn't really run last year because my coach told me not to because we didn't really have a backup. But I feel like I can really run so I feel like I'll be able to do what Justin does more than Dwayne, but I think I'm gonna do more of the passing like Dwayne did."
Bottom line is, Stroud was impressing people throughout the week with his work during practice drills, and that culminated Saturday with a couple runs and his near-touchdown pass on the run. If you weren't already excited about him, those plays encompass why you should be if you're an Ohio State fan.
Johnson learns from mistakes
There was a Twitter video that circulated midweek of five-star prospects Paris Johnson Jr. and Bryan Bresee going up against each other.
Johnson, the nation's No. 1-ranked offensive tackle and No. 7 overall player, got the better of Bresee, a defensive end ranked as the class' top player, as the two went one-on-one in pass-rushing/pass protection drills. 
Paris Johnson vs Bryan Bresee pic.twitter.com/G6UXVTD2rn

— Charles Power (@CharlesPower) January 1, 2020
However, the two actually squared off again in another one-on-one drill that didn't get caught on video (or at least not one that I could find), and this time Bresee won the battle. It's pretty cool to see the nation's best at opposing positions go after it and each come away with wins. Johnson loved it too because it was a learning experience.
"I got excited on the first rep. I turned my hips towards him. I thought that was smartest," Johnson told Eleven Warriors on Friday night. "But on the second rep, I gave him all the credit for that. That was another lesson learned, and it's good to learn a lesson from the No. 1 player in the country."
Johnson said his loss on the second rep was a result of performing a jump-set in pass protection, which is something he had never done at Princeton (Ohio) High School.
"(Saturday), if I choose to do a jump set, I'm gonna keep my hips square because I'd never done it before," Johnson said. "Outside of here, I'd never done it before so it's challenging me to do what I wasn't challenged to do in high school."
Johnson apparently learned from the experience. The Ohio State signee was back to his typical dominant self on Saturday. 
Ransom struggles
Four-star safety Lathan Ransom is going to have an opportunity to make an immediate impact for Ohio State, but there's going to be a learning curve. He knows that, and Saturday showed it.
In the first half, Ransom twice was forced to shift over from his safety spot to cover a slot receiver, and he got beat both times. He also was called for an unsportsmanlike conduct penalty (leaping) on a field goal attempt that extended a drive (that drive still ended up resulting in a field goal for the East.)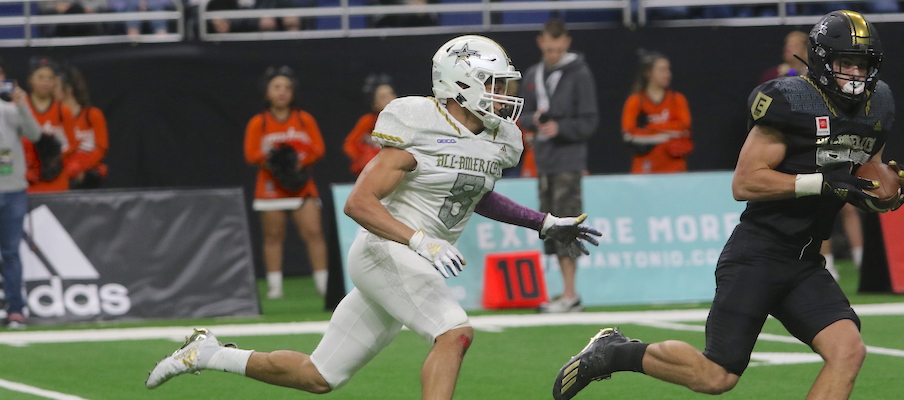 The first play went for 42 yards, and the second was a 39-yard touchdown. Plays like that are one of the things Ransom knows he will have to get better at if he is going to match his potential.
"My intelligence and being able to be on the field and be a leader, to get on the field and see what the defense is doing. I'm trying to get there and, before all the physical parts come in, I need to know the game better than everyone," Ransom told Eleven Warriors on Friday. "That's really one of my challenges coming in is to learn all the different positions, all the different plays and checks and stuff like that. And I need to just come down on the field and be a physical presence as a safety. Come down, make tackles and have people be scared to throw across the middle."
Scott's drops
In addition to Ransom, Gee Scott Jr. had a forgettable first half as well. 
The four-star receiver and No. 62-ranked overall prospect in the nation dropped two passes, both easily catchable. The first was on a short flip from Young off a scramble. The second was pretty much on the money and absolutely should have been caught as well. Scott slapped his hands together in frustration after the second drop and put his head down. (He later caught a five-yard pass from Stroud in the fourth quarter.)
It'll be another learning experience for an Ohio State player who made a couple mistakes. I'd be shocked if a couple drops in an All-Star game had anything but a positive effect on Scott, honestly. He's one of the most impressive high school athletes I've ever interviewed.
"To keep it real, there's a part of me that understands it's bigger than me," Scott told Eleven Warriors on Friday. "There are sometimes when I'm working out when I'll be tired or a game when I'm tired and I don't feel like pushing it. If it was all for me, then I'd probably tap out. But I realize that I have a whole family that's looking to me to do big things. I've got a little brother who's looking at me to do big things.
"I've got so many – I don't wanna call them fans – supporters that look to me that have these expectations of me. Not only am I doing all this stuff for myself, but I'm putting on for so many different kinds of people. I'd be doing everyone a disservice if I let down."
(As an aside, hope you guys liked that "Scott's Tots" reference in the headline.)
Smith-Njigba in good spirits
The most disappointing part of Saturday's game for Ohio State fans was the fact that Texan receiver Jaxon Smith-Njigba, from Rockwall High School less than five hours away, was unable to play.
The should-be five-star receiver suffered an ankle injury on Wednesday after an explosive start to the week in which he began to gain even more attention among national scouts.
Smith-Njigba had been hoping to play in the game after having watched former Rockwall players and other Texans play in the All-American Bowl on TV. But Smith-Njigba, who was no longer on crutches Saturday but still in a walking boot, seemed to be in great spirits on the sidelines. And after the game, he seemed to be in just as good of a mood.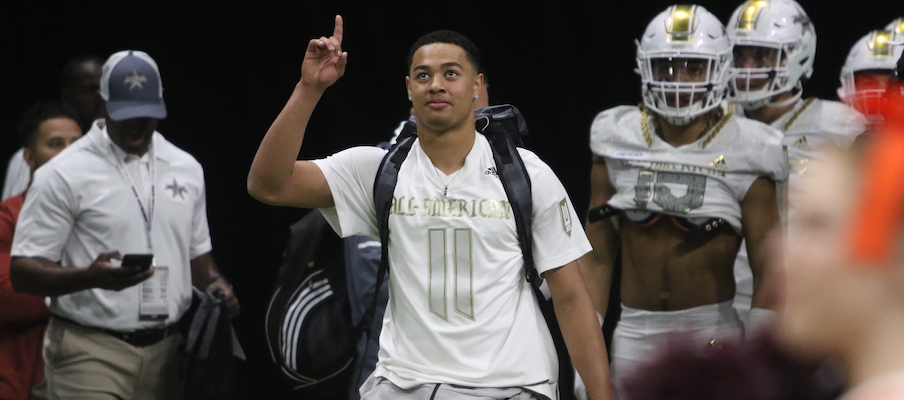 He showed throughout his high school career that he shouldn't be considered an underdog, and he'll have plenty of the same opportunities once he's healed up.
"As everyone knows, I haven't been the highest-rated," Smith-Njigba told Eleven Warriors on Friday. "I feel like I got here in a different path than everyone else. I feel like I really worked for everything. I'm not saying nobody else did. I'm just saying I worked for all this. ... Having the work mentality and that dog mentality, it came from a younger age. I've always felt like I've had that dog mentality just by the way I worked and the way I thought about stuff. I want everything, and if I want it I wanna set my mind to it."
Simon locked in
Four-star linebacker Cody Simon has an icy stare and a cold look on the field. He seemed locked in during the game, and he ended with 2.5 total tackles (fourth-most for the East Team). Simon had one of the better weeks during drills, and he's happy to end his high school career with some momentum.
"I'm just trying to do my best, man. I'm blessed to be out here," Simon told Eleven Warriors after the game. "I'm honored and just trying to do the best I can. I just try to carry myself with as much character as possible and play the best I can. The coaches notice it, and I'm just thankful they see my work."
Gibbs looks the part
On a few runs, four-star running back Jahmyr Gibbs showed off why he's blown up on the recruiting trail over the last few months. On one particular second-quarter run, he showed off his burst and lateral quickness, and then he showed off his vertical by hurdling one of the advertisers' mini-billboards on the sidelines for good measure.
Gibbs confirmed he will be visiting Ohio State on the weekend of Jan. 17, but he said he won't be looking at anything specifically on his official visit. He just wants to get a better feel for the program as a whole.
Gibbs told Eleven Warriors after the game that he wasn't considering Georgia at all, even if the Bulldogs offered.
Jackson, Leigh take it all in
The future of the future of the program was also on hand. Maybe. 
Four-star offensive linemen Donovan Jackson and Tristan Leigh are currently uncommitted, but each could end up in Columbus. 
Jackson, a Houston native, was in town all week. He and his father, Todd Jackson, were on the sidelines checking out the game. Jackson will make his college commitment on Wednesday, and it's down to five schools – Ohio State, Georgia, Stanford, Texas and Texas A&M.
"I've done my research for a while now and in making my decision, it crossed off all the factors that I have so I'm very confident," Jackson told Eleven Warriors. "What I can take away besides football, the alumni and just overall atmosphere."
Leigh, on the other hand, told us there is a long way to go in his recruitment. He has not yet whittled his list down to five schools yet, and he says he has no timeline of when that list may come. 
Top247 2021 DL Tristan Leigh having a dominant showing at the All American Bowl National Combine: https://t.co/Q11VucMkrF pic.twitter.com/g1S9BpyND5

— Steve Wiltfong (@SWiltfong247) January 3, 2020
For Leigh, who is high on the Buckeyes' board, this week was about continuing to get his name out there. Leigh had a dominant performance at Friday's national combine for underclassmen, earning "Alpha Dog" honors and an invitation to next year's All-American Bowl.
"It's been a crazy week," Leigh told Eleven Warriors. "It's been a big step in my recruitment. Just learning new things. It's been a lot. It's been fun."
Wisky gets another
Wisconsin's Jonathan Taylor declared for the NFL Draft on Friday night, but the Badgers loaded up again on Saturday. 
Four-star running back Jalen Berger, the country's No. 11 RB and New Jersey's second-rated recruit, committed to Wisconsin during a first-half hat ceremony on the field. 
His commitment rose the Badgers up to No. 25 nationally and No. 5 in the Big Ten in the 2020 class rankings.
---
As a final note, Eleven Warriors talked at length to most of the 2020 signees and a couple uncommitted 2021 guys during our time in San Antonio. Be on the lookout for more stories over the next few weeks about the players who will soon be suiting up in Columbus.