Throughout the course of the offseason, Eleven Warriors is taking an in-depth look at the state of every position group at Ohio State.
No position group at Ohio State might have experienced quite as much turmoil as running back over the past few months.
As Marcus Crowley rehabbed an ACL injury, Master Teague suffered an Achilles injury, leaving Steele Chambers as the only healthy running back in the spring and necessitating the addition of a graduate transfer. That hole led to Tony Alford linking up with Trey Sermon, Oklahoma's graduate transfer.
With next year's running back room now set and a pair of committed tailbacks in the 2021 class, Alford has the personnel locked down for the foreseeable future. So, what does that mean for the state of the position? Let's investigate.
The Personnel
Demario McCall (RS-SR): Including McCall with the running backs speaks to the considerable uncertainty still somehow surrounding him as a fifth-year senior. Ohio State lists him as a running back, but he spent the three spring practices as a slot receiver. Where will he line up this fall? Your guess is as good as anyone else's at this point. A 5-foot-9, 195-pound weapon, McCall has shown an enticing ability to be a playmaker, but he hasn't ever managed to secure a permanent role in the offense. As a redshirt senior, he has one last chance.
Trey Sermon (SR): Out of Sprayberry High School in Marietta, Georgia, Sermon was recruited by Tony Alford before ultimately landing at Oklahoma. He spent three seasons with the Sooners, piling up 2,076 rushing yards and 22 touchdowns on the ground. Sermon managed 744 rushing yards as a freshman, 947 rushing yards as a sophomore then 385 rushing yards as a junior before ultimately moving on from Oklahoma and landing at Ohio State, where he's expected to begin the year as the starting running back. His junior season as a Sooner ended with a knee injury, but he's expected to be fully healthy well before the start of preseason camp.
Master Teague III (RS-SO): Only a few months ago, Teague was the presumed starting tailback in 2020. He had just rushed 135 times for 789 yards and four touchdowns as a redshirt freshman, and he opened the spring taking first-team reps. However, the 5-foot-11, 225-pound back suffered a devastating Achilles injury during the first practice of the spring, leading to the addition of Sermon. It's unclear whether or not he'll be game ready by the time the season kicks off.
Marcus Crowley (SO): While Crowley's expected to return by the time the 2020 season starts, he's still in the process of rehabbing an ACL injury he suffered late in an eight-carry, 82-yard, one-touchdown performance versus Maryland in November. It sidelined him for the three spring practices and is unclear whether it'll keep him out of preseason camp, as well. The 2018 Florida Gatorade Player of the Year had 25 carries for 237 yards and a touchdown as a freshman. If he's healthy, he'll be in the mix for meaningful touches out of the backfield.
Steele Chambers (RS-FR): Added by the Buckeyes as an athlete who Clemson wanted as a linebacker, Chambers has found a home at running back. The 6-foot-1, 220-pound tailback has a bit of a different build than the rest of the tailbacks on the roster, which makes him an intriguing long-term option – provided he stays at the position, as expected. Chambers collected 135 yards and a touchdown on 19 carries while redshirting in 2019 as a true freshman. 
Miyan Williams (FR): After a 2019 recruiting cycle that featured Alford chasing a multitude of running backs, Ohio State ended up with Williams, a standout at Winton Woods. As a three-star prospect who clocked a 4.74-second 40-yard dash in May 2019, Williams won't join the program this summer with quite the hype as others – including the pair of running backs committed in the 2021 class – but that didn't affect his high school productivity whatsoever. Williams will begin to attempt to translate that to the college level this fall.
Ohio State also has two commitments from running backs.
TreVeyon Henderson (2021): An ever-elusive five-star running back, Henderson committed to Ohio State on March 27 without ever taking a visit, becoming the second tailback pledge in the class. The Virginian chose the Buckeyes over a host of SEC, Big Ten and ACC programs. A speedster who was named Virginia's Gatorade Player of the Year as a junior, Henderson is ranked as the No. 19 overall prospect and second-rated running back in the class.
Evan Pryor (2021): Less than two weeks before Henderson's commitment, Ohio State landed Pryor out of Cornelius, North Carolina. Mack Brown's Tar Heels made a strong push to keep him home, but he chose to become a Buckeye. He's ranked as the No. 85 overall prospect and No. 5 running back in the 2021 cycle.
Outlook In 2019
First, it was Jonah Jackson, who came to Ohio State from Rutgers to make up for recruiting misses as a one-year plug. Now, it's Sermon.
The Oklahoma transfer will walk into the Woody Hayes Athletic Center on the first day he's able to as the presumptive season-opening starting running back, even though Sermon will have to secure the job in the preseason. He didn't opt to leave Norman, Oklahoma, to use his final year of collegiate eligibility as a backup, even though no coach would ever come out and name someone the starter who hasn't set foot on campus yet.
Regardless, Sermon's a versatile 6-foot, 221-pound back who's gearing up for what should be his first full season as a starter. More than likely, he'll have somewhat of a timeshare in the backfield with Teague, Crowley, Chambers or Williams, but Alford isn't ready to declare whether someone will take the vast majority of carries – such as J.K. Dobbins last year – or if he'll go with a running back-by-committee approach.
"We don't have any preconceived ideas of, well, we're just going to run one guy so we're going to get this guy ready," Alford said a few weeks ago. "They're all going to get ready to play. They're all going to be prepared to play. We're going to do whatever we need to win games. If that's with a committee approach, then that's fine. If it's not, then it's not. To say what's that going to be right now, I think that's premature on my part."
Along with Sermon, there's a quartet of running backs fighting for touches. The difficult part? Two of the four are in the middle of long-term injury rehabs, one redshirted last season and the other hasn't yet enrolled. Ohio State has a backfield stable full of players with still unfulfilled potential.
Perhaps most importantly, Teague and Crowley have to get back from their Achilles and ACL injuries as quickly as possible. Per Alford, who said he follows what the medical staff tells him, they're "on schedule."
"I go off of what they tell me," Alford said. "From all indications, they're both doing well in rehab and they're attacking this thing the way that we want them to and the way that we'd expect them to. I'm kind of at (the medical staff's) mercy. They'll tell me when they're ready, as far as our medical staff."
Teague, who far and away played the most snaps among backup running backs last year, would be the top candidate to either start or rotate heavily with Sermon – provided he's healthy. 
"Master's the only guy that's really played extensive football, and so I've relied on him a lot for leadership," Alford said. "And he's done a really outstanding job of reaching out, engaging the younger guys and things like that."
Crowley, if he's healthy, could find himself in the mix, too. Chambers and Williams also might be able to take advantage of reps in preseason camp, earning carries if some tailbacks are still recovering from injuries.
There's also McCall, the enigmatic scatback. Nobody quite knows what to expect from him or where he'll end up, either in the backfield or as a slot receiver.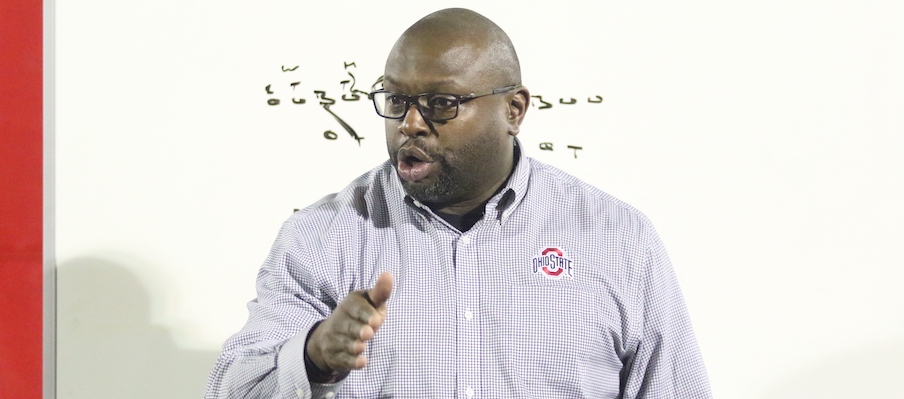 Strengths Of The Position
As Day projected, once Teague got hurt, Ohio State had "a little bit of a crisis" at running back. Sermon's addition, however, immediately steadied the 2020 plans at the position.
"We're anxious to get started with him, and we're happy to have him," Alford said.
Even though both Teague and Crowley are recovering from injuries, Ohio State has a cadre of interesting options in the backfield. Teague, called a "genetic freak" by Day, played 264 offensive snaps last year as a redshirt freshman. Crowley and Chambers, who both flashed late in games, appear ready for an uptick in touches. Williams brings power to Columbus. Even McCall could help, offering plenty of different looks as a smaller-than-usual back.
Plus, once the Buckeyes get through the 2020 season, they're smooth sailing.
Everybody but Sermon will return for the 2021 season, and Alford will add Henderson and Pryor – a pair of top-100 overall recruits – to his position group. Right now, Ohio State has a ton of youth at running back, meaning Alford will return his entire 2021 backfield in 2022. He'll have his pick of quite a few options.
Plus, he re-established himself as a top-flight recruiter by landing Henderson and Pryor. Their importance can't be understated since they're both significantly higher-ranked recruits than all of the other running backs currently on the roster.
Sermon will aid Ohio State in the 2020 season, and in the long term, there's a lot to like about the running back situation. 
Weaknesses Of The Position
There's been a lot of hype around Sermon, whose film and 2,000-plus-yard production have led many to declare him the savior the Buckeyes need in 2020. That said, do we really know what to expect from him? Are we completely sure?
Sermon has never been a starter, had 385 rushing yards in an injury-shortened 2019 season and won't get to join the team until preseason camp begins. Yes, he might be the answer Alford needed when Teague went down with his Achilles injury. But he's in a role he's never filled before.
Beyond him, do we even know how healthy the rest of the room will be, especially at the beginning of the season? There are quite a few important questions that currently remain unanswered.
Even beyond health concerns, most of the running backs lack much experience. Crowley and Chambers played 36 and 33 snaps, respectively, as freshmen. Williams won't enroll until this summer. Teague racked up nearly 800 rushing yards last season, but most of his success came late in blowouts against poor competition. In late-season games against Penn State, Michigan and Clemson, he averaged 2.1 yards on 21 carries. It's easy to see his special power-speed combination, but it's also fair to want to see more versus stiffer opposition.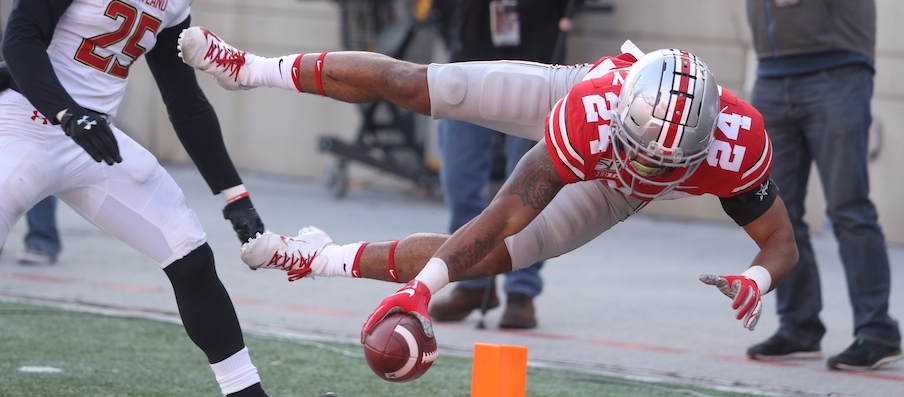 Long-Term Outlook
Projected 2020 Depth Chart
Trey Sermon
Master Teague
Steele Chambers
Marcus Crowley
Projected 2021 Depth Chart
Master Teague
Marcus Crowley
Steele Chambers
Projected 2022 Depth Chart
Marcus Crowley
Steele Chambers
TreVeyon Henderson
By adding Sermon, Ohio State effectively showed everybody its plans for 2020. The graduate transfer from Oklahoma will start. How many carries he gets remains a mystery, but it'd be a surprise if he doesn't get the season's first handoff from Justin Fields.
Beyond the 2020 season, good luck trying to predict who Ohio State relies on in the backfield.
In 2021, the Buckeyes will have six non-senior running backs – Teague, Crowley, Chambers, Williams, Henderson, Pryor – on their roster, meaning they'll all be slated to return the following season with whomever they sign in the 2022 cycle. Things get complicated quickly. 
Realistically, Teague could serve as a complementary, backup tailback to Sermon in 2020 before starting in both the 2021 and 2022 seasons as an upperclassman. For the sake of changing it up, we'll project that he heads to the NFL after 2021. But attempting to figure out how the running back situation shakes out in future years is a futile exercise. That's one of the main reasons why the backup competition this fall matters going forward – it could offer somebody a leg up.
---
Trey Sermon photo courtesy of Tim Heitman-USA TODAY Sports