CINCINNATI – The sound of Ohio State's fight song, Buckeye Battle Cry, from the speakers rose above the applause from the 50 or so people packed into the library at Winton Woods High School, and in walked Miyan Williams.
Wearing a scarlet snap-back hat and scarlet long-sleeve tee-shirt with the same Ohio State logo embroidered on both of them, he strolled into the room emanating satisfaction and took a seat up front beside his high school teammate, Toledo signee DeMeer Blankumsee. This ceremony was both a formality, since he had signed his National Letter of Intent to play running back for the Buckeyes earlier in the day, and a moment many years in the making. 
With a wide, closed-lips smile rarely leaving Williams' face over the next hour as he feigned signing with Ohio State again and took boatloads of photos, his mother Millie Ray felt a sense of excitement. Yet the ceremony didn't come as a surprise to her.
"I think we kind of knew this route since he was like 13," Ray told Eleven Warriors on Wednesday. "I mean, we didn't know where he was going to end up. But knew he was going to be playing college football somewhere."
Williams didn't begin playing football because he loved the game. In reality, he never watched the sport on television growing up. He didn't have favorite teams, favorite players or an overwhelming desire to play the sport. 
But Ray picked Williams up from school one day when he was 8 years old and, without telling him where they were going, took him to a youth football practice because she didn't know what else to do with him.
"I put him into football because he was, honestly, beating up all the kids in the hood," Ray said.
The smiles that permeated the Winton Woods library on Wednesday didn't exist quite as often back then.
As a child, for reasons he still can't quite explain, Williams had what he terms "anger problems." With his father – whom he called his "motivation" – in and out of prison, he was raised by Ray, a single mother. She admits he was initially challenging to raise because of his aggression. At home, Williams often fought – and lost to – his older brother, and those fights continued to happen elsewhere. Uncertain of what to do to help her son channel those emotions, Ray remembers somebody recommending that he tries playing football when he was 8 years old, and without anything else seeming to work, she took them up on that suggestion.
"I think it changed his life, honestly," Ray said. "I think it gave him a way to cope with some of the aggression and some of the stuff that as a mother, I'm not a man, I didn't really know how to help him with that. I think being around the coaches and male role models kind of helped him with that."
Ohio State has its 2020 running back. Miyan Williams of Winton Woods. pic.twitter.com/Cq8evSCv9g

— Colin Hass-Hill (@chasshill) December 18, 2019
Williams didn't fall in love with the sport immediately. As a lumbering child, he got placed at offensive guard and center, positions he didn't enjoy playing. But at the age of 9 when he lined up at fullback, took his first-ever carry and bowled over four kids on the opposing team en route to a touchdown, the love for the sport sparked and began to grow as the carries added up.
As a running back, he didn't try to avoid defenders. Not at all. He sought contact the way he still does to this day as a sturdy 5-foot-10, 230-pound running back. Even at the time, long before his 5,823 yards and 68 touchdowns at Winton Woods, his physicality translated to the field.
Ray still remembers asking Williams at the time why he enjoyed football so much and whether it had to do with him being good at the sport. He responded by saying, "No, because I get to hit people my hardest." 
"If you notice, he does run very violently, but that's kind of where that came from," Ray said. "It was always an outlet for him to be able to let off that aggression."
Williams added: "That's what a lot of people say. They say I run aggressive. I think so too when I sit back and watch, like, dang."
With Williams gaining an admiration for the sport, Ray began to use it as a mechanism for discipline. At age 10, he wouldn't stop talking in class, so his teacher gave his mom a call. She responded by contacting his little-league coach who forced him to watch the next game from the sideline.
"He had to sit there and knowing, like, 'Hey, if I'd have been in this game, we probably wouldn't have lost.' So I think that helped," Ray said.
In eighth grade, five years after he began playing football, Williams broke out while playing on a 13-and-under travel team that included a host of players who signed National Letters of Intent on Wednesday, including Northwestern-bound Cameron Porter and Cincinnati-bound Deshawn Pace. Nearly two years later, Kentucky extended his first offer and his recruitment began.
"He runs with an edge. He runs tough, he runs hard. It's like he's angry when he runs. We like that. And he's big and strong."– Ryan Day on Miyan Williams
Ohio State, though Williams grew up just a couple hours away in Cincinnati, didn't prioritize the three-star back. Ray, seeing her son become the the 2018 Ohio Mr. Football runner-up as a junior, never understood the in-state power's lack of interest. In her mind, the numbers backed up him being the top running back in the state. 
So after his junior season concluded, she took those thoughts to Tony Alford, the running backs coach for the Buckeyes.
"At that time we were doing visits and talking to schools that he had offers from because he's a junior, he has offers," Ray said. "And I know he liked Ohio State, so I kind of just asked them. And then coach Alford, he did explain it's a process. He likes to get to know the kids first. He wants to make sure he's bringing good kids in his program. With Miyan, that can be a little bit tricky."
Williams isn't known for his talkative nature. Especially with people he doesn't yet have a rapport with, he's on the quiet side. That, he says, he picked up from his father.
"When I be talking to him, he made me just sit back and watch, not say much," Williams told Eleven Warriors. "That's why I'm quiet now. He made me sit back and watch, see what people doing so I could figure everything out."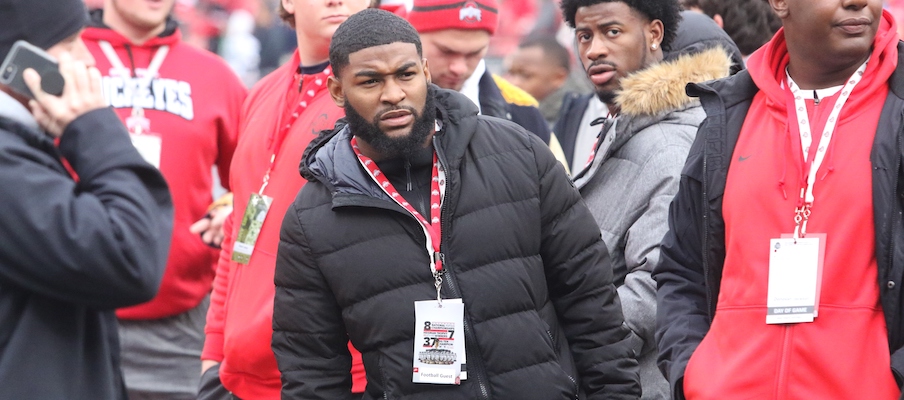 As the calendar turned to 2019 without a scholarship offer on the horizon, a Williams-Ohio State pairing appeared unlikely and both parties moved on.
Williams set his sights on other schools, and that included Iowa State. Based in Ames, Iowa, the university is a nine-hour drive from the family's Cincinnati digs. But the distance didn't stop Williams and Ray from building a rapport with Matt Campbell, the Cyclones head coach and a native Ohioan. On July 4, two weeks after taking an official visit to Iowa State, he felt confident enough in the coaching staff to commit to play running back in Campbell's program.
At that time, Williams committing elsewhere didn't sting for the Buckeyes. Alford and Ryan Day had opted to take swings for highly ranked out-of-state running backs, including Bijan Robinson, Kendall Milton and Jaylan Knighton, and Ohio State appeared to be on the verge of landing one or possibly two top-end running backs.
Within a month, though, the program's pursuit of them went off the rails. 
Milton committed to Georgia on July 29. Knighton followed suit, pledging to Florida State the next day less than a week after a surprise visit. A few days later, the Buckeyes suffered their worst blow of the entire 2020 recruiting cycle when Robinson, the second-ranked running back in the country, committed to Texas despite what's widely been reported as him having silently committed to Ohio State before then.
As the reeling Buckeyes regrouped, Williams again came into focus. An offer didn't come immediately, though.
"I wasn't really worried about it," Williams said. "For me, it was just like if they offer me, they do. If they don't, they don't. Because I was already committed at the time."
As the weeks passed, Alford began ramping up his communication with Williams. The text messages from the running backs coach began to come in every day, and he started to wonder whether an offer would soon follow.
On Sept. 21 that speculation was proven correct. Ohio State extended him a scholarship offer.
"We loved Iowa State so much. So I didn't think at first that he would sway," Ray said. "But as time went on and we kind of started communicating with the coaches a little more, I saw it. It's Ohio State."
Blessed to receive an offer from the Ohio State University #AGTG @CoachTonyAlford pic.twitter.com/kg3JBykpWs

— Spinner (@Miyann28) September 21, 2019
Williams began to reevaluate his college football future in the following couple months as he and his mother built up relationships with Alford and they considered the benefits of a commitment to Ohio State. The uncertainty of the Buckeyes' running back situation wasn't lost on Williams, either, who read up on what had happened.
By Nov. 23, the date of his official visit, his mother felt a sense that a flip from Iowa State to Ohio State was coming.
"I think he kind of knew going in there. Well, at least I knew," Ray said. "At least I knew kind of based on previous conversations between me and him that he's leaning a little bit more toward Ohio State. He had built the relationship with coach Alford, and he was starting to lean a little bit toward Ohio State."
After watching the Buckeyes beat Penn State at Ohio Stadium, Williams made it official, announcing his commitment to play for Ohio State.
November 23, 2019
At that moment, he finally answered the seemingly never-ending question of which running back would end up in Ohio State. It wasn't a five-star running back from the West Coast or a four-star prospect from the South. It was Williams, a three-star Cincinnatian who had been sitting there the whole time.
Naturally, what appealed enough for the Buckeyes to offer him was exactly the reason Ray had to put him in football a decade ago.
"He runs with an edge," Day said on Wednesday. "He runs tough, he runs hard. It's like he's angry when he runs. We like that. And he's big and strong."
Williams hasn't ever changed. He was a violent runner as a 9-year-old child scoring four or five touchdowns in each game, and he's still a violent runner as an 18-year-old senior at Winton Woods where he scored more than 60 touchdowns the past four years.
Don't expect that to change anytime soon, either. That aggression, distributed somewhere other than in fights, got him a full ride to play football at Ohio State.
"I just feel like if I just get my opportunity, I'm going to take it," Williams said. "That's what happened here at Winton Woods. Because there was a senior in front of me. I got my opportunity and I took it."
With J.K. Dobbins likely heading to the NFL after this season, the opportunity could appear as soon as next season. Master Teague shined in backup duties this fall, but neither he nor the other running backs – senior Demario McCall and freshmen Marcus Crowley and Steele Chambers – have ever started a game. As a freshman, Williams would decidedly be an underdog.
But though he doesn't have five stars beside his name and won't enroll until June, Williams won't discount himself in such a competition, and he has never has. Not since he figured out how to channel his emotions into football.