At one point in his career, Ryan Day spent time around a coach who slapped a book on his desk detailing how to close a sale.
Maybe it was "Art of the Deal." Maybe it was the hardcover version of "Glengarry Glen Ross." Day never said what specific book it was. Just that it taught him something valuable about recruiting.
"It's not about getting a sale," Day said. "That's not what recruiting is."
Trying to sell, sell, sell and finesse your way into a signature is becoming an extinct form of successful recruiting, to paraphrase what Day said on Tuesday – just moments after the Buckeyes had clinched a top-five nationally ranked class in his first go-round as head coach. 
The main reason he was able to restock the shelves with the nation's No. 3 class is because of recruiting strategy. It's something receivers coach Brian Hartline also referenced in his own media availability several minutes after Day's.
"Fortunately, so far, I haven't really got to know guys really deeply and then a guy not come," Hartline said. "I know one day that day's gonna happen, and it's gonna crush me. I really dive into the relationships. I really enjoy coaching young men here.
"The 'recruiter' label has always rubbed me the wrong way. This isn't a business. These are young men who are trying to figure out where they wanna go to school and which coach they can relate to. ... This is Ohio State. It's the best program in the country. All you've gotta do is talk about it. ... This place is amazing. I try to communicate that as clearly as possible, and hopefully my passion comes through."
The Buckeye coaches don't give a sales pitch to recruits. They build relationships.
Therein lies the success of Ohio State's recruiting efforts. The non-sales pitch is their sales pitch.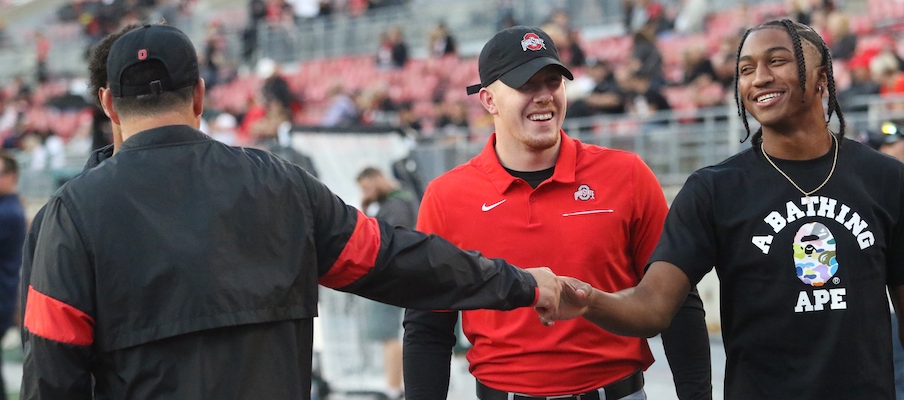 Day said the word "relationship" 10 times during Tuesday's press conference. That's not by accident.
"At the end of the day, I think these kids want relationships, and they want people who care about their kids," Day said. "That's what it comes down to in the end. It's about building the relationships, and then bringing them here. And once they get here, they realize that this is such a special place, and the circle of care that's been built here by (athletic director) Gene Smith and the administration, it just blows people away.
"When you're honest and you're real with them, then obviously it translates better for when they get here. It's not about getting them to sign, it's about making sure they're successful when they're here. So we just went with that, trusted it, and it went well."
Truthfully, though, the Buckeyes do give sales pitches. Just not to the athletes themselves. 
Day has slyly used the media to convey his message multiple times this season. But only sparingly, and he's judiciously picked his spots. Like the efficient quarterback he was at New Hampshire, where he set a school record for career completion percentage, he hasn't often forced anything.
The most notable instance came on Oct. 29. The Buckeyes scrambling to find a running back late in the 2020 class, Day was grilled about whether or not his time was running out to solve the most confounding mystery of his program's recruiting cycle. 
"I think we will. I think we'll be fine there," Day said that afternoon. "J.K. (Dobbins) is having one heck of a year, and I think if you're a running back throughout the country in the United States and you're seeing the history of running backs at Ohio State and what we're doing this year and what we've done in the past, I think you'd be foolish not to give Ohio State a hard look.
"We're really confident with some of the guys we're recruiting right now, and there's a long way to December and then February. We feel strong – we also feel really good about the guys we have in the room right now. I think it's all going to work out."
That was the first time all season – or, at least it was the most notable instance – when Day laid out a blueprint for why a certain position player should come, and would want to come, to Ohio State. 
(Ohio State did end up landing a running back, signing Cincinnati's Miyan Williams on Wednesday.)
The second-most noteworthy sales-pitch-through-media came on Monday afternoon when Day and staff were left trying to put out fires following Jeff Hafley's announced departure for Boston College. 
Facing a potential exodus of the five future defensive backs, Day had already securely locked down two cornerback reaffirmations heading into this week's first press conference but three were still up in the air (and two still are). But Day laid down his pitch, strategically claiming ownership that it was his vision of what this defense could be that first fueled the turnaround that has been credited all season to Jeff Hafley (and a bit to the overlooked Greg Mattison).
"The idea of this defense was something I had a vision of – four-down front with cover one, cover three a lot of single-high," Day said Monday. "That's what Jeff fit perfectly, Matt Barnes had done at Maryland, Al (Washington) had done in his past. It all fit.
"We're not all of a sudden going to change. Jeff came in to run this defense, and he did a great job. But we're going to fill that in, and we're going to continue to do the same thing we're doing on defense in the future."
Day continued: "Ohio State has been here a lot longer than Jeff Hafley. It's going to continue to be great. Coach Hafley is a big reason they came here, but it wasn't the only reason. Our guys have been strong in their response. They're excited to sign on Wednesday."
(Ohio State ended up signing Lathan Ransom, Lejond Cavazos and Ryan Watts III on Wednesday, but Clark Phillips III is making his college choice on Thursday and Cameron Martinez will wait until February to sign with a school.)
Day and Hafley are great friends. He told Hafley that he should put serious stock into taking the Boston College job months ago, Hafley told The Athletic's Nicole Auerbach. So Day wasn't coming after Hafley in that moment. He was just giving his sales pitch through the media.
But the dais at the WHAC seems to be the only place he's utilized that sort of pitch.
All season, Buckeye recruits have raved, glowed and (fill in your favorite positive adjective here) to Eleven Warriors about Day, Hafley, Hartline or (fill in your favorite Buckeye assistant here) and how they recruit. It's never negatively recruiting another school. That comes off as weak and desperate. It's never plodding and ploying for them to please come to Columbus. 
There are a few examples we could copy-and-paste here to detail for you what we mean, but there didn't seem to be a better one than the quote from one of the Buckeyes' top-of-the-line, mint-condition 2021 targets – four-star North Carolina running back Evan Pryor.
"You go to some other places in the country, and they just want you to, you know, 'Come to our school. Come to our school. Come to our school,'" Pryor told Eleven Warriors in mid-November. "But the talk was nice with Coach (Tony) Alford just talking about life in general. That was something I'd never gotten at another college. … My dad thought it was great. He was like 'that's somebody and a staff that I don't have any issue with sending my son off to college with.'"
Slam on the brakes. Hit reverse. Park. 
That was was something I'd never gotten at another college.
Let's remind you that Pryor's offer sheet on 247Sports consists of 31 Division I programs. His other nine schools in his final top 10 outside of Ohio State are four SEC powers (LSU, Georgia, Alabama, Florida), two Big Ten rivals (Penn State, Wisconsin), two Pac 12 schools (Oregon, USC) and his home state program (North Carolina). 
It's possible that Pryor, whose comments were regarding a July visit to Columbus, eventually did hear something along the lines of the Buckeyes' non-pitch sales pitch.
But for a four-star prospect ranked in the top 75 nationally among all junior prospects to have never heard a pitch like that? Well, those are the types of reasons that Ohio State has landed, and is going to continue to land, top-five classes during the Day Era. 
The traditions, facilities and winning are among those chief reasons, too, let's not kid ourselves. But in recruiting a teenager one-on-one, whether it's a two-hour drive away in Cincinnati or a 4.5-hour flight to Seattle, it always comes back to that one crucial thing.
"It's just the time and it's building relationships and being honest. That's the biggest thing," Day said. "It's about building a vision and letting them know what your program is and what you're going to do for their sons, building that relationship, and then treat them the way they're recruited. That's what it comes down to."