The Hurry Up is your nightly dose of updates from the Ohio State football recruiting trail, keeping tabs on the latest from commits and targets from around the country.
Egbuka gets feel for Columbus game day
I wrote at length about Emeka Egbuka last week and again earlier today so I'm sorry if this is going to feel like Emeka overload but we're here to talk about the star receiver talent once again.
Frankly, it's kind of hard not to discuss the Buckeyes' No. 1 receiver target on their board. After all, that was one of the main bullet points the coaching staff confirmed with Egbuka during his visit to Columbus this weekend – that he's Ohio State's guy, and they're going to "come after me hard."
But the other key reason Egbuka, who told Eleven Warriors he "loves everything about Columbus," and his mother came to the Buckeyes' matchup with Wisconsin for was to get a feel for a game day in the Shoe. Despite the rain-soaked Saturday, the weather didn't dampen the experience for Egbuka – in fact, it may have even felt like home for the Pacific Northwest native.
"In a way (the weather) actually made it more fun," Egbuka said. "It was a diverse environment, and here in Washington we're used to the rain, so we brought it with us a little bit. But to see them playing in those conditions and still come out on top, have a good game and have fun while doing it, it was good to see."
Egbuka spent his time in the stands watching how the Ohio State receivers helped throughout the game, despite the rain, and how they "got things going for them offensively. It was good to see that."
Egbuka said his mother, meanwhile, was able to get even closer with the Ohio State coaches.
"My mom likes a lot of things about Ohio State too," Egbuka said. "She's really close with the coaching staff. She's grateful for the coaches they have there, and she knows that if I end up going there that they're gonna take good care of me."
It's an important item to note that despite the distance – which Egbuka says won't be a factor in his college decision – his mother would be more than fine with him coming to Ohio State. 
(Side note: Apparently, fellow star Washington receiver Gee Scott Jr.'s father – a Seattle resident – doesn't have any issues with the distance either.)
Hey Gee, isnt it going to be hard having your son so far away?

I can see his games there easier than I can see local games here.. https://t.co/OVoB8HRBo3

— Gee Scott (@GeeScottSr) October 28, 2019
By all accounts, Egbuka's visit this weekend sounds like it went terrific, but he said no specific differences stand out between Ohio State's game day atmosphere and Washington's – which is the only other school he has visited for a game day this season, having gone to the Huskies' matchup with USC on Sept. 28.
"They're definitely different environments," Egbuka said. "Football is kind of a different feel out there in those bigger schools, but I've been to multiple Washington game days since my freshman year. There are definitely similarities and differences in their college game days, but the mindset of the different coaching staffs and the players is all the same. They're all just looking to get the W."
So what's next for Egbuka?
Though he says he hasn't confirmed anything official yet, he says his next game day visit would be Oklahoma if he has time this season. 
"I don't feel like putting a timeline on it. It's just whenever I feel comfortable and ready." – Emeka Egbuka on when he wants to make a college decision
Then, he will work on officially narrowing down his top 10 list, though he may already have an idea of who fits where on that list.
"I've kind of had (the list narrowed down) in my own head, but I'm just giving the other coaches opportunities and stuff like that," Egbuka said. "Just kind of taking it slow and at my own pace and releasing it when I'm ready."
Though Egbuka says he doesn't find the recruiting process too stressful, it hasn't exactly been enjoyable, either.
Though many recruits put exact dates or a timeline (e.g. "I want to commit at the end of my junior season or the summer before my senior year.") on their decision date, the 2021 star is not going that route, instead saying he will commit "just whenever it feels right. When it does feel right, I'm not gonna waste any time because there's no reason to. 
"I don't feel like putting a timeline on it. It's just whenever I feel comfortable and ready, and my family and I we're all on the same page and my coaches too. We're all on the same page."
Egbuka, Shipley meet
Much of Egbuka's time on Saturday was spent chatting with five-star 2021 running back target Will Shipley, the No. 1-ranked junior all-purpose back in the nation.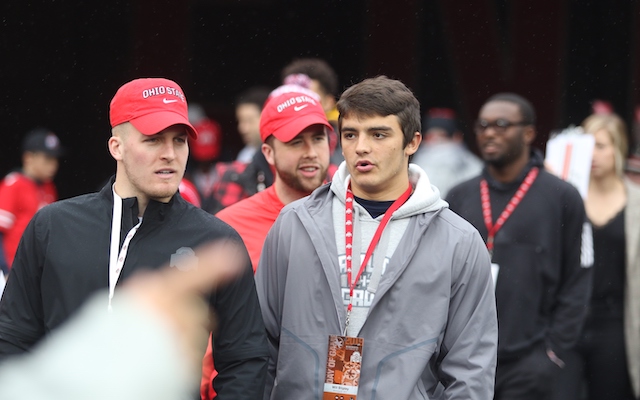 Shipley and Egbuka are looking at many of the same schools – including Ohio State, Clemson, Stanford and Notre Dame – and this gave each of them a chance to talk shop. But that didn't mean diving into detail about the hectic side of their respective recruitments.
"That was our first time meeting each other, but we stay connected through social media and stuff like that," Egbuka said. "But we weren't talking about necessarily the recruiting process too much or where we think each other wants to go. We were just kind of chopping it up, getting to know each other and talking about the possibility of maybe playing together one day."
Buckeyes offer Prather
Kaden Prather, a 6-foot-3, 210-pound four-star receiver from Northwest (Md.) High School, announced an Ohio State offer on Monday night.
Extremely blessed to receive an offer from The Ohio State University #GoBuckeyes pic.twitter.com/8I841oqE8D

— KADEN PRATHER (@KADEN3TIMESSS) October 28, 2019
Prather is the No. 48-ranked 2021 receiver in the nation, coming in as the lowest-rated four-star receiver the Buckeyes have offered in the class. 
Prather is the No. 12 overall junior prospect in Maryland and rates as the No. 283rd recruit nationally.
Day addresses 2020 RB recruiting
We've talked plenty about the 2020 running back recruiting situation on here. 
On Tuesday, Ryan Day was asked about the Buckeyes' history of running backs – such as Archie Griffin, Ezekiel Elliot, Keith Byars and Tim Spencer, and the success of J.K. Dobbins this season – and whether or not he's surprised that this year's running back recruiting is not where Ohio State wants it to be.
He was also asked whether or not he's confident the Buckeyes will finish strong in this year's recruitment of the position.
"I think we will. I think we'll be fine there," Day said. "J.K. is having one heck of a year, and I think if you're a running back throughout the country in the United States and you're seeing the history of running backs at Ohio State and what we're doing this year and what we've done in the past, I think you'd be foolish not to give Ohio State a hard look.
"We're really confident with some of the guys we're recruiting right now, and there's a long way to December and then February. We feel strong – we also feel really good about the guys we have in the room right now. I think it's all going to work out."
Despite rumors swirling around potential decommitments by Bijan Robinson and Jaylan Knighton, it's still looking like fellow already-committed backs Jahmyr Gibbs and Miyan Williams are the top two options for the Buckeyes.
Gibbs is slated to visit Nov. 9 for the Maryland game, and Williams confirmed with Eleven Warriors he is scheduled for a visit Nov. 23 against Penn State.
Recruits react to new NCAA ruling
The NCAA on Tuesday afternoon voted unanimously to start the process of modifying its rule to allow college athletes to profit from their names, images and likenesses. 
That set off a chain reaction of athletes, media members and fans calling for the return of the NCAA Football video game. 
Here are just a couple recruit reactions:
Soooo when the next NCAA coming out https://t.co/Z6gJ9IT1Wp

— Ryan Watts (@RyanwattsIII) October 29, 2019
October 29, 2019
There were plenty more reactions on Twitter as excitement about the game's possible return grows, though that process is obviously in the very early stages of potentially happening.