The Hurry Up is your nightly dose of updates from the Ohio State football recruiting trail, keeping tabs on the latest from commits and targets from around the country.
Miller, five-stars visit Columbus
The weekend's biggest visitor in the 2020 class for the Buckeyes' 38-7 win over Wisconsin was Jack Miller.
Miller, just hours after tossing three touchdown passes in another victory for his high school team, walked through the tunnel alongside his family and Mark Pantoni during Ohio State's pregame warmups and spent the next hour or so talking with Pantoni, Ryan Day and Gene Smith. 
Nice to be home #GoBucks

— Jack Miller (@jackjamesmiller) October 26, 2019
Miller's official visit looks and feels like it went as well as it could have, and the quarterback commit called Columbus "home" when he pulled into town.
2020 quarterback commit Jack Miller chatting with Ryan Day as Ohio States current quarterbacks warm up. pic.twitter.com/nNxqfPGx1M

— Dan Hope (@Dan_Hope) October 26, 2019
The two biggest names in the 2021 class on campus were five-star athlete Emeka Egbuka and five-star running back Will Shipley, who spent some time getting to know each other on the sidelines and the end zone.
Great time at Ohio State this weekend! @emeka_egbuka @coachcaponewhs @OSUCoachKDub pic.twitter.com/wJgTKtPxu9

— Will Shipley (@willshipley2021) October 27, 2019
Egbuka told Eleven Warriors he had a great time on his trip, and we're hoping to talk to him more about his visit later in the week. 
Shipley, meanwhile, was able to see J.K. Dobbins stake his claim as the best running back in the Big Ten, or perhaps the best in the country. Dobbins showcased his pass-catching ability as well, which is significant for Shipley, as his usage in the passing game could be a factor in where he decides to go to college.
Miller, Egbuka and Shipley were the biggest headline names to come to the Shoe, but the Buckeyes hosted several others on Saturday. Check out our gallery of nearly two dozen recruits who were on hand.
Williams confirms visit date
Since he received a received an offer from the Buckeyes in September, it's been a hot topic in the Ohio State recruiting world about whether or not Miyan Williams would make another visit to Columbus.
That question has apparently been answered, as Williams confirmed to Eleven Warriors' Mick Walker on Friday night that he is set to visit Ohio State with his mother for the Nov. 23 game against Penn State.
Williams has been to campus before, coming over from nearby Cincinnati, but this time around it will give the physical, bruising running back from Winton Woods High School a better opportunity to evaluate the environment. 
"That's a big school and everybody knows about them, and they have a good football program too," Williams said. "So there's a lot you can take in from that.
"I just want to see how it is because when I've been up there before, I didn't really pay attention to a lot of things. So I just want to go up there, pay attention and focus on more things up there."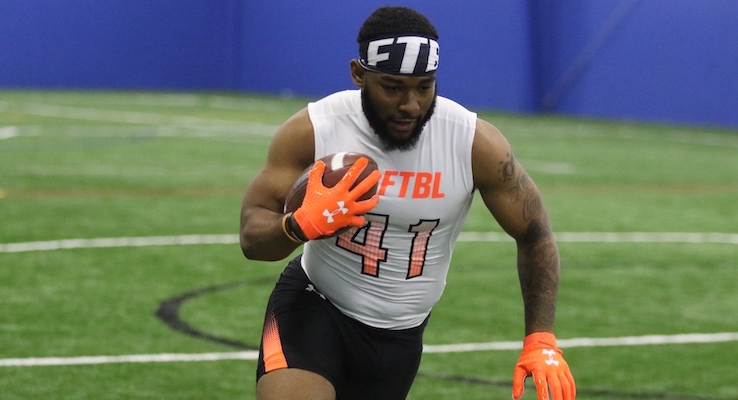 Williams has been committed to Massillon native Matt Campbell's Iowa State program since July 4, and it won't be a surprise if that doesn't change. Williams says one of the biggest draws to Iowa State is the city of Ames.
"I just like the community and the town that (Iowa State is) in because it's quiet and you can stay focused out there," Williams said.
Williams' comments came minutes after he propelled Winton Woods to a 26-21 victory over La Salle with 148 yards rushing and three touchdowns on 32 carries. Williams was named the game's MVP after leading Winton Woods back from a 21-7 deficit.
"First of all, I wanna give a big shoutout to my O-line because without them, I wouldn't have had the performance that I did," Williams said. "The victory feels great. I'm so happy that we got that win because we needed it bad."
Seibert impressed by Haubeil
Last weekend, Ryan Day surprised some people by trotting out Blake Haubeil for a 55-yard field goal attempt at the end of the first half against Northwestern. 
Only four other kickers in Ohio State history had converted a kick of that distance or longer. Haubeil soon became the fifth. 
Haubeil made the kick with room to spare to set off a raucous celebration among his teammates and at midfield ... and in the home of Jake Seibert.
The Buckeyes' 2020 three-star kicker commit, a right-footed kicker who will be both a placekicker and kickoff specialist for Ohio State, got hyped up for the man he will one day be following in the footsteps of.
"That's exciting. After he hit that, I texted him right after my game when I saw it," Seibert told Eleven Warriors' Walker on Friday. "I was so excited for him. Hopefully I'll be able to get some chances like that too."
Seibert, who was in the Shoe on Saturday, also was able to see Haubeil nail a 49-yard kick in the first half of the Buckeyes' victory over Wisconsin.
That came shortly after Seibert had nailed all three of his extra point attempts and booted each of his kickoffs into the end zone for a touchback in La Salle's loss to Winton Woods.
Seibert will look to continue improving his kicking game as he trains with Andrew Gantz, a former all-conference kicker and Lou Groza Award nominee at the University of Cincinnati.
"He's a really good coach and keeps me consistent," Seibert said. "He's helped with my power on my kickoffs. He's worked with a ton of guys from around the area. I'm glad to be working with him."
Hancock gets offer
Ohio State welcomed in several recruits on Saturday who did not yet have an offer from the program. 
One of them, three-star 2021 cornerback Jordan Hancock, left Columbus with an offer.
Blessed Beyond Measure!
Thankful To Receive An Offer From
The Ohio State University..#GoBucks #DBU pic.twitter.com/ExTKg1Z0Kj

— Jordan Hancock (@JordanHancock_7) October 27, 2019
Hancock is a 6-foot, 160-pound junior out of North Gwinnett (Ga.) High School ranked as the No. 45 cornerback in the nation in the 2021 class and the No. 43-ranked prospect in Georgia. 
Great time in Columbus & with Coach Day #GoBucks pic.twitter.com/eDQQjFBvdz

— Jordan Hancock (@JordanHancock_7) October 27, 2019
Hancock was flying back to Georgia on Sunday, but we hope to talk to him a bit more about his Columbus experience and the Buckeyes' offer as his career progresses.
He might be a three-star prospect, but Jeff Hafley and the Buckeyes' coaching staff obviously see something in him that they like.