J.K. Dobbins says he didn't enter Saturday's game against Wisconsin with Jonathan Taylor in mind. He says he didn't want to make a statement while across the field from somebody who much of the country had declared as not only the best running back in the Big Ten, but the best in the nation.
"All the Jonathan Taylor stuff, he's a great player, but I'm here to win games," Dobbins said.
That might be true – though it's fairly difficult to believe it wasn't in his mind. Either way, Dobbins made anybody holding the opinion that Taylor has an edge on him reconsider their position.
On 20 carries, Dobbins nearly tripled the Wisconsin defense's nation-best 58.4 rushing yards allowed per game by running for 163 yards, an average of 8.2 yards per carry. In the 38-7 win, he added three catches for 58 yards.
Taylor, the running back charged with propelling the Badgers offense, had 20 carries for 52 yards, averaging 2.6 yards per run.
The third-year backs entered Saturday with 10 rushing yards separating them this season – Taylor had a 957-947 edge – but Dobbins ended the day with a 101-yard advantage on his Big Ten counterpart, possibly moving into the top three in the country despite getting subbed out in the second half of blowout wins so frequently.
"J.K. ran with a chip on his shoulder," Ryan Day said. "Jonathan Taylor is a wonderful back but (J.K.) felt like he wanted to be the best running back in the game today."
And he showed it.
Every time the Buckeyes' offense got rolling, Dobbins played a significant role in making it happen.
"That he's the best back in college football. Easy."– Damon Arnette on what the world should think of J.K. Dobbins
On the 12-play, 41-yard drive that led to a 49-yard field goal from Blake Haubeil in the second quarter, the first points of the game, Dobbins only had one run, but he had a 20-yard catch. Dobbins opened the final drive before halftime, which led to Ohio State's first touchdown, with a 17-yard run. The play before Justin Fields ran for Ohio State's first touchdown of the third quarter, Dobbins had a 28-yard carry. The following drive, Dobbins rushed the ball on three of four plays, including a 34-yard scurry and a nine-yard touchdown. 
Ohio State rode him heavily on the next drive, with Dobbins either carrying the ball or catching a pass every time the ball was snapped during a five-play, 55-yard drive that ended with a 14-yard rushing touchdown.
Two minutes into the fourth quarter, it ended. No more Dobbins touches for the reminder of the game. No need. He had done his job, helping to bury the Badgers in Ohio State's most important win yet this season while also becoming the first player in program history to rush for at least 1,000 yards as a freshman, sophomore and junior.
"I think he's the best running back in the country," Day said. "When you see him run at the second level, when you see him run with his pads down, taking care of the football, on the backfield, he's very versatile in everything he can do and he's running with an edge. And so when you combine that with our offensive line, that's when you see special things out of him."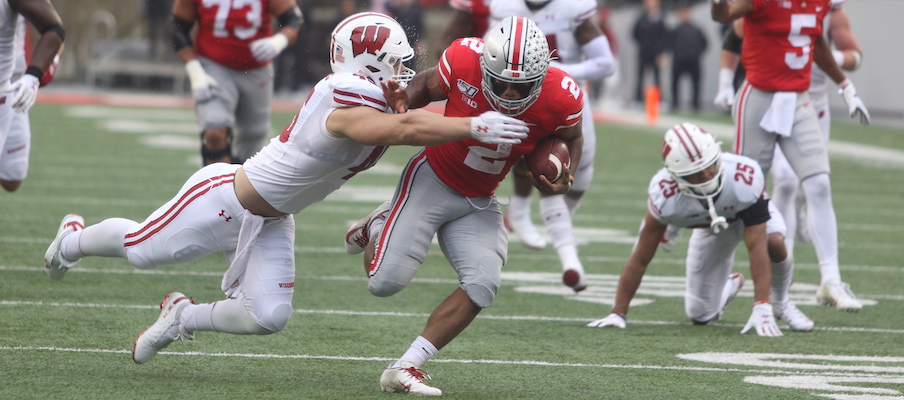 This, Day said, had been a week of challenges. 
Ohio State's front seven versus Taylor, one of the country's top running backs. The Buckeyes' offense against the country's top-performing defense. Ohio State's offensive line compared to Wisconsin's offensive line, which Wyatt Davis said he had often heard was viewed as the best in the nation. 
"It was a test for everybody," Davis said.
At the top of the billing, even though it wasn't a direct matchup since they were never on the field at the same time, was Dobbins against Taylor, and nobody let the Ohio State running back forget.
"We were messing with J.K. the whole week talking about the best Big Ten running back is coming at the Shoe," Justin Fields said.
Most of the ribbing, Davis said, came from the defensive players, including Chase Young. 
After Saturday, with Dobbins propelling Ohio State's offense and Taylor floundering, there wasn't much about them to debate, especially to those in the home locker room of Ohio Stadium. What should the world now think of Dobbins?
"That he's the best back in college football," Damon Arnette said. "Easy."
An hour after the clock struck 0:00, Dobbins graded his performance a "B," deeming it just an "OK" game.
"I'm trying to find a way to have that outstanding performance," Dobbins said. "One day it's going to come if I keep working on my craft."
When asked about what would have to happen for him to give himself an "A," Dobbins said, "We'll see. In due time." 
It's hard to know what more Dobbins has to give than 8.2 yards per carry against what was billed as the nation's No. 1 defense. But he has already backed up his bold claims once before.
In the weeks before the season, Dobbins sat at a table on the indoor practice field at the Woody Hayes Athletic Center and called his performance last season a "failure." On its face, given that he had cracked the 1,000-yard mark for a second year in a row, it seemed like a difficult statement to make. 
But Dobbins was right. It was a failure. The first eight games of the 2019 season have proved that to be the case, and they've shown he just might be the best running back in college football.