Ohio State coach Ryan Day had a message for his players this week: "Big-time players step up in big-time games."
That's exactly what they did against Wisconsin on Saturday.
In the Buckeyes' first game this season that was actually competitive into the second half, four of Ohio State's best players – especially Chase Young and J.K. Dobbins, but also Chris Olave and Justin Fields – stepped up in big ways to lead the Buckeyes to another blowout win, 38-7.
Young had one of the most dominant individual defensive performances in Ohio State history on Saturday, recording four sacks – tying a school record – and two forced fumbles among five tackles for loss and six total tackles. Four of those five tackles for loss, including the two strip sacks, ended Wisconsin drives.
Day wasn't shy about praising Young after Saturday's game.
"His impact was felt throughout the game, and he's probably the most dominant player in all of college football right now," Day said of Young. "I had a chance to see Nick Bosa last year and I coached in the NFL and saw some really good players at different times. But he's as good as I've been around.
"This is a game that was set up for him to kind of get eaten up with multiple surfaces and multiple tight ends. You can kind of get lost in the running game. He dominated. I think it goes to show you how tough he is. His leadership's been off the charts. His energy; he's the one that's driving and pushing those guys up front. I can't say enough good things about him."
Ohio State's No. 2 on offense, Dobbins, also had the best game of his Buckeyes career on Saturday, rushing for 163 yards and adding three catches for 58 yards for a career-high 221 yards from scrimmage. After the Buckeyes scored just 10 points in the first half, Dobbins put the offense on his back in the second half, with three plays of 20-plus yards in a three-possession span, all of which brought Ohio State into the red zone and led to touchdowns – two of which he also scored himself.
Day wasn't shy about praising him after Saturday's game, either.
"J.K. ran with an edge all day. I think he's the best running back in the country," Day said. "When you see him run at the second level, when you see him run with his pads down, taking care of the football, out of the backfield, he's very versatile in everything he can do and he's running with an edge. And so again, when you combine that with our offensive line, I think that's why you're seeing special things out of him."
While Dobbins took over the game in the third and fourth quarters – 133 of his 221 yards came after halftime – Olave played a crucial role, along with the dominant play of Ohio State's defense, in leading the Buckeyes into halftime with a 10-0 lead. While Ohio State's offense struggled to find its rhythm for most of the first half, Olave made several key plays, including a pair of first-down catches that set up a 49-yard Blake Haubeil for the first points of the game, and a 12-yard catch and a 27-yard touchdown catch on Ohio State's final possession before the break.
On a day where he made his first career start in place of an injured Austin Mack, Olave caught a career-high seven passes for 93 yards – more than half of the Buckeyes' total production in both categories – and both of Fields' touchdown passes, including the game's final touchdown in the fourth quarter, in a performance that solidified his standing as a player Ohio State can count to step up in big games.
"On Wednesday, when Austin Mack went down in practice, I watched it first-hand and I thought it was a bad injury to him. I'm glad he's OK, and he was a game-time decision today. But first game I did when I woke up in the morning, I asked him if he was good, and he said no," Olave said. "So I knew I had to step up and play that role."
Statistically, Fields didn't have one of his better games of the season on Saturday – he completed just 12 of his 22 passing attempts for 167 yards, and took five sacks – but against a Wisconsin defense that entered Saturday's game ranked No. 1 in the nation in just about every major statistical category, Fields made the plays the Buckeyes needed him to make to win the game, including the two aforementioned touchdown passes to Olave and a 10-yard touchdown run.
As he has all season, Fields also impressed Day with his toughness once again. Fields landed hard on his back on the third-quarter touchdown run – hard enough that he had to go to the medical tent for evaluation – but came right back in on Ohio State's next possession and continued to quarterback the Buckeyes' offense for each of their three subsequent touchdown drives.
"It may not show statistically, but he had as gritty a game as anybody on our team," Day said. "He needed to make some tough runs against the best rushing defense in America, and he did early on. He got that two-minute drive going and threw the ball to Olave. And in the second half, kept doing the same thing. 
"When we couldn't get things going, we had to run him a little bit. And he did it. And he was physical, he was powerful, he kept third downs alive. I thought he played really well in this game and he played tough, and I'm proud of the way he performed."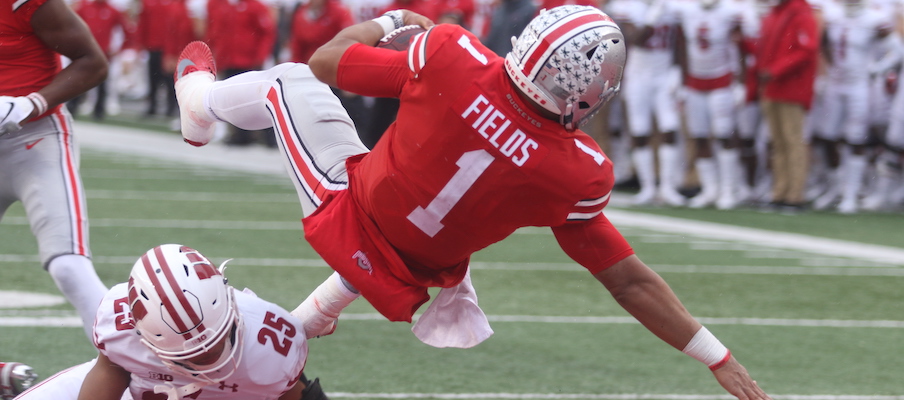 Given that the Buckeyes won by 31 points against a team that was ranked 13th in the nation entering Saturday's game, there were certainly more than just four players who had performances worthy of praise against the Badgers. The Buckeyes' offensive line deserves credit once again for leading the way for Dobbins' running performance, while other standout performers on defense included Damon Arnette (team-high seven tackles, one tackle for loss), Pete Werner (six tackles, fumble recovery) and Davon Hamilton (three tackles, one sack).
It was the performances of Young, Dobbins, Olave and Fields that truly stood out, though, in a game the Buckeyes took from 10-7 on the scoreboard with 12:08 to play in the third quarter to 38-7 with 7:29 to play in the fourth quarter.
"Coach Day was telling us earlier in the week: Big-time players make plays in big-time games," Fields said. "I think all the big-time players on this team definitely stepped up and played a great game today."