The Hurry Up is your nightly dose of updates from the Ohio State football recruiting trail, keeping tabs on the latest from commits and targets from around the country.
Pryor enjoys Midwest vibes of Columbus, experiencing something unique from Alford in recruitment
The first time Evan Pryor visited Columbus last summer, he instantly got a feel for the Midwest vibes while enjoying a night just a short trek from campus. Staying at the Marriott right down the street from the Woody Hayes Athletic Center, the four-star 2021 running back – the No. 1-ranked junior RB in North Carolina – and his father went to eat at the Roosters restaurant essentially right next door. 
While there, he was approached by a fan who already knew who he was, despite him having only just finished his sophomore season at William Amos Hough (N.C.) High School and having received an Ohio State scholarship offer from Tony Alford just a few months prior. 
Pryor enjoyed the fan interaction, telling Eleven Warriors, "When I first went up there to campus, it was just a great vibe from everybody up there – even people around town."
He had already gotten that feeling from Alford back in February, when Alford spoke with for the first time, talking with him for more than an hour just chopping it up before he surprised Pryor with the offer. Since then, their relationship has grown really strong, as the two talk every single day, typically texts in the morning or after Pryor's practices. 
Blessed to receive an offer from Ohio State University#Buckeyes @CarolinaXposure @RivalsFriedman @SWiltfong247 @OhioStateFB @CoachTonyAlford @SC_DBGROUP @JibrilleFewell pic.twitter.com/iqTUh8hiEl

— (@evanpryor3) February 25, 2019
But the real turning point in Pryor's recruitment came months after that first call with Alford and less than 24 hours after that fan interaction at Roosters, when he went to the Woody for a one-day camp hosted by Ohio State.
Walking through the facilities, every coach he saw stopped him to have a genuine conversation with him, and then he got to Alford, who gave him life advice more than a sales pitch. 
"Just the whole family environment and how special the conversation was with coach Alford (stood out about Ohio State)," Pryor said. "(He was) making sure that I make the right decision for me. He wasn't just recruiting me for Ohio State. He was saying to make the right decision overall for yourself and your family. Even if it's not Ohio State, he said he was still gonna respect me and stuff like that.
"Coach Alford's a great guy. He was telling me it's not only a four-year decision. It's a 40-year decision. He said he felt like Ohio State was the best place for me for that 40-year decision and that I'd be covered down the line."
That stuck out as unique for both Pryor and his father, who were both impacted by Alford's advice.
"You go to some other places in the country, and they just want you to, you know, 'Come to our school. Come to our school. Come to our school,'" Pryor said. "But the talk was nice with coach Alford just talking about life in general. That was something I'd never gotten at another college. … My dad thought it was great. He was like 'that's somebody and a staff that I don't have any issue with sending my son off to college with.'"
When told Alford had received some criticism for not having been able to land a running back in the 2020 class yet and for having two previous silently committed running backs choose other programs, Pryor seemed a little bit taken aback. 
"Coach Alford's a great guy. He was telling me it's not only a four-year decision. It's a 40-year decision. He said he felt like Ohio State was the best place for me for that 40-year decision and that I'd be covered down the line." – Four-Star 2021 RB Evan Pryor
"I think coach Alford's a great guy," Pryor said. "Two running backs backing out, I don't think it was coach Alford's fault. I think it was two guys who may have found a better situation for him and his family to get to his goal, and it may not have been at Ohio State. I would not put that on coach Alford. People do other things and wanna experience other stuff. I wouldn't put that on coach Alford at all."
Pryor enjoyed the one-on-one time he got with Alford at that summer camp, as Alford was able to lay out a vision for him. That included being used as a feature back in the mold of J.K. Dobbins.
"It's something coach Alford and I have talked about when I was up there and we looked at film – that he'd love to use me like J.K.," Pryor said. "Not just running the ball but splitting out wide sometimes and getting thrown the ball out of the backfield. Definitely the way J.K.'s used is how I wanna be used if I go there."
Pryor will get more time with Alford next week, as he confirmed he will be making an unofficial visit for the Buckeyes' game against Penn State, as will fellow North Carolinian Jacolbe Cowan, an Ohio State defensive end commit whom Pryor has a good relationship with. 
Ohio State and Penn State are two of the schools in Pryor's final top 10, but he says he won't be focusing much on the Nittany Lions that weekend.
"When I'm there, it'll be specifically for Ohio State," Pryor said. "That's kind of why I went to the White Out for Penn State, so that I could focus on Penn State that weekend. While I'm here for Ohio State, I'm gonna focus on Ohio State and the atmosphere and how they use their backs and stuff like that."
Blessed to see 17 !!
-
-
Top 10 !! #Blessed pic.twitter.com/54Yd2yr1tG

— (@evanpryor3) November 7, 2019
Pryor's list also includes SEC schools Alabama, LSU, Florida and Georgia. Of the schools in his top 10, the only ones he has yet to visit are LSU, Wisconsin and USC, but he has plenty of time to get to those programs before he makes his final college decision next year.
"Definitely before I take a snap next football season, I wanna be committed," Pryor said. "That's my plan so that's what I'm pushing for."
Be on the lookout for more on both Pryor and fellow North Carolina running back Will Shipley tomorrow afternoon on Eleven Warriors.
Buckeyes in contention for Maryland defensive lineman
Larry Johnson has known about Marcus Bradley ever since the 2021 defensive tackle was a high school freshman. But Johnson's recruitment of the 6-foot-3, 270-pound Quince Orchard (Md.) junior truly began to pick up during the spring, when Bradley visited Columbus to build on that relationship.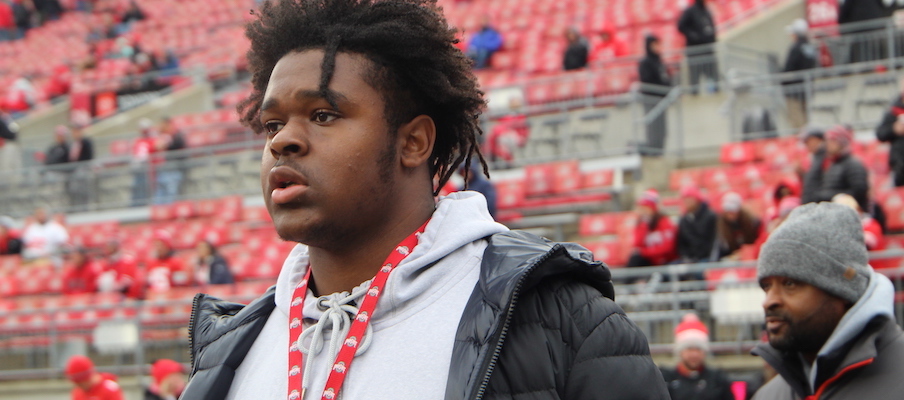 Another step was taken in that recruitment this past weekend, when Bradley made the trip to watch Ohio State take on his home state Terrapins team, and Bradley liked what he saw.
"Taking a trip through the Woody Hayes facility and seeing all it had to offer (stood out)," Bradley told Eleven Warriors. "My 'wow' moment was probably seeing 101,000 in the stadium for a Maryland game."
Apparently, the impact was heavy enough on Bradley – who also has offers from Florida, Texas A&M and Penn State but has had his Ohio State offered pinned to his Twitter profile since Sept. 16 – that he's shot the Buckeyes to the top of his list, as he says Ohio State and Virginia rank as his top two programs. 
It's also telling that Bradley already confirmed with Eleven Warriors that he will be returning next weekend for the Buckeyes' matchup against Penn State, and it's possible he makes the trip with Quince Orchard teammate Demeioun Robinson. 
Robinson is a four-star top-100 junior ranked as the No. 5 weakside defensive end in 2021. The Buckeyes offered Robinson in April.
Ballard named All-County
Ohio State 2021 receiver commit Jayden Ballard of Massillon Washington High School is currently helping lead his top-ranked Tigers squad to a potential state championship in the Division II playoffs. On Wednesday, he was announced as an All-Stark County honoree.
Congrats @J_Ball21 #AllStarkCounty #TIG pic.twitter.com/6kawpVrBkd

— Nate Moore (@CoachNMoore) November 13, 2019
Ballard is the No. 74-ranked national recruit in 2021, the No. 3-ranked recruit in Ohio, and he's made some electric plays of late that showcase his star potential.