MASSILLON – Jayden Ballard called game.
He had been performing all day, hauling in eight catches for 35 hard-earned yards and a jump-ball touchdown in the back of the end zone, helping give Massillon Washington High School a 17-14 lead over Canton McKinley in the Nov. 2 regular season finale for both teams.
But Ballard wasn't done yet, and neither were the Tigers. 
Clinging to that narrow fourth-quarter lead, Ballard was called on to make one more play to salt away the game in one of the most storied high school rivalries in the nation. 
Backed up at his own 21-yard line on 3rd-and-6 with less than 90 seconds remaining, Ballard looked his quarterback, Aidan Longwell, in the eyes with a succinct message.
"I told him I was gonna call game," Ballard told Eleven Warriors, "and we went out there and won the game."
Lined up one-one-one outside the numbers against a Canton cornerback already playing one step too far inside, Ballard didn't do anything special strategically. He just used his speed, running in a straight line down the field. 
His southpaw quarterback hopped back in the pocket, unleashing a pass 45 yards in the air and planting a dot over the cornerback's head and into Ballard's bread basket – an in-stride, fingertip catch in front of more than 20,000 people at Tom Benson Hall of Fame Stadium. 
Maintaining his balance, he escaped the defender's diving arms, jogging down the field while casually palming the ball like Kawhi Leonard on the three-point line and strolled into the end zone for his second straight victory over Canton – a 24-14 win capped off by a firework play and a watershed moment in the junior's young, budding career.
@J_Ball21 @aidan_beau_5 #895 pic.twitter.com/MbGqJfBmAB

— Massillon Proud (@MassillonProud) November 2, 2019
Before the play, the 2021 Ohio State commit knew this was it. This is my time. 
"I told my coach the DB was fatigued and tired. I knew what I had to do. Before (the play), I just," Ballard pauses, a widespread grin covering his face as he shakes his head, "I was just hyped up. I just knew I had to catch the ball and win the game.
"I knew what was gonna happen."
What happened was a play he already knows will be replayed in his mind 10 years, 15 years, 20 years from now. That's what happens when you make a play as big as that one in a 130-year rivalry with cachet this grand. That's what happens when a play like that goes viral on Twitter and earns a shoutout from former Ohio State star Gareon Conley – a Massillon graduate, first-round draft pick by the Oakland Raiders and now a Houston Texans cornerback.
S/o to Massillon tigers getting that dub best high school rivalry s/o to @J_Ball21 calling game too

— Gareon Conley (@_gconley8) November 2, 2019
"It was very crazy," Ballard said of the aftermath of the play. "I didn't know what to do. My phone was going crazy. I actually had to turn it off.
"It's pretty sweet. I've been up here for three years, and we've won all my years here. So it's pretty sweet. It's very important – helping the team win."
He shakes his head, smirks and replies "nah" when pushed to brag about himself and brag about the play, replying that "all it was was helping the team win."
But this game, and this performance, provided a perfect microcosm of what Ballard is going to bring to Columbus in two years – and why Brian Hartline is clearly enamored with the state's third-ranked player, who has put himself in position for a ratings jump from his current slot in the No. 74 national pole.
He's a big-play receiver who can take the top off the defense, drawing comparisons to former Massillon star Devin Smith, an Ohio State receiver who was taken in the second round of the 2015 NFL draft by the New York Jets and is now on the Dallas Cowboys.
At 6-foot-2 and 175 pounds (measurements that seem low when seeing him in-person draped in pads), Ballard is already a big-bodied presence (with plenty of room to grow) who can win one-on-one battles and high-point touchdown passes under the pressure of the big stage. 
"He's got very good speed, length and elite ball skills," Massillon head coach Nate Moore said. "When we call our offense, we're not going out there trying to target any one person or anything like that. We're gonna call what's there. Especially in the playoffs in Ohio, we're gonna be running the football. But at the same time, that's a guy that creates matchup problems."
Having that mismatch in mind is exactly why Moore and co-offensive coordinator/quarterbacks coach Jarrett Troxler chose to forego a running play in that situation to chew more time off the clock. They wanted a first down to close out the game, but they didn't want to throw the ball over the middle of the field, risking a tipped ball interception or a pick-six. They wanted something more secure, more concrete and more comfortable.
Jayden Ballard puts a McKinley defender on a poster with an impressive touchdown catch from Aidan Longwell. PAT is good. We are tied at 7-7 with 2:21 left in the first half. pic.twitter.com/TVi45CuPoj

— Noah Hiles (@Noah_Hiles95) November 2, 2019
Having Ballard – and fellow star receiver Andrew Wilson-Lamp on the other side – gave them that comfort level. They felt great about putting the ball in the hands of Longwell and Ballard to let them go win the game. They delivered.
"(Ballard) was burning it up to get underneath the ball, and to be able to put that in the end zone was a big-time play," Moore said. "It makes you wonder why don't we just call that play all the time? People talk about a 50-50 ball. Is that really a 50-50 ball with Jayden Ballard? Probably not. It's probably more of a 70-30 ball.
"What's really elite about a guy like him – he's got very good speed, he's got very good length – but the thing that's elite about him is his ability to track the ball and his ball skills. He's really, really good there."
He showed all those traits his coach glows about the following week too. Ballard's game-sealing 79-yard touchdown against Canton gave Massillon a 10-0 record and the No. 1 seed in the Division II Region 5 playoffs, featuring a home matchup with Warren G. Harding on Friday night.
The game wasn't close, a 55-0 smackdown sending Massillon to a second-round clash with another rival, Perry High School.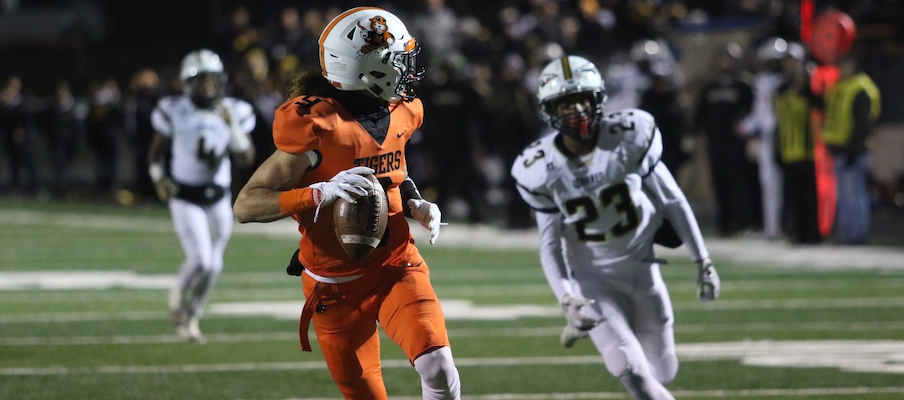 With the Tigers dominating on the ground, Ballard was targeted just twice in the game. For a second consecutive week, they ended up being two plays indicative of how he ended up on Ohio State's radar and what he brings to the table as a future Buckeye.
First, a 58-yard touchdown catch in which he sprinted for a post route, getting behind the defense and cruising in for a 20-0 second-quarter lead. The second play went for negative yardage, and it was inarguably more impressive to Moore. 
The Tigers called for a rocket screen pass, a play designed to get Ballard the ball in space with a host of offensive linemen blocking downfield. Ballard was leaning to his left and Longwell's pass went out in front of him to his right. Ballard quickly stuck his palm out for a smooth one-hand grab that would have made highlight reels had he not slipped while attempting to make a cut upfield. 
Didn't really matter. Moore saw enough to be taken aback. He's had Ballard for two seasons as a full-time varsity receiver, but he still walks away impressed by the talent he witnesses.
"That's ridiculous," Moore said of the catch. "You shouldn't be able to do that. How do you do that? He tripped, but it was amazing. His ball skills are elite. That's on point for (Ohio State) and their evaluation is what he can do tracking the ball and his ball skills. Bringing down a catch away from his body, he's as good as it gets."