In a sense, college football recruiting compares to a Major League Baseball team building out a farm system.
Whiffing on a cycle of prospects doesn't immediately harm a team. Heck, it's probably not noticed whatsoever for at least a full season. But at some point, some time down the line, whenever the next-in-line prospects are suddenly supposed to take center stage, they simply just don't exist. In turn, college football and professional baseball teams get set back to varying degrees for misses from years prior.
Or, at least, that's what's supposed to happen.
As Ohio State has shown the past two offseasons, the program can – at just about the last minute – recover from even what seem like most harmful of recruiting misses. The past couple seasons, the transfer portal has become a "Get Out Of Jail Free" card for the Buckeyes.
Ryan Day and Greg Studrawa made up for past errors last offseason, and Tony Alford did the same on Sunday afternoon. Last year, Justin Fields and Jonah Jackson popped out of it from Georgia and Rutgers, respectively, and Trey Sermon joined Ohio State this weekend via Oklahoma.
The strategy worked last season. It might work this season. And whether or not NCAA passes a rule allowing all first-time transfers – not only graduates – to gain immediate eligibility, it could be how Day's team uses the portal going forward.
At no foreseeable point in the future will Ohio State ever look to build the brunt of its team through the portal. Day said in October his team doesn't hold any scholarships open for potential transfers.
"If it works out that way, great," Day said in the fall. "But we try to recruit high school guys to fill those spots."
Even with the recent transfer success, that's the way it should be.
The Buckeyes recruit at a remarkably high level. At the moment, they have the top-ranked 2021 recruiting class by a significant margin, buoyed by five-star defensive end Jack Sawyer, five-star quarterback Kyle McCord and seven other top-100 commitments. Going from Urban Meyer, a legendary head coach and fierce recruiter, to Day hasn't led to any noticeable drop-off in talent gathering. Instead, Ohio State finds itself entrenched in a battle to earn its first No. 1 class ranking in the modern recruiting era.
To sustain the Buckeyes as a top-flight program, they'll have to continue to bring in touted freshmen as they have done year after year.
Yet even while putting together consistently stellar classes, blunders happen. Ask any college football coach at any level. 
Studrawa's came in the middle of the 2010s when he failed to land some offensive linemen and pulled in others who never became contributors. Between the 2015 and 2016 classes, five linemen who signed – Matt Burrell, Grant Schmidt, Kevin Feder, Tyler Gerald and Jack Wohlabaugh – transferred and ended their careers elsewhere. Initially, the attrition didn't hurt Ohio State. Offensive linemen take more time to develop than any other position group.
But once 2019 rolled around, the losses had stacked up to a point where the Buckeyes felt enough uncertainty to explore alternative options.
At the time, Jackson was looking for a new school after two years as a starter at Rutgers. Ohio State landed the graduate transfer, plugged him in at left guard and ... voila. He turned into a first-team All-Big Ten selection by the conference's coaches in his only year as a Buckeye.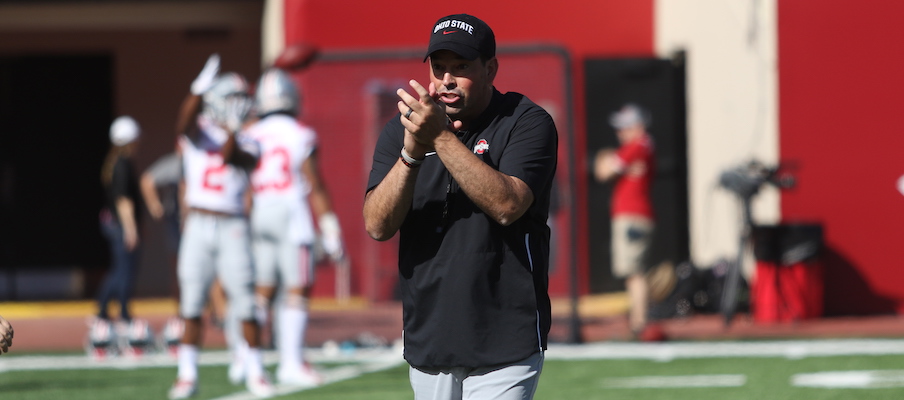 That same offseason, Day found himself looking for a quarterback.
At some point during the 2018 season, he and Meyer had realized Dwayne Haskins would go pro, necessitating them to consider their next move. Was it Tate Martell? Matthew Baldwin? Even though Martell was a near-five-star prospect and he hand-picked Baldwin from Lake Travis High School in Texas, neither of them gave Day his desired confidence, so he turned to the portal. After peeking around for a bit, he managed to reel in Fields from Georgia.
In his first year as a starter, Fields got invited to New York City as a Heisman Trophy finalist.
Ohio State, having gone down this path twice a year ago, will try to make it work again this offseason. This time, Alford needed some relief after having trouble with running backs on the recruiting trail the past few cycles.
In the 2018 cycle, he missed on five-star Georgia-bound back Zamir White, instead pulling in Master Teague and Brian Snead, who was dismissed from the university for an alleged rape early in his freshman season. The Buckeyes brought in Marcus Crowley and Steele Chambers in 2019, adding a pair of backs to the mix. The fateful 2020 class ended with Miyan Williams joining the program.
A spring practice-ending injury to Teague and an undisclosed injury to Crowley suddenly left Ohio State with an abundance of questions about the position. So, what did the Buckeyes do? Head to the portal.
This time, doing so landed them Sermon, a graduate of Oklahoma with one year of eligibility.
No, he's not Fields, an other-worldly talent who will have a fighting chance to be remembered as the most talented transfer in college football history. And he's not a carbon copy of Jackson, who'd had multiple years of experience as a starter. But checks all the boxes of a player Ohio State needed.
Immediately eligible. One year remaining. Productive when healthy. Has the talent to potentially start.
Another hole plugged.
Going forward, it would make sense for Ohio State to continue to make up for recruiting lulls, unexpected transfers out of the program and injuries by checking out the portal each offseason. Day's done it both offseasons as a head coach already.
"You always have to look at it and be a part of it," Day said in March. "I think that it's changed. I think probably even three to four years ago it was almost like taboo to talk about something like that. But that's the way things are going. So you always have to keep an eye on it."
In the modern age of college football, the portal has just become a way of life.
Though it's not the lifeblood of a program that recruiting always will be, Ohio State has settled into successfully using it as a band-aid for past mistakes, and band-aids don't get much better than Fields, Jackson and Sermon are band-aids.