As a result of the coronavirus outbreak, Ohio State will likely go into preseason football camp with more unanswered questions than ever.
Ohio State hasn't officially canceled the remainder of its spring practices yet, but the writing is on the wall. As of now, the Big Ten has suspended all organized team activities through April 6, but Ohio State has already canceled in-person classes for the remainder of the academic year while several other conferences have already canceled all spring practices.
Given that measures to limit the spread of COVID-19 in the United States are expected to be in place for at least a couple months, it's likely that the three spring practices Ohio State held at the beginning of March will be its only spring practices this year. And as a result, the Buckeyes will have a lot of ground to make up whenever they are able to resume their on-field preparation for the 2020 season.
Spring football is typically a key time for a college football team to develop its players and implement new schemes, and by the end of the spring, a coaching staff typically has a pretty good idea of which players will be ready to take on bigger roles and how its depth chart will stack up for the upcoming season.
Only three practices, though, won't be enough for Ryan Day and his assistants to substantively evaluate their team's on-field progress going into the summer. One week of practices certainly wasn't enough for players to clearly separate themselves in position battles or for true freshmen to prove they'd be ready to play this fall. And less importantly, but relevant to our purposes here at Eleven Warriors, the lack of a full spring practice schedule and spring game leaves those outside the Woody Hayes Athletic Center with far less visual evidence to draw from as we forecast what the 2020 Buckeyes will look like this fall. 
The lack of spring practices won't necessarily hurt Ohio State's chances of winning a championship this season, because everyone – from the rest of the Big Ten to Clemson and Alabama – is in the same boat right now. Ohio State's staff, from Day and his position coaches to Mickey Marotti and his strength and conditioning coaches, are as capable as any staff in the country of overcoming the unexpected challenges that have fallen upon this offseason.
Still, it's undeniable that Ohio State will be left with more uncertainty going into the summer than it would have had with a full slate of spring practices, which means even the coaching staff could still be looking for answers to several major questions about this year's team going into July and August. We outline below what some of those questions could be.
Who's ready to play in the secondary?
This was the biggest question going into spring practices, and the Buckeyes really could have used all 15 spring practices to answer it. That's especially true considering three of their potential starting defensive backs for 2020 – Shaun Wade, Cameron Brown and Josh Proctor – were sidelined for the start of spring practices, though it was hoped that all of them would be back in time to return to the field as spring progressed.
The readiness of Wade, whom Day has said he believes is the best returning cornerback in college football, isn't a question. What's still unknown is how great he can be in what will likely be his final season as a Buckeye. Every other defensive back, though, still has a lot to prove, and now they'll have less opportunity to show they're ready to replace Jeff Okudah, Damon Arnette and Jordan Fuller before the season actually begins.
Competition to start at the other three spots in the secondary will likely remain open when preseason camp begins, with Sevyn Banks, Brown, Marcus Williamson and Tyreke Johnson most likely to start at the other two cornerback spots while Proctor and Marcus Hooker are the top candidates to take Fuller's place at safety. They'll need ready starters to emerge from that group quickly during summer practices for their defense to be prepared to succeed in December.
Will the Buckeyes' running backs be ready to replace J.K. Dobbins?
This question was going to linger into the summer regardless of how the remainder of spring practices went because of what happened during the Buckeyes' opening practice of the spring, when Master Teague suffered an Achilles injury that now leaves in question whether he'll even be ready for preseason camp and the start of the season. Marcus Crowley was also expected to miss the spring with an injury of his own, so Steele Chambers was the only full-time scholarship running back who was even set to go through the remainder of spring practices.
Even so, the uncertainty at this position just keeps getting greater. This spring would have been a huge opportunity for Chambers, a redshirt freshman who wasn't on campus for spring practices in 2019, to establish himself and prove he's ready for a bigger role in 2020. But now, at a position where Tony Alford and the Buckeyes really wanted to see players step up this spring and demonstrate they were ready to take on the load that J.K. Dobbins carried last season, Ohio State goes into the summer without knowing whether it will have even one running back who's ready to start in September.
If Teague is able to get back on the practice field before the start of the season, that would go a long way. Preseason camp could still be enough time for Chambers and/or Crowley to gain the coaches' trust. True freshman Miyan Williams will also be on campus for those practices, and it's possible the Buckeyes could even add a graduate transfer like Oklahoma's Trey Sermon to the mix. But outside of the secondary, no Ohio State position group is shadowed by bigger concerns right now than running back, and the abbreviated spring doesn't help that cause.
Who will be the new starters on the offensive line?
Ohio State was planning to hold competitions at both left guard and right tackle throughout the spring, with Harry Miller and Matthew Jones vying for the starting job at left guard and Nicholas Petit-Frere, Paris Johnson Jr. and potentially Dawand Jones vying for the starting job at right tackle. Ideally, those competitions would have played themselves out this spring to the point that Greg Studrawa and the Buckeyes would at least have a good idea of who their starting five would be this fall.
Now, it's likely that those competitions will go on for at least the first couple weeks of preseason camp, given that they've barely even had a chance to begin.
Miller and Petit-Frere entered spring as the presumptive favorites to start alongside Thayer Munford, Josh Myers and Wyatt Davis, and that's probably even more likely now that the competitions have been shortened. Day was already talking about Miller like he was a probable starter after the first day of spring practice, and Petit-Frere's experience will now give him a bigger edge over Johnson, who could enter the summer having practiced just three times in an Ohio State uniform.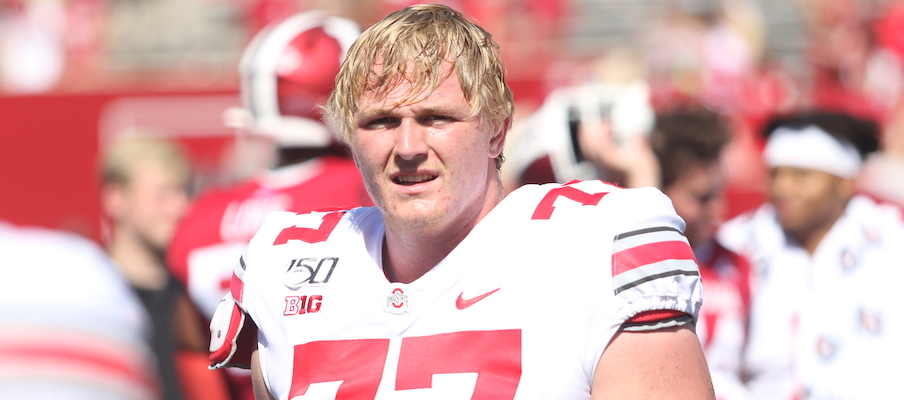 As much as Miller has already impressed his Ohio State coaches, though, he spent last fall practicing at center and wasn't on campus for spring practices in 2019, so he really could have used a full spring at left guard to solidify himself at that spot. And the fact that Johnson was getting first-team reps at right tackle in his first-ever practice as a Buckeye suggested that Ohio State really wanted to make that a true competition with Petit-Frere; it still can be, but there won't be nearly as much time to evaluate Johnson's progress before the season now.
There will be time for the Buckeyes to hold competition for the two open offensive line starting spots in preseason camp, but they'll want to complete those competitions as quickly as possible so the starters can focus on building cohesiveness as a unit before the Sept. 5 season opener.
Who will be the backup quarterback?
This is another question that probably wasn't going to be answered until the summer anyway, given that CJ Stroud and Jack Miller were both going through their first practices as Buckeyes this spring. But Ohio State would have had a much better idea going into the summer of how its quarterback depth chart behind Justin Fields might have stacked up this fall if it had a full slate of 15 spring practices, including a spring game, through which to rotate their quarterbacks with the first- and second-team offenses and evaluate their progress throughout.
When the Buckeyes return to the field to prepare for the season after a shortened spring, Fields is likely going to take the majority of first-team reps from that point forward, so there won't be as many opportunities for the other quarterbacks to show what they can do. By default, that probably gives Gunnar Hoak the edge to be the No. 2 quarterback, as he is a fifth-year senior who has already been through a full season of practices while Miller and Stroud are both true freshmen who really needed this spring to get their feet wet and be prepared to potentially play this fall.
It's still imperative that the Buckeyes get Stroud and Miller ready to play if needed this season and for one of them to potentially succeed Fields as Ohio State's starting quarterback in 2021, though, so Day and Corey Dennis will still try to get them as many reps as they can during the early portion of summer practices. They just won't have as many opportunities to potentially separate themselves through competition and make an early impression as they would have with a full spring.
How will the Buckeyes line up at wide receiver and linebacker?
Linebacker and wide receiver are arguably the two deepest position groups on Ohio State's roster, so the lack of spring practices aren't a huge concern for them. Third-year starters Tuf Borland and Pete Werner are already proven commodities at linebacker, with five other upperclassmen around them, while Chris Olave and Garrett Wilson give the Buckeyes two proven playmakers to lead what's already known to be an uber-talented receiving corps.
Still, there were substantial questions that were to be answered about both of those position groups this spring, particularly in regards to what Ohio State's optimal lineups at both positions might be. Should Werner start at strongside linebacker or weakside linebacker this year, and who should the third starting linebacker be? What's the best possible rotation for Ohio State at wide receiver, does that keep Wilson outside or move him inside to the slot and how many of the Buckeyes' highly touted quartet of true freshmen are ready to be a part of that rotation?
Al Washington and the Buckeyes' defensive coaching staff should already have a pretty good idea of what they have at linebacker, given the experience of the veterans who are competing for playing time there, but they were planning to experiment with different combinations this spring – like Werner and Baron Browning each playing both outside linebacker positions – and now, they'll have less time to do that before they need to determine what their lineups for the start of the season will be.
Brian Hartline has no shortage of talent to work with at wide receiver, but there is a shortage of experience outside of Olave and Wilson, and a lack of spring practices could make it less likely that freshmen like Jaxon Smith-Njigba and Julian Fleming are ready to play big roles in September. They're talented enough to make up for that, but that could also improve the opportunity for veterans like Jaylen Harris and Jaelen Gill to finally earn spots in the rotation; every receiver except Olave and Wilson, though, will go into preseason camp still needing to prove they're ready to play bigger roles this fall.
Which early enrollees will be ready to contribute this season?
Johnson, Fleming and Smith-Njigba were and still are the top candidates among Ohio State's true freshmen to play big roles in 2020, but this spring was a huge opportunity for all 14 of the Buckeyes' early enrollees to develop in advance of their first season – and potentially get a head start over the rest of Ohio State's freshman class in pushing for early playing time – and now, much of that opportunity has been taken away from them.
That's not to say that any of them still can't earn first-year playing time through what they do in preseason camp, because there have been plenty of examples of freshmen arriving at Ohio State during the summer and still playing significant roles in year one, and the early enrollees have at least had the advantage of going through a few practices and just as importantly, a full slate of winter workouts with Marotti and his staff.
What they haven't had enough practices to do, though, is make a strong case that they're ready to play or even to show the growth that a coach expects from a freshman practicing at the collegiate level for the first time. That's not to say that some of them haven't already made a big first impression, but they haven't yet had the opportunities to compete their way up the depth chart that 12 more spring practices could have provided.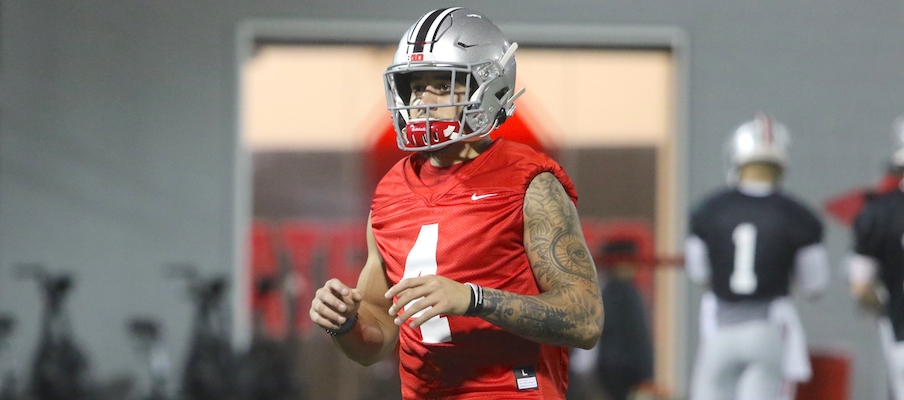 Who's in line to be a breakout star?
Although being a spring game star doesn't guarantee that someone will be a star when the actual games begin, the full slate of spring practices typically give us – and the coaching staff – an idea of which Buckeyes are ready to take their games to another level. Last year, for instance, Chris Olave, Josh Myers and DaVon Hamilton were among the Buckeyes generating spring hype who ended up making huge leaps in the fall, while Garrett Wilson showed he was ready to be the immediate contributor he ultimately became.
Now, those emerging stars might not become clear until summer. That's not to say there won't be breakout stars in 2020, and we certainly can – and will – still infer who those stars might be based on what we saw and heard last season, leading up to the spring and during the one week of spring practices that was held. But they won't have as many offseason opportunities to build momentum for the fall as they normally would.
How will Ohio State's defensive scheme change under Kerry Coombs?
Ohio State wouldn't have wanted us to know the answer to this question no matter how practices it held this spring, as it would prefer to keep any schematic wrinkles under wraps until the season starts. Still, last year's spring game was our first extended look at the three-cornerback, single-high safety defensive alignment that the Buckeyes ended up using all year, so it's likely the spring game would have provided clues again if Ohio State is planning to make any substantial changes to its defensive scheme.
As of now, we don't know yet what changes Kerry Coombs has in store as Ohio State's new defensive coordinator; he said in February that he won't make any "massive changes" to the scheme, but he was planning to bring some new elements that he picked up from his two years with the NFL's Tennessee Titans. The question is whether the lack of spring practices, which are typically a key time for installing new schemes, will force him to table any of those plans.
Coombs has presumably already presented any new packages and plays that he plans to implement for the 2020 season to his players, and they'll have plenty of time to watch film and study up on the playbook while they're home, which will become extra important while they're unable to practice and meet in person. That said, they could have to spend more time in preseason camp working on installation – a process Day said is usually done before the preseason – and evaluating their readiness to run new defensive packages, than they normally would in July and August, because of the abbreviated spring.