Al Washington, a little over a year ago, inherited what so many outside Ohio State's football program believed to be a mess.
Three linebackers – Malik Harrison, Tuf Borland and Pete Werner – returned as starters from a Greg Schiano-led defense that had allowed more than 400 yards and 25 points per game in 2018. Under Billy Davis, the second-level unit consistently struggled. So when Ryan Day turned to Washington to lead the position group, the turnover led to questions of whether the fresh eyes would lead to a new crop of linebackers taking their turn in the spotlight.
It didn't.
Instead, Washington started Harrison, Borland and Werner, and they rewarded him by helping Ohio State become arguably the country's most stout defense, allowing a nation-low 4.13 yards per play and only 13.7 points per game in 2019. Harrison earned a first-team All-Big Ten nod, and Werner, Borland and Baron Browning were each All-Big Ten honorable mentions.
As Washington's second spring practice in Columbus gets rolling, he's again faced with questions about who he'll turn to on the field this fall. Except no one's questioning the talent at linebacker anymore. Instead, everybody's just trying to figure out how he will accomplish the enviable, yet also seemingly impossible, task of divvying up playing time in a room filled with seven upperclassmen, including four seniors.
"We have so many talented linebackers, it's really insane," Dallas Gant said.
Borland and Werner being back as seniors means Ohio State returns two-thirds of its starters, and with Browning back, it'll have three linebackers who played more than 350 snaps last season. Justin Hilliard returns to the mix after receiving a waiver for a sixth year of eligibility from the NCAA. Teradja Mitchell, K'Vaughan Pope and Gant are now juniors, pushing for playing time while still behind veterans for the third straight year. In such a packed room, the underclassmen – Craig Young, Tommy Eichenberg, Cody Simon and Mitchell Melton – will likely be left to fight for playing time on special teams for 2020.
To best avoid a traffic jam at the position, Washington emphasized both positional fluidity and competition during the first week of camp. 
"We can utilize our talent better, because now we're not pigeonholed," Washington said last week. "We don't have two Mikes and four Wills. Forget all that. We've got linebackers. Everybody kind of has a chance to identify the basics of that spot, and then we can be creative. We can do a good job of putting them in the right spots."
Sometimes, players get forced into defined roles, whether or not they fit them and are ready. That won't be the case at linebacker.
This season, Washington should have his choice of both who to use and how to use his players.
"We've got depth, and I think that if we can develop their skillset to fit at different spots, it helps with durability throughout the year, because you can roll guys," Washington said. "But it also helps with injuries. And it just helps overall culture because everybody's kind of feeling like, 'Hey, I've got a knack for rushing the passer. They're trying to help me do what I do best.' And that's kind of the goal that we're trying to do, and that's what we are doing."
Three will start. As many as seven could play.
Here's a look at how each linebacker could fit into Ohio State's plans this fall.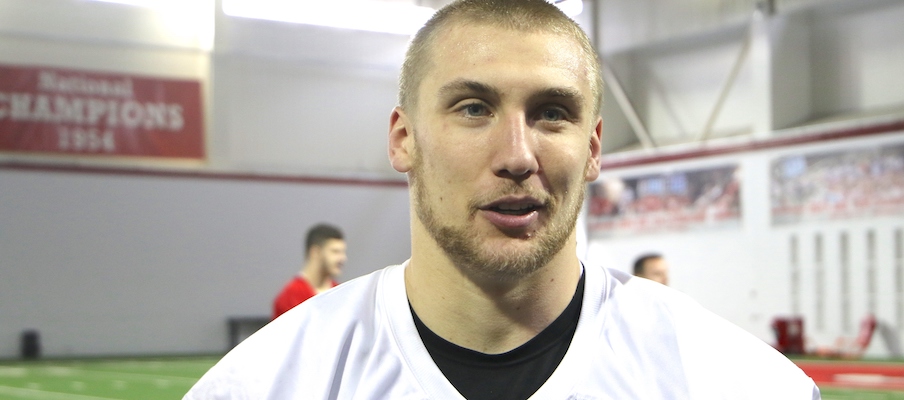 Tuf Borland (Redshirt senior, 6-foot-1, 234 pounds)
Let's begin with the only sure thing in the bunch. Borland will start at middle linebacker in the fall. Really, there's no doubt about that.
Borland practiced with the first-team defense when spring camp began, and it's an expectation that he'll remain in that spot when the season opens against Bowling Green on Sept. 5. Borland's limited athleticism and unimpressive top-end speed have been well-documented, but so too has his leadership and ability to set up the defense. He captured starting jobs under two position coaches, and he'll keep the middle linebacker spot this fall.
"He was one of the anchors," Washington said. "We talk about trust; I trust him with my, dare I say, life. I mean, I do. Out there on the field, I trust him tremendously – it's hard to put in words – because I know his preparation."
Like last year, Borland is expected to rotate with somebody else at Mike who offers more athleticism. Will it be Browning? Seems unlikely. Gant appears to have the inside track, though that's far from set.
Pete Werner (Senior, 6-foot-3, 242 pounds)
Spring practices often challenge preconceived notions, such as the idea that Werner would remain at strongside linebacker, the position he manned each of the past two years.
Logically, a third season as the starter at Sam made sense. Why would Ohio State move him when he had a breakout performance at the position last year and there's no clear backup ready to take over? Yet on at least the first two days of practice, Werner worked as the starting weakside linebacker – though, notably, Browning wasn't available to practice. That's a noteworthy possible move, considering Will and Mike are usually viewed as the "inside linebacker" positions in Ohio State's defense. 
"Coach told me to play a spot, and I'm playing there," Werner said a week ago. "It could change tomorrow. I'm just kind of free-flowing, doing what coach told me to do."
Since Werner's position has become a bit fluid, let's consider each possibility.
If he stays at Sam… Ohio State wouldn't have to make many changes from how its defense looked a year ago. Werner could again serve as the strongside linebacker, and there wouldn't be any need to find a hybrid bullet to complement him since the Buckeyes were fine without one a year ago. Hilliard and Pope could potentially back Werner up, and Browning would be in position to win the starting Will job, with Mitchell and Gant also in competition.
If he moves to Will… Things would suddenly get a bit weird. What would happen to Browning? Do Washington and Greg Mattison want to try him out in the coverage-heavy Sam spot? Would they suddenly need a bullet to play off of whomever becomes the Sam? Do the coaches think Hilliard can start at Sam? Werner shifting to Will would make much more sense if Ohio State had someone ready-made to step in at Sam or Bullet. But there's not a clear answer at this point.
If he plays significant snaps at both spots… Werner would typify the lack of getting "pigeonholed" that Washington discussed. He's expected to play the most snaps among linebackers this season. So even if he mainly plays Sam, the ability to perform effectively at both Sam and the two inside positions would give the coaches even more options as they figure out how to put all the pieces at linebacker together.
"He's shown the ability to help us in the box, and as we move pieces around, we want him to feel confident," Washington said.
Some might not see Werner's potential position change as a big deal. But it swings how the rest of the situation at linebacker will shake out.
Justin Hilliard (Sixth-year senior, 6-foot-1, 231 pounds)
Hilliard's Ohio State career hasn't gone as planned. A number of injuries – most notably a torn Achilles last year and a pair of torn biceps early in his stint in Columbus – derailed him. Yet he's back for a sixth year, and he says he still has the same goals he did when he arrived.
As a strongside linebacker, where the coaches place Werner would matter a great deal to Hilliard. Should Werner remain as a Sam, Hilliard's duties could remain largely the same as what he did a year ago, getting in the game in four-linebacker packages but largely remaining a backup. However, if Werner plays Will or moves around positionally more than he did a year ago, Hilliard could have an opening to either start at Sam or, at the very least, play more meaningful snaps there than he did last season.
"Right now, I'm working at Sam, but a lot of us are interchangeable," Hilliard said.
Whatever happens around him, Hilliard deserves more than a bit of luck on his side.
Baron Browning (Senior, 6-foot-3, 240 pounds)
Each of the past two seasons, Browning has worked as Borland's backup at middle linebacker, playing a similar snap count last year as he played in nickel packages and rotated frequently. But in 2020, he'll spend his senior season elsewhere.
"Sam or Will. I'm not sure yet," Browning said. "I've just been getting to learn both."
A move from Mike to Sam or Will serves a couple purposes. 
It allows him to compete for a starting job. Borland has middle linebacker locked down, and as a senior Browning deserves a bigger role.
It could put him at positions where he can better utilize his athleticism. In the middle, Browning was tasked with aligning the defense. Moving elsewhere, he might be able to play more instinctually, getting downhill as often as possible.
Whether Werner ends up at Sam or Will will factor into Browning's ultimate position. With Harrison gone, Browning was projected by most to slide into Will to replace him. But if Werner ends up there, Browning might get a look at Sam – though the responsibilities in coverage are significantly different than what he did last season at Mike.
Last week, Browning also mentioned the possibility of pass-rushing off the edge at times. He did it sparingly a year ago, but it's an area to watch.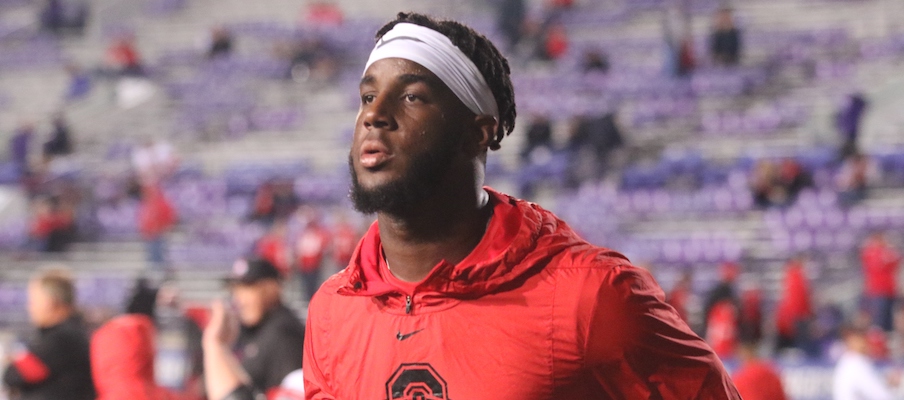 Dallas Gant (Junior, 6-foot-3, 232 pounds)
Since Mitchell's at Will and Browning has moved to Sam or Will, Gant suddenly finds himself with a prime opportunity to secure an important role in Ohio State's defense. He practiced as the second-string middle linebacker to open spring camp, giving him the first opportunity to become Borland's backup, a job that Browning has shown could lead to substantial snaps. 
Playing in the middle makes sense for Gant when you consider Washington's hope to put guys in positions that both benefit them and the team. To complement Borland, the Buckeyes would want someone able to play in the middle on passing downs. Gant, a one-time four-star outside linebacker recruit who flashed at times late in games last season, might be the answer. 
Should he secure the backup Mike spot, he'd be in line for a steep increase from the 118 defensive snaps he played a year ago.
Teradja Mitchell (Junior, 6-foot-2, 242 pounds)
Brought in two years ago as a top-50 overall recruit, expectations were high for Mitchell. Many viewed him as the middle linebacker of the future. In his first two years at Ohio State, though, he played only 101 snaps, due to both injuries and veterans ahead of him on the depth chart.
On almost any other team, Mitchell would be positioned as a likely starter as he enters year three in the program. But due to the presence of the seniors, he remains an underdog to start.
Mitchell began spring camp as a weakside linebacker, running with the second-team defense. Should Werner move to Will, Mitchell would likely back him up. And if Werner stays at Sam and Browning shifts to Will, Mitchell would compete with him to start. What happens for him this fall could be largely determined by where each senior lines up.
Some might wonder whether Mitchell could end up returning to middle linebacker to rotate with Borland. While that remains a possibility, he might not complement Borland as well as Gant. Mitchell's skill set appears best suited to stopping the run, whereas Washington needs whomever rotates with Borland to thrive in passing situations.
K'Vaughan Pope (Junior, 6-foot-1, 231 pounds)
At the moment, it seems as though Pope has more hurdles to maneuver than any of the other six upperclassmen.
He began spring practice taking second-string reps behind Hilliard at strongside linebacker, yet Werner was playing inside and Browning sat out with an undisclosed injury. If Werner stays at Sam, Pope could be relegated to a third-string spot on the depth chart. As a junior who picked off two passes last year, that's obviously not what he hopes happens. Yet he, along with Mitchell and Gant, is in a bit of a tough situation in a position group that has four seniors.
If Werner moves inside or if Hilliard opts to use his sixth year to start for another team – and to be clear, Hilliard says he hasn't thought about transferring – then Pope could either fight for a starting spot or become a backup. But right now, he's blocked on the depth chart by seniors.