With Master Teague unavailable for at least the rest of spring and Marcus Crowley also sidelined with an injury of his own, Ohio State's offense has to get creative.
Steele Chambers is currently Ohio State's only healthy full-time scholarship running back. While the redshirt freshman can certainly benefit from getting an increased share of reps this spring, the Buckeyes also have to be careful not to overwork him and increase his chances of suffering an injury, which means the Buckeyes will be moving some other players into the backfield this spring to also take some carries.
The obvious answer is Demario McCall, who started the spring playing slot receiver but has been a running back for the Buckeyes in past years. But he isn't the only one Ohio State offensive coordinator Kevin Wilson believes can contribute in the backfield.
Redshirt sophomore walk-on Mitch Rossi, who saw some playing time at tight end last season but entered Ohio State as a running back, could be an option to play a situational role as a fullback or tailback. Jaelen Gill, who has been at slot receiver since he arrived at Ohio State but played running back in high school, could also be a candidate to take some reps in the backfield.
One way or another, Ohio State has to adapt to make up for its currently minimal depth at running back, and Wilson – who shares offensive play-calling duties with head coach Ryan Day and is particularly influential in designing the Buckeyes' run game – will play a key role in figuring out those adjustments, which could ultimately add new dimensions to Ohio State's offense this fall.
"We've wanted to expand a package for Demario that never has really taken off," Wilson said Wednesday. "I've actually wanted to do that with Mitch. Had a kid at Oklahoma, a couple of them, that were kind of fullbacks with Demarco Murray and all of a sudden, we moved Demarco out and the fullback was a running back, and then the next play was two-back. So there's a role for Mitch maybe. So this gives Mitch an opportunity to play in the backfield a little bit, but he's still a tight end. It gives Demario (an opportunity to play). We'll just work through the reps. The real deal is we just don't need to load up Steele Chambers."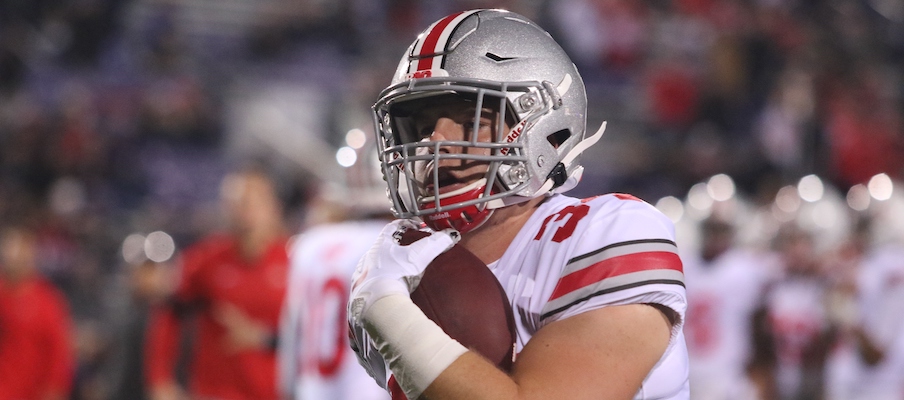 As for Teague's injury, Wilson said he is hopeful that the redshirt sophomore – who was the frontrunner to succeed J.K. Dobbins as Ohio State's starting running back in 2020 – will be back in time for the start of the season. He didn't want to give a specific timetable for Teague's return, though, knowing there are many variables that could factor into when he's ready to play again.
"I would think so," Wilson said when asked if he thought Wilson would be back for the start of the season. "But time will tell. I think the worst thing you can do, and for years I've said, when someone says it's a six-month injury, what happens if some guys just heal slower? And then all of a sudden, that kid or that family thinks he's behind. It's a two-week ankle injury and all of a sudden it takes four. Some guys just heal faster. Their bodies recover faster. Sometimes they get treatment better than others. Sometimes the injury's a little bit worse than you think."
Wilson also acknowledged that even if Teague is cleared to play in time for the start of the season, that doesn't necessarily mean he'll be ready to return to the top of the depth chart right away, given that he will miss what was supposed to be a crucial spring of development for Teague.
"As Master gets healthy, how can he cheat the system of getting healthy and also getting better?" Wilson said. "You want to become a better ballcarrier without running the ball. You want to catch the ball better without running routes. So how do you cheat the system? You're growing mentally, you're growing the skills that you can. Maybe you're limited, but you can do a bunch of catching drills, whatever. So you gotta cheat the system, because as a young player, he needs to get better, and that's what everyone on the team is doing right now."
Like Day said Monday, Wilson is optimistic that the Buckeyes will be in a solid place at running back by September, with Crowley and Teague ideally back from injuries and signee Miyan Williams set to arrive this summer. They also have enough talent on the rest of their offense to potentially make up for a drop-off in running back play, from an experienced offensive line up front to talented receivers and Justin Fields' ability to both pass and run the ball.
Still, Ohio State expects its ballcarriers to collectively step up so that its running back production doesn't drop off significantly despite Dobbins' departure and its current injuries.
"When you got a really good line, there's always gonna put more guys up there than you can block. Justin's gonna throw it well, we got good receivers, but they're gonna put more guys that you can block. So you gotta have backs that have the ability to make guys miss and take three and get five," Wilson said. "And so as we go through, (running backs coach Tony) Alford will do a phenomenal job, we're a little thin right now, but we'll be healthy, we'll be dynamic, we'll also have a chance to maybe evolve and have a few more tools in the toolbox as we go through spring.
"Necessity is sometimes the mother of learning, we'll have a chance out of necessity to learn and grow in this offense, develop some guys and we'll be all right."