If Ryan Day was trying a reverse jinx, it didn't work.
Instead, immediately following Ohio State's opening spring practice on Monday, he espoused confidence in the health of the running back room – with one caveat.
"We're one injury away from a little bit of a crisis right now, but in the end, when it comes to September, we're gonna be okay," Day said.
Welcome to "a little bit of a crisis."
Master Teague, the team's top-producing returning running back, will miss the entirety of spring practice with an undisclosed injury, Ohio State confirmed on Tuesday afternoon. He could be out even longer if the worst-case fears – an Achilles injury – come to fruition.
With Marcus Crowley already unavailable for practice due to an injury and only one other scholarship player – Steele Chambers – taking reps with the running backs on Monday, Tony Alford's already thin position group just got even more worrisome.
All eyes on Chambers this spring
And then there was one.
In a not-so-unreasonable alternate universe, Chambers might be lining up at linebacker for Ohio State. Instead, he's quite literally the only true running back on the roster who's healthy.
Chambers flew a bit under the radar last year as he entered the program in the same class as Crowley, took 19 carries for 135 yards and a touchdown and redshirted. However, the 6-foot-1, 220-pound athlete has suddenly become a remarkably important player in the Buckeyes' plans. Depending on the prognoses of Teague and Crowley, Chambers could end up as the Week 1 starter in the fall. What he does over the next month and a half, with essentially no competition, will determine how much confidence Ohio State can have with him in the backfield.
As a bit of an unknown quantity right now, a lot will be learned about Chambers this spring.
Another opportunity for McCall
Seemingly every offseason for the past half-decade, conversation about McCall potentially having a larger role as a playmaker for the Buckeyes has gained steam. Yet his career has never gained the momentum so many have believed it would. Various questions popped up again and again. Can he stay healthy? Is he big enough? Is he a running back or a wide receiver?
On the first day of spring practices, the 5-foot-9, 195-pound McCall again found himself with the slot receivers, though Day said the Buckeyes can "always bring him back" to running back if needed because "he has that skill set."
Teague's injury almost certainly necessitates McCall's return to running back, at least in the short term. 
At his size, McCall won't be Ohio State's answer as a full-time running back. Yet since numbers dictate that he's again needed in Alford's room, he has another opportunity to earn a spot in the running back rotation, even if it's just situationally on passing downs or third downs. 
Ohio State needs McCall, and McCall needs this shot. As a fifth-year senior, it might be his last.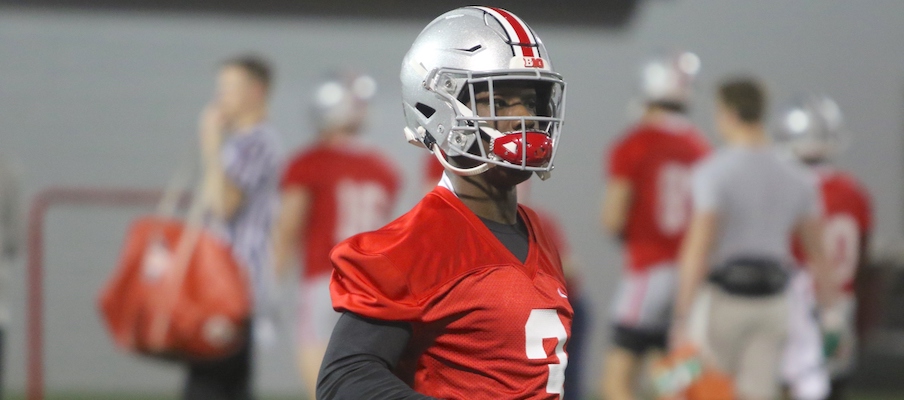 2020 recruiting misses get magnified
Nobody wants a deep dive of everything that went wrong for Ohio State as it chased running backs in the 2020 recruiting cycle, but it's impossible not to think back to what went wrong. At different times in the past year, it seemed destined to land at least one high-end running back prospect to help make up for the expected loss of J.K. Dobbins, who set the program's single-season yards record in 2019.
Bijan Robinson, Kendall Milton, Jahmyr Gibbs, Deamonte Trayanum, Jaylan Knighton, Kevontre Bradford and EJ Smith were all top-300 running backs who were considered possible Buckeyes at one time or another. It was especially close to ending up with Robinson, the nation's No. 1 running back recruit. Instead, he spurned a silent commitment to the Buckeyes in favor of Texas.
Eventually, Ohio State ended up with three-star Winton Woods running back Miyan Williams, the 45th-best running back prospect in the class. He was highly productive in high school, running for 5,823 yards and 68 touchdowns in his career. Yet unlike Robinson, who has the physical tools to play immediately, the June enrollee isn't expected to see significant playing time in year one.
Alford missed on his top targets in the 2020 cycle, and the Buckeyes are now paying for the missteps. 
The portal?
Ohio State landed Justin Fields and Jonah Jackson via the transfer portal a year ago, so it's not as though Day has any degree of unfamiliarity with it. Yet when asked about the possibility of landing a transfer at a position of need on Monday, he noted the lack of available scholarships.
"We're pretty full right now, but you always have to look at it and be a part of it," Day said. "I think that it's changed. I think probably even three to four years ago it was almost like taboo to talk about something like that. But that's the way things are going. So you always have to keep an eye on it."
Teague's injury, at the very least, should have Ohio State considering who's in the transfer portal or who might end up there after spring practices wrap up.
If the Buckeyes choose to go that route, they'd need both an open scholarship and somebody with immediate eligibility. Sometimes, the stars align. Oftentimes, they don't. But because of the questions in the backfield, Ohio State has to at least take a look.
When will Teague, Crowley return?
Teague won't practice this spring, and Crowley remains unavailable to practice.
"We're going to get Marcus back before the season starts," Day said on Monday.
That comment didn't exactly spur any thoughts of a possible quick return to the field for Crowley. Instead, after suffering a season-ending leg injury in November and showing up to a basketball game on Jan. 23 with a sling on his left arm, it appears as though he might remain out of practice for a while – or even the entire spring.
If they're back in a timely fashion, the Buckeyes might be OK, as Day suggested. But if they miss a portion of preseason camp in August or aren't ready for the start of the season, Ohio State's lack of options at running back would be a significant issue, putting even more pressure on Chambers and McCall.