As high as expectations were for Julian Fleming, Jaxon Smith-Njigba, Gee Scott Jr. and Mookie Cooper entering their first spring practices at Ohio State, it would have been easy for the highly touted quartet to underperform.
That's not what happened.
If you watched Ohio State's opening practice of 2020, as reporters who cover the team had the opportunity to do on Monday, you wouldn't have guessed that they were true freshmen who should still be high school seniors and had never participated in a collegiate practice before. Because that's not what they looked like.
"I think all four of them really have a chance to play and be successful," Day said after Monday's practice. "Now they have a long way to go, but for day one, better than expected."
Since they just arrived as midyear enrollees in January, the four freshman receivers started out behind the veterans on the depth chart. With Chris Olave only doing work on the side on Monday, Fleming took reps at outside receiver with the second-team offense, but Scott (on the outside) and Cooper and Smith-Njigba (in the slot) ran with the third-team unit in the opening practice.
All of them immediately showcased impressive traits.
Smith-Njigba stood out throughout the practice, consistently winning his one-on-one matchups and making several athletic downfield catches. Cooper's speed and explosiveness was eye-catching, though he missed out on a couple big plays on deep passes that were just off the mark. Scott, whose physical development stands out at 6-foot-3 and 210 pounds, impressed Day with his veteran-like ability to release off the line of scrimmage. Fleming seemingly got better as the practice progressed, making several plays with the twos during team drills.
Before we go any further, all of this should be qualified with an important caveat: It's just one practice. Surely, there will still be growing pains to come for them this spring – many of which will likely occur at practices reporters aren't invited to watch – and they all must build upon what they did Monday if they are going to significant playing time this year.
The fact that they made such a strong first impression, though, is a good sign for a receiving corps that has just two returning players from last year's rotation, Olave and Garrett Wilson. The Buckeyes have four other spots in their receiver rotation up for grabs, and while they likely won't make any decisions on who could fill out the rotation until at least the end of spring, the four freshmen are already giving Day and wide receivers coach Brian Hartline something to think about.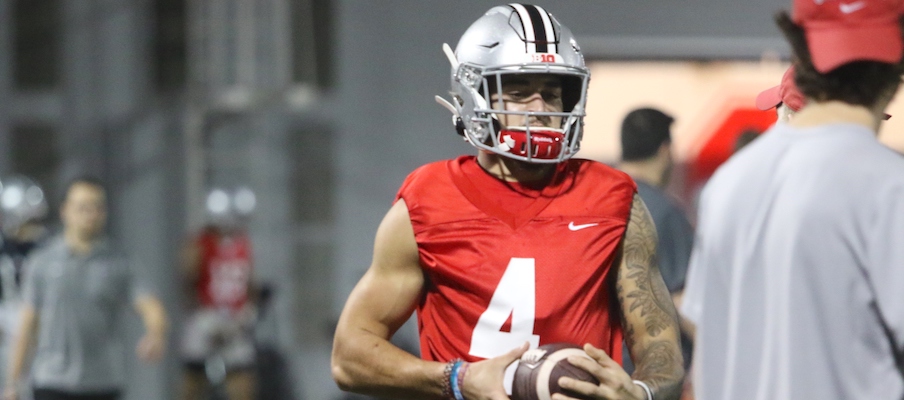 If they can keep making plays and showing improvement throughout the spring, any of the four freshman receivers have a chance to be like Wilson, who earned an immediate place in the rotation last year (as the backup X receiver, though he's starting out this spring at slot receiver). Ohio State's other freshman receiver last year, Jameson Williams, also saw some playing time with the first-team offense and came close to earning a spot in the regular rotation last season even though he didn't arrive until summer. One year earlier, Olave pushed his way into the rotation by the end of his freshman season and ended up making three of the biggest plays of the year, catching two touchdowns and blocking a punt in Ohio State's 62-39 win over Michigan.
Day believes one factor in the recent trend of receivers coming in ready to compete for immediate playing time is the increased amount of pass-catching and route-running reps they get by playing on 7-on-7 teams and competing in camps around the country. Players from states that allow spring high school football practices, like Texas (where Wilson and Smith-Njigba both hail from), have even more opportunities to develop their craft, which can give them a leg up on the competition when they arrive at college programs.
"They're further along than maybe receivers were five to 10 years ago," said Day, who has advocated for the state of Ohio to allow high school spring practices. "Certainly you can see a guy like Jaxon – who's played in Texas, where they have those activity periods, they have so many reps under their belt – that it just makes sense for them. You could see that today."
Of course, the talent of the players they're recruiting also has a lot to do with that, as Fleming (ranked 3rd nationally), Smith-Njigba (28th), Scott (65th) and Cooper (91st) were all ranked as top-100 overall prospects in the class of 2020, as were Wilson (20th) and Williams (82nd) in the class of 2019.
"You could see the talent of Julian and just his ability to get off of the line of scrimmage and make plays down the field and his size," Day said. "Gee Scott really surprised me, just how mature his releases were getting off of the line of scrimmage. And then Mookie flashed."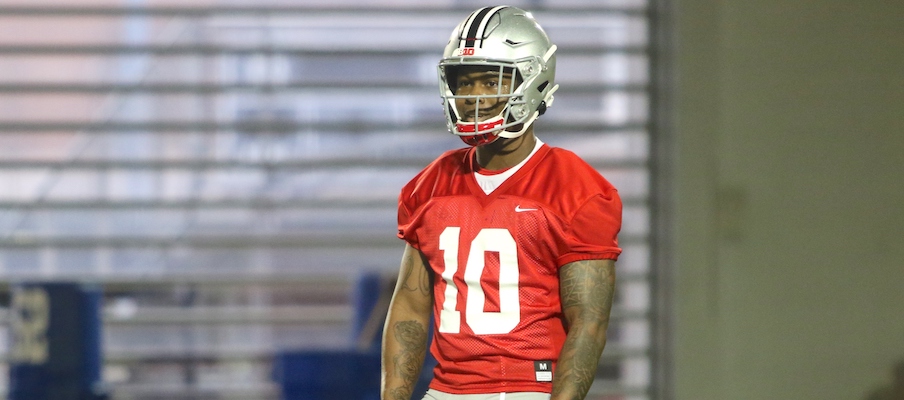 Right now, all of those freshmen still need to work their way up the pecking order at wide receiver to become key contributors for the Buckeyes in 2020. They'll have to work their way above veterans like fourth-years Jaylen Harris and Ellijah Gardiner, who worked as the first-team outside receivers in the opening practice, and fifth-year senior Demario McCall, who started the spring as the No. 2 slot receiver behind Wilson. C.J. Saunders, Jaelen Gill and Kamryn Babb were sidelined by injuries for the start of spring, but they could also factor into the competition if they get healthy (also pending whether Saunders receives a sixth year of eligibility).
Because all the upperclassmen other than Olave and Wilson are equally unproven in their collegiate careers, though, the freshmen are going to get a chance to beat them out. And it only took each of them one practice as Buckeyes to demonstrate why that could be a real possibility.