Following the departure of K.J. Hill, one of the biggest questions for Ohio State's offense entering Monday's opening practice of the spring was who would be first in line to replace Hill as the starting slot receiver.
On Monday, we got an intriguing and somewhat surprising potential answer: Garrett Wilson.
The second-year wideout, who rotated with Binjimen Victor at X receiver as a true freshman in 2019, was first in the order at slot receiver throughout Monday's practice – which was open to reporters who cover Ohio State – and he looked good.
Wilson made plays throughout the opening practice of the spring while lining up in a new position, where Ryan Day confirmed after practice that the Buckeyes are looking at him as a potential option to replace K.J. Hill – at least for now.
Demario McCall took second-team reps at slot receiver on Monday, while true freshman Mookie Cooper and Jaxon Smith-Njigba rounded out the order at that spot. Wilson, McCall and Cooper also all spent time fielding punts at Monday's practice.
All four of them made their share of plays – McCall made an extended touchdown catch in the corner of the end zone on a pass from freshman quarterback C.J. Stroud on one of the final plays of the practice, while Smith-Njigba already has the look of a potential future star – so Day came out of the first practice feeling encouraged about the Buckeyes' options at the position.
"Honestly, for the first day, just seeing those guys playing in the slot, it was pretty natural," Day said. "So I thought today was a good start. But we'll see how it gets going through the rest of spring.
"Some guys, you put them in there and you're not sure. Today looked pretty natural for those guys."
The Buckeyes are still hoping to get C.J. Saunders back for the 2020 season, but haven't yet received word from the NCAA on whether he will be granted a sixth year of eligibility; Day said they should receive an answer in April. Saunders, who missed all of last season with a knee injury, did not practice Monday and was listed as unavailable on the team's status report. Jaelen Gill, who is also expected to compete for playing time at slot receiver, did not practice either and was listed as limited on the team's status report.
As for the outside receiver positions, fourth-year juniors Jaylen Harris and Ellijah Gardiner took the first-team reps at those two spots on Monday. Chris Olave, who will start at one of those spots, did not practice on Monday even though he was not listed on the team's status report. Sophomore Jameson Williams and true freshman Julian Fleming ran with the second-team offense at outside receiver – Williams delivered another one of the highlights of practice when he burned the defense deep to catch a deep ball from Gunnar Hoak – while true freshman Gee Scott Jr. and sophomore walk-on Sam Wiglusz worked in with the third-team offense.
Kamryn Babb, who has missed each of his first two seasons at Ohio State with knee injuries, remains unavailable to practice.
A little bit of Ohio State quarterback action. pic.twitter.com/wgOqnhh2h0

— Colin Hass-Hill (@chasshill) March 2, 2020
Backup quarterback rotation
While Justin Fields took all the first-team quarterback reps on Monday, the second-team quarterback reps were split between Hoak, Stroud and fellow true freshman Jack Miller, and Day said the plan is to continue to rotate them all spring and into the summer, giving each of them the opportunity to potentially become the No. 2 quarterback on the depth chart.
As the spring progresses, the Buckeyes will also work each of those quarterbacks with the first-team offense. They'll give Fields the reps that they feel he needs, but because he already has a year of starting experience under his belt, they'll lighten his load at times and throw the less experienced quarterbacks into the fire.
"We'll kind of let those guys compete for that backup role," Day said. "Who knows what happens in the spring. My guess is those guys will just keep working at it, and the competition will go into the preseason."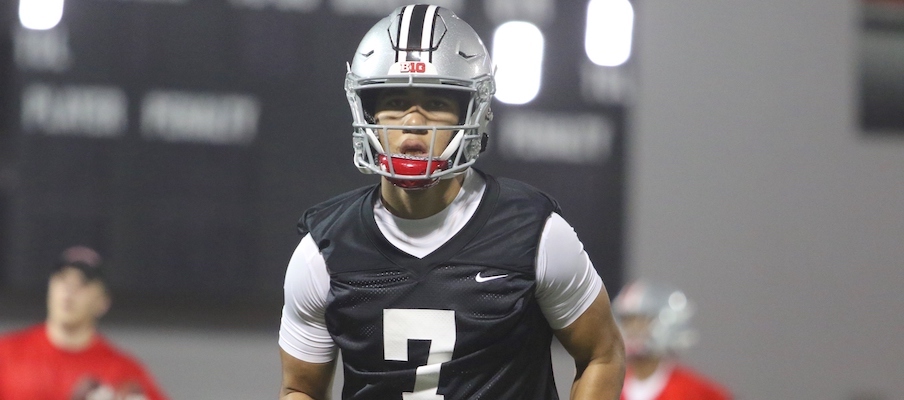 Small group at running back
With Marcus Crowley currently unavailable to practice due to injury, McCall at slot receiver and Miyan Williams not enrolling until summer (though he was in attendance to watch practice on Monday), Ohio State started spring with just two scholarship running backs on the field: Master Teague and Steele Chambers, who both took reps with the first-team offense on Monday.
Behind them, walk-ons Xavier Johnson and Robert Cope are the only other running backs currently practicing.
Day said Ohio State is expecting Crowley to be ready to play in time for the season and that McCall could still move to running back as needed. He acknowledged that they're in a dicey situation with running back numbers this spring, but he believes their depth will be up to par for the fall.
"We're one injury away from a little bit of a crisis right now, but in the end, when it comes to September, we're gonna be okay," Day said.
Offensive line position battles
Branden Bowen was back in Columbus to watch Ohio State practice on Monday, but neither he nor Jonah Jackson will man positions on the offensive line this fall.
With last year's starting right tackle and left guard pursuing careers in the NFL, it's up to Greg Studrawa to replace a pair of All-Big Ten performers.
At right tackle, junior Nicholas Petit-Frere and true freshman Paris Johnson Jr. both took first-team reps on Monday. Dawand Jones, another possibility to fill the right tackle opening, spent Monday's practice backing up Thayer Munford at left tackle. 
After undertaking an 8,000-calorie diet for more than a year to go from 268 pounds when he enrolled in the summer of 2018 to 305 pounds as spring practice commences, Petit-Frere finally has his weight in an optimal spot. 
Only a freshman, Johnson passed the eye test at first glance. He looked every bit as physically imposing as the other veterans on an offensive line that returns Munford at left tackle, Josh Myers at center and Wyatt Davis at right guard. Johnson has openly talked about his desire to start in 2020 and become a Freshman All-American, which is a goal that Day deemed achievable.
"It's just day one. It's a long way before then," Day said. "But, hey, he's very, very talented. He's got a lot of ability. If he's the best player, he's going to play."
Sophomore Harry Miller and redshirt sophomore Matthew Jones both saw repetitions with the starters at left guard on Monday. Both underclassmen were backups on the interior offensive line last year.
Miller, who garnered constant praise last season after enrolling in June, seems to be in a strong position as spring practices begin.
"Thayer, Josh and Wyatt are obviously returning, so now we've got to find four and five," Day said. "However that shakes out, we'll try to figure that out. Certainly don't want to put guys into roles and then not have the best I've guys on the field. We're going to try Harry at guard, see if he can be four and then see who plays at right tackle. That's the idea."
During full-team periods, Petit-Frere and Miller were with the starters at right tackle and left guard, respectively.
The second-team offensive line featured Dawand Jones at left tackle, Matthew Jones at left guard, Luke Wypler at center, Ryan Jacoby at right guard and Johnson at right tackle. Gavin Cupp, who was the second-team right guard for most of last season, was listed as unavailable and did not practice while Enokk Vimahi, who finished last season as the second-team left guard, took third-team reps on Monday.
Stover settles in at tight end
Ohio State swapped positions for two of their redshirt freshmen this spring, moving Cade Stover from defensive end to tight end while moving Cormontae Hamilton to tight end from defensive end.
While Hamilton (6-foot-2, 265 pounds) once projected to potentially play somewhat of a fullback role for the Buckeyes, Stover is built like a traditional tight end at 6-4 and 255 pounds. Like many successful tight ends, Stover was also a standout basketball player in high school, and Day said that factored into the Buckeyes' decision to move him to that spot.
"I think Cade, when you look at his skill set, his basketball background and his spatial awareness, his toughness, we think that he projects and can be a really good tight end," Day said.
With veterans Luke Farrell, Jeremy Ruckert and Jake Hausmann all back to lead the tight end group, Stover isn't likely to see substantial playing time on offense in 2020, but early impressions from Monday's practice were positive as he appeared to be catching the ball naturally.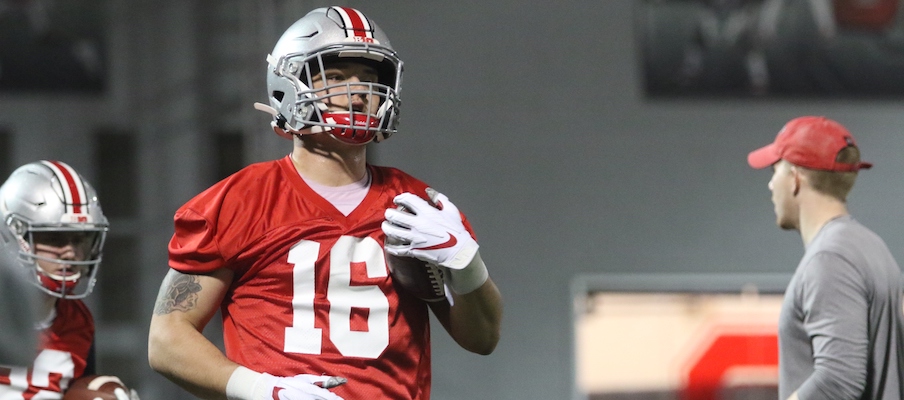 Other Notes
True freshman offensive lineman Trey Leroux, in his first practice as a Buckeye, worked as the third-team right guard. Redshirt sophomore Max Wray practiced as the third-team right tackle.
In addition to Williams, fellow signees Jakob James and Grant Toutant – who will join Ohio State's offensive line this summer – were in attendance to watch practice.
Corey Dennis, in his first year as the full-time quarterbacks coach, put his position group through familiar drills that the Buckeyes have run ever since Urban Meyer hired Day. As an internal hire working with the same position that Day used to coach, the lack of new drills didn't come as a surprise.
Pro Football Hall of Fame wide receiver Marvin Harrison also attended Monday's practice. His son, four-star wide receiver Marvin Harrison Jr., is a 2021 Ohio State commit.
Bowen was wearing a pair of gold pants around his neck as he watched Monday's practice.