CINCINNATI – Paris Johnson nods, a black Ohio State baseball cap atop his head. He's heard this spiel before.
The 4.0 Princeton High School graduate doesn't need any history lessons. Yes, of course he already knows that only one freshman offensive lineman – Michael Jordan, a current Cincinnati Bengals guard – has started at Ohio State since Orlando Pace in 1994. How could he not? Johnson, who grew up in the city in which Jordan now plays, already has a long-standing relationship with the former Buckeye, and they've talked about how Johnson can follow in Jordan's footsteps as a first-year starter.
"He was telling me, I have the opportunity if I go in and I work and I compete and I go in there with the same mindset that I carried here on the field, I bring that and compete on the college level, I can be the third one," Johnson said in an interview with Eleven Warriors in December. 
And nobody has to remind him of the difficulty, in general, of offensive linemen starting as freshmen in college football.
"It doesn't happen for the position up front," Johnson said.
But what has happened in the past, both at Ohio State and among offensive linemen, doesn't deter him. Johnson, like so often in other areas in his life, has a plan. 
As name plates get removed off tables, as gray fabric tablecloths get folded, as half-eaten snacks get thrown in trash cans and as lingering family friends and classmates file out of the room that housed Princeton's signing ceremony on Dec. 16, Johnson begins to detail a plan he has clearly given an abundance of thought. He speaks with such a matter-of-fact confidence that sometimes it's a bit difficult to remember he's talking about doing something only one person has done at Ohio State since he was born.
"Is it impossible? No. Is it hard? Oh my God, you have no idea how hard. So when he gets in and starts working, we'll find out through spring ball and through the summer. His level of commitment will determine that."– Greg Studrawa on Paris Johnson's ODDS to start
First, he says, he wants to enter spring camp on March 2 already taking reps with the second-team offense. As spring practices progresses, he hopes to begin taking snaps with the first-team offensive line. By the end of summer, he wants a starting spot to be his.
"I want by the time they do fall camp, I want that job to be mine at that point," Johnson said. "When they call my mom and say I'm a starting left tackle, I'm a starting right tackle, I'm a starting left guard, whatever it is."
By the end of the season, his ultimate objective is to become a freshman All-American, an honor bestowed upon both Pace and Jordan.
"We know what his goals and dreams have been all along," offensive line coach Greg Studrawa told Eleven Warriors in December. "And you know what? I love it. Now, the whole thing is, 'Are you willing to pursue what you want to do?' When he gets in here, we get back and it starts going, that's up to him. I always tell these guys if you think playing time's up to me, you're wrong. You're going to earn that. 
"Michael Jordan said the same thing a few years back. He came in early and said, 'Coach, I want to play. I want to get freshman all-this, freshman-All-American.' Mike ended up starting. Because, why? He came in the spring, he worked his butt off and he earned it. And so he did it."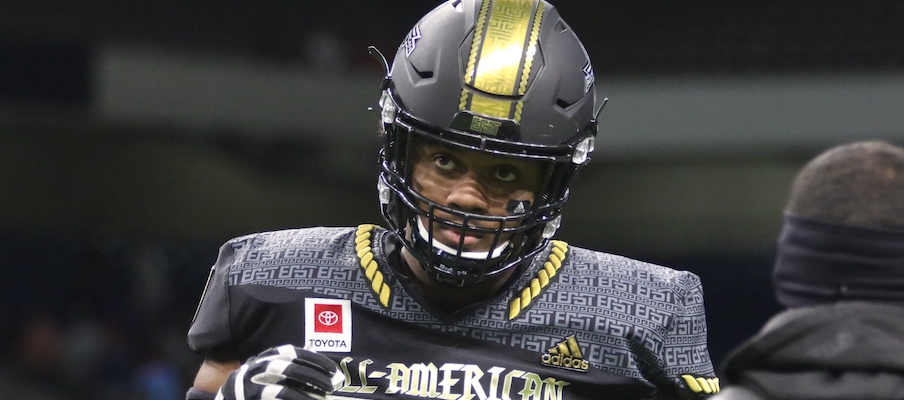 If nothing else, Jordan proved to Johnson that it's doable. But he also caught a bit of a break.
When Ohio State recruited and landed Jordan, it did so without any intention he'd start as a freshman. He got thrust into the position in large part because the veterans – Demetrius Knox, Matthew Burrell and Malcolm Pridgeon – weren't ready for the moment. No matter how gifted an offensive lineman is coming out of high school, even somebody as talented as Johnson who's the top-ranked offensive tackle and the No. 9 overall recruit in the 2020 class, Studrawa never sets out hoping to start a freshman. 
With that idea still the case, Johnson remains the underdog as spring practice nears.
Nicholas Petit-Frere, once the top-rated offensive lineman in the 2018 recruiting cycle, is entering his third season at Ohio State and seemingly has an edge to start at right tackle. When the Buckeyes landed the one-time five-star prospect, they surely did so with the hope that he'd start within his first three seasons. Dawand Jones, a 6-foot-8, 360-pound physical marvel, will also be in the mix. He surprised most by not redshirting as a freshman last season.
Johnson, though, doesn't count himself out. Not at all.
"People up there, I'm coming up behind them," Johnson said. "My job there is to compete. So now my mindset is I'm there to take their spot and hold that spot so nobody takes my spot until I eventually declare."
The main pair of disadvantages Johnson sees for himself is his lack of time spent with the playbook and inexperience going against college defensive linemen every day in practice. 
He didn't come up with those off the cuff. He's long had an idea of what he needs to do to position himself for early playing time. For that reason he opted to transfer between Cincinnati high schools, going from St. Xavier to Princeton because his former school didn't allow him to graduate early and enroll at Ohio State in January.
"I'm going to learn the playbook. I'm going to get that college strength," Johnson said. "I have six months to put that in. They've had maybe a year or two or three in. I've got to get to their level."
He has seen offensive linemen at other schools – along with Jordan at Ohio State – beat the odds and start as freshman.
Johnson points at two recent examples, in particular: Georgia's Andrew Thomas and LSU's Saahdiq Charles.
Thomas started all 15 games on a Bulldogs team that reached the national championship game, becoming a freshman All-American. He became a second-team All-American as a sophomore then turned into a first-team All-American the next year. 
"Talked to him a lot at Georgia," Johnson said. "We came from similar high schools. He went to private school. I guess our paths are very similar."
Charles started nine games as a freshman, getting named to the SEC All-Freshman team. He then started at least nine games at left tackle in each of the next two years.
Both Thomas – a projected first-round pick – and Charles entered the 2020 NFL Draft after three years, a goal that Johnson also has.
"I'm trying to be three years," he said.
And to accomplish that, the first step in his mind would be to overcome the odds mounted against him to start in 2020.
"Is it impossible? No. Is it hard? Oh my God, you have no idea how hard," Studrawa said. "So when he gets in and starts working, we'll find out through spring ball and through the summer. His level of commitment will determine that."
Studrawa's eyes lit up. He broke into a knowing smile.
"And I'll tell you right now, he's pretty good," he said.