The words that tumbled out of Nicholas Petit-Frere's mouth nearly two years ago caused tremors in Columbus.
To those who follow Ohio State, his commitment announcement on ESPN – which got Ryan Day's son, RJ, to lose his mind with excitement – was a rebalancing of sorts to the landscape of college football recruiting. Two months prior, the Buckeyes had lost out on five-star offensive tackle Jackson Carman, a native of Fairfield who left his home state to blaze his own path at Clemson. In response to what was the biggest in-state recruiting miss of the decade, Urban Meyer and his coaching staff spent the following weeks putting in a monumental effort to chase the only offensive tackle in the nation with a higher recruiting ranking than Carman.
The focus paid off for Meyer.
Petit-Frere, the No. 7 overall prospect and the top-rated offensive tackle in the 2018 recruiting cycle, announced his commitment to Ohio State on Feb. 7, 2018 and signed his National Letter of Intent on the same day. The mix of athletics and academics at the "highest level" propelled him to the powerhouse. Reflecting on the decision in December, he says he made it without expectations of grandeur that typically flood into most college choices.
"I didn't really imagine anything," Petit-Frere told Eleven Warriors in December. "I just said that I wanted to get better, I just want to play ball and I want to do whatever I can to make Ohio State great."
It's probably for the best that Petit-Frere didn't have outsized expectations, especially early in his career, because he has been a backup for his first two years at Ohio State. 
Yet here he now sits a little over a month away from opening spring practice as the presumptive favorite to start at right tackle in the fall. To secure the spot, Petit-Frere will have to fend off Dawand Jones, a 360-pound sophomore who impressed enough in his first season to unexpectedly not redshirt, and Paris Johnson, the top-rated offensive lineman in the 2020 recruiting cycle. But at this time, he's assumed to have the edge over them.
Petit-Frere, once a no-doubt-about-it five-star prospect, took a bit of a circuitous route to arrive at this point.
"Overall, it's really just about going out there and doing what I'm supposed to do, and that's going out to play."– Nicholas Petit-Frere on 2020
As a freshman, he enrolled in the program weighing only 258 pounds, far from the mark expected of a top-flight Big Ten tackle. Petit-Frere had to put himself through an 8,000-calorie diet to finally crack the 300-pound threshold, which Mickey Marotti said last week he has now reached. He only played in three blowouts as a true freshman, using the opportunity to redshirt.
When the calendar turned and Petit-Frere began preparing for his redshirt freshman season, many pegged him as a potential replacement for NFL-bound Isaiah Prince at right tackle. Greg Studrawa, the offensive line coach, was among them. He let Petit-Frere compete with Branden Bowen and Joshua Alabi to play opposite starting left tackle Thayer Munford. Ultimately, in a battle that lasted until late in fall camp, Petit-Frere came up short.
He spent the majority of 2019 as Bowen's backup, playing 240 snaps across 13 games and filling in as the starting left tackle against Northwestern. 
"At the end of the day, it's kind of more about realizing development, and at the end of the day, some people are just going to play and some people aren't," Petit-Frere said. "Some people are more suited to start at a time and some people aren't. A lot of people can see it as, 'Oh, I didn't play and I'm upset I didn't play. I can't believe I didn't get a chance to play.' But I always see it as I'm developing, I'm getting better. 
"As the season went on, I learned a lot from Bowen. I learned a lot from Thayer, Josh, all the tackles we have here, and then got better. So that's how I see this whole process, and I'm very glad to be a part of it. Whatever happened, whether I started or not, it's all about development and becoming a better player."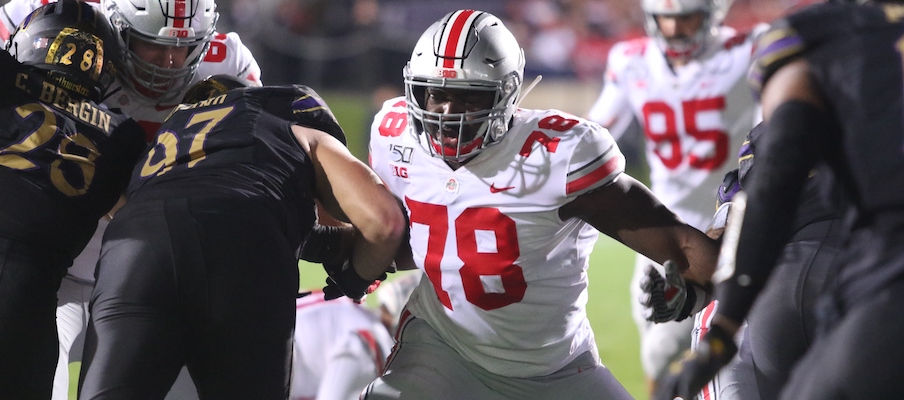 Those words took Petit-Frere into 2020.
Bowen and Alabi are gone. Munford returns as the left tackle, and Studrawa will again turn to Petit-Frere as a possible option at right tackle. This offseason, though, expectations for the rising redshirt sophomore will be a bit different.
For somebody ranked as one of the 10 best players in his class, the time has arrived. Whether or not Petit-Frere and his coaches publicly say so, the plan has always been for him to start in 2020, and that remains the case. When Meyer and Studrawa went after him so hard back a few years ago, they did so with the belief that he'd be ready to step into a full-time role by his third year.
Back then, Ohio State's coaching staff knew it both wanted and needed a top-level offensive tackle in its 2018 recruiting class. For a while, it appeared as though Carman would be the answer. He checked every box. But when he chose Clemson, Ohio State's coaches shifted their collective attention to Petit-Frere. As Studrawa put it, the Buckeyes went after him with "everything we had."
With Carman out of the picture, Ohio State's plans crystalized, too. It only had one more chance at a five-star offensive tackle.
"We had both of them in the wings and I'm not sure they both would've went (to Ohio State) together," Studrawa told Eleven Warriors. "I'm not sure that, if (Carman) would've came, what Nick would've done with those kind of things. As soon as that happened, we went full press on Nick. Full-court press on Nick, and it ended up being awesome because he's going to be really, really good."
In 2020, Ohio State hopes it'll find out whether that turns out to be the case.
The starting right tackle job, one of two openings on the offensive line along with left guard, will be Petit-Frere's to lose. The path to securing it, in his mind, is relatively simple.
"I've just got to play," Petit-Frere said. "I'm working really hard on the film room, watching plays, understanding the concepts and everything. Physically, I'm working hard in the weight room, trying to get the weight up, maintaining it throughout the season. Overall, it's really just about going out there and doing what I'm supposed to do, and that's going out to play."