Placed on the edge of the white-painted sideline at State Farm Stadium field, three gray helmets with scarlet stripes down the middle sat side by side on the edge of the white-painted sideline. Their facemasks pointed toward the field where those who wear them – Ohio State's trio of quarterbacks – warmed up just a few yards away about 75 minutes from the Fiesta Bowl kicking off.
At about the 2-yard line was Gunnar Hoak's No. 10 helmet, the left side of which was partially filled with Buckeye leaves. Chris Chugunov plopped his No. 4 helmet down closest to the goal line, with the entire left side and part of the right side covered with stickers. Between them, Justin Fields dropped his No. 1 helmet that had been entirely filled with Buckeye leaf stickers.
On the back of all three helmets, blown-up College Football Playoff stickers represented the destination Ohio State reached. 
What they didn't show, though, was the tightrope of a quarterback situation the Buckeyes had to traverse to get there. Because Fields mostly stayed healthy, had 41 touchdown passes compared to three interceptions and became a Heisman Trophy finalist, the journey was mostly smooth. But throughout the fall hovered a constant worry that the season would immediately fall apart should something happen to Fields. Neither of the backups had ever been viewed as future starters in Columbus.
Yet Ohio State survived. 
Fields had a few scares and ended the season with a knee injury that hampered him in the loss to Clemson, but he didn't miss a game. Either way, that's not a dance Ryan Day wants to try again.
With Gunnar Hoak returning and Jack Miller and C.J. Stroud joining the program a few weeks ago, the Buckeyes will be in a less precarious position in 2020.
"That's what we're hoping and that's why we brought C.J. and Jack in here is to compete for that (backup quarterback) job," Day said. "That room's stronger at this point than it was last year, that's for sure. Now those guys will have an opportunity in the spring to learn and grow. And hopefully we can develop some depth there."
With the way quarterbacks move between teams these days, having continuity in the position room has reached nearly impossible levels. Still, Day wants to have four scholarship quarterbacks on the roster at all times. How can he do so while keeping everybody happy?
For at least 2020, he has made it happen.
Ohio State has a second-year starter and Heisman Trophy contender, a local fifth-year quarterback without much on-field experience but who's a veteran presence, a late-rising spring enrollee ranked as the No. 2 pro-style quarterback in his class and a four-star quarterback from Arizona who was committed to the Buckeyes for a year-and-a-half before enrolling in January.
In the modern era of college football, that's all any team could ask for: A starter, a veteran backup and two young potential future starters.
At the forefront stands Fields, in his second – and almost certainly final – year as a Buckeye. The Georgia transfer's first year in Columbus couldn't have gone much better. 
Fields led his team to 10 straight wins by at least 24 points to open the year, back-to-back wins against Penn State and Michigan to end the regular season, a comeback to win the Big Ten title game against Wisconsin and a College Football Playoff berth. Even though he rarely played four full quarters due to blowout wins, he put up one of the best statistical seasons by a quarterback in program history, completing 67.2 percent of his passes for 3,273 yards, 41 touchdowns and three interceptions, adding 137 carries for 484 yards and 10 rushing touchdowns.
With his howitzer of a right arm and legs that make him look like a running back when he scrambles, Fields is back. For the first time ever as a coach, Day will get a second year with his quarterback. Per Mickey Marotti, who sees players more than anybody else in the Woody Hayes Athletic Center during the offseason, he's approaching what's in front of him differently.
"Last year when he showed up, he was quiet," Marotti said last week. "He was trying to fit in, he was trying to find the nutrition room. He was trying to find his classes. He wasn't sure about the workout. He didn't know who his buddies were. It's cold. He didn't know anybody. Now, all of a sudden, he's the starting quarterback. He's earned a reputation of being a hard worker. He knows he's the leader now. He knows that needs to be done. He has a whole different mindset of the offense and where that needs to go. He knows that he has to do a great job with those young receivers. So to me, it's completely different."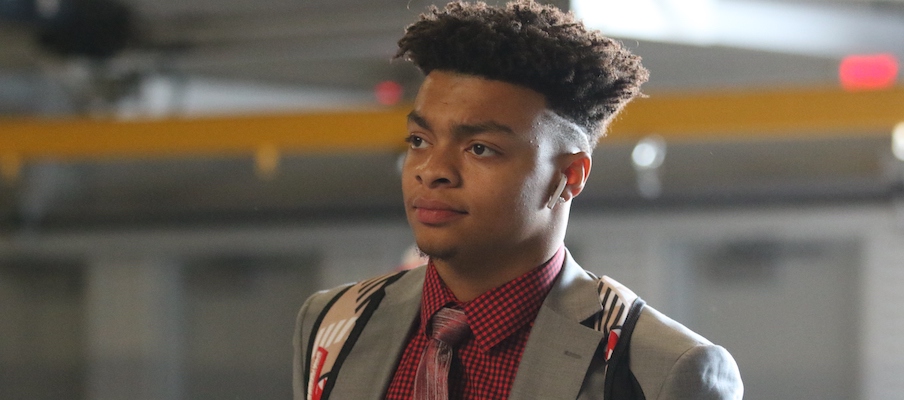 Provided Fields stays healthy, he's a legitimate Heisman Trophy frontrunner.
The difference this season? If something unfortunate happens to Fields that forces somebody else to replace him, the situation behind him on the depth chart shouldn't remove all hope from the equation.
Some of the increased confidence stems from the the return of Hoak, the third-string quarterback last year who is back for a fifth year in college and second season as a Buckeye. He'll get a chance to win the backup job. But since Day and Corey Dennis need to prepare the freshmen for what's ahead in 2021, the opportunities – and optimism in this situation – might trend toward the youngsters.
Both Stroud and Miller are viewed as the caliber of player who can eventually start for the Buckeyes. To go get Stroud, the No. 66 overall prospect in his class, Day had to fend off a number of schools chasing him, including Georgia, Michigan and Oregon. He paired the Californian with Miller, a long-committed four-star quarterback who fell in the rankings due to injuries in his final two high school seasons.
Their presence highlights the key difference between this season's quarterback room and what Day and Mike Yurcich had behind Fields last year. Neither Chugunov nor Hoak were viewed as future starters. Both Stroud and Miller had that tag before even enrolling. With Fields basically a lock to go to the NFL after the 2020 season, both freshmen and the coaches know the competition between them to start in 2021 essentially begins now. 
Maybe either Stroud or Miller, whichever quarterback doesn't win the post-Fields starting spot, transfers following the spring of 2021. Maybe in a year the Buckeyes find themselves back in the position they were in 2019 with a first-year starter and minimal depth behind him.
But for the next year, Ohio State should have a quarterback room that every school across the country should envy. After a trepidation-filled season, that has to feel good.