SCOTTSDALE, Arizona – Hearing the name of Jackson Carman on Thursday drew a smile out of Urban Meyer.
Now retired from coaching, he's able to reflect on what happened. The emotions of what was arguably the biggest recruiting miss of his ultra-successful seven-year stint as Ohio State's head coach are largely removed. 
Carman, a native of Fairfield, was one of only two of the top-ranked Ohioans to not commit to playing for the Buckeyes during Meyer's tenure. The other, five-star offensive tackle Tommy Kraemer, ended up at Notre Dame after attending a parochial school, Cincinnati Elder, that had already produced Fighting Irish tight end Kyle Rudolph. It seemed like a natural fit for him.
Though he said he doesn't think about it often, Carman became an outlier when he was down to Clemson, USC and Ohio State and ended up as a Tiger.
"Everybody was surprised. Everyone just assumed I was going to Ohio State," Carman said on Thursday. "Some people even thought I was already committed there, which I wasn't, for the record. I was never a commit. I never flipped from any school. I was making my decision late because I wanted to be sure of my decision, and then I told Clemson, I was like, 'I'm seriously considering coming here.' I guess they just assumed I was going to Ohio State. And then when I told them, they were like, 'Whoa.'"
That "whoa" reverberated throughout the state of Ohio when Carman made his commitment on Dec. 20, 2017. And with Clemson and Ohio State meeting in Saturday's Fiesta Bowl with a national championship berth on the line, that reverberation continues more than two years later.
So few players of his stature ever leave Ohio to play college football that he stands out. And he won't ever apologize for that aspect of himself.
"Growing up, I was always kind of an outlier," Carman said. "I'm used to not necessarily fitting in and not necessarily conforming to a whole bunch of people."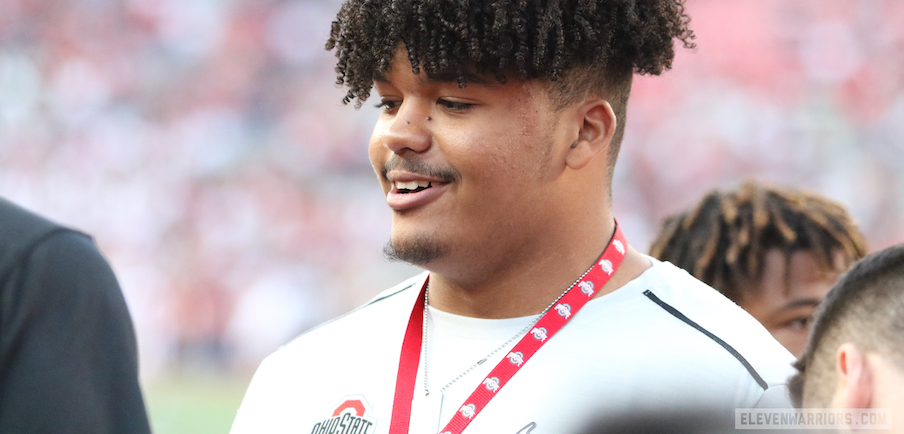 That aspect of his personality makes people view him as different than the average 6-foot-5, 345-pound sophomore offensive lineman.
Even growing up in the football-crazed state of Ohio, he said he was never a fan of college football, rather preferring to his time into other interests. Carman has played the guitar for years and recently picked up surfing. He's into the culinary arts and has impressed teammates both as a dancer and singer. His high school football coach, Jason Krause, fondly remembers when Fairfield hosted a senior citizen luncheon and Carman walked up to the front of the room, sat down behind a piano, played a few impromptu songs and earned a standing ovation.
To him, leaving Ohio for Clemson to play football was just the latest decision of his that some people might question but made sense to himself. When asked about him going elsewhere being Meyer's biggest miss as a recruiter, he used the phrase "recruiting propaganda." 
As has so often happened in his life, he strayed from the pack.
"I wouldn't say that's what I strive to be, but sometimes it just ends up happening that way," Carman said.
---
Krause felt his cell phone buzz. Standing on the football field while preparing for Michigan's satellite camp, he held it up, took a look and saw the familiar name and number. 
Meyer.
Ohio State had made it clear that it didn't want Fairfield, the home of Carman, hosting the satellite camp – a term for college football programs holding offseason camps for high schoolers away from their respective campuses – for the Wolverines. But because it represented an opportunity to make a significant amount of money for the high school team, Krause went ahead with it anyway and set the camp up for June 9, 2016. To please Ohio State, the plan was to let offensive line coach Greg Studrawa work with the offensive linemen who took part in the camp, something Jim Harbaugh had said was fine.
But the idea of Michigan running a satellite camp at Fairfield, a school in southwest Ohio with Carman, the state's top-rated recruit in 2018, was too much for Meyer. In his mind, Studrawa wasn't enough.
Meyer didn't send the reinforcements to establish dominance as Ohio's preeminent program. He was the reinforcement. That call Krause had received was Meyer telling him he had arrived in Fairfield.
"It's stuff I could write a book about, honestly," Krause told Eleven Warriors in a recent interview.
That yet-to-be-written book would be filled with endless anecdotes from the years-long recruitment of Carman. Krause had seen plenty of touted prospects come through his doors. Just about a week ago, one of his running backs, Jutahn McClain, signed a National Letter of Intent to play for Kentucky. But he hadn't ever experienced – and likely will never again see – the type of hype and intensity surrounding the pursuit of Carman.
He remembers Nick Saban flying into the regional airport nearby to try to convince Carman to leave Ohio to play for Alabama, and he remembers Dabo Swinney doing the same. Coaches came in and out of Fairfield at an unimaginable rate.
"It just really puts into perspective how valuable recruiting is to these guys to get the right guys in the program," Krause said.
To Ohio State, Carman was the right guy. He was an Ohioan, a five-star prospect, a gigantic offensive lineman and somebody who could conceivably be a stud left tackle. Sure, he had a bit of a different personality, but the Buckeyes, including Meyer, were convinced they had to have him.
That's why, even though Meyer now says he had a suspicion Carman wanted to go elsewhere, he made him a priority and showed up at the Fairfield satellite camp three years ago.
"It was disappointing because he's an Ohio guy and we spent so much time with him," Meyer said on Thursday. "Good guy, good family. But he was very distant at times. You could tell he wanted to get away. We weren't that shocked when it happened because I think he wanted to get away."
Studrawa, the lead recruiter, echoed those thoughts. From the very beginning, he said, an understanding existed that he might look elsewhere.
"It was Ohio State and then a bunch of schools that were far away," Studrawa said on Thursday. "So I knew right away, I had a good relationship with his coaches, and they had said the same thing: 'Coach, he may want to get away, may want to go to warm weather,' those things. So we knew that from the get-go. So we just tried to fight that and combat that and show him what Ohio State is and what it's about and the fact that it's better than those places. But in the end, he wanted to go away, so he made his choice."
The choice came on the first day of the Early Signing Period for 2018 prospects. That morning, he called both Meyer and USC's Clay Helton to deliver them the news before announcing his decision to the public. Carman said he didn't have any level of anxiety about delivering the news to Meyer because he wasn't "wasn't obliged to go anywhere." Rather, it was more of a relief than anything.
So on Dec. 20, 2017, the Ohioan officially became a Tiger.
---
The reaction to Carman's decision soon followed the announcement.
Social media vitriol came flying in. Coaching in a town filled with Buckeyes fans, Krause says he received some hand-written letters in his school mailbox asking him how he let Carman leave his home state for Clemson. Reflecting back on the moments, Carman says he didn't let the responses affect him, mentioning that he thinks most people were supportive of him.
"Because most of them, as any sane, rational person would, just be happy that a person from what I came from is getting the opportunity to go to college and experience life in a way that not a lot of people get to," Carman said.
Krause certainly feels that way for his former player. As a bit of a belated Christmas party, he's hosting all of his 11 assistant coaches for a viewing party. His house of 30-35 people might consist of the largest group of Clemson supporters in the state on Saturday night.
The rest of the state filled with Buckeyes fans look at Carman's first two years, which include more national championships (1) than losses (0), and see that as the type of success they're supposed to have. Instead of Columbus, Carman's had it in South Carolina. That can sting.
On Saturday, Ohio State – led by Chase Young – will have a chance to even the equation a bit when they meet with a national title appearance on the line.
"I definitely thought it was a possibility," Carman said. "They're both really good programs and both obviously title contenders every year."
This weekend, it'll become a reality.