CINCINNATI – Every so often, Paris Johnson directs a pointed question to his mother, Monica.
What would you do if you had a million dollars?
By now, he can almost recite her exact answer. The first 10 percent would go to her favorite charities. Her church would be the beneficiary of some of the money, and she'd make sure to pay off her bills. Much of the rest would go into a savings account.
Johnson also knows what the seven-figure sum wouldn't go to. Monica tells him often that she'd live in the same spot and drive the same car. Her life in Cincinnati wouldn't suddenly turn luxurious.
"It's not, 'I'm going to get this, I'm going to get this,'" he told Eleven Warriors in December. "It's always, like, 'I'm going to clear all the necessities and just live the same way I'm living but just relaxed.'"
Johnson, a freshman offensive tackle at Ohio State, likes these types of hypotheticals. 
As long as he can remember, he knew he wanted to make a career out of football. So as a child, he frequently told her that in exchange for buying him a video game at GameStop, he would give her $5 million out of his paycheck whenever he gets to the NFL. Even at a young age, it was a "when," not an "if."
"I used to say that all the time just to get the game," he said in December. "She got it for me anyway. She ain't care. I just felt like it was helping my case."
Monica might have to wait a while to cash out on the $5 million payouts her son owes her for each of those $60 video games. But in recent years, as Paris has continued to ask what her plans would be if she suddenly had $1 million, the possibility that she might legitimately find herself in that scenario has become increasingly realistic.
"Mom, I'm one step closer from you taking care of me to me taking care of you."– Paris Johnson in December
He's far removed from being the 5-year old cornerback on his West Chester Outlaws youth football team, and he's years past playing his first year of high school football on the freshman team, putting a damper in his hopes that he'd ever achieve his lofty goals. 
Johnson, who turned into a five-star prospect and the No. 9 overall recruit in his class by the time the final rankings came out, had at college coaches during the recruiting process continually telling his mother that they think he'll end up as a first-round NFL draft pick if he remains on this upward trajectory. He earned scholarship offers from just about every major college football program across the country, chose to remain in his home state and enrolled at Ohio State in January. 
And with each passing day, he inches closer to the point when he can begin paying his mom back for the time that she invested in him.
"She's given a lot of her time and her effort and her focus on me when she could've used the focus on herself," he said. "It's like if I put myself in her position at the time, I don't know if I could do it. But to be in the position where I can easily take care of myself and take care of both her needs but be able to give her the wants. Everybody, 'I want that car. I want that house.' I want the ability to be like, 'OK, ah, that'd be great.' That's why I ask my mom, 'What would you do if you had a million dollars? First thing you do?' I ask her that question all the time, randomly. Stuff like that to just get her, I guess, prepared. 
"But it's my job to make that happen. That's why I have to do this" – he pounded his hands together – "because she didn't invest all this time into me for me not to make it."
---
By the midpoint of his high school career, Johnson thought he had, at the bare minimum, his next half-decade set in stone. 
In his recruitment, he had become enamored with Urban Meyer, making an "instant connection" with the head coach, and loved what the rest of Ohio State's football program offered. So with an eye to the future, he committed in the summer before his junior year of high school on June 28, 2018. His mother, who grew up in Detroit as a Michigan State fan, and her family, which was split between Michigan and Michigan State, threw out all their gear and outfitted themselves in Ohio State garb.
Meyer's sudden retirement six months later, as his mother termed, "pulled the rug from up under" them. 
"We had to kind of take a step back and reevaluate, but we wanted to remain committed," Monica said.
Though Johnson never formally decommitted, he acted like an uncommitted recruit, doing his due diligence to consider the other schools suddenly trying to lure him to their campuses. He proceeded to take visits to Tennessee, Georgia Tech, Georgia, LSU, Alabama and Kentucky between January and May in 2019. 
With each trip, he tried to determine the authenticity of the coaches hosting him. Johnson wanted to have conversations, hear stories, just chat about nonsense. Nothing scripted, nothing robotic. As a 4.0 student who's fluent in Mandarin Chinese and decided to start his own foundation while in high school, he was a bit different from some football-focused recruits.
"You see too many coaches, I'm not going to say names, but big Power Five schools around this area, they like tried to read a piece of paper talking," Johnson said. 
Initially, that attracted him to Florida State's Willie Taggart and his mom, someone who values relationships over anything else, to Michigan's Jim Harbaugh. But in what was effectively his second recruitment, LSU's Ed Ogeron especially stood out, along with Georgia's Kirby Smart and Tennessee's Jeremy Pruitt.
As all that was going on, Ohio State was ever-present. 
Ryan Day and his staff had to walk the fine line of showing Johnson how much he wanted him yet at the same time allowing him to fully reconsider his options. In response, Day didn't pressure him, instead having the "basic conversations" that Johnson said are often foreign to head coaches, such as when he turned the offensive lineman on to a snack he had been feasting on: toasted Cheez-It crackers. 
"I'm glad we did remain committed because it allowed us to get to know not just Buckeye Nation, but it gave us an opportunity to get to know coach Ryan Day," Monica said. "And he's a phenomenal human being."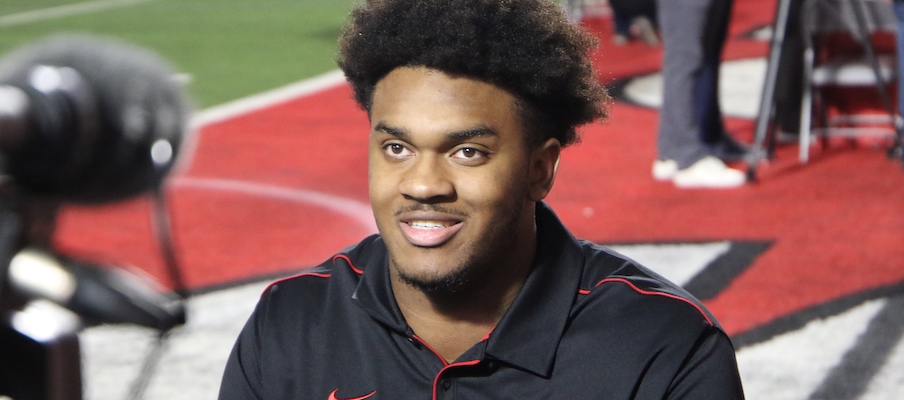 By the spring game in mid-April, when Johnson's mother saw the way Day interacted with his players and family, she was "at peace" with picking Ohio State. Johnson needed a little bit more time.
Down to Ohio State and LSU, he took an official visit to Baton Rouge in late May then went on an official to Columbus in mid-June. Less than two weeks later, in Frisco, Texas, for the Opening in late June, Johnson made his choice – and it came purely by accident. He was in the middle of an interview about his recruitment when somebody asked him to list the pros and cons of Ohio State and LSU.
As his answer dragged on, he continued harping on everything the Buckeyes had to offer. 
"That's when I figured out," Johnson said. "Everybody figured it out in that moment."
He and his family wanted to finish out whatever remained of the process, but there was no longer any doubt. He'd be a Buckeye.
---
Johnson doesn't know the name of who asked him. But he remembers the question.
At some point on his visit to Georgia last year, someone whom he presumes attended the university approached him and wanted to know whether he played football. Johnson answered affirmatively. The student then asked for his name, and when Johnson told him, it still didn't ring any bells, so he asked where he's from.
"I wasn't used to that," Johnson said.
Having spent so much time at Ohio State, he couldn't help but contrast it to his experiences in his home state.
"I walk around Columbus and it's like I haven't played a down for the Buckeyes, I haven't helped them score one touchdown, I haven't blocked for one ball-carrier," Johnson said. "They treat me like I've done everything and more."
To Johnson, legacy matters. 
Even in the final days at Princeton High School, he already had a big-picture view that he both willingly expressed publicly and had spoken to his future college coaches about before enrolling. He knows how those who come through Ohio State get remembered, especially those who grew up and lived in the state for their whole lives, which played no small role in his decision to become a Buckeye. 
The way Johnson sees it, a ceiling for an offensive lineman's legacy exists when they play for college football programs outside of their native state. He knows he's not a quarterback who can carve out a reputation anywhere. Take Joe Burrow, an Ohioan, for example. He'll forever be a legend in Baton Rouge, Louisiana, due to what he did with the Tigers this season. Johnson doesn't believe that kind of notoriety is possible for the blockers up front at just any school, especially those out of a lineman's home state. 
For that reason, the Cincinnati native found the possibility of continuing his football career in Ohio as an attractive possibility, referencing it as quite possibly the main consideration separating the in-state powerhouse from the SEC schools coming after him.
"The part that Ohio State has that I couldn't get out of LSU is my name lasting forever in Ohio would do more than what it would mean lasting across Louisiana," Johnson said.
To create the storybook career that he so desires, to be remembered as a legend, Johnson already knows where he wants to end his now-beginning career: in Buckeye Grove, where every All-American at Ohio State gets honored with a tree.
For years, he's read the names of the former players, seen children walking around the trees and heard fans talk about it. Now on the team, it feels attainable to him.
"Getting a Buckeye tree is probably the biggest thing on my list," Johnson said. "A Buckeye tree is the biggest thing on my list. First-round draft pick, that's the biggest. But as far as college, I want a Buckeye tree and I want at least two national championships."
So, so many high schoolers sign National Letters of Intent to play for programs as prominent as Ohio State with those as goals. A national championship, an All-American career and an NFL draft pick.
Yet for Johnson, these aspirations seem within reason – which speaks to his talent level.
Mentally, he appears as sharp and hard-working as anybody could ask for from an 18-year-old college freshman. And physically, he's off the charts.
At The Opening regional in Nashville last year, the 6-foot-6, 290-pounder clocked a 5.07-second 40-yard dash, 4.53-second shuttle and leaped for a 32.5-inch vertical. For reference, those numbers would have ranked ninth in the 40-yard dash and fifth in both the 20-yard shuttle and vertical leap among offensive linemen at the 2019 NFL Combine.
And Johnson, at the time, was still months away from even beginning his senior season of high school. 
Just imagine what he'll look like by the time he heads to the next level looking for seven-figure or eight-figure checks. Greg Studrawa, Ohio State's offensive line coach, has certainly had those thoughts.
"I think some kids are fired up about getting a scholarship, going on and, 'I'm going to be developed.' His goals are way different than that," Studrawa told Eleven Warriors in December. "He's worked his tail off. Look at him. You saw him. I mean, wow. To be in high school still with the things he's accomplished and his physique and those things? I think the sky's the limit for him. He could be as good as he wants to be."
---
By the end of Princeton High School's first football practice last year with Johnson on the team's roster, head coach Mike Daniels realized what he had in the stud offensive lineman.
At one point that day, Johnson had found himself matched up with his teammate Jaheim Thomas, a four-star Cincinnati linebacker signee, in a pass-rushing drill. Daniels didn't elaborate on what happened, only to say that Johnson "did what he does." It's fair to interpret that as him having tried to put Thomas in the dirt.
Because Thomas wasn't ready for what Johnson attempting to do to him, the incident led to what Daniels described as a "barking match."
"It's football, and it's funny now, but it set the tone for, 'Hey, OK, that's the type of kid he is,'" Daniels said. "He's going to go 100 miles an hour. He's going to try to destroy his man in between the lines every play."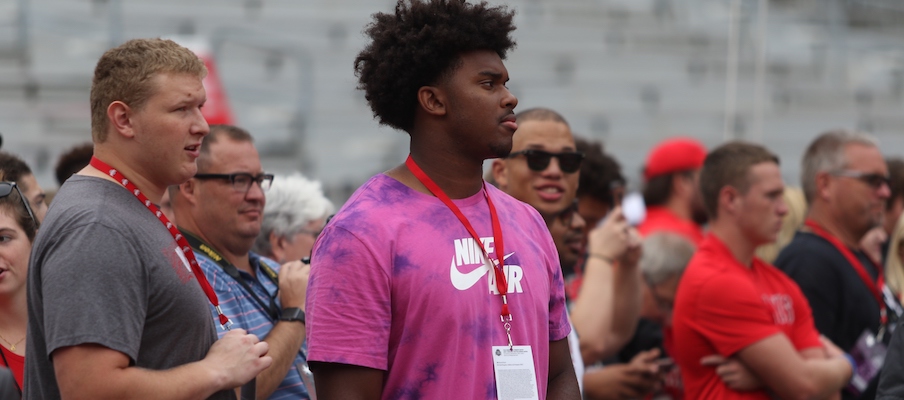 As evident in basically every high school highlight tape, Johnson has a viciousness about him on the field. When he talks about blocking, it's clear that he takes pride – and enjoyment – in burying defenders.
The way in December that he talked about his mindset entering Ohio State's program also had a twinge of ruthlessness.
"My immediate mindset is to show them that whoever they bring in behind me, I'm still going to be better than them," Johnson said. "It's honestly competition. People up there, I'm coming up behind them. My job there is to compete. So now my mindset is I'm there to take their spot and hold that spot so nobody takes my spot until I eventually declare."
Maybe Johnson needs a year or two to develop. But maybe he's different, able to overcome the odds and beat out both Nicholas Petit-Frere and Dawand Jones to start at right tackle as a true freshman. Johnson sure thinks he has a chance.
More than that, though, he has a plan. And if that plan comes to fruition, he'll head to the NFL after three seasons – a rarity for offensive linemen.
"For a usual O-lineman, some they play on and off freshman year," Johnson said. "Sophomore year, junior year, boom. You ball out two years in a row, you're good. My goal is to go three."
Johnson neither hides from his goal of being a three-and-done player nor has any misconception about the difficulty of making it happen as an offensive lineman. He understands it's challenging. Yet he also believes it to be doable. 
Plus, the sooner he can make it to the next level, as he knows, the sooner he can pay back his mother for everything she did for him as a child. 
Johnson doesn't have $1 million to give her right now. In three years, he thinks he might.
In his final comments to the packed crowd at his class' Princeton High School signing ceremony on Dec. 18, Johnson turned to address her sitting cross-legged in the front row.
"Mom, I'm one step closer from you taking care of me to me taking care of you," he said. "Go Bucks."