Monica Johnson has three different homes. Her house in the Cincinnati area, Princeton High School's football field and the Kroger grocery store.
You can throw Trader Joe's, The Fresh Market and Sam's Club in there, too. The store managers and employees know the Johnson family personally at all of them. 
That's not exactly a shocker. She makes a trip to one of those stores every other day to restock the family fridge.
So goes the life of the mother of a five-star, all-world, monstrous offensive lineman at the preps level. That's what her son, Princeton star Paris Johnson Jr., has become, currently rooted into the ground like a California redwood at 6-foot-7, 295 pounds. 
It's that size that's become his foundation for his ability to punish linebackers, bulldoze defensive ends and draw comparisons to a pair of fellow 6-foot-7 behemoth left tackles who starred on Ohio football fields: Orlando Pace, a Pro and College Football Hall of Famer who starred for the Buckeyes in the 1990's, and Andrew Whitworth, a 14-year NFL veteran who has carved out a future Hall of Fame career of his own, including 11 years playing for the Cincinnati Bengals. 
Johnson is the nation's No. 1 offensive tackle and No. 7 overall player in the 2020 recruiting class. He committed to Urban Meyer in the summer of 2018, but when Meyer retired, it brought a precarious unease to Johnson's commitment. Once Johnson got more acquainted with Ryan Day and Ohio State's new staff, though, an unsteady decision was firmly stabilized, which will soon make him one of two five-star gems (along with receiver Julian Fleming the other) to officially become a Buckeye during this week's early signing period.
Everyone please wish my mother a blessed & happy birthday!! @MonicaCLJohnson

She is a light in a world full of darkness. She is an inspiration not only to myself, but to many others. I will pay back everything you have sacrificed for me soon. I dominate my opponents for you. pic.twitter.com/hhUQIYj2y5

— Paris Johnson Jr. (@ParisJohnsonJr) December 13, 2019
Johnson earned those rankings, comparisons and his status as one of the stars of Ohio State's 2020 class with his aggressive, explosive on-field play. 
But the size wasn't always there. 
Johnson was a late bloomer who stood at "just" 6-foot-3, 205 pounds during his freshman year at St. Xavier High School (he transferred to Princeton prior to his senior season so that he could graduate early and enroll at Ohio State in January). 
It's proper to put the word "just" in quotes because of how he looks now. Which brings us back to Monica and those grocery store runs.
"Paris has always been a healthy eater," she says. "He is very disciplined with his nutrition."
That consists almost exclusively of an organic, all-natural diet, with 90 percent whole food consumption and the remaining 10 percent lined with popcorn, Chick-fil-A, Chipotle and Asian cuisine. He's not a big sweets eater, but he will down some of Monica's homemade cookies and brownies. Only occasionally, of course. 
That diet has remained steady throughout his high school years, but when he grew to become a mountain, his calorie consumption and food intake had to rise along with the height increase in order for him to become the elite offensive line prospect that he is now. That has meant a substantial hike in the Johnsons' grocery bill. 
"Prior to Paris starting high school, our grocery bill was $350-400 per month," said Monica, also mother to daughter Sydney. "Our family grocery bill is $800 a month (now). … At first, grocery expenses was a bit overwhelming, but now it is just a way of life and has been included in our monthly expenses."
Like Monica said, her son has long been one to carefully watch what he eats. That began when his strength and conditioning coach at St. Xavier, Terrell Williams, created a nutrition plan for him during his second semester as a freshman, which he followed to a T. But now, what he eats has exploded.
"We joke about (how) the fridge is never really full enough for our boys. And jokingly agree that our second home, aside from the football field, is the grocery store."– Monica Johnson, mother of Ohio State OL Commit Paris Johnson Jr., on her and the mothers of other OL recruits
"Paris consumes about 5,000 calories a day just to maintain his weight," Monica said. "I prepare a hot breakfast for Paris every morning along with a protein shake. I also prepare a healthy lunch and snack for him while he's at school. And when Paris comes home from school, he will have another protein shake and healthy meal, which is usually leftovers from the night before."
In case you ever want to try eating like a blue-chip offensive lineman some day, here's an example of what Paris' daily diet looks like:
Breakfast: Protein shake, three turkey sausage and cheese english muffins
Snack: Trail mix and grapes
Lunch: Four turkey and cheese sandwiches on wheat bread
Snack: Four peanut butter and jelly sandwiches on wheat bread, an entire pineapple and more protein shakes
Dinner: One pound of lean meat (either chicken or steak), two cups of green vegetables and two cups of either rice, potatoes or pasta
Snack: Protein shake and popcorn
Oh, and don't forget that he consumes about four pounds of lunch meat every week. 
It's a heavy diet, obviously, but it comes with the territory of growing into a highly coveted offensive lineman for a Power 5 program.
Paris is one of six offensive lineman commits in the Buckeyes' 2020 class and one in the 2021 class (Ben Christman). Each of them has, at one point, weighed substantially less than he does now and has changed up his nutrition plans. Christman, for example, says he weighed about 220 pounds heading into his freshman year, then blitzed a carb-heavy diet to help him bulk up to around the 300-pound mark he's at now before tapering off, balancing his nutrition while laying off unhealthy snacks and sugars and lessening his carb intake.
But all seven of these players – Johnson, Christman, Luke Wypler, Josh Fryar, Grant Toutant, Jakob James and Trey Leroux – have not done it by themselves. They each have an unsung hero in the background carrying a burden and helping them carve out the stoutness they have now. Monica Johnson is just one example of an offensive line mother who takes her job seriously.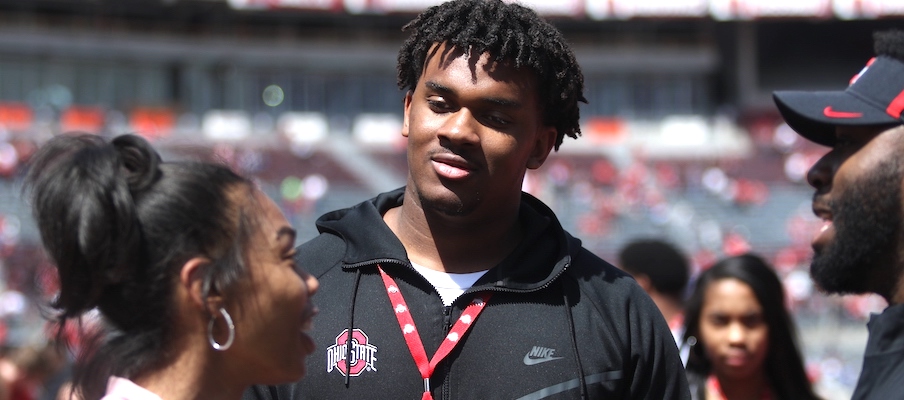 "I enjoy preparing both my kids' meals at home," Monica said. "It's important to me to know what's in the food that they are eating. I do feel it's my responsibility to govern that. When Paris was visiting colleges, we took a closer look at the nutrition and diet."
She's not alone. The mothers of the other Ohio State offensive line recruits, Monica says, have shared plenty of stories on the amount of food their sons consume.
"It has been a bonding experience, for sure," she said. "We joke about (how) the fridge is never really full enough for our boys. And jokingly agree that our second home, aside from the football field, is the grocery store."
Those grocery store trips, however, will soon become less frequent for Monica Johnson. 
Paris is going to enroll early at Ohio State, with classes and workouts beginning in January, meaning that Monica will soon hand off to Mickey Marotti and the rest of the Buckeyes' strength and conditioning staff to handle her son's nutrition. 
That's perfectly fine with her. Monica and Paris have met with Marotti several times to pore over dietary details before he arrives on campus. She's come away more than simply satisfied.  
"Coach Marotti's nutrition plan is much more detailed, and, honestly, I don't have access to it at this time," she said. "But it's very thorough with micronutrients. His nutrition plan is very scientific. ... I have complete faith in Coach Marotti. He is the best in the business, and he has a proven track record."
Then again, so does she, and it's all been worth it. Those big grocery bills have made Marotti's job easier and helped put the Johnson family on a path to a fourth home. One filled with 100,000 red-and-white seats instead of blue-and-gray shopping carts.