For all the elite cornerbacks he developed and the role he played on Ohio State's defensive coaching staff from 2012 to 2017, Kerry Coombs was perhaps best known for the juice he brought to Columbus. Always energetic, always intense, always filled to the brim with coffee, he was a constantly animated presence at Ohio State's practices for more than a half-decade.
When he left to coach defensive backs for the Tennessee Titans in 2018 and 2019, the Buckeyes tried their best to replace his energy.
They never really managed to find someone like him, though, which became abundantly clear on Monday when Ohio State opened with Coombs' charisma on full display. There he was, once again bouncing around with unmatched enthusiasm, running to high-five Ronnie Hickman and punching the air when Garrett Wilson muffed a punt on the indoor field at the Woody Hayes Athletic Center.
Ryan Day, when asked about Coombs immediately after the first practice, couldn't help but smirk.
"He hasn't lost a step. That's for sure," Day said. "He was running around all over the place, just as I remember him. Lot of energy, and the guys love playing for him. Very, very intense and extremely competitive. You talk about a guy that fights every single day: That's Kerry Coombs."
Coombs now has the difficult task of replacing three of Ohio State's four starting defensive backs from 2019 – Jeff Okudah, Damon Arnette and Jordan Fuller – who are now in the NFL. 
Kerry Coombs, back in Columbus. pic.twitter.com/Yf1kTZ4buT

— Colin Hass-Hill (@chasshill) March 2, 2020
Secondary starts without key players
Everything in the defensive backfield will be built around Shaun Wade, whom Day said should be considered the best returning cornerback in the nation.
Yet Wade was listed as limited on Ohio State's status report Monday, spending most of the morning on the sidelines. Cameron Brown was also limited. Josh Proctor was listed as unavailable and spent the entirety of practice with other injured players going through exercises on the sidelines.
Because of their absences, it's hard to make too any sweeping assumptions about a secondary that was already depleted following the departures of Arnette, Fuller and Okudah and the dismissals of Amir Riep and Jahsen Wint, who Day said Monday will not return to the program under any circumstances.
As for the Buckeyes who were on the field, though, Sevyn Banks and Tyreke Johnson spent the majority of the first practice with the first-team defense as outside cornerbacks, while Marcus Williamson was in the slot with Marcus Hooker as the single deep safety. During full-team drills, the backup defensive backs were Ryan Watts and Lejond Cavazos on the outside with Bryson Shaw playing slot cornerback and Kourt Williams at safety. Ronnie Hickman, now healthy after missing his freshman season with a torn ACL, played with the third-team secondary as a nickelback. (He was listed as limited on Ohio State's Monday status report, but said on Twitter that he is "full go this spring.")
Even with three key players sidelined for the first practice, it's clear the secondary is an area where the Buckeyes need multiple players to break through.
"Cam's coming back, and Sevyn's coming back, and you've got some decent depth there in terms of reps," Day said. "That's where those younger guys are going to have to step up. That's, I think, the next thing. And then Marcus Hooker and Marcus Williamson, both of those guys got reps last year. They have them under their belt. Josh Proctor, he's been a little dinged up but we'll get him back.
"So there's a lot of guys that got reps but haven't played a significant role."
With Wade now playing full-time on the outside, slot cornerback has become a position without a clear answer.
Williamson got the reps at nickelback with the starters on Monday, but the 5-foot-10, 186-pound senior is far from a lock. He'll have to have a strong offseason to lay claim to the starting spot. 
Day said Ohio State wants to have the three best cornerbacks on the field at any given time, which means Brown – when healthy – or Banks could potentially shift inside. The pair of third-year corners played the most snaps among non-starting defensive backs in 2019 by a wide margin.
"I think you find your best three guys, and if Sevyn, Cam or Shaun, one of those three guys can do a good job inside then we'll do that," Day said. "The good thing for Kerry is when you come in here fresh, you get a fresh look at it, you get a chance to see it. As time goes on here through March and April, he'll get a good feel for their skill sets and try to figure out the best guys to put on the field, especially for third down."
Banks stood out among the defensive backs who were on the field Monday, intercepting a pair of passes thrown by Justin Fields.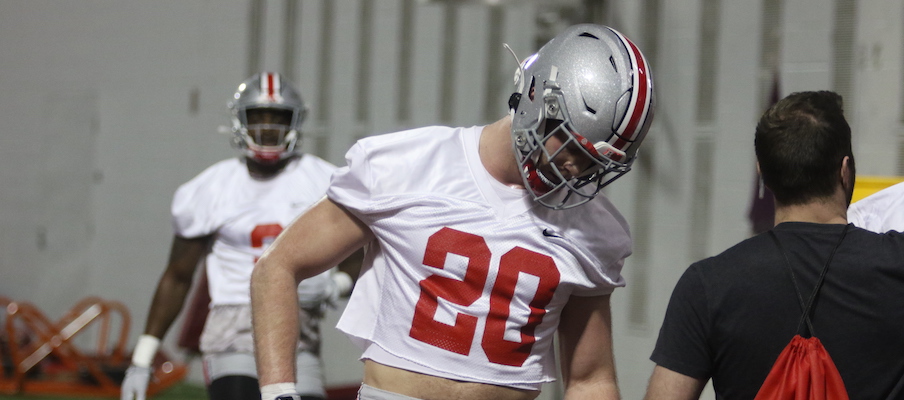 Werner at Will
Whether Pete Werner killed the bullet or actually became the bullet in 2019 is up for debate. Either way, he became one of the Buckeyes' most important defensive players in his second year as the starting strongside linebacker.
Naturally, that led most to project him to start at Sam for the second year in a row. 
Instead, now listed at 6-foot-3 and 242 pounds, he spent most of Monday's practice as a weakside linebacker. With the first-team defense, he largely played alongside middle linebacker Tuf Borland and sixth-year strongside linebacker Justin Hilliard.
That isn't necessarily a permanent change for Werner, Day said.
"Moving him around, trying him in a couple different spots," Day said. "We had some good, veteran guys that have played a lot of football. What is that right mix? And that's great now that Greg's here for his second year, Al's here for his second year. These guys have now seen these guys for a year, and then Kerry comes in with fresh eyes. A lot of good conversation on that side of the ball in that room trying to figure out, OK, what's the next step here on defense?"
Baron Browning, who many – including a website you might have heard of called Eleven Warriors – have projected as the starter at Will, did not practice on Monday. In the status report distributed by the team, he was listed as limited, and he spent most of the time walking and jogging around the field by himself. 
If Werner ends up at weakside linebacker, an abundance of questions would follow. What would happen with Browning? Who would start at strongside linebacker? How would not having someone as versatile of a coverage linebacker as Werner at Sam affect the rest of the defense? It's a situation worth monitoring as spring camp progresses.
A trio of rising juniors were the linebackers with the second-team on defense on Monday: K'Vaughan Pope (strongside), Dallas Gant (middle) and Teradja Mitchell (weakside). 
Redshirt freshman Tommy Eichenberg was the middle linebacker with the third-team defense for Monday's practice. Craig Young, who was not listed on the team's status report, walked off the field and did not return after suffering an apparent injury during the early portion of practice.
Hamilton moves to defense
While the Buckeyes lost one Hamilton from their defensive line last season, as DaVon Hamilton (who was back at the Woody Hayes Athletic Center to watch practice on Monday) is now pursuing an NFL career, they're adding two more for 2020.
One of those was already expected: Davon's younger brother, Ty, who will arrive as a true freshman this summer. The other, however, came as the result of a recent position change, as redshirt freshman Cormontae Hamilton (unrelated to DaVon and Ty) is now practicing on the defensive line after spending last season in the tight end room.
The Buckeyes opted to move Hamilton to defense, while moving fellow redshirt freshman Cade Stover from defensive end to tight end, because they believe his long-term potential could be highest on the defensive line. Hamilton practiced at defensive end on Monday, but could also potentially end up at defensive tackle.
"Coach Johnson worked with him in a camp and saw what he can do on the defensive line, and just watching him this year on the scout team, we thought he had a chance to play really good in terms of a tackle – or at defensive end, he can do both – so we're gonna see what happens this spring," Day said.
Other Notes
The defensive line largely rotated through players by seniority, with myriad veterans taking reps with the first-team defense as is typical for Larry Johnson's unit. Tommy Togiai took most if not all of the first-team reps at nose tackle, but Haskell Garrett and Antwuan Jackson both took first-team reps at 3-technique while Tyler Friday, Javontae Jean-Baptiste, Tyreke Smith and Zach Harrison all worked in at defensive end.
Defensive end Jonathon Cooper was listed as limited for Monday's practice. He only participated in non-contact portions of practice.
Defensive tackle Taron Vincent, who missed the entirety of the 2019 season due to a torn labrum in his shoulder, went through Monday's practice as a limited participant. He's a potential candidate to start or at least rotate in heavily at 3-technique, but he has to get fully healthy first. Fellow defensive tackle Jaden McKenzie was also listed as limited on the team's status report.
Players were not in pads for Monday's opening practice.