Ohio State's decision to move Cade Stover to tight end started with a request from Larry Johnson to steal another player from the tight end room.
Johnson, Ohio State's defensive line coach, had been eyeing Cormontae Hamilton as a potential defensive lineman since this past fall. Initially, Ohio State offensive coordinator and tight ends coach Kevin Wilson rebuffed that suggestion, in part because he didn't want Hamilton – a player he had personally recruited to be a member of his tight end room – to think Wilson was giving up on him.
"Coach Johnson wanted Cormontae Hamilton at D-line. He wanted that actually back during the season. And I kinda balked at it, because when Cormontae got here, he had a hamstring injury that nagged, and I worried about him being from Memphis, long way from home and wasn't playing and I didn't want him to move and not feel wanted," Wilson said Wednesday. "And I kinda said, 'Nah, let's just keep him at tight end.'"
When Johnson made the suggestion again after the season, however, Wilson agreed that they could have a conversation with Hamilton about becoming a defensive lineman. And he acquiesced, in part, because while Johnson believed in the potential for Hamilton in his unit, Wilson also saw the tight end potential of a player who had been practicing on Johnson's defensive line: Cade Stover.
Although Stover was recruited, primarily by former Ohio State linebackers coach Bill Davis, to play defense for the Buckeyes – initially as a Sam linebacker before moving to defensive end midway through last season – Wilson knew Stover had potential at tight end, as well, before he even arrived in Columbus.
"I was told when we recruited Cade, I was never allowed to go see him, because the recruiters thought he could be a good tight end and if I walked in the building, it could be a bad deal," Wilson said. "So I was dying to watch him play high school basketball, and I was prohibited from doing so."
Now, though, Stover will bring the length and athleticism that he once demonstrated on the basketball court – which Ohio State head coach Ryan Day cited as one reason why the Buckeyes decided he'd be a good fit at tight end – to Wilson's position group, and Wilson is excited about the tight end he thinks Stover could become.
"I think it's gonna be a good move for him and a good move for us," Wilson said. "Got a lot of work to do, but he's going to be good."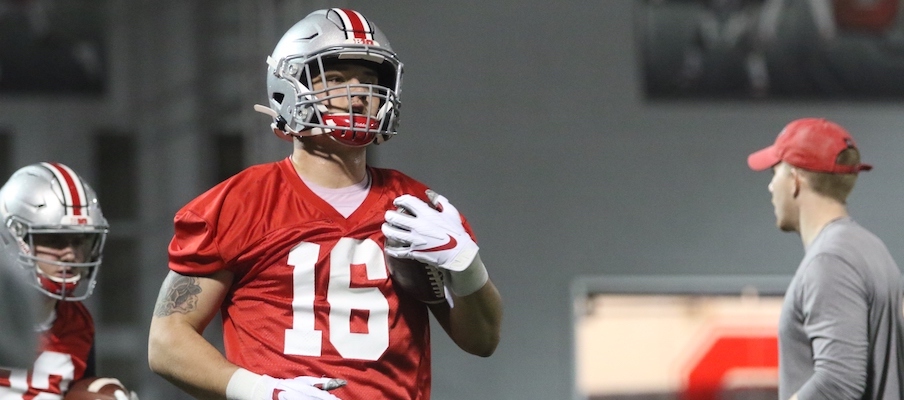 Stover, who has the prototypical body type for a tight end at 6-foot-4 and 255 pounds, is embracing the position change, recognizing that the coaches wouldn't have suggested the move – which they didn't force him to make – unless they believed it would ultimately position him to make a bigger impact for the Buckeyes as his career progresses.
"I think in the long run, it's a better fit for my body and what I can do," Stover said.
Stover is now practicing at his third different position in less than a year on campus, which certainly isn't what was envisioned when he arrived in Columbus last summer. Playing different positions, though, is nothing new for Stover. At Lexington High School, Stover played everywhere from wide receiver, quarterback and running back on offense to safety, linebacker and defensive end on defense. 
Given that he played on both sides of the ball throughout his high school career, he's excited to have the opportunity to have the ball in his hands again at Ohio State.
"I love playing running back too, but I think those days are over, a little too big for that now," Stover said. "But no, I like playing tight end. I think it's best on me. You get to play a little nasty in terms of blocking people, and you get to play in space too and get the ball."
In an interview with Eleven Warriors before his Ohio State career, Stover said he prided himself on his ability to be a hard hitter, which makes it a bit surprising that his time on the defensive side of the ball lasted for only one season. Because Stover outgrew the linebacker position he was initially recruited to play, though, he was already learning how to play a new position at defensive end – and likely would have still been buried on the depth chart there in 2020 behind Jonathon Cooper, Tyreke Smith, Tyler Friday, Zach Harrison and Javontae Jean-Baptiste.
At tight end, Stover will likely be fourth on the tight end depth chart in 2020, but four tight ends saw at least semi-regular playing time in 2019 – Luke Farrell, Jeremy Ruckert, Rashod Berry (who also started his Ohio State career on defense before moving to tight end) and Jake Hausmann – and Berry is now gone while Farrell and Hausmann are both seniors, leaving a path for Stover to potentially earn substantial playing time on offense by 2021.
More than any specific position, Stover just wants to get on the field and contribute one way or another.
"I'm just looking to help the team any way I can," Stover said. "Getting on the field's definitely a big part of it, so I'm looking to do that."
And even though Stover will now be trying to avoid getting tackled and block defenders instead of trying to make tackles himself, he'll still play the game with the same toughness and desire to put opponents in the dirt that he had on defense.
"I think an offensive guy with a defensive mindset is dangerous," Stover said. "That's bred in me, so that's not going anywhere."
Given that he has only gone through two practices as a tight end so far, Stover has a long way to go in his development if he's going to be ready for significant playing time at the position this fall. For now, Wilson is trying to make sure he doesn't throw too much at Stover at once.
"You worry about, like all the guys, the plays getting in the way of the athlete. I think sometimes as we went through some stuff in the winter, he looked sometimes to me, you can tell, a 'fish out of water,'" Wilson said. "But when you get out playing ball, you can tell he's a naturally good football player, good basketball player, a guy that's played a lot of ball, with his family and his dad's background. So when we get out running around, he naturally kinda finds the right place, and he might look a little out of control or out of whack and he's kinda doing it on the run. But you know he's a good football player."
As he works up to get up to speed at his new position, Stover's getting plenty of help from the Buckeyes' veteran tight ends, which he greatly appreciates.
"Luke and Jeremy and Jake Hausmann, they've helped me so much getting a grasp of everything, understanding," Stover said. "After winter workouts, coming out here and running routes and teaching me proper steps and stuff, I mean, we did that almost every day. That's not easy for them because they know what they're doing. Coming out here and helping a young kid do that, that means a lot to me. It's helping me so far throughout spring ball."
Ruckert has been impressed with what he's seen from Stover so far.
"He brings a great mindset. He just wants to play football. He's bounced around a lot, but you can really tell that he's trying to come out and throw his body around and make some plays," Ruckert said. "He's ahead of where I was when I first got here, so I think he'll do really well."
"I think an offensive guy with a defensive mindset is dangerous. That's bred in me, so that's not going anywhere."– Cade Stover
Stover must keep that attitude to become the tight end that he, his coaches and his teammates believe he is capable of being. His future at Ohio State still looks bright, though, even though it isn't the one that was envisioned for him until a couple months ago.
"When you look at his skill set, his basketball background and his spatial awareness and things like that, his toughness, we think that he projects into being a really good tight end," Day said. "And I think if you own the decision, then you are more likely to embrace it more and to run with it. And I think both of those guys (Stover and Hamilton) are going to do that."