LEXINGTON, Ohio – From the time Division I football teams began recruiting him in his sophomore year at Lexington High School in 2016, Ohio State was always at the top of Cade Stover's list.
He didn't want to rush through the process, or choose Ohio State simply because it was the hometown school, so he took his time. He made several visits to Columbus – as well as to Notre Dame, Oklahoma and Penn State – before committing to the Buckeyes last April.
"I didn't jump the gun at all and commit early," Stover said. "I wanted to check out everything, make sure it was right and sure enough, it was."
Even though he took his time to check out other schools, Ohio State ultimately checked every box. After he made his visits to Ohio State and had the opportunity to get to know the Buckeyes' coaching staff and players, he became sold that Ohio State – just about an hour drive south from Lexington on Interstate 71 – was the right fit for him.
"Feeling like you can trust somebody and they have your back just as much as you have theirs, that's who I want to play for," Stover said of Ohio State.
Ohio State's coaching staff, of course, has changed in a big way over the past year. Urban Meyer is no longer Ohio State's coach head coach, and more personally to Stover, Bill Davis is no longer the Buckeyes' linebackers coach.
If anything was going to make Stover reconsider his decision to become a Buckeye, it was the departure of Davis, who he built a close relationship with over the last two years. Stover said it was hard to receive the news that Davis, who is now the linebackers coach for the NFL's Arizona Cardinals, would not be his position coach at Ohio State.
"Coach Davis was like another father to me," Stover told Eleven Warriors in an interview at his high school this week. "All the way through high school, every game, I'm getting a call from Coach Davis that Saturday morning or that Sunday afternoon. I talked to him two or three days a week. So Coach Davis was really, when he left, if he would have went to another college somewhere, I would have definitely considered following him. I had such a great relationship with him."
That said, Stover was glad when he learned that Al Washington, who had recruited him as the linebackers coach at Michigan, would be the new linebackers coach at Ohio State. And now that he's had the opportunity to build stronger relationships with Washington and new co-defensive coordinator Greg Mattison and new head coach Ryan Day over the past few months, Stover is as excited as ever about playing for Ohio State's new coaching staff.
"It's hard not to love Coach Day," Stover said. "He's just a real guy. He's going to tell you exactly how it is. And then once he brought along Coach Mattison … I didn't think it would get much better than Coach Davis, but Coach Mattison gets really close."
While Stover isn't enrolled at Ohio State yet – he's set to graduate from Lexington this weekend – he has been driving down to Columbus twice a week to work out with Ohio State's players and strength and conditioning staff, giving him a head start on what to expect when he officially becomes a Buckeye in a couple weeks.
Soon, he'll be working out with the Buckeyes every day, and he's looking forward to it.
"I'm ready," Stover said. "The people down there, the strength staff are going to have me ready to play, so I'm excited to go down there and let them have me, see what they can do."
---
As the reigning Mr. Football for the state of Ohio, Stover was a four-year star for the Lexington Minutemen. Tim Scheid, who was Stover's defensive coordinator and position coach for the past four years before becoming Lexington's new head coach in January, said the coaching staff recognized Stover's star potential before he even played a down of high school football.
"We knew he was something special coming out of junior high that whenever he hit our program as a freshman, we knew we had to find a spot for him," Scheid told Eleven Warriors. "You don't want to play freshmen on a varsity field, but every once in awhile you get that special talent that comes along, and Cade was one of them."
At Lexington, Stover played primarily as a safety, typically lined up in the middle of the field so that opponents could not simply run away from him. That said, the Minutemen used him at all three levels of their defense, sometimes playing him at linebacker and even as an edge-rushing defensive end in his senior season.
Over the course of his four-year career at Lexington, Stover accumulated 592 total tackles with 21 tackles for loss, four sacks, eight interceptions, six forced fumbles, four fumble recoveries and 24 pass breakups. He also played running back for the Minutemen offense, rushing for 1,497 yards and 18 touchdowns in his senior season.
At Ohio State, Stover expects to play the SAM linebacker position. Listed at 6-foot-4 and 225 pounds, Stover believes his coverage skills learned through playing safety and his athleticism will make him a good fit for that role.
What Stover prides himself on most, though, is his ability to make big hits.
"When I hit somebody, you know that you're going to be hit, and I've tried my hardest not to take any plays off and just give everything I've got every time," Stover said.
That's what Scheid remembers most from watching Stover play over the past four years, too, as his hits were so hard that they made a distinct sound.
"You don't hear that sound very often on a Friday night, and when you do, you take notice of it," Scheid said. "We would joke as a coaching staff that teams would stop throwing the ball over the middle, because the hits he would lay on kids if they caught a ball were just devastating. And then his senior year, I don't think there was very many and whenever it was caught over the middle, it ended very badly for the other guy. And that's what Cade relishes. He loves that moment."
"When I hit somebody, you know that you're going to be hit, and I've tried my hardest not to take any plays off and just give everything I've got every time."– Cade Stover on his approach to playing football
Scheid was equally impressed by Stover's character and maturity off the field, describing him as a young man who can lift up everyone around him.
"If someone needs help and assistance, Cade is always there to help lend a hand and be someone that someone can talk to," Scheid said. "In our locker room, he was that for 3-4 years for us, that rock in the locker room that kids can go to and even if they were struggling, Cade was a guy that could lift them up and help them try to overcome that."
---
Stover grew up idolizing former Ohio State linebacker James Laurinaitis, who was starring for the Buckeyes when Stover attended his first game at Ohio Stadium as a kid with his uncle.
Now, Stover will get his own opportunity to follow in Laurinaitis' footsteps.
Stover is one of five prospects from Ohio in the Buckeyes' recruiting class of 2019 – along with Zach Harrison (Olentangy Orange), Ryan Jacoby (Mentor), Tommy Eichenberg (St. Ignatius) and Noah Potter (Mentor) – and he takes pride in the opportunity to represent his home state while wearing the scarlet and gray.
Day and the rest of Ohio State's new coaching staff have placed an early emphasis on recruiting the top players from the state of Ohio; both Harrison and Eichenberg committed to the Buckeyes after Meyer announced his retirement, and they have three commitments from Ohio State for the class of 2020 while continuing to target some of the state's other top players.
That's another reason why Stover is excited to be becoming a part of the Ohio State football program as it begins a new era.
"Even when Coach Meyer was there, we always said 'The best players that play in Ohio play at Ohio State. The best players stay in Ohio,'" Stover said. "And that's what we're doing."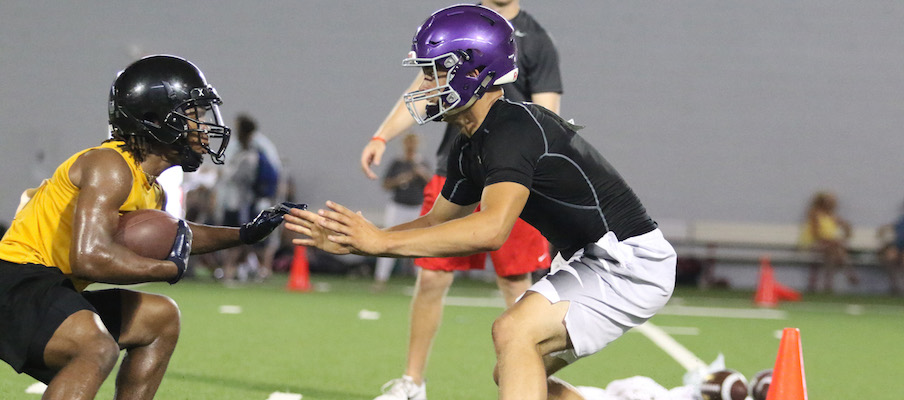 Stover said he has been talking regularly with the other members of Ohio State's incoming freshman class, including both his fellow Ohioans and out-of-state products like Georgia native Harry Miller, and he says they aren't afraid to have some back-and-forth banter about whose state is better.
"We love it. I don't think Georgia competes with Ohio at all and they know it, so it works out all right," Stover said with a laugh.
That's all in good fun, though, because while Stover has a shorter trip to Columbus than most of the Buckeyes' other newcomers do, they'll all be together at Ohio State and playing for the same team very soon – and Stover is excited about what they have the potential to accomplish.
"We think we got a big year coming up. We got a big four years coming up in my opinion," Stover said. "The guys seem like such great guys. And I'm really excited to really get to know them, just be on the same level and become brothers with them and go out and just try and give it all every time."
Stover will be entering a crowded linebacker room that is currently led at the SAM position by Pete Werner and K'Vaughan Pope (along with safeties Brendon White and Jahsen Wint playing the Bullet position), so he'll have to earn his way onto the field at Ohio State. He's been working hard to prepare for the start of his Buckeyes career, though, by lifting in the weight room and studying Ohio State's playbook while also running for Lexington's track team this spring to improve his speed.
If he continues to work hard in his preparation and puts his best foot forward when he arrives in Columbus, he is confident his opportunity to make a big impact for the Buckeyes will come.
"I'm going to give everything I got like I have here for four years, and just do what I can for the team," Stover said.