For the second year in a row, Ohio State has turned to the transfer portal to fill an area of need on its offense.
In 2019, the Buckeyes found their new starting quarterback and a one-year upgrade at left guard by bringing both Justin Fields and Jonah Jackson to Columbus after they entered the transfer portal. On Sunday, the Buckeyes did it again when they landed a commitment from former Oklahoma running back Trey Sermon.
A graduate transfer, Sermon has one remaining year of eligibility and will be able to play immediately in 2020, which is why the Buckeyes are bringing him in. Left with a lack of upperclassmen at running back for the upcoming season – a void only exacerbated by the Achilles injury Master Teague suffered earlier this month – Ohio State now adds a potential starter who has proven his ability to deliver in big games at the collegiate level, addressing what was one of the most glaring areas of concern for the Buckeyes going into the 2020 season.
A Much-Needed Boost to the 2020 RB Room
Even if Teague is able to return for the start of the 2020 season, Ohio State already had reason to look for a graduate transfer running back.
Teague was productive in limited action last season, rushing for 789 yards and four touchdowns on 135 carries, but he's never started a game before. Marcus Crowley flashed potential last season, rushing for 237 yards and a touchdown on 25 carries, but he's also recovering from injury and only played at the end of blowout wins last season. That left Steele Chambers as the only healthy scholarship running back who is currently enrolled, and he also played only at the end of blowouts as a true freshman, rushing for 135 yards and a touchdown on 19 carries. Miyan Williams will join the roster this summer, but the Buckeyes would ideally prefer not to have to rely on a true freshman running back to take significant carries.
Sermon, on the other hand, started 19 games over the course of three years at Oklahoma in which he ran for 2,076 yards and 22 touchdowns and added 391 receiving yards and three touchdowns. He's an explosive athlete with the shiftiness to make defenders miss and good size at 6-foot and 221 pounds, and he averaged more than 6.1 yards per carry over the course of his Sooners career.
He split carries with other running backs throughout his three years at Oklahoma, so it's unproven whether he's someone who can take on a heavy load of carries week in and week out, but the Buckeyes will likely look to rotate Sermon with at least one of their returning running backs. He won't be gifted the starting running back job either, but it is safe to assume – like with Fields and Jackson last year – that Sermon wouldn't be coming to Ohio State unless he had been assured that he will get a shot to win the starting job in preseason camp.
Sermon's 2019 season was cut short by a knee injury, and he was set to miss Oklahoma's spring practices while continuing to recover from that injury. However, he is expected to make a full recovery in time for preseason camp.
That will make for an interesting competition for carries whenever the Buckeyes return to the practice field this summer, as Sermon, Teague, Crowley and Chambers all remain real candidates to be in the running back rotation for 2020, and their health and preseason performance could determine what the depth chart at that position ultimately looks like this fall.
Sermon's transfer will also allow Ohio State to keep Demario McCall at slot receiver, where he began spring practices, if the Buckeyes believe that is where he offers the potential to contribute as a fifth-year senior.
Running back will still be one of the Buckeyes' bigger question-mark positions going into the 2020 season, but they have one more potential answer at the position now that puts them in a much better position in terms of experience and demonstrated playmaking ability.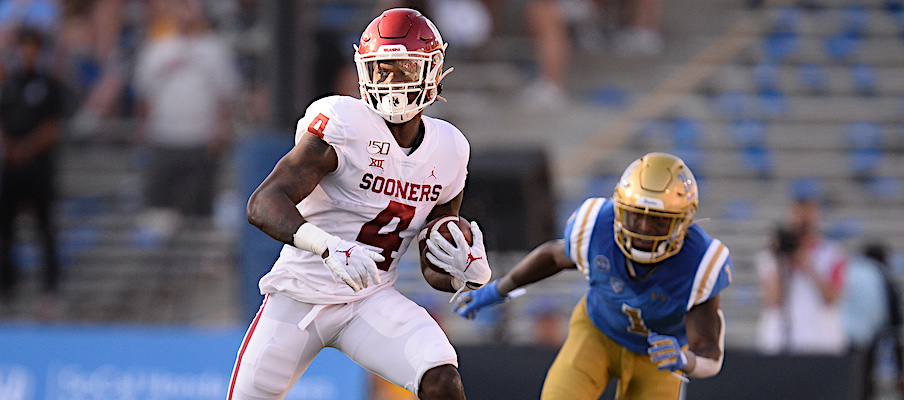 Another Big Get for Tony Alford
After striking out on his top targets at running back in both the recruiting classes of 2019 and 2020, Ohio State running backs coach Tony Alford has rehabilitated his image as a recruiter in just one week.
On Monday, Alford landed a huge get for 2021 when Evan Pryor, the No. 6 running back in his class, committed to Ohio State. And now, Alford and the Buckeyes have atoned for some of their past misses at the position by adding the best immediately-eligible running back to hit the transfer market this offseason.
Sunday's commitment by Sermon can be attributed all the way back to when Sermon was in high school, as Ohio State was one of the top players in his recruitment out of Sprayberry High School in Marietta, Georgia, before he ultimately committed to Oklahoma. His choice to become a Sooner came in part because the Buckeyes landed a commitment from J.K. Dobbins for the recruiting class of 2017, but now that Dobbins is on his way to the NFL, the door opened up for Sermon to have another chance to become a Buckeye without having to play second-fiddle to Dobbins.
Sermon was ranked as the No. 12 running back in the recruiting class of 2017, and he's proven over the course of three seasons at Oklahoma that he can produce at the Power 5 level – even scoring a touchdown in the Sooners' win over Ohio State at Ohio Stadium in 2017.
Because he only has one remaining season of eligibility, the addition of Sermon also shouldn't have any negative effects on Ohio State's efforts to land another running back for the recruiting class of 2021, where the Buckeyes remain a player for both TreVeyon Henderson (the No. 2 running back in the class) and Donovan Edwards (the No. 3 running back in the class).
The addition of Sermon does bring the Buckeyes to 87 scholarships for 2020, two above the scholarship limit (pending a sixth year of eligibility for wide receiver C.J. Saunders), which means Ohio State will need at least two players to leave the program between now and the start of the season.
With a need to fill, though, Ohio State couldn't let that stand in the way of bringing in a running back who could make a big impact for the Buckeyes' offense this year. Typically, the scholarship numbers work themselves out, and Ohio State could already be anticipating multiple outgoing transfers to happen following the spring semester.
Although Ryan Day has expressed a desire to emphasize recruiting players out of high school over bringing in transfers, he and the Buckeyes have been aggressive in pursuing top transfer prospects when they've had needs to fill, and by landing Sermon on Sunday, Ohio State proved once again that it can navigate the portal successfully when there's a player available who can potentially be a big upgrade for the upcoming season.