After missing out on some of his top running back targets over the past three years, the heat was on for Tony Alford to step up his recruiting efforts this offseason.
Ohio State landed a pair of talented running backs in 2018, Master Teague and Brian Snead, but Alford admitted himself in his performance review that summer that No. 1-ranked running back Zamir White was "the one that got away."
The Buckeyes landed another pair of running backs in 2019, Steele Chambers and Marcus Crowley, but Ryan Day still wanted to see Alford take his recruiting to another level, listing "recruit an elite RB" as an area to work on in that year's performance review.
That didn't happen in the class of 2020, as the Buckeyes ended up with just one running back – three-star recruit Miyan Williams – who they circled back to late in the cycle after missing out on several higher-ranked targets including No. 1-ranked Bijan Robinson, No. 7-ranked Kendall Milton and No. 11-ranked Jaylan Knighton.
Despite coaching J.K. Dobbins to Ohio State's first-ever 2,000-yard season while Teague ran for nearly 800 yards as his backup in 2019, Alford received only a one-year contract extension this offseason and an $18,000 raise – the second-smallest raise among returning assistant coaches – and reading between the lines, one can infer that was because his recruiting efforts did not meet expectations.
In just two weeks, however, Alford has flipped that narrative on its head and proven once again that he can recruit at an elite level.
First, he landed a commitment from Evan Pryor, the No. 6-ranked running back and No. 85 overall prospect in the high school class of 2021, who had been one of the Buckeyes' top running back targets from the beginning of this recruiting cycle. The fast, well-rounded four-star prospect from Cornelius, North Carolina, was one of the first 2021 running backs to receive an offer from Ohio State back in February 2019, and after building a relationship with the Buckeyes' coaches for the past year, he locked in his commitment to Ohio State on March 16.
Alford's recruiting approach was a big reason why Pryor was ultimately sold on taking his talents to Columbus, and he felt all along that Alford's recent misses on the trail shouldn't be held against him.
"I think Coach Alford's a great guy," Pryor told Eleven Warriors' Zack Carpenter in November. "Two running backs backing out, I don't think it was Coach Alford's fault. I think it was two guys who may have found a better situation for him and his family to get to his goal, and it may not have been at Ohio State. I would not put that on coach Alford. People do other things and wanna experience other stuff. I wouldn't put that on Coach Alford at all."
Six days after Pryor's commitment, Oklahoma graduate transfer running back Trey Sermon – who ran for more than 2,000 yards in his three years with the Sooners and is immediately eligible to play in 2020 – announced he would become a Buckeye for his final season of collegiate eligibility, filling a need for a veteran running back that arose from Dobbins' departure for the NFL, Teague's Achilles injury this spring, Snead's early dismissal from the program and some of the recruiting misses over the past three years.
Sermon, arguably the best running back to hit the transfer portal this offseason, was also recruited by Ohio State out of high school before the Buckeyes ultimately signed Dobbins instead. The relationship he built with Alford then led to Ohio State's second chance to bring him in now and upgrade its running back roster for the 2020 season.
"He was a great guy then, and I just feel like I connected well with him," Sermon told Lettermen Row's Austin Ward.
On Friday, Alford landed what might have been the biggest commitment of them all, as five-star prospect TreVeyon Henderson – the second-ranked running back and No. 17 overall prospect in the recruiting class of 2020 – announced his pledge to the Buckeyes, becoming the third-highest-rated running back to commit to Ohio State in the modern recruiting era.
Henderson was originally ranked lower than Pryor, and his recruitment by Ohio State took off later as a result, as he wasn't offered until September. As Henderson soared up the rankings over the past six months, though, he rapidly emerged as a top target for the Buckeyes – allowing him to take a spot in the class that previously appeared earmarked for Michigan running back Donovan Edwards – and Ohio State quickly became the top choice for Henderson, a native of Hopewell, Virginia.
His attraction to Ohio State, too, was in significant part because of the connection he built with Alford.
"We've got a great relationship," Henderson told Eleven Warriors. "We text every day. We talk every day."
In the span of just two weeks, Alford and the Buckeyes filled up their recruiting class of 2021 with two of the best running backs in the class – the first two top-100 running back recruits they have landed since Snead – all the while upgrading their running back roster for 2020, solidifying the room for the present while setting it up to be elite in the future.
Alford's job as an on-field coach might be more difficult in 2020 than it was in 2019, given that he won't have a returning starter like he had last year in Dobbins, Sermon has yet to practice in an Ohio State uniform, Teague's status for the fall is uncertain and the rest of the room has minimal experience.
Unlike last year, though, when the Buckeyes didn't land a running back for the class of 2020 until Williams committed in late November, Alford has already completed one of his most important tasks for the year. As long as Henderson and Pryor stay committed, he can now shift his recruiting focus to running backs for the class of 2022.
In addition to Pryor and Henderson, Alford has also played a key role in landing three of Ohio State's other 13 commitments for the 2021 class – offensive tackle Ben Christman, defensive back Andre Turrentine and tight end Sam Hart – and as a result, Alford currently ranks No. 1 in 247Sports' national recruiter rankings for the class of 2021 (which don't even take the Sermon commitment into consideration), just ahead of fellow Ohio State assistant coaches Brian Hartline, Kerry Coombs and Al Washington, who are also all ranked in the top five.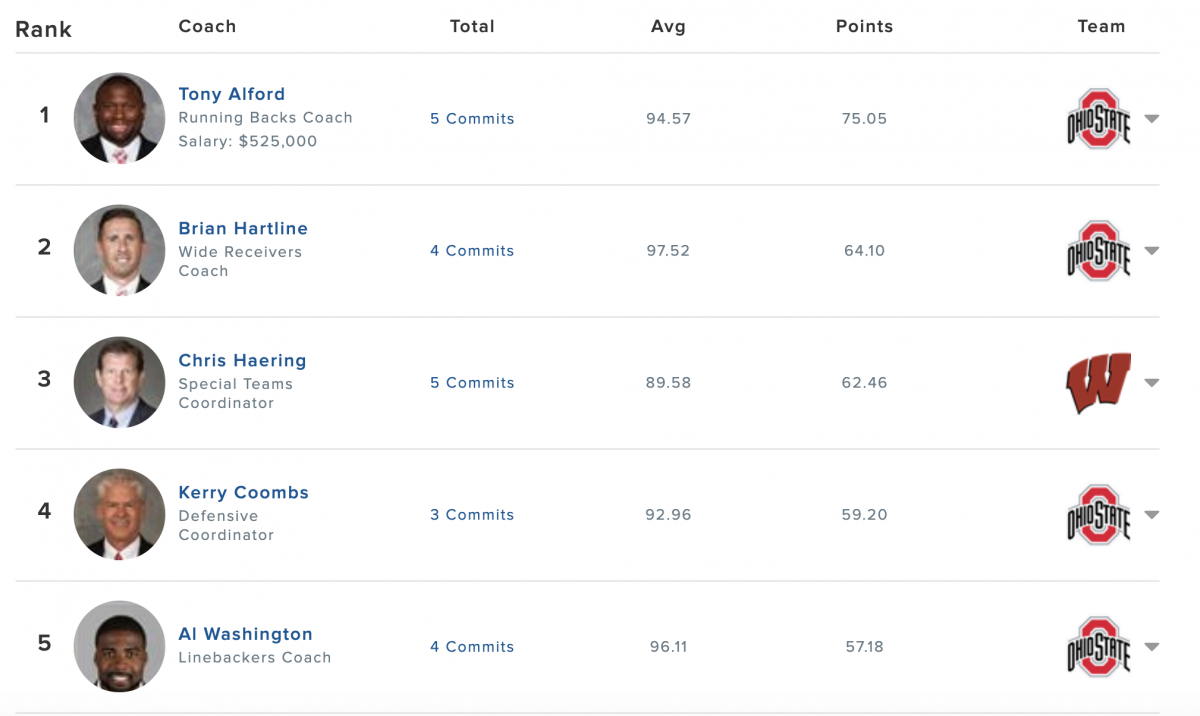 Alford took some justifiable criticism for his recruiting over the past couple years, because at Ohio State, the expectation is to land top prospects year in and year out. Still, he had no shortage of supporters who continued to believe in his ability as an elite coach.
He proved it on the field this past fall by coaching Dobbins to one of the best seasons ever for an Ohio State running back. And now, with three huge commitments in just two weeks, he's erased doubts about his ability to recruit at the highest level, too.