At the end of each academic year, each of Ohio State's football coaches and other staffers undergo performance reviews to both self-evaluate and receive evaluations from their superiors on how well they performed over the past 12 months.
Eleven Warriors took a look at those performance reviews for each of Ohio State's coaches and some of the Buckeyes' other key staffers to see how they (and their superiors) felt they performed in 2017-18 and what areas they were working to improve upon in the following year.
Performance reviews for Ohio State head coach Urban Meyer, offensive coordinators Ryan Day and Kevin Wilson, defensive coordinator Greg Schiano, co-defensive coordinator Alex Grinch, running backs coach Tony Alford, offensive line coach Greg Studrawa, defensive line coach Larry Johnson, linebackers coach Bill Davis, cornerbacks coach Taver Johnson and former wide receivers coach Zach Smith were obtained by Eleven Warriors on Wednesday via a Freedom of Information Act request.
Eleven Warriors also requested and received performance reviews for director of player personnel Mark Pantoni, director of player development Ryan Stamper and executive director of football relations Tim Hinton. Director of sports performance Mickey Marotti's performance review was also requested, but was not yet made available by Ohio State on Wednesday.
Each of the following performance reviews were completed in June, prior to Smith's firing in July. Therefore, a review of Smith's performance for the 2017-18 year was provided, while a review of new interim wide receivers coach Brian Hartline was not, and these reviews do not reflect any information that might have been obtained by the university during its investigation of Meyer in August.
Performance reviews are only completed for current staff members, so former cornerbacks coach Kerry Coombs' performance during the 2017 season was not formally evaluated by Meyer and the university. Johnson and Grinch, however, were evaluated even though they were not on staff for the 2017 season.
A synopsis of each of the 14 performance reviews we obtained can be found below.
Urban Meyer, head coach
In Meyer's performance review, which was previously released in August along with other public records related to Ohio State's investigation, he self-evaluated that his performance "meets expectations" in terms of fielding a competitive program, and exceeds expectations in regard to recruiting and student-athlete welfare – including graduating players, internships and shadowing opportunities and addressing issues including opioids and Title IX.

In athletic director Gene Smith's review of Meyer, he assessed that Meyer exceeded expectations on five of eight core competencies – competitive success of program, commitment to compliance, student-athlete welfare, leadership and public relations/donor relations – and met expectations on three others: academic success of program, communication and budget management.
Meyer said his goals to improve himself and his program over the next year were "to promote a culture that is well defined and very clear" and "to make sure that all coaches and staff are aligned and expressing the same message to our players."
"The culture of the football program continued to improve under Urban's leadership," Smith wrote. "Behavior of each student contributed to a highly positive culture. Urban continues to improve the academic performance of the team and emphasizes being a scholar-athlete. The 982 APR is a tremendous accomplishment. The leadership he provides the entire organization allowed the team to have a highly competitive season."
As for key areas or priorities for growth, improvement and focus for the upcoming year, Smith wrote that Meyer should "continue to manage risk areas – personnel management," "continue to assist other head coaches in the department with their programs," and that "coaches and staff, along with players, need to continue to be aligned with expectations."

Ryan Day, offensive coordinator and quarterbacks coach
After a successful first season on Meyer's staff, Day earned a raise to go along with a promotion to offensive coordinator. The impressive debut earned him high marks from Meyer on his evaluation.
Meyer applauded the strength of Day's unit, his creativity within the offensive system and his "buying into" the culture. The head coach also listed Day's work ethic, professional approach to the staff, relentlessness when recruiting and ability to connect to the quarterbacks as positives.
Meyer wrote that Day needs to work on building the top offense in the country and recruiting the "best QB in the country." In his review of Day, who spent the first three games of this season as acting head coach, Meyer also noted Day must work on equating the meeting room and enhancing the current quarterback knowledge.
Day rated the productivity of the offense, for which he was co-offensive coordinator last season, as a 4 out of 5. He gave himself a 5, though, for the productivity and development of the quarterbacks.

Day gave himself either a 4 or 5 in every category, except "social networking," in which he gave himself a 3. After landing quarterback Matthew Baldwin in the 2018 recruiting class, Day gave himself a 4 in "productivity of recruiting," noting that a "great chance" exists to sign two or three of the "top recruits in the nation" for 2019.
For his overall rating, Day gave himself a 5. One of Day's goals for 2018-19, he wrote, is to develop the quarterbacks and "ultimately" win a national championship.

Greg Schiano, associate head coach/defensive coordinator
Meyer's review of Schiano listed far more positives than negatives. Leadership of defensive staff, unit strength, recruiting, demanding accountability, creativity in system and loyalty were all listed among 10 positives for Schiano for the 2017-18 academic year. Development of young players, becoming the top defense in the country and "continued recruiting creativity" were listed as his areas to work on for 2018-19.
Schiano, who coached safeties during the 2017 season before moving into a new role overseeing the entire defense for the 2018 season, gave himself a 5 for the productivity and development of his players on the field, productivity in recruiting, knowledge of his position, motivation of players on field, organization of practice and meeting times and his loyalty to head coach, staff and players, among other areas.
He gave himself either a 4 or 5 grade for every category except for "Turns in all paperwork on time and complete," where he graded himself as a 3.
Schiano listed three goals for himself for the 2018-19 season, including to "mentor young men in every area of their life."

Kevin Wilson, offensive coordinator and tight ends coach
Meyer listed eight areas Wilson must "work on" compared to five positives. No other assistant coach returning from last season's staff had more than five areas they needed to work on.
The enhancement of the offensive linemen and tight ends, "leadership/guidance through experiences," confidence and buying into the culture were all positives of Wilson that Meyer noted.
The head coach wrote that Wilson must work on the development of young players and having Ohio State become the "top offense in the country," which he also wrote in Day's evaluation. Meyer also wrote that Wilson has to work on "efficiency" in the offensive staff room, the recruitment of tight ends, his relationships with players and intent listening.
Wilson graded himself with multiple 3s, but largely gave himself 4s and 5s. He gave himself an overall rating of 4, writing that he had a "sound" first year and must strive for the "next step" with the team.

The productivity of his unit was rated as a 4. He noted that the offense had the "best balance in the nation." Wilson rated the productivity and development of the tight ends and offensive line as a 5.
He gave himself a 3 for the productivity and development of his players in academic and social settings. Wilson commented that he was "good but need to be better/zero off field issues."
He self-rated his coach-player relationship as a 5, with Wilson noting his "great rapport" with the tight ends and offensive linemen. He gave himself a 3, though, for "research and development: active interest in professional growth." Wilson wrote, "No time for NFL/college visits," and said he has "got to find" time for them.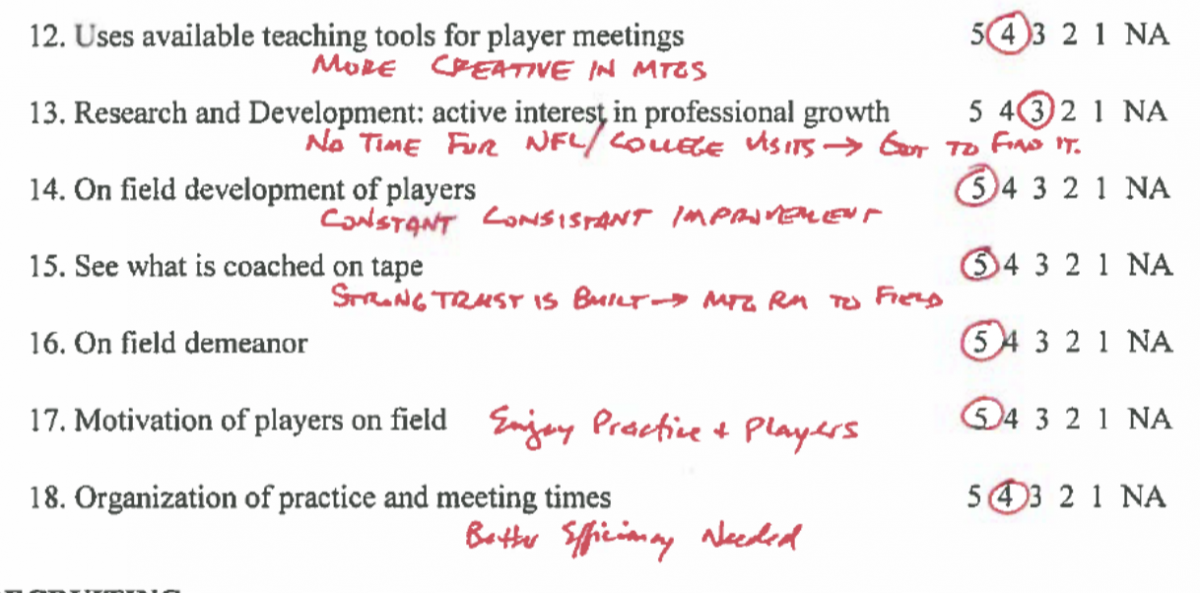 Tony Alford, running backs coach
Recruiting, unit strength and production, preaching Ohio State culture, loyalty, staff chemistry and being a father figure to his unit were all listed among eight positives on Alford's performance review. Game planning, speaking in front of the team and special teams value, along with a goal of becoming the best running backs coach in the country, were among Alford's listed areas to work on.
Among his comments in his self-evaluation, Alford wrote that he thought he "did very well this past cycle" in recruiting – in which he played a leading role in recruiting Jaelen Gill, Brian Snead and Master Teague, among others – though he specifically named five-star running back Zamir White, who went to Georgia, as "the one that got away."

Alford graded himself as a 4 or 5 in all categories, but noted in his comments that "there is always room for improvement."
Alford's immediate goal, he wrote, is "to be the absolute best RB Coach/Unit Leader in the country."
"I also want to be certain to serve our players and head coach to the best of my abilities," Alford wrote. "I want to help our players enhance themselves both on and off the field, thus enhancing our overall program."
Alford's "ultimate goal," he wrote, "is to become a head coach and lead my own program in the very near future."
Greg Studrawa, offensive line coach
Passion, productivity and relationship-building in recruiting, care for players, family involvement, offensive knowledge and production of back-to-back Rimington Trophy winners (Pat Elflein and Billy Price) were all listed as positives in Meyer's review of Studrawa's work for the 2017-18 season.
Offensive line toughness and fundamentals, pride in his unit and creativity in recruiting were all listed by Meyer as areas for Studrawa to work on. Studrawa gave himself a 4 in the category of productivity in recruiting.

Studrawa graded his own performance as a 4 in most categories. He graded himself as a 5 in a few categories, including his active interest in the academic performance of his student-athletes, knowledge of his position, understanding and adhering to the university's core values and loyalty to head coach, staff and players. He graded himself as a 3 for turning in all paperwork on time and complete, being involved and visible in the community and surrounding area and being adept with media relations.
Overall, though, Studrawa graded his performance as a 4 out of 5.

Larry Johnson, defensive line coach
Unsurprisingly, given his long line of success and the defensive line's recent dominance, Johnson earned high marks from Meyer in recruiting, player development, unit performance and ability to get players to the next level. Meyer also listed his motivation of the team, loyalty and expertise at his trade as positives.
Meyer only wrote two areas Johnson should work on: the continued development of young players and the enhancement of defensive game-planning.
Johnson gave himself a 4 or 5 in every category. He listed three goals, including the continued development of the defensive line to ensure it is the "best in the country." 

Zach Smith, former wide receivers coach
Smith's final performance review at Ohio State included seven positives from Meyer and five areas to work on. Smith was lauded for his creativity, knowledge of the offense, recruiting, enhancing offseason unit schedules, developing leaders within his unit, momentum of his unit and loyalty.
Focus on task, equate meeting room, enhancement of offense, "Take the next step!" (with the exclamation point) and complete assignments were listed as areas to work on.

In his self-evaluation, Smith graded himself as a 4 or a 5 in all areas, including a 5 in understanding and adhering to the university's core values. He also gave himself a 5 in media relations. His goals included improving the GPA of his unit and being more creative with X's and O's.
He gave himself an overall rating of 4 of out 5.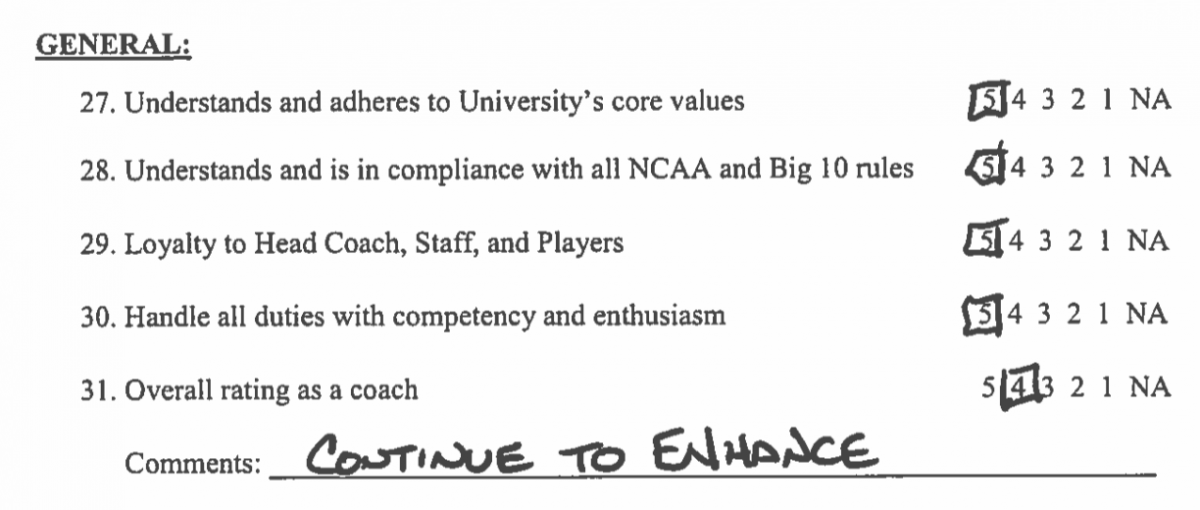 Smith's 2018 performance review did not make any mention of "personal matters," which his 2017 performance review listed as an area to work on.
Bill Davis, linebackers coach
Meyer's positive remarks for Davis on his first performance review included defensive knowledge, staff cohesion, buying into Ohio State's culture, his recruiting efforts, NFL experience and lineage, professional teaching and demanding accountability.
Areas to work on included overall energy and urgency, the strength of his linebacker unit, development of young players and creativity in recruiting.
Davis graded himself as a 4 or 5 in all categories, including 5s for knowledge of his position, being adept in media relations, understanding and adhering to the university's core values, loyalty to the head coach, staff and players and handling all duties with competency and enthusiasm. He wrote that the linebackers had "daily improvement," giving himself a 4 for on-field production and development.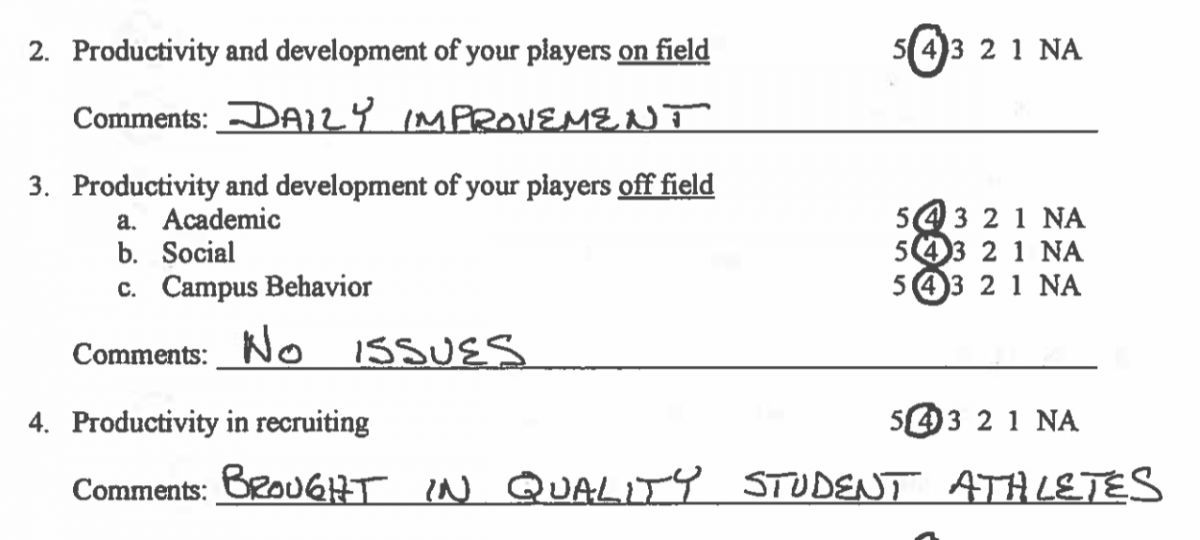 He gave himself an overall rating of 4, with the comment that he is "always working to improve and grow!" His goals for 2018-19, Davis wrote, are "daily focus and commitment to grow and improve as a coach, teacher and mentor for all the OSU students."
Alex Grinch, co-defensive coordinator/safeties coach
Even though Grinch was not on Ohio State's coaching staff for the 2017 season, he still received a performance review for his work during the first six months of the 2018 offseason.
He received positive marks for buying into Ohio State's culture, relentless recruiting efforts, his background as a 2017 nominee for the Broyles Award (given to college football's best assistant coach), defensive scheme and energy. The strength of his unit, creativity in recruiting and helping Ohio State build the best defense in the country were listed among his areas to work on.
Grinch graded himself as a 4 or a 5 in all areas with the exception of academic and social development of his players off the field, where he gave himself a 3.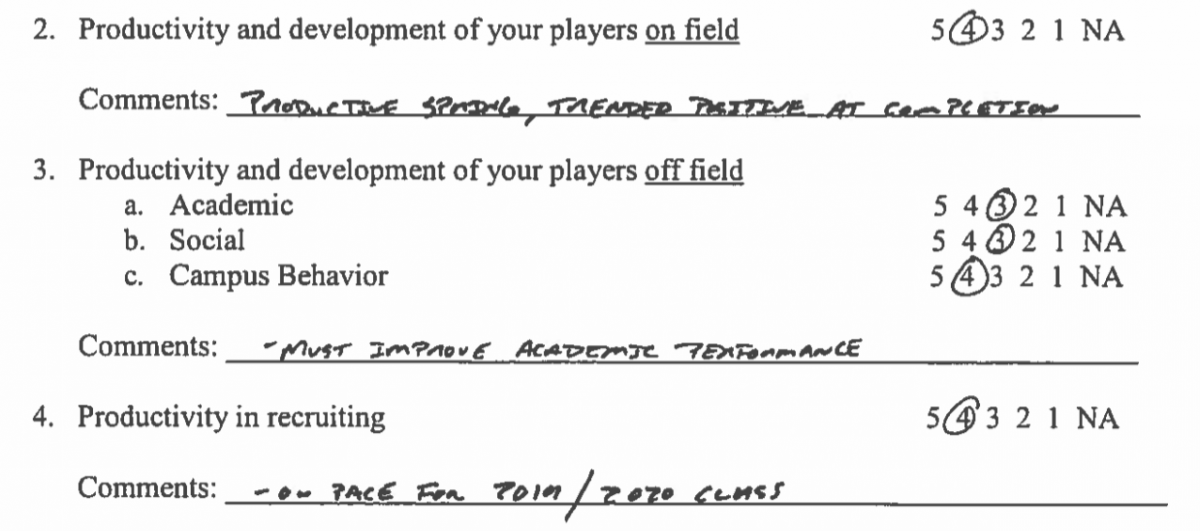 He listed four goals for the 2018-19 season:
Help sign top recruiting class in 2019 both in Big Ten and nationally
Achieve top-five national ranking in defense
No. 1 in country in takeaways
No. 1 defense in Big Ten (scoring/total)
Taver Johnson, cornerbacks coach/special teams coordinator
Like Grinch, Johnson's review comes before he has even coached a game. But Coombs' replacement earned positive remarks from Meyer for his experience with the "Ohio State brand" and "professional experience." Johnson spent one season on the Cleveland Browns' staff and was Ohio State's cornerbacks coach from 2007 to 2011 before returning in the spring.
Johnson "buying into Ohio State culture" and his special teams background were also listed as positives.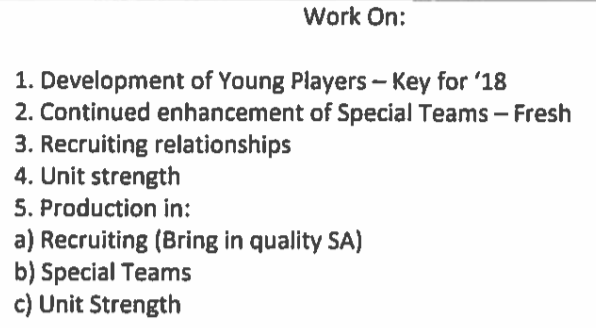 Meyer noted the first-year coach must work on the development of younger players, writing it is a key for 2018. Johnson has three second-year scholarship cornerbacks in Jeffrey Okudah, Shaun Wade and Marcus Williamson, along with three freshmen in Sevyn Banks, Tyreke Johnson and Cameron Brown.
"We're still overcoming situations from spring," he wrote.In the self-evaluation portion, Johnson gave himself either a 4 or 5 in all categories, except the social and campus behavior categories. He rated himself as a 3 for both.
Johnson gave himself an overall rating of 4.

Mark Pantoni, director of player personnel
Pantoni self-evaluated that he exceeded expectations for the 2017-18 academic year in film evaluations (which is listed as 60 percent of his job responsibility) and overseeing on-campus visits (30 percent), while he assessed that he met expectations in building relationships with prospects and families (10 percent).
"This past year we finished with the #2 recruiting class in the country which was a great accomplishment," Pantoni wrote. "Our social media team continues to be the best in the country at their innovation and ideas."
Pantoni listed one of the biggest challenges he faced in 2017-18 was the departure of assistant director of player personnel Eron Hodges, who left to become the director of player personnel at Purdue. Pantoni wrote that Justin Perez and Weston Zernechel, Ohio State's new assistant directors of player personnel, "have both done a great job in picking up the duties."

Pantoni listed his work in helping to launch the first-ever Personnel Symposium as one of the ways in which he was working to improve himself and the program.
"I am excited to help create a bigger platform for the position and meet with other colleagues around the country to improve the current landscape of recruiting."
Pantoni listed his goals for the 2018-19 year as avoiding taking high-risk academic prospects, continuing to lead and mentor the young guys on his staff, developing a systematic way to share content with recruits and their parents on social media, finishing with a top-three recruiting class and helping to create compliance proposals that will help better the quality of work/life balance with the current recruiting calendar.
Ohio State director of football operations Brian Voltolini, Pantoni's manager, wrote that Pantoni exceeded expectations in five of six core competencies – job knowledge, productivity and quality of work, teamwork, personal conduct and accountability and leadership – and met expectations in communication.
Ryan Stamper, director of player development
Stamper's job responsibilities are split in three categories with each taking up 33 percent of his time: Real Life Wednesday, the development of student-athletes and miscellaneous. Stamper rated his Real Life Wednesday performance as exceeding expectations and rated his performance in miscellaneous and the development of student-athletes as meeting expectations.
When comparing 2017-18 to his prior six years at Ohio State, Stamper wrote he had a "really good" year. He noted Real Life Wednesday and the job fair as successes, and said he must get more former student-athletes to attend with the goal of all players having a job once they graduate. Players' opportunities to shadow and intern this summer were the best Ohio State has had, Stamper wrote. He also saw progress in limiting off-field problems.
"The off-field issues were probably as low as we've ever had," Stamper wrote. "I think this year I did a better job being proactive handling situations and addressing them with player and staff."

Voltolini rated Stamper as exceeding expectations and wrote he did a "great job this year." Both Voltolini and Stamper noted Stamper's communication with the Student Athlete Support Services Office as an area for improvement.
Stamper listed five goals and performance measures for 2018-19:
Every player who graduates, have a job soon after graduation.
Have another successful Real Life Wednesday and Job Fair.
Win the Big Ten championship.
Minimal off-the-field issues
Make sure players are eligible and graduate from Ohio State
Tim Hinton, executive director for football relations
Hinton, who coached Ohio State's tight ends and fullbacks for four years before becoming the Buckeyes' executive director for football relations in 2016, self-evaluated that he met expectations in 2017-18 in each of his three key job responsibilities: recruiting, camps and clinics/high school coach relationships and miscellaneous/administrative duties.

As for areas to improve, Hinton wrote that he needs to better manage time with the duties he has, and improve his communication skills.
Voltolini assessed that Hinton exceeded expectations in the core competencies of teamwork and personal conduct and accountability, and met expectations in job knowledge, productivity and quality of work, communication and leadership.
"All in all, it has been a very solid year," Hinton wrote. "However, at no time can you ever master a job. There is always more to be done and there is always a better way to do it. I must continue to grow and learn how to best provide the services necessary for Ohio State Football to be the National Elite Team."
---
To view the full performance reviews, click the following links: Tony Alford, Bill Davis, Ryan Day, Alex Grinch, Tim Hinton, Larry Johnson, Taver Johnson, Urban Meyer, Mark Pantoni, Greg Schiano, Zach Smith, Ryan Stamper, Greg Studrawa, Kevin Wilson