At the end of each academic year, each of Ohio State's football coaches and other staffers undergo performance reviews to both self-evaluate and receive evaluations from their superiors on how well they performed over the past 12 months.
In response to a public records request from Eleven Warriors, Ohio State released this year's performance reviews for the Buckeyes' football staff on Tuesday, giving us a glimpse into what the Buckeyes' coaches were working on this offseason and what their expectations were coming into this season.
Eleven Warriors requested performance reviews for Ohio State head coach Ryan Day, each of his 10 assistant coaches and several other key members of the football staff, including director of sports performance Mickey Marotti, director of player personnel Mark Pantoni, director of football operations Brian Voltolini, director of player development Ryan Stamper and executive director of football relations Tim Hinton. Eleven Warriors also requested this year's performance review for Ohio State athletic director Gene Smith.
Although the performance reviews were not released by Ohio State until this week, they were conducted in June, so they do not reflect what the Buckeyes have done so far this season, which has started out with nine consecutive wins. Even so, Ohio State did conduct performance reviews for each of its five new assistant coaches – Matt Barnes, Jeff Hafley, Greg Mattison, Al Washington and Mike Yurcich – even though they had not yet coached a game.
Performance reviews are only conducted for current staff members, so performance reviews were not conducted for the coaches from the 2018 season who are no longer on staff.
We take a look at each of the performance reviews we obtained and what you should know from them below.
Ryan Day, Head Coach
Even though he is only in his first season as Ohio State's head coach, Day set high expectations for himself going into the year. On his performance review this summer, Day listed four performance goals: Beat Michigan (which he listed simply as TUN), win the Big Ten, win the national championship and achieve a team grade-point average of better than 3.0.

Day also set out to create an environment "of transparency and compliance," and to continue and enhance the Real Life Wednesdays program that Urban Meyer created.
From a professional development standpoint, Day set out to attend at least two leadership seminars in the next calendar year, attend weekly meetings with Smith and hold regular meetings with deputy director of athletics Diana Sabau and the sports information department to discuss media relations.
In his review of himself, Day noted that the Buckeyes started 3-0 under his leadership as acting head coach while Meyer was suspended for the first three games of 2018, that he coordinated one of the nation's top offenses in 2018 and that he held the Buckeyes' recruiting class of 2019 together while picking up some crucial commits late in the recruiting cycle after being named as Meyer's successor.
As opportunities for improvement, Day listed that he needed to continue to address the issue of the transfer portal and how it can affect Ohio State's roster, find ways to engage the student body and to make a bigger impact on special teams.
According to Day's performance review, the Ohio State football team had a cumulative GPA of 2.897 during the spring semester, with 50 student-athletes over 3.0. He wrote that statistically, that was one of the Buckeyes' best academic semesters in the past five years.
Day also noted that the Buckeyes "have created new policies in educating our staff" in which any questions asked by staff members are answered for the entire staff. Day also stated that one of his goals was to provide an environment where his players "can feel comfortable communicating their concerns, thoughts and issues."
Smith commented that Day "has handled the transition from Associate Head Coach to Head Coach masterfully."
"His focus on developmenting a great staff, developing our student athletes, recruiting, creating a culture of respect, compliance and excellence has (been) outstanding," Smith wrote. "His (communication) and organizational skills truly emerged in his new role and the entire staff has benefited."
Gene Smith, Athletic Director
University president Michael Drake gave athletic director Gene Smith a glowing performance review, calling Smith a "national leader" in his field and a "valued university leader."

Drake praised Smith for the creation of the Eugene D. Smith Leadership Institute, which he said is "developing terrific opportunities for student athletes" and helping prepare them for their lives after college, whether they continue to graduate school, enter the workforce or play sports professionally.
Drake encouraged Smith to "proactively identify and share areas of concern as well as ideas and opportunities that could benefit the greater university."
"There is terrific work underway to enhance the student-athlete experience at Ohio State that could be transferrable to many student programs," Drake wrote.
[ View Gene Smith's 2019 Performance Review ]
Kevin Wilson, Offensive Coordinator and Tight Ends Coach
Wilson listed five goals in his performance review, with each of them seemingly increasing with importance.
In order, the goals went from enhancing the unit to recruiting top tight ends to recreating another elite Big Ten offense, before he wrote "Beat Rival, Win B1G Ten Championship." Then, on the next line, he wrote a fifth goal: "Win the National Title!!," underlining the final two words twice.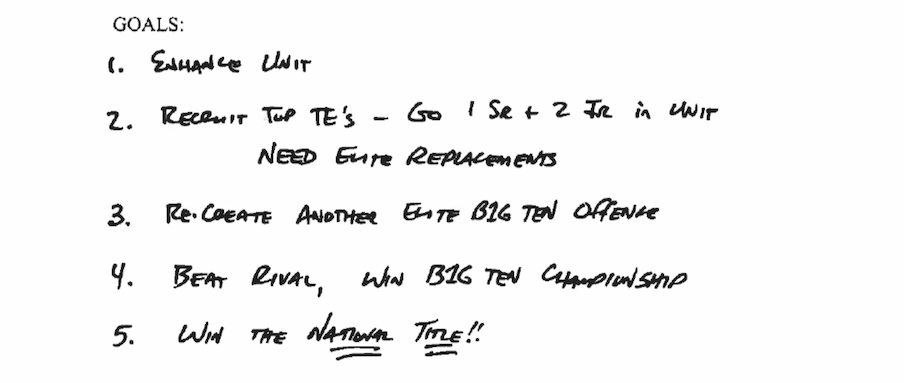 Among Wilson's six positives in his performance review were buying into culture, confidence, leadership through experiences, enhancement of tight ends and offensive linemen. Recruiting production and efficiency in the offensive staff room were two areas for Wilson to work on.
When evaluating the productivity of his unit last year, Wilson gave himself a 4 out of 5, calling it a "solid year" and calling for "more consistency" in the run game and in score zones. Overall, he gave himself a 4 out of 5 as a coach.
[ View Kevin Wilson's 2019 Performance Review ]
Tony Alford, Assistant Head Coach and Running Backs Coach
After his fourth season at Ohio State, Alford gave himself a 4 out of 5 when evaluating his overall performance as a coach. In the section for comments, he wrote "always room for improvement" to end his review.
Alford gave himself either 4s or 5s in every section, rating the on-field productivity and development of his players as a 4 out of 5. He wrote that a player "could have been better," though the name was redacted. Most likely, he included the name of either or both J.K. Dobbins and Mike Weber, the starters on last year's team and the only two running backs who had more than 17 carries. Alford also wrote that he "can always be better" as a comment on the off-field productivity and development of his players, rating that area as a 4 out of 5.

The performance review named seven areas as positives for Alford – including staff chemistry, developing the unit and loyalty – and noted five aspects that Alford needs to work on.
In the areas to improve, "recruiting (area/position)" was recorded as a positive. Of note, "recruit an elite RB" was listed as an area to work on. In his 2017-18 performance review, Alford specifically named Georgia's Zamir White, a five-star recruit, as "the one that got away." 
The Buckeyes have had a well-documented struggle with recruiting running backs in the 2020 cycle, losing out on five-star Bijan Robinson, five-star Kendall Milton, four-star Jaylan Knighton and others. The position remains unfilled, with Jahmyr Gibbs and Miyan Williams seeming to be the most likely options to plug the hole.

Running back production was also one of the five areas for Alford to work on. So far this season, the Buckeyes are ranked fourth in the country in yards per carry.
[ View Tony Alford's 2019 Performance Review ]
Greg Studrawa, Offensive Line Coach
Studrawa gave himself a 4 out of 5 when asked to evaluate his overall rating as a coach. He noted that there is "always room to improve," saying "self-evaluation is critical." 

The fourth-year offensive line coach rated both the on-field and off-field production of his players as 4 out of 5. Studrawa wrote that "players were more involved in community projects." He graded himself with 4s and 5s in most categories, giving himself a 3 out of 5 in six of them, including media relations, social networking, involvement in the community and the use of available teaching tools for player meetings.
Both recruiting and passion in recruiting were among the seven positives from Studrawa's review. Offensive line fundamentals was listed as an area to work on, noting that the Buckeyes have four new starters at the position this season.
[ View Greg Studrawa's 2019 Performance Review ]
Larry Johnson, Associate Head Coach and Defensive Line Coach
In an uncontroversial rating, Johnson gave himself a 5 out of 5 when evaluating his overall performance as a coach. 
Johnson, the only holdover assistant coach from Meyer's defensive staff, gave himself 4s or 5s in every category. He had eight positives listed – including expertise of his trade, recruiting, player development and unit performance – compared to only two areas needing improvement.
The areas to work on included the recruiting of interior defensive linemen and enhancement of defensive game planning. Since the review, which was completed on June 23, the Buckeyes have landed commitments from four-star linemen Darrion Henry and Jacolbe Cowan.

[ View Larry Johnson's 2019 Performance Review ]
Brian Hartline, Wide Receivers Coach
For his first year as a full-time assistant coach, Hartline graded himself as a 4 out of 5. 
Hartline rated himself as a 4 or 5 in every category except note cards and the academic productivity and development of his players, for which he gave himself a 3. Coaching a group that included Parris Campbell, Terry McLaurin, K.J. Hill, Johnnie Dixon and others, he gave himself a 5 out of 5 for the on-field production of his players.
The wide receivers coach listed a trio of goals:
"Continue to identify & attract the right student-athletes to our program"
"Continue to develop my offensive philosophies and overall knowledge of the game"
"Become the best WR coach in the country & pass game coordinator"

Hartline's seven positives on his performance review included his energy and creativity, unit production, loyalty and recruiting. Recruiting the best wide receiver unit in the nation was listed as an area for Hartline to work on. The Buckeyes have commitments from six overall top-100 wideouts in the 2020 and 2021 classes.
[ View Brian Hartline's 2019 Performance Review ]
Al Washington, Linebackers Coach
Washington, writing in all-caps on his performance review, listed a single goal: "To maximize our potential as a unit on + off the field." 

He gave himself a 4 out of 5 in every category except for motivation of players on the field and complete involvement in the lives of players, for which he rated himself as a 5 out of 5. His self-evaluation included an overall rating of 4 out of 5.
Washington's defensive knowledge, connection to players, energy and demanding of accountability were among seven positives listed in the review. Per the review, which was completed during the summer, he needed to work on the development of younger players and recruiting production, among other areas.
[ View Al Washington's 2019 Performance Review ]
Mike Yurcich, Passing Game Coordinator and Quarterbacks Coach
Coaching under Day, a former quarterback coach, Yurcich has a high bar to clear. That's evidenced in recruiting the best quarterback in the country as an area to work on, along with recruiting productivity and creativity in recruiting.

Yurcich's positives, per the performance review, included his Ohio relationships, buying into the culture and creativity in the offensive system.
Without having coached a game yet, Yurcich didn't have much to evaluate, so he gave himself a 4 out of 5 when asked for an overall rating. The first-year assistant gave himself 4s and 5s in every individual category.
[ View Mike Yurcich's 2019 Performance Review ]
Jeff Hafley, Co-Defensive Coordinator and Secondary Coach
Throughout Hafley's performance review, the first-year coordinator made clear that he expects steady improvement from himself in this job.
On the productivity of his unit, which he rated a 4 out of 5: "Still a work in progress - due to staff being new. Expect it to only get better in time."
On the productivity and development of his players on the field, which he rated a 4 out of 5: "Same as above. Very pleased with the steps taken in a short period of time. This will get better of time."
On the motivation of players off the field, which he rated a 4 out of 5: "This will improve w/time."
Hafley wrote that he had already seen examples of off-field improvements from his players, noting that the more time he spends with them, the more influence he'll have on them. "Relationships are forming," he wrote. 

In the recruiting sphere, Hafley noted that he was "playing catch up" after getting hired in January. He wrote that he'll "get the job done this year." Then, with a full recruiting cycle next year, he's confident in an uptick: "I plan on improving," he wrote.
Hafley's defensive knowledge, professional experience, teaching methods and work ethic were among the eight positives on his performance review. The development of young players and recruiting production were two of five areas to work on.
Having the top defense in the country was also listed as an area to work on in June.

[ View Jeff Hafley's 2019 Performance Review ]
Greg Mattison, Co-Defensive Coordinator
Like Hafley, Mattison had "become top defense in country" as one of the three areas to work on, along with the development of young players and continued recruiting creativity. His defensive expertise, recruiting knowledge and relationships were listed as positives on his review that took place in June.

Throughout his review, Mattison made multiple references to how he had only been on the job for four months, circling "N/A" for four categories: productivity in recruiting, phone calls, involvement in community and interpersonal skills with alumni, administrators, faculty, coaches and others in the community. Overall, Mattison gave himself a 5 out of 5 for his rating as a coach.
"Have always been very successful recruiting and am excited about building relationships with recruits and head coaches in my assigned areas as well as defensive recruits," Mattison wrote for his overall goal.
Mattison noted his social networking must improve, giving himself a 3 out of 5. He singled out Twitter and Facebook, noting that he could get a graduate assistant to help him.

In the review, the position group for Mattison is listed as "DC/LB," referencing his defensive coordinator title and additional responsibilities assisting Washington with coaching linebackers. He doesn't have a technical title that has him presiding over any single position, but he spends more time with the linebackers – and specifically the strongside linebackers – than other groups.
[ View Greg Mattison's 2019 Performance Review ]
Matt Barnes, Special Teams Coach and Assistant Secondary Coach
Before coaching a game for the Buckeyes, Barnes had three simple goals: graduate players, prepare players for life after football and win championships.
In due time, he'll be evaluated in those areas.
After just a few months on the job, Barnes gave himself a 4 out of 5 for his overall rating as a coach. In most categories he rated himself as either a 4 or a 5, though he graded himself as a 2 out of 5 in social networking.

A few of seven positives listed on Barnes' performance review included buying into Ohio State's culture, special teams expertise, recruiting organization and teaching. Both his productivity and creativity in recruiting were listed as areas to work on, along with having the top special teams in the country.
[ View Matt Barne's 2019 Performance Review ]
Mickey Marotti, Assistant Athletic Director for Football Sports Performance
Marotti self-evaluated that his performance exceeds expectations in his oversight of the football team's strength and conditioning program and meets expectations in his oversight of the strength and conditioning program for Ohio State's other 36 sports. Since being promoted to assistant athletic director, Marotti has been responsible for overseeing strength and conditioning programs for the entire athletic department, though he still works primarily with the football team.
Among his accomplishments from the past year, Marotti noted that he made visits to five other programs for professional development – Oklahoma, Oklahoma State, USC, the Tennessee Titans and the NFL Scouting Combine – and that he was part of the development of nine picks in the 2019 NFL draft, including first-round selections Nick Bosa and Dwayne Haskins.
In the list of challenges he faced for 2018-19, Marotti noted that he played a key role during the 2018 preseason when Meyer was suspended in providing leadership and keeping the Buckeyes "driven, focused and improving every day." Going into this year, Marotti's goals included managing his time more efficiently and effectively to better balance his football and administrative duties.

Day assessed that Marotti exceeded expectations in job knowledge, productivity and quality of work, teamwork, personal conduct and accountability and leadership and met expectations in communication and management. Day's goals for Marotti in 2019-20 included for him to "improve communication with all sport coaches, performance personnel, and strength and conditioning coaches" and to "delegate more responsibility, which produces better ownership."
[ View Mickey Marotti's 2019 Performance Review ]
Brian Voltolini, Associate Athletic Director of Football Operations
Voltolini, who oversees the operations side of the Ohio State football program, evaluated that his performance both exceeded and met expectations for budget and team travel and met expectations for managing staff and facility upgrades. He noted that the East Wing renovation of the Woody Hayes Athletic Center was supposed to be completed in January but was "pushed all the way to June, for a lot of reasons," and he "was very disappointed that we didn't finish the project in a timely manner."
With the transition from Meyer's staff to Day's staff, Voltolini wrote that "it's always a juggling act to make sure new staff is getting what they need as well as keeping within the budget." He said there were no major issues with travel in 2018-19, though the Rose Bowl "was interesting since it was in LA and hotel was a challenge."
Voltolini also wrote that "August was a challenge," in reference to Meyer's suspension for failing to take sufficient management action related to former wide receivers coach Zach Smith's off-field conduct, but that the Buckeyes "managed to stay on track" from an operations standpoint. He gave credit to his staff, specifically director of football operations Quinn Tempel, director of on-campus recruiting Tori Magers and operations staffer Brendan Bishop, for keeping things on track.
"There was no drop off on how we traveled and what we did as a team to make sure the players were taken care of," Voltolini wrote. "They did a heck of a job."

Voltolini said his goal "each year is to challenge myself to get better. To be more creative, to be a better leader and to make sure that everyone has what they need to be successful."
Day evaluated that Voltolini exceeded expectations in job knowledge, productivity and quality of work, teamwork and personal conduct and accountability and met expectations in communications and leadership. Day wrote that Voltolini needs "to be a better leader and have those hard conversations with staff on things we need to tighten up."
"We can't have slip ups," Day wrote.
Day gave Voltolini credit for completing the East Wing project, describing it as a "major upgrade from what we had," and gave Voltolini an overall rating of "exceeds expectations."
[ View Brian Voltolini's 2019 Performance Review ]
Mark Pantoni, Assistant Athletic Director for Player Personnel
Pantoni, who oversees the Buckeyes' recruiting efforts, listed his performance goals for the upcoming year as helping to sustain Ohio State's production and success in the transition from Meyer to Day, bringing in a "top recruiting class that fits the culture of our team academically and athletically" and continuing to improve his leadership ability.

One area in which Pantoni felt he needed to improve was to do a better job overseeing the Buckeyes' creative team, which is in charge of the graphics and videos that Ohio State sends to recruits and posts on its social media channels.
Pantoni wrote that he feels Ohio State has "had great success on the field and minimal issues off the field which means we are bringing the right fit of players into our program." He said he "can always do a better job of communicating and keeping everyone on the same page" and "can continue to be a better leader and improving teamwork."
"Sometimes I take on too many tasks myself and need to do a better job delegating to my team," Pantoni wrote.
Voltolini, Pantoni's supervisor, wrote that Pantoni "does a great job making sure that everyone in the recruiting department is on the same page."
"There are weekends that we have 20-30 recruits in and he has to manage all his employees to make sure they know exactly what needs to be done," Voltolini said. "Mark has a lot of turnover in this department so it's a credit to him that these employees are getting full-time jobs."
[ View Mark Pantoni's 2019 Performance Review ]
Ryan Stamper, Assistant Athletic Director for Player Development
Now in his eighth season with Ohio State, Stamper is responsible for player development, which includes academics, eligibility and discipline. He currently heads up Ohio State's Real Life Wednesday program.
This year, Stamper listed his No. 1 goal as ensuring that "every player who graduates from Ohio State Football has a 100% Job placement."

Stamper and his manager, Brian Voltolini, both rated Stamper as "meets expectations" in terms of leadership, identifying delegation as an area where he could improve. 
"Stamp needs to learn to trust others to help him," Voltolini wrote. "Once he does that then he will be a great leader."
Overall, Voltolini gave Stamper a year-end "Exceeds Expectations" performance rating, praising Stamper's work getting players internships as well as his ability to find speakers for Ohio State's Real Life Wednesday program.
"I think I would grade myself a B+ for the year," Stamper wrote at the end of his evaluation. "A lot of success but definitely room for improvement."
[ View Ryan Stamper's 2019 Performance Review ]
Tim Hinton, Executive Director for Football Relations/Special Assistant to the Head Coach
Hinton, who has been the Buckeyes' executive director for football relations since 2016 after previously coaching Ohio State's tight ends, is responsible for running Ohio State's camps and clinics as well as building relationships with high school coaches and working with players on their personal development.
He listed his performance goals for the upcoming year as continuing to enhance the value and perception of Ohio State athletics through camps and clinics, continuing to improve player relations and helping them solve daily college stress and anxiety and improving work relations both within the football department and across the entire athletic department.
Hinton said he needs to improve in the area of communication, and has "been trying lately to strengthen this weakness and communicate more efficiently." 
"This requires great skill and I continue to strive for better communication skills," Hinton wrote.
Voltolini offered high praise in his evaluation of Hinton.
"Tim does an outstanding job!!!" Voltolini wrote. "One thing about Coach Hinton is that whatever he does, he wants to do it with pride and wants to be perfect."

[ View Tim Hinton's 2019 Performance Review ]
---
View full performance reviews: Ryan Day, Gene Smith, Kevin Wilson, Tony Alford, Greg Studrawa, Larry Johnson, Brian Hartline, Al Washington, Mike Yurcich, Jeff Hafley, Greg Mattison, Matt Barnes, Mickey Marotti, Brian Voltolini, Mark Pantoni, Ryan Stamper, Tim Hinton