Throughout the course of the offseason, Eleven Warriors is taking an in-depth look at the state of every position group at Ohio State.
First up? Quarterback.
Losing only Chris Chugunov to graduation in the offseason, the Buckeyes have a position room with a second-year starter, veteran backup and a pair of intriguing first-year options who could be future starters in Columbus. Altogether, it's a healthy situation. Just ask Ryan Day.
"That room's stronger at this point than it was last year, that's for sure," he said in January. "Now those guys will have an opportunity in the spring to learn and grow, and hopefully we can develop some depth there."
Spring camp lasted all of three practices, so they couldn't take advantage of whatever opportunities they would have had then. Still, headed by Justin Fields, Ohio State has a stacked group of quarterbacks.
The Personnel
Gunnar Hoak (RS-SR): In his second year at Ohio State, Hoak – a graduate transfer from Kentucky – is gearing up for his final season of college football. A career backup, the 6-foot-4, 215-pound signal-caller once again finds himself jockeying for position behind Fields on the depth chart. Though the veteran will be a redshirt senior, he's only thrown 32 passes – including six as a Buckeye – which makes him somewhat of an unknown on the field. Hoak's dad (Frank), uncle (Fred) and cousin (Fred Jr.) all played for the Buckeyes. 
Justin Fields (JR): Despite seemingly outsized expectations following him to Columbus, Fields exceeded what almost anybody thought would happen by throwing for 3,273 yards, 41 touchdowns and three interceptions while completing 67.2 percent of his passes and rushing for 484 yards and 10 touchdowns. He deservedly became a Heisman Trophy finalist, the Big Ten's Offensive Player of the Year and a second-team All-American. He'll enter the 2020 season as a Heisman frontrunner.
Jack Miller (FR): By the time Miller suits up for his first game as a Buckeye, he'll have been committed for over two years. The July 1 pledge remained on track to play for Ohio State even though Urban Meyer retired and the team landed a second four-star quarterback in the class. The Scottsdale, Arizona, native was once a clear top-100 prospect, but largely due to injuries over the course of his final year in high school, he dropped to No. 334 overall in his class. Miller and Stroud are viewed as the most likely successors to Fields in 2021.
CJ Stroud (FR): A late riser in the recruiting process, Stroud went from a three-star prospect to a borderline five-star quarterback, earning Elite 11 MVP honors along the way. The 6-foot-3, 205-pound Rancho Cucamonga, California, product was ranked as the No. 41 overall prospect and the second-best pro-style quarterback in his class. Stroud picked Ohio State over Georgia, Michigan, Oregon and others, joining Miller as the second four-star quarterback in the class.
Ohio State also has one commitment from a quarterback.
Kyle McCord (2021): Over a year ago, McCord became Ohio State's second 2021 commitment when Day reeled him in from Philadelphia. Now in the class with high school teammate Marvin Harrison Jr., he's preliminarily slated to become a future starting quarterback in Columbus in a few years. McCord, who attends St. Joseph's Prep, is a five-star recruit ranked No. 25 overall. He's the third-rated pro-style quarterback in the 2021 cycle.
Outlook In 2019
It all begins with Fields, who's essentially a 6-foot-3, 228-pound NCAA Football '14 create-a-player at quarterback.
He's got a powerful arm and touch that led him to only toss three interceptions in his first year as a starter. He possesses running back-like ability on the ground, stemming from a ridiculously powerful base that he combines with speed that has him clocking 4.4-second 40-yard dashes. He has a full season's worth of starting experience. And, per strength and conditioning coach Mickey Marotti, he now knows what it's like to fail.
"He's completely different than he was 365 days ago because of what he did and falling short," Marotti said in January.
Fields accomplished a heck of a lot in 2019. But he didn't do everything he set out to accomplish when he arrived at Ohio State. So he's back in 2020 searching for a national championship and a Heisman Trophy. 
Having Fields on a roster single-handedly makes those goals realistic. Once ranked as the No. 2 overall prospect in his recruiting class, he's a special talent who simply doesn't come around all that often. 
"I just think you'll see him maybe being just even more on target, more accurate," offensive coordinator Kevin Wilson said in April. "He looked very, very impressive those first three days of practice."
Behind Fields, Ohio State has impressive depth in Hoak – a fifth-year senior – and two freshmen who were both recruited as potential next-in-line starting quarterbacks. Since there were only three spring practices, they'll enter preseason camp together not having separated from each other on the depth chart, meaning Day and Corey Dennis haven't yet determined who'll serve as Fields' backup.
Regardless, both coaches have to appreciate the options in front of them. 
For Dennis, the presence of Fields and quality quarterbacks behind him matters especially. He'll be embarking on his first season as a full-time position coach. Other than getting to rely on Fields, a legitimate Heisman contender, Dennis has another positive going for him: His fellow coaches. Dennis is both younger and more inexperienced than the vast majority of those who have his job title, especially at a program the size and stature of Ohio State, but he'll have Day and Wilson – both of whom have extensive backgrounds coaching standout quarterbacks – to lean on in Year 1.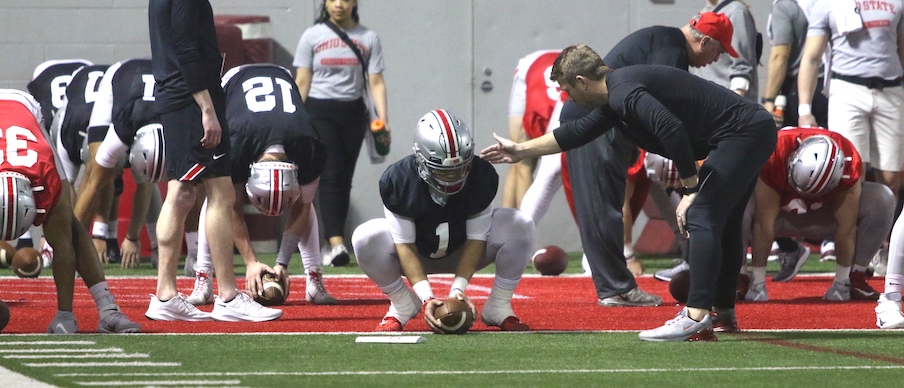 Strengths Of The Position
As long as a team has one of the nation's best quarterbacks on its roster, it'll be viewed as a national championship contender. Fields qualifies as such, and his importance can't possibly be overstated.
Only one team in the country – Clemson – wouldn't trade its current starting quarterback for the one who'll line up behind Josh Myers on Saturdays this fall.
Interestingly, he'll also be Day's first-ever second-year starting quarterback. Imagine that. Day goes all these years without ever returning a starting signal-caller, and his first happens to be a Heisman Trophy contender.
"Like I said a year ago, he's about as talented a young man as I've ever seen back there catching that snap," Wilson said a few weeks ago.
Elsewhere at quarterback, the Buckeyes have about as much depth as they could want. Day has expressed the desire to always have four quarterbacks on his roster, which he finally managed to do.
Two of them – Stroud and Miller – are four-star quarterbacks who appear to have skillsets worthy of following Fields as the next starter. The best part for the Buckeyes? They didn't even have to pick between them during the recruiting process. The two freshmen will go through an entire year within the program, competing to become the 2021 starting quarterback. From Ohio State's perspective, this allows for the maximum amount of time to evaluate them.
"Regardless of how it all plays out for either of them, they're going to get developed at a high level," Day said in February. "They're going to be exposed to a high level of offense and they're going to be coached the way that they want. And they get a chance to compete against really good players. And they get a chance to sit in there with Justin and see what it's like to be around a Heisman Trophy finalist and be in an offense that has two Heisman Trophy finalists in the last two years."
Even beyond the two freshmen, Ohio State already has McCord – a five-star prospect – in the pipeline. 
Weaknesses Of The Position
Let's first get this out of the way: To find anything resembling a weakness in Ohio State's quarterback room, you have to pick apart areas that might not qualify as legitimate weaknesses. Day has set this position group up about as well as anybody could hope to do in the modern era. However, if nitpick we must, then nitpick we shall.
There's a lot to like about the backup situation. The Buckeyes have three quarterbacks behind Fields who might be worthy of the second spot on the depth chart.
Still, will Ohio State have a true, game-ready backup quarterback early in the season? In all likelihood, that won't matter outside of blowouts. But Fields had to go to the sideline at various points during the 2019 season, forcing Chugunov into action. The Buckeyes have to have a backup ready, and not having a full slate of spring practices didn't exactly help the three battling for the No. 2 job.
"Where I think it's going to be felt more is with the other guys," Day said in April. "The two guys who are freshmen, Gunnar. Just building depth in that room, I think that's really where we were looking forward to coming out of the spring with a lot of reps under their belt."
Even though Ohio State has a full quarterback room of four players with each backup providing their own bit of intrigue, it's worth noting that Hoak played 48 snaps as the third-string quarterback last year and the two freshmen have participated in three collegiate practices. This isn't a group oozing experience.
That's true, too, about Dennis, the quarterbacks coach.
Day likely only felt comfortable appointing Dennis for the job because he knew he'll be around to provide guidance for the quarterbacks, as well. However, Day won't be in the room all the time. This is an important year for the position – as it always is – with Fields contending for a Heisman and Stroud and Miller beginning the battle to succeed him in 2021. Dennis, who's only 27 years old, has to provide the necessary leadership.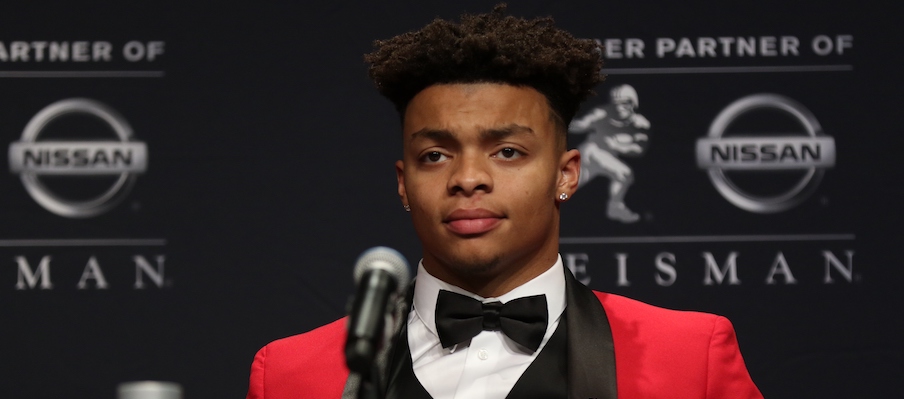 Long-Term Outlook
Projected 2020 Depth Chart
Justin Fields
Gunnar Hoak
CJ Stroud
Jack Miller
Projected 2021 Depth Chart
CJ Stroud
Kyle McCord
Unnamed Graduate Transfer
Projected 2022 Depth Chart
CJ Stroud
Kyle McCord
Unnamed 2022 signee
As we all have learned over the past few couple of years with Ohio State's quarterback room effectively blowing up, it's damn near impossible to project what'll happen at this position any further than the upcoming season, and even that's sometimes difficult.
However, with the way Day has recruited, there's a fairly clear idea of how the Buckeyes will handle a post-Fields era. Once he's gone, it'll likely be Stroud of Miller – with McCord as an outside contender – to start in 2021. Then, they'll turn to McCord.
So, will Stroud or Miller win the job in 2021? Who knows. It's easier to project Stroud as the starter right now since he ended his high school career with more momentum and a higher recruiting ranking. However, it'd be foolish to count Miller out. They're about as even as can be right now.
Beyond this season, the question of how Ohio State maintains depth at quarterback will also be fascinating to follow.
No, it's not a problem unique to Day's program. But since Fields is expected to leave for the NFL after this season and either Stroud or Miller will likely start in 2021, what would happen to the other rising sophomore quarterback who doesn't win the job? Would he transfer rather than serve as a backup? Would Day not name a starter until August to prevent a transfer? Would Day feel obligated to let them know who will start by the end of next spring? 
If Fields heads to the NFL, as expected, and the second-year quarterbacks duke it out next spring, there's a realistic chance that one of them moves on before the 2021 season begins. That's just the nature of the position, and it would seem to become an even greater possibility if the rule allowing a one-time transfer with immediate eligibility gets passed before next summer.