A business decision. That's what Justin Fields called it over a year ago.
Neither he nor Ryan Day has ever tried to hide from the reasons behind Fields' decision to transfer from Georgia to Ohio State. The first day Fields was trotted onto the indoor practice field at the Woody Hayes Athletic Center, he didn't mince his words when asked why he had chosen to become a Buckeye. 
"Coach Day, he's been in the NFL," Fields said on Feb. 6, 2019. "He knows what it takes to get quarterbacks to the NFL."
In a sense, it was a perfect match. 
They were both rising stars in their respective jobs, yet they also each had minimal achievements in college football. Day, who had never been a full-time head coach before, had just taken over the program from Urban Meyer. His team's quarterback, Dwayne Haskins, had left to become a first-round NFL draft pick. Fields was looking for a new opportunity after signing with Georgia, where he tossed 37 total passes as a freshman while backing up Jake Fromm.
With the ability to reflect a year later, the match might have been even better than expected.
As a first-time starting quarterback, Fields completed 67.2 percent of his passes for 3,273 yards while tossing 41 touchdown passes and throwing just three interceptions. He also rushed for 484 yards and 10 touchdowns in a second-team All-American season.
"That was the conversation all along is that we'll put him in position to go to New York City (as a Heisman Trophy finalist) and to be a first-round draft pick," Day said on Sunday morning. "It's his job to be a great leader and bring a championship back to Ohio State. I think there's a certain level of trust there, and his development this past year has been tremendous. We've still got a long way to go, but I think there's a level of trust there."
Two parts of that four-part deal have come to fruition.
Fields became every bit the leader the Buckeyes could have hoped for when they pulled him from Georgia. It was a challenge Day posed to him from the moment he stepped onto campus that he rose up to meet. In doing so, he became a Heisman finalist, joining LSU's Joe Burrow, Oklahoma's Jalen Hurts and his teammate Chase Young at the ceremony in New York City.
Two parts remain unfinished: Bringing a championship back to Ohio State, and becoming a first-round draft pick.
Fields led Ohio State back to the College Football Playoff last season for the first time since 2016, coming just a couple plays away from topping Clemson to earn a national championship berth. Ultimately, the Buckeyes fell just short, with their season coming to an abrupt halt due to a 29-23 Fiesta Bowl loss.
Back for a second season, Fields will do what he can to put Ohio State in the playoff again and, he and Day hope, get over the hump.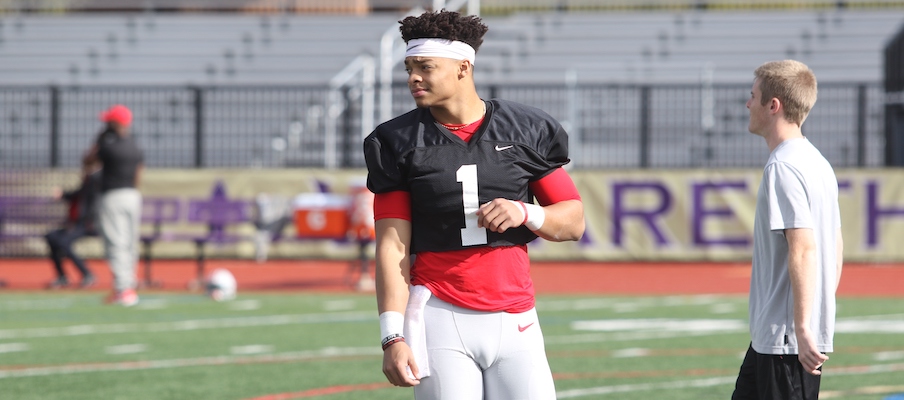 In the process of getting the Buckeyes the trophy, he'll also try to secure the bag. As Fields has said since he arrived, his ultimate goal is to reach the NFL and become a successful quarterback at the next level. The expectation has always been that he'll go pro after the 2020 season, his second as a starting quarterback at Ohio State, and he did nothing to throw that plan off course in 2019. Just look at the early 2021 mock drafts that have dropped in the past couple of days for confirmation of that.
Day said Fields wants to be a first-round pick. Unsurprisingly, he's put himself in a good position to do so a year out.
Good luck trying to find any credible mock draft that has him projected to get picked outside of the first half of the first round. 
Will so many NFL expectations alter how Day, Corey Dennis and the rest of the football program at Ohio State handle Fields over the next year? Day doesn't think so whatsoever.
"No, it won't change at all," Day said. "First off, Justin's a guy where it's just been that kind of hype around him ever since he picked up a football, whether it was the No. 1 recruit in the country, QB1, transferring from Georgia, going to the Heisman this year, and now it'll be the NFL draft. That's part of becoming a quarterback at Ohio State, and it'll be the same way with the younger guys. No, that stuff won't really come up at all until we start getting closer to December, January."
Day's goal, he said on Sunday, is to have Ohio State looked at as "QBU" going forward. After Haskins went 15th overall a year ago, having Fields go early in the 2021 NFL draft will be the next natural step.
"The idea is that you want to go into that league ready to roll," Day said. "(Joe Burrow is) five years into college football. He's a grown man, ready to roll. And I think that's important is that when guys go in there, there's a body of work under their belt. They can kind of jump in and take off from there. Based on how the season goes, we'll see. We'll sit down with he and his family. And a lot of things have to go right, too. It's easy to say that now. And hopefully, if that's the case, that means he had another really good year. We'll kind of attack that stuff as we get closer to next December and January."
In all likelihood, Day and Fields have one more season together. One more year to capture what Fields came to Ohio State to accomplish.
Win a national title and become a first-round NFL draft pick.