Throughout the course of the offseason, Eleven Warriors is taking an in-depth look at the state of every position group at Ohio State.
At both quarterback and running back, Ohio State has had to spend the offseason addressing the lack of clarity at how those depth charts will shake out given the exits of Justin Fields and Trey Sermon. With preseason camp about two months away, it'll be a while until the Buckeyes name anybody as their starters behind center and in the backfield.
At wide receiver, however, there's no such uncertainty.
Brian Hartline's room boasts what many believe to be the best duo in the country – in Chris Olave and Garrett Wilson – which is complemented by a slew of former four-star and five-star recruits. It is, objectively, one of the best position groups from top to bottom in college football.
What exactly should we expect from these wideouts in 2021 and beyond? That's what we're here to dig into in the third edition of our 2021 State of the Position series.
The Personnel
Jaylen Harris: A fifth-year senior from Cleveland, Ohio, Harris is the elder statesman in the room at wide receiver. However, he faces an uphill battle to earn a place in Hartline's rotation considering he has recorded five catches for 54 yards in his career. The 6-foot-6 receiver evidently dealt with an undisclosed injury last season, considering he was listed as unavailable all year. It's now or never if Harris is going to make an impact for the Buckeyes.
Chris Olave: A fourth-year from San Ysidro, California. Olave opted to return for his senior season despite being projected as a late first-round pick. He's back for one more shot to win a national championship while rounding out his game. Olave has caught 110 passes for 1,766 yards and 22 scores in his career. How this season goes will determine just how high he can go in the draft.
Kamryn Babb: A fourth-year from Saint Louis, Missouri. Babb's talent has never been the question. Instead, his health is what has held him back. He suffered three knee injuries between 2017 and 2019, causing him to miss his first two seasons at Ohio State. Babb still hasn't caught a pass yet in college, and he suffered another undisclosed injury this spring. He has plenty of people in his corner rooting for him, but it will be a tough task to earn more snaps in such a loaded receiver group.
Ellijah Gardiner: A fourth-year from Kemp, Texas. A late commitment a few years ago, Gardiner has been a non-factor so far in his Ohio State career. His only recorded catch came in 2019, and he didn't play any snaps in 2020. His most likely path to the field is on special teams.
Garrett Wilson: A third-year from Austin, Texas. Wilson's penchant for making acrobatic catches was immediately apparent in his freshman year, when he was a backup X receiver. He moved to start in the slot as a sophomore, securing 43 catches for 723 yards and six touchdowns. The five-star recruit is moving back outside to start opposite Olave in 2021.
Jaxon Smith-Njigba: A second-year from Rockwall, Texas. Smith-Njigba followed Wilson as the second five-star from the Lone Star State in two years to come to Ohio State after a ridiculously productive senior season in high school. He saw snaps both inside and outside as a backup receiver last season, and this fall he's expected to ascend to a starting role as the slot receiver in Hartline's rotation.
Julian Fleming: A second-year from Catawissa, Pennsylvania. Fleming's first year didn't go exactly as planned, considering he played through a shoulder injury that he ultimately had surgery on following the conclusion of his freshman season. Still, he managed to pull in seven catches for 74 yards. He'll be vying for a backup spot behind Olave and Wilson this fall with eyes on ultimately starting in 2022.
Emeka Egbuka: A first-year from Steilacoom, Washington. Egbuka represents one of the biggest recruiting wins of Hartline's career given that he chose Ohio State over Oklahoma without any visits in the meat of the process. Physically, the 2021 class' No. 1 wide receiver recruit is beastly, which gives him a chance to contribute immediately. He's begun his college career at the slot receiver position.
Marvin Harrison Jr: A first-year from Philadelphia, Pennsylvania. Harrison's name hasn't stopped coming out of the mouths of Ohio State coaches since he showed up on campus in January. The top-100 recruit wasted no time impressing the staff this spring, putting himself in position to earn a spot on the two-deep as a freshman.
Jayden Ballard: A first-year from Massillon, Ohio. Ballard was recruited with the potential to be a Devin Smith-esque deep threat down the line. There probably won't be room for him in the rotation as a true freshman, but he could set himself up for a much bigger role in 2022 by impressing behind the scenes and on special teams.
Ohio State holds two wide receiver commitments for the recruiting class of 2022:
Caleb Burton: A five-star recruit from Austin, Texas. Burton will arrive in Columbus alongside his fellow Texan and friend Quinn Ewers in 2022, further strengthening what will already be a loaded receiver group. He suffered a season-ending knee injury in the fall but should be ready in time to have a fully healthy senior season at Lake Travis, where he's transferring for his final year of high school.
Kyion Grayes: A four-star recruit from Chandler, Arizona. Grayes has long been compared to Olave as a 6-foot-1, 170-pound receiver with downfield playmaking ability. He's the No. 146 overall prospect in the 2022 class.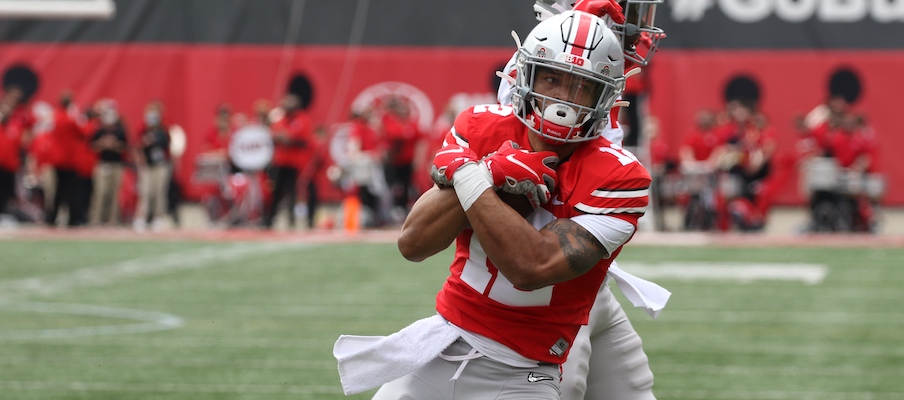 Outlook In 2021
Hyperbole in college football is unavoidable. Anywhere you look, you see it. And it comes from everybody – coaches, players, recruits, media, fans, everyone else.
When you're looking at what Ohio State's wide receiving corps will look like this fall, what seems like hyperbole might just be factual.
The Buckeyes really might have the best receiving duo in the country. They really might have the two best receivers in college football. They really might have the most talented depth chart of receivers in the nation, with four five-star recruits projected in the two-deep. Altogether, they really might be the best group of wide receivers in Ohio State football history. 
Opposing defensive coordinators will drive themselves crazy trying to cover a starting lineup of Olave, Wilson and Smith-Njigba, especially since they know Fleming, Egbuka and Harrison will be behind them. 
State of the Position
Olave will, once again, be the starting Z receiver. He's a dynamic deep threat whose game has consistently improved throughout his career. Now, he'll have to find some downfield chemistry with whichever quarterback wins the competition after he and Fields were so regularly on the same page.
Wilson will be across from him at X-receiver, shifting back outside after spending a year in the slot. He, as anybody who watched him last year knows, is the total package. He's fast, shifty, smooth and can get his hands on anything in his vicinity. 
A year ago, Olave and Wilson accounted for 93 of the 120 passes caught by Ohio State's wideouts in 2020. Will they be quite as heavily targeted in 2021? That's a question Ryan Day and Hartline will have to answer. They're an exceptionally talented duo, but others at the position don't lack for ability either – and that's even accounting for the loss of Jameson Williams to Alabama.
The most interesting part of Wilson's move outside is who replaces him at slot receiver: Smith-Njigba. The rising sophomore caught everyone's attention with his acrobatic touchdown reception against Nebraska last season. At 6-foot and 197 pounds, Smith-Njigba doesn't possess otherworldly speed or size, yet he has a knack for getting separation, finding openings and coming down with passes thrown his way. He's more polished than most receivers his age.
Egbuka will fill in behind Smith-Njigba in the fall. This will be his first taste of collegiate football, and if he impresses, he can put himself in line to start in 2022 – either in the slot or on the outside.
Fleming's the favorite to serve as Olave's backup at Z. Hartline's comments this spring about his talent – specifically saying his size and speed combination is "like I've probably never seen in college football" – speak to what can be expected from the Pennsylvanian now that he's healthy.
Harrison has the early edge to be the backup X receiver after showing out in his first-ever spring practices.
This group of six wideouts expected to be in Hartline's rotation includes two projected 2022 first-rounders, four five-star recruits, two No. 1 wide receiver recruits and an NFL Hall of Famer's kid. Not bad, huh?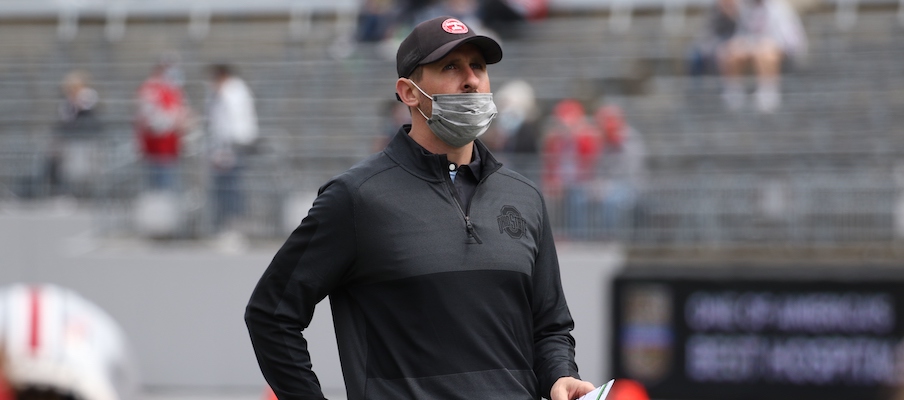 Long-Term Outlook
Projected 2021 Depth Chart
X: Garrett Wilson, Marvin Harrison Jr.
Z: Chris Olave, Julian Fleming
Slot: Jaxon Smith-Njigba, Emeka Egbuka
Projected 2022 Depth Chart
X: Jaxon Smith-Njigba, Marvin Harrison Jr.
Z: Julian Fleming, Jayden Ballard
Slot: Emeka Egbuka, Kaleb Brown
Projected 2023 Depth Chart
X: Marvin Harrison Jr., Caleb Burton
Z: Jayden Ballard, Kyion Grayes
Slot: Emeka Egbuka, Kaleb Brown
The sound you just heard are the jaws of the 13 other Big Ten defensive coordinators hitting the floor.
Ohio State is set at wide receiver for the foreseeable future. Its projected depth chart in 2021 is probably the best in the country. Even once Olave and Wilson leave next offseason as expected, the Buckeyes will be fine. How do I know that to be true? Because the three projected starting wide receivers in 2022 were all five-star recruits.
Transfers are inevitable these days in college football, and they're only becoming more prevalent. As evidenced with Jameson Williams and Mookie Cooper exiting the program, losing talent at a position this loaded is an inevitability. But, one way or another, the cream will rise to the top.
One semi-interesting thing to pay attention to in the future: What do Hartline and Day want out of their slot receivers? Wilson, Smith-Njigba and Egbuka are all true wideouts rather than H-backs, but Wilson was in the slot last year and both Smith-Njigba and Egbuka will be there this year. Maybe they all start on the inside before moving outside? Or maybe somebody like Kaleb Brown commits and Ohio State goes back to having a slot-specific receiver? Right now, the put-somebody-talented-and-they'll-thrive strategy for the slot is going just fine.
Parting Thoughts
Is there anything more that needs to be written?
Ohio State's wide receivers were great last year, will be great this year and should remain great as long as Hartline is employed. Sometimes it's just that simple.