During Ohio State's last spring practice that was open to the media on Monday, the first-team wide receiver unit consisted of Chris Olave, Garrett Wilson and Jaxon Smith-Njigba while the second-team wide receiver unit consisted of Jameson Williams, Marvin Harrison Jr. and Emeka Egbuka.
Unsurprisingly, that news led to the same question from many Ohio State fans: What's up with Julian Fleming?
After all, Fleming is the fourth-highest-rated recruit Ohio State has signed since the turn of the millennium. He was the No. 1 wide receiver and No. 3 overall prospect in the recruiting class of 2020. When a player with those rankings is still battling just to earn a spot on the two-deep going into his second season, questions naturally get asked about that player's development.
Ohio State wide receivers coach Brian Hartline, however, said he has "no qualms" about how Fleming is progressing going into his second year as a Buckeye.
"He's done a great job," Hartline said Thursday. "His maturation from an athlete to actually becoming a receiver has been awesome."
Unfortunately for Fleming, he's faced multiple setbacks since his arrival on campus in January 2020. Like the rest of the class of 2020, Fleming didn't get a normal first year of development at Ohio State due to the COVID-19 pandemic. Individually, Fleming has also been plagued by a shoulder injury that Hartline said has lingered since Fleming was in high school.
Because of both of those factors, Fleming has been "robbed of crucial development time" in Hartline's eyes. He's remained limited this spring after undergoing surgery earlier this offseason. Yet he's impressed Hartline with how hard he's worked despite the challenges he's had to overcome.
"The kid is one of the toughest kids I've ever probably been around, to operate the level he's operated at, with a linebacker strap on his shoulder to help protect that thing and then trying to execute at such a high level," Fleming said. "I think he's a rock star as an individual, and I look forward to getting him back on a full-time regimen. But it is what it is. Spring's part of that, everyone has a different plan in spring, and he needs to get ultra-healthy first so he can maximize what he's capable of doing. But I'm really excited about where he's at mentally and how he's progressing physically and then the health which he's going to be able to have, which the guy's been operating at 75% for the last couple of years."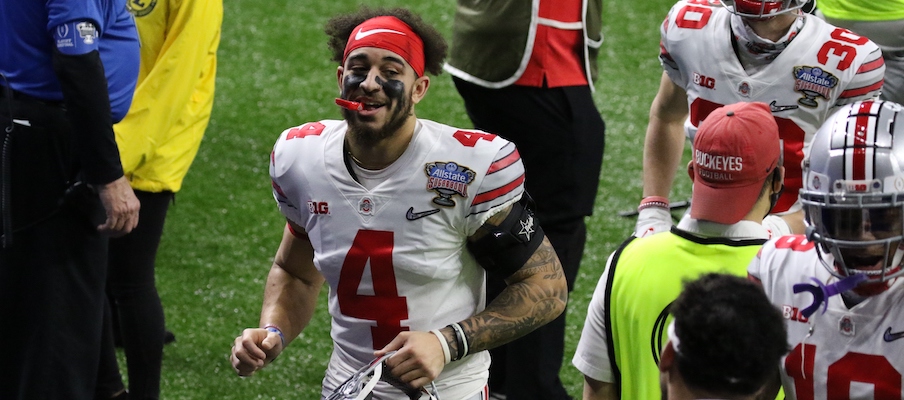 Hartline made it clear he believes Fleming's future at Ohio State remains very bright, and he thinks Fleming – who had seven catches for 74 yards in 2020 – will be able to really start showing that once he's fully healthy.
"I think he's a special individual," Hartline said. "His size and speed combination are like I've probably never seen in college football, me personally. And the development he's had from last camp, if you will, whatever you want to call that through the season, to develop but also learn football and grow, I thought was really awesome."
Steady comeback pic.twitter.com/X7QOvOQwIW

— JF4 (@julian_040) April 12, 2021
There's no guarantee Fleming will be back in the two-deep when he is fully healthy, but that's only because of how loaded Ohio State is with talent at the position. With Olave back for another year, Wilson moving outside this season and Williams also in the rotation, that leaves just one spot in the outside receiver two-deep that Harrison, one of the first two freshmen to lose his black stripe this year, is making a real push for.
Fleming could still push back in front of Harrison with a strong preseason camp, but if he doesn't, that shouldn't necessarily be viewed as an indictment on Fleming's development, but rather a reflection of how deep the Buckeyes are at wide receiver. Regardless of how the depth chart shakes out this year, Fleming's opportunity to be one of Ohio State's top playmakers is more likely to come in 2022, when Olave and Wilson could both be in the NFL.
Because Fleming was such a highly touted recruit, there was an expectation that he'd be an immediate impact player for the Buckeyes, and it will surely be viewed as a disappointment by some if he isn't making a big impact this year. Hartline, however, is encouraging Fleming to block out the outside noise and focus on his long-term goals – which Hartline remains as confident as ever that Fleming can achieve.
"He's got a goal. And I'm sure he can tell you where that goal's at. And it has nothing to do with his current situation. It has nothing to do with the current room situation. It purely is on probably I'll have a great career here, I want to get my degree, I want to be able to go play in the NFL, I want to be developed at the highest level possible, and all of those things are what's important to him," Hartline said.