Chris Olave would be one week away from being selected in the NFL draft.
Had he entered the 2021 NFL draft, which many people anticipated, he would have had a decent chance of being selected in next Thursday's first round. Having already led Ohio State in receiving for each of the past two seasons, Olave has already established himself as a prospect clearly possessing the ability to play at the next level.
Olave, however, wasn't satisfied with what he has accomplished at Ohio State yet. And he believes another year with the Buckeyes will make him more prepared next year when he actually does begin his NFL career.
"I feel like I needed to work on some things," Olave said last week. "So I came back to try to get in the weight room more, get a lot stronger. Turn into a complete receiver. And try to be NFL-ready Week 1 when I get to that."
Getting stronger has been a particular point of emphasis this offseason for Olave, who is listed at 6-foot-1 and 189 pounds on Ohio State's roster. If there's one area of his game that can be criticized, it's that he can be outmuscled by defenders at times and has had some issues holding on to the ball, as he had four fumbles last season, two of which were taken away by the other team.
He believes another year in the weight room with Mickey Marotti and his staff, though, will enable him to play with the strength he'll need to maximize his potential in the NFL.
"That's one reason why I came back. I feel like I could have gotten a lot stronger in the weight room. Try to play with more strength," Olave said. "That's one of the flaws I had in my game last year.  But I wanted to come back, work with Coach Mick another year, compete against Garrett (Wilson) and Jameson (Williams) in the offseason. A lot of guys in Zone 6, and I feel like I could get better and be better myself more as a person."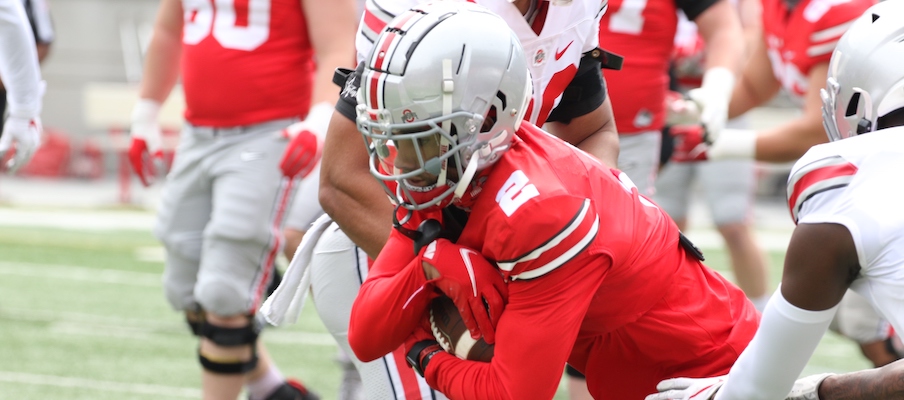 Another reason why Olave chose to stay at Ohio State for another year, much like fellow NFL prospect Thayer Munford, was to graduate from the university. After seeing his older brothers Isiah and Josh (who also played college football) get their degrees, that's important to Chris, too.
"Both my brothers have their degree, so I wanted to get that," Olave said. "And just being a part of the program, I feel like is huge. I like it here."
Olave's decision was also fueled by what happened in the national championship game, where the Buckeyes lost 52-24 to Alabama.
Last year, Olave said he never considered opting out of the 2020 season because of how the 2019 season ended, as his route-running mistake led to a game-sealing interception in Ohio State's College Football Playoff loss to Clemson. He avenged that loss last year by catching six passes for 132 yards and two touchdowns in the Buckeyes' 49-28 semifinal win over Clemson, but he wants to finish his career by winning a national title.
"I'm a competitor, so after that national championship, I had a terrible feeling in my stomach," Olave said. "I just didn't want to leave college like that. And growing up dreaming, I always wanted to win a national championship, I always wanted to do everything in college and go to the NFL, so I felt like we had unfinished business. I believe in the quarterback play, I believe in Coach Day, I believe in the program so I wanted to do another year to try to win a national championship and try to do all those things."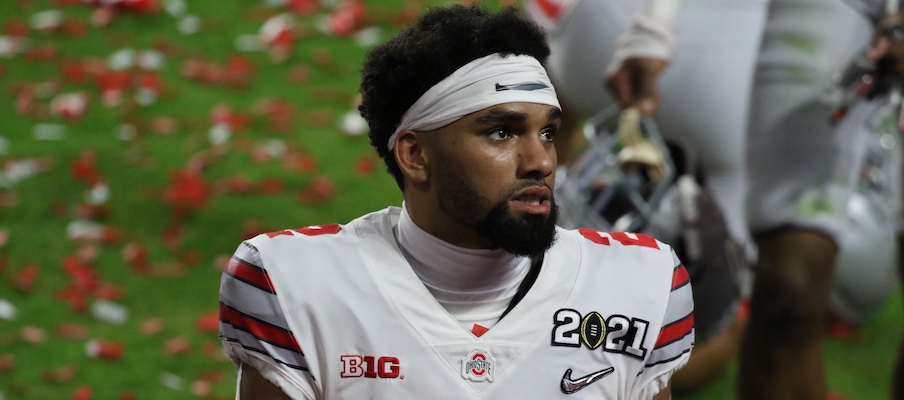 Even if Olave had entered this year's draft, he would have left Ohio State as one of its best receivers ever. He already ranks sixth in school history in receiving touchdowns (22) and 16th in both receptions (111) and receiving yards (1,775), and he'll long be remembered by Buckeye fans for the clutch plays he's already made throughout his career, starting with his two receiving touchdowns and blocked punt as a freshman against Michigan in 2018. With a strong senior season, though, he'll have a chance to truly cement his place in the record books as one of Ohio State's all-time greats.
Given all that he has already accomplished, Olave caught many by surprise – including Ohio State's other star receiver, Garrett Wilson – when he announced on Jan. 18 that he would be back for another year. But Wilson and the rest of the Buckeyes are certainly happy to have him back.
"When you're as good as Chris, you think those dudes get gone," Wilson said. "So I was surprised, but whenever he had told me, I knew that we were going to be back, hopefully right back where we were last year with a chance to compete for everything we want. So we expect to have one of the best rooms in the country, and having Chris back, that's going to be a huge part of that."
Jameson Williams is also happy Olave is back, as he said Olave makes everyone around him better.
"He is an excellent person, an excellent big brother, an excellent everything. Chris is just big bro to everybody. He's the oldest in the room, look out for everybody, make sure everybody's doing good," Williams said. "So it was great seeing Chris come back to play his senior year at Ohio State."