Throughout the course of the offseason, Eleven Warriors is taking an in-depth look at the state of every position group at Ohio State.
A week ago, we hit on the quarterbacks, and today we're focusing on their partners in the backfield.
Tony Alford's running back room is jam-packed with six scholarship players, none of whom is expected to be a bellcow tailback, meaning plenty of touches are up for grabs. The competition will only ramp up as the year progresses.
To set the table, let's get into the state of the running back position at Ohio State.
The Personnel
Master Teague: A fourth-year from Murfreesboro, Tennessee. Teague has turned in two seasons that earned him All-Big Ten accolades, accruing 789 yards as J.K. Dobbins' backup in 2019 before beginning the 2020 season as a starter and eventually ceding the majority of duties to Trey Sermon. Still, he earned second-team all-conference honors for his 514 rushing yards and eight touchdowns. Across his three seasons, the 5-foot-11, 225-pounder is averaging 5.5 yards per carry.
Marcus Crowley: A third-year from Jacksonville, Florida. Crowley came into the program with momentum as Florida's Gatorade Player of the Year but suffered a torn ACL in November of his freshman season. During his second year at Ohio State, he had a "minor setback" that sidelined him longer than anticipated. Not until the national championship game did he have a carry, and even then he wasn't back to full health. In 2021, Crowley should finally be fully healthy and will have a shot to show he can be an asset to this room. He's averaging 8.1 yards per rush in 31 career carries.
Steele Chambers: A third-year from Roswell, Georgia. Chambers came to Ohio State as an athlete recruited to other teams – including Clemson – as a linebacker. Instead, he has settled in at running back. He's still looking to find a consistent role in Alford's room, though, as he hasn't yet risen up the depth chart despite leaving spring camp a year ago as the only healthy running back on the roster. This will be an important season for Chambers, who's trying to hold off some talented youngsters at running back. He has averaged 7.9 yards per carry on 28 carries in two seasons.
Miyan Williams: A second-year from Cincinnati. Williams was far from the first option of Alford's in the 2020 recruiting cycle, initially committing to Iowa State but flipping to the home-state power once the Buckeyes came after him late in the process. He rewarded their decision to pursue him by rising to the moment with his trio of carries against Clemson. Now, the former three-star prospect is in line for a big sophomore season if he can continue his upward trajectory. He took 10 carries for 64 yards last year.
TreVeyon Henderson: A first-year from Hopewell, Virginia. Henderson has quite the hype train following him to Columbus after Ohio State landed him as the No. 1 running back recruit in the 2021 cycle after whiffing on its top targets the year prior. He's viewed as a complete tailback with electric speed who can make an impact right away, even at a program such as the one he's entering. Henderson was the No. 22 overall recruit in the country.
Evan Pryor: A first-year from Cornelius, North Carolina. Pryor has been overshadowed by Henderson, yet he's the second-highest ranked recruit among all six running backs on the Buckeyes' roster. To go along with his prowess as a rusher, he's seen as somebody who can make a significant impact as a pass-catcher out of the backfield, which makes him an intriguing candidate for touches down the line. He's looking at a tough path to the field in Year 1 simply due to the quantity of others at his position.
Ohio State doesn't have any running backs committed yet. 
Outlook In 2021
Alford hates talking about whether he'll utilize a multi-tailback backfield or primarily go with one guy. He again was noncommittal when asked that annual question in March.
"We're going to do whatever we need to do to win games," Alford said earlier this year. "And if it's one guy and the bellcow as we like to say, then it shall be. If it's not, then it's not."
If somebody turns into the bellcow, that would be a positive for the Buckeyes. There's enough talent in the room that that happening would mean one of the six options would have shined.
To start the year, though, anything other than a rotation or two or three running backs would be a surprise.
One way or another, Teague figures to fit into the equation. Alford referred to him as the "incumbent" in the spring. He's the veteran and leader of the room. Physically, few at his position have his combination of size and speed, which is why he landed on Bruce Feldman's annual Freaks List. But he's largely been a straight-line tailback who's struggled to make guys miss or break tackles to extend runs into chunk plays. Now further away from his Achilles injury in the spring of 2020, is there another level he can reach? 
Teague has several others gunning for carries, with Williams and Henderson appearing to be the two most likely to join him atop the depth chart – though counting out Crowley would be foolish.
Williams went through a good portion of spring camp running with the first-team offense as Teague missed time with an undisclosed injury. His placement, even in practices, shows how far he has come in a short time. His wiggle at 5-foot-8 and power at 227 pounds was evident in his limited touches last year. He has a chance to win the starting job to begin the season. Henderson's clearly a prime candidate for the spot as well given the package of skills and athleticism that made him the nation's top running back recruit. 
Crowley has flown somewhat under the radar because of his injury and the excitement surrounding Williams and Henderson, but he's a legitimate possibility to get important touches this fall. The path for Chambers and Pryor to take carries in 2021 is cloudier. They'll need to impress over the next few months.
Preseason camp will be as important for shaping the running back depth chart as much as – or more than at – any other position. Competition will be fierce.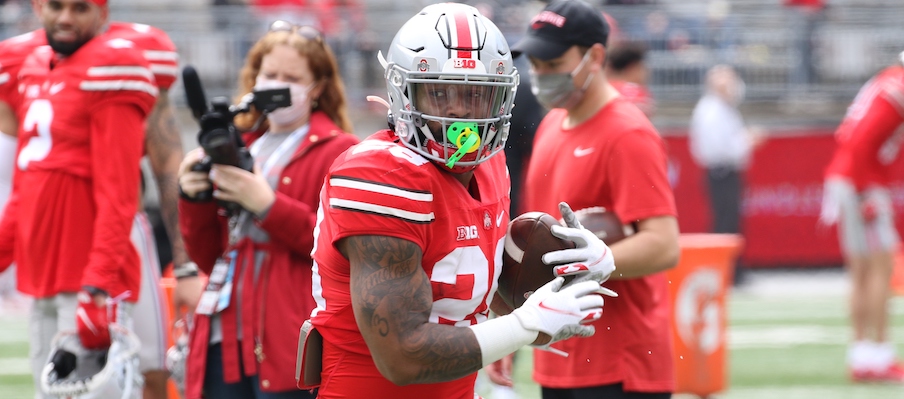 Long-Term Outlook
Projected 2021 Depth Chart
1. Miyan Williams
2. Master Teague
3. TreVeyon Henderson
Projected 2022 Depth Chart
1. TreVeyon Henderson
2. Miyan Williams
3. Marcus Crowley
Projected 2023 Depth Chart
1. TreVeyon Henderson
2. Miyan Williams
3. Evan Pryor
Alford has to love the options in front of him. For the next several years, his room should be stacked, even if attrition – which is, in all likelihood, unavoidable – happens due to the large number of tailbacks with either sophomore or junior eligibility.
Each of the next three years, Ohio State should be able to unleash a deep backfield with high ceilings.
This fall's depth chart is a black box, so this is nothing more than one man's best guess. Williams has seemed to ascend up the depth chart in short order, and sitting here today, I'd project he continues to grab hold of a significant role and open as the starter. Teague will be a factor one way or another. I waffled between putting him or Henderson higher on this depth chart projection. They'll both have roles. 
By 2022, my prediction is that Henderson and Williams will be the main two running backs featured in the Buckeyes' offense. They have the potential to become a dynamic pairing that lasts for a couple of years atop the depth chart.
Recruiting-wise, Ohio State's in a good spot for several 2022 tailbacks, including four-star Dallan Hayden. Given how the roster is currently constructed, it wouldn't be a surprise to see the Buckeyes go big-game hunting for a top-end running back in the 2023 class.
Parting Thoughts
Sure, the quarterback position will draw all the eyeballs in spring camp. Entirely reasonable.
But the goings-on at running back are perhaps even more fascinating.
You have the incumbent (Teague), the five-star freshman (Henderson), the bowling ball out to prove everybody wrong (Williams), the guy who's finally healthy (Crowley) and two others who'd surely secure significant roles for most other Big Ten teams (Chambers and Pryor). There are a lot of ways this could go. Typically at a place like Ohio State, that level of competition brings positive results.
Looking ahead, too, this position group is set up to have multiple years of success. 
Alford deserved some of the critiques that he took for not securing the big fishes he sought in the 2020 recruiting cycle. He also deserves plenty of credit for landing Trey Sermon as a transfer, ending the 2020 cycle with a potential future starter in Williams, getting Henderson to Columbus and putting together an exceptionally deep position group.
Things at running back are in a good spot right now, and that should be the case for the foreseeable future.