For the veterans on this Ohio State team, the 12-month calendar of the football program isn't new. Unless last year was their first go-round, they know what to expect.
As an example, once spring camp wrapped up with the spring game on April 17, the players finished out their spring semester of classes then went back home for their typical couple of off weeks. Then, in mid-May, they begin returning to Columbus to continue their offseason work as a team with strength and conditioning coach Mickey Marotti at the forefront.
"They'll get on a six-week run with Memorial and 4th of July break and then a July run," offensive coordinator Kevin Wilson said. "What you're trying to do during that period is not only get stronger, not only get faster, not only get in shape, but you're trying to get your body, you're trying to get your mind and you're trying to get your soul hard enough to be a great practice player every Tuesday and Wednesday."
To the older guys, this is normal – even if it wasn't what happened in last year's janky offseason. To the younger players, especially the true freshmen like running back TreVeyon Henderson, this is a new part of the grind they're learning. And from the perspective of the Buckeyes' coaching staff, it's a prime opportunity to see how they deal with the less-than-fun part of the year.
The work put in from mid-January to late August, as Marotti will preach, wins the games that'll take place from early September to early January. 
Welcome to one of the many prove-it periods for Henderson this offseason. Conversations about whether he can step into the starting tailback role immediately have persisted ever since he committed to Ohio State well over a year ago. If there's a chance of that happening, he'll first have to show he deserves it without the tens of thousands of fans watching him in a stadium and the dozens of cameras pointed in his direction. Just like in the 15 spring practices which were almost entirely closed to outsiders, he needs to shine without the eyes of anybody other than the strength and conditioning staff and his teammates upon him.
"I think for a guy like TreVeyon who's a young player, he's going to be talented enough to have a role," Wilson said. "That role will be enhanced, like all these players we're talking about, with their durability and their dependability and their body (holding) up."
Everything this offseason matters for Henderson. Winter workouts, spring practice, summer with Marotti, eventually preseason camp. 
He didn't walk into a barren position group. Far from it, in fact. Tony Alford gets to experience the benefit of having six scholarship players at his disposal. Master Teague is a two-time All-Big Ten honoree, Miyan Williams flashed in his limited Sugar Bowl touches then took first-team reps this spring, Marcus Crowley and Steele Chambers are third-year tailbacks who've flashed at various points and Henderson and Pryor are first-years yet are also the only two top-100 overall recruits in the group.
Because Henderson has the type of talent that made him the nation's No. 1 overall running back recruit despite not playing a senior year of high school football in Virginia, expectations for him are exceptionally high – maybe even too high, depending on who you ask. But those ideas of what he can become right off the bat at the college level are unavoidable, especially since there's no clear-cut starter.
To his credit, he showed the coaches good signs in March and April.
"I think Tre really did a good job after not playing football for a long time," head coach Ryan Day said. "He's still learning, figuring it out similar to the way J.K. (Dobbins) didn't play his senior year. He had to kind of come in and learn. Every time you got out there, he was kind of getting more and more strong and figuring things out. But I think he has the respect of his teammates because of his approach, the way he lives his life off the field, his seriousness about the game."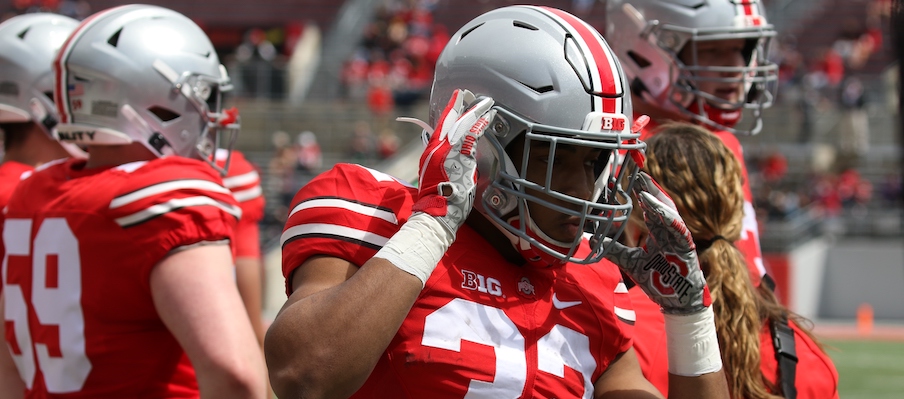 Henderson talked about his approach earlier this year, preferring to show his physicality and talent rather than project what he'll do once he has a chance to get back onto the field. Since the spring game lacked tackling and practices weren't fully open, how exactly he performed compared to others at the position is hard to know.
But Wilson, like Day, appreciated what he saw.
"I thought TreVeyon was very good with the football, which most running backs are that are talented like him," Wilson said. "But he really impressed me as a young player stepping up in pass pro taking on some of our linebackers in the blitz pickup periods that we did, and he caught the ball – you saw it in the spring game – very well out of the backfield. Sometimes it takes a lot of times to get really good at pass protection, to get really good at route-running, so for a young player he handled some of those things very well. Starting out, (there was) not a lot on his plate yet, but he handled it well and he's a talented player and he should have a positive role."
Day added: "Excited to see where this summer heads as we head into August."
The third-year head coach might as well be speaking for all Buckeye fans when he says that.
Even at a place like Ohio State where top-end recruits are nothing new, the excitement in Columbus surrounding Henderson is palpable. In three-and-a-half months, it'll be time to see what he can offer this national championship contender.