While it's still too early to say whether TreVeyon Henderson will be an immediate contributor at running back for Ohio State this season, the true freshman running back certainly appears to be off to a good start.
That much was confirmed on Saturday, following Ohio State's second scrimmage and 11th overall practice of the spring, when Henderson became the third member of this year's class of midyear enrollees to have his black stripe removed.


It's all uphill from here for @TreVeyonH4 !#GoBuckeyes pic.twitter.com/KI5BIT3wL7

— Ohio State Football (@OhioStateFB) April 10, 2021
Putting that into perspective: Henderson is the first freshman running back to lose his black stripe in spring practice since Urban Meyer implemented the ritual in 2012. Even J.K. Dobbins, who was the first freshman to have his black stripe removed in 2017 and went on to break Ohio State's freshman rushing record, didn't "officially" become a Buckeye until August.
That would certainly suggest that Henderson is doing all the right things in his first semester as a Buckeye, and Ryan Day said Monday that's exactly what the five-star freshman has done.
"He's had a good attitude. He's got a good work ethic. He's done everything right so far," Day said. "Now he's still gotta play more and learn every day. He needs a million reps. But the talent is there. The work ethic is there. I think he's going to have a really bright future here. He's done everything we've asked him to do so far."
Where Henderson would stack up on the running back depth chart if the season started right now is uncertain. In the three practices media members have been able to attend this spring, the Buckeyes have rotated their running backs regularly between units, and there doesn't appear to be a defined pecking order yet.
Master Teague is the incumbent starter, and Miyan Williams has been the first running back in the order for most drills with Teague only practicing on a limited basis this spring. But Henderson (along with third-years Steele Chambers and Marcus Crowley) has also been mixing in for reps with the first-team offense, and the fact that he's even seeing some first-team reps this early is noteworthy – especially given that he didn't even get to play his senior year of high school football when Virginia postponed its football season to the spring.
Day says Henderson still has a lot to learn, as has been evidenced during practice viewing opportunities by how often Ohio State running backs coach Tony Alford has been seen giving Henderson extra instruction after drill reps. Alford has said he does not want to compare Henderson to Dobbins, saying: "Each situation is its own situation in and of itself, and to try to put pressure on a young guy to say, 'Well, J.K. did this back as a freshman, so you have to be able to do this,' that's not fair."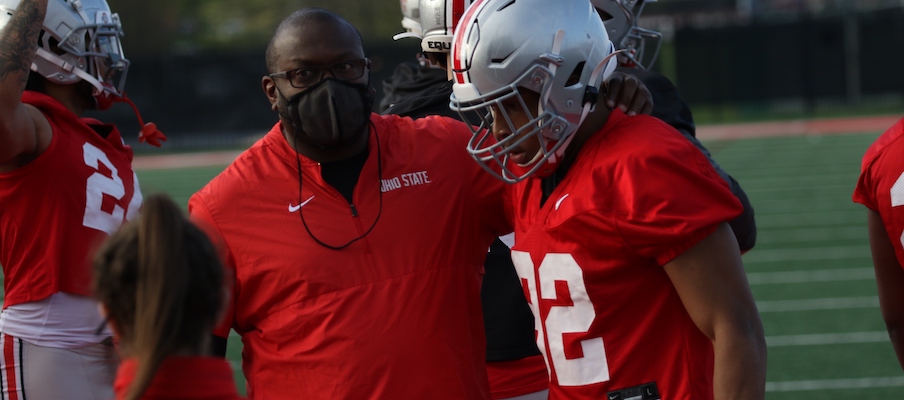 But Henderson was the No. 1 running back in the recruiting class of 2021 for a reason, and he's already started to show his explosive speed and big-play ability in practice – like in the clip below that Ohio State shared this past week – which is why he already has a scarlet stripe on his helmet like a veteran.
The future of #ToteNation is bright @evanpryor3 @TreVeyonH4 pic.twitter.com/COno7S2pb9

— Ohio State Football (@OhioStateFB) April 8, 2021
That's why many Ohio State fans are expecting to see Henderson play frequently and immediately this fall. At least, though, Buckeye fans will have the opportunity to watch Henderson play in Saturday's spring game – which, scheduled for noon at Ohio Stadium with BTN televising, could be an opportunity for Henderson to build momentum toward earning a spot in the rotation this fall – and Day is also excited to see how the newcomer fares in the spotlight.
"He's flashed at times already," Day said. "So excited to see what that looks like during the spring game."