Throughout the course of the offseason, Eleven Warriors is taking an in-depth look at the state of every position group at Ohio State.
Not too long ago, the depth of the offensive line was worrisome. So, too, was the quantity of high-end talent.
That's not the case anymore.
Over the past couple of years, Greg Studrawa has steadied Ohio State's offensive line, putting together a quality unit that has turned into one of the deepest in college football. And with guys like Wyatt Davis, Josh Myers, Jonah Jackson, Thayer Munford and Nicholas Petit-Frere up front, the Buckeyes have had plenty of NFL starting-quality linemen start.
Ohio State has to replace two productive starters – Davis and Myers – who bounced to the NFL. How will the line look in 2021? Will it stay strong into the future? That's what we're here to look into.
The Personnel
Thayer Munford: A fifth-year from Cincinnati. In a normal year, Munford wouldn't have been eligible to stay in school. But he's using the additional year of eligibility offered by the NCAA to all fall athletes to earn his degree and play one more season for the Buckeyes. For a fourth straight year, he'll start at left tackle. He has two on-field goals: Winning a national championship and becoming college football's best offensive tackle.
Nicholas Petit-Frere: A fourth-year from Tampa, Florida. Petit-Frere returns after a quietly dominant season that saw him become one of the best pass-blocking right tackles in college football. He'll again man the right side, and this season he intends to be a more punishing run-blocker while retaining his pass protection skills. Along with Munford, the Buckeyes should have an optimal pair of tackles.
Matthew Jones: A fourth-year from Brooklyn, New York. Jones has been a primary backup for the past couple of years, and now he's in line to vie for a starting spot on the interior of the line. He can play center but, more likely than not, will be battling to be the first-teamer at left guard. Jones, a nasty run blocker, is one of the frontrunners, alongside Luke Wypler. He started both College Football Playoff games.
Harry Miller: A third-year from Buford, Georgia. Miller locked up the starting left guard spot in 2020 after thoroughly impressing coaches and teammates as a true freshman. His season didn't all go according to plan, however. The interior lineman endured some on-field struggles, then lost his starting spot for the national championship game after missing the Sugar Bowl due to a positive COVID-19 test. Now entering his junior year, he's a likely starter at center.
Dawand Jones: A third-year from Indianapolis. Jones, perhaps more so than anybody else, saw his opportunity quashed by Munford staying in school. If Munford had left for the NFL, he'd be a potential starter at either tackle or guard. Instead, Jones is jousting for position on a more-crowded-than-expected depth chart. He's in line to be the top backup offensive tackle who can also slide to guard if needed.
Enokk Vimahi: A third-year from Kahuku, Hawaii. Vimahi, who postponed his mission trip until after he graduates from Ohio State, is still figuring out how best to make an impact for the Buckeyes. He came in as a guard, gained more than 40 pounds, played on the interior of the line for his first two years, then transitioned to tackle this year. He's expected to be a backup in 2021.
Ryan Jacoby: A third-year from Mentor. Jacoby has yet to see the field at all in his first two years as a Buckeye. This is a big developmental year for the rising redshirt sophomore who'll have to show signs of progress by getting himself into games, even if it comes as a reserve.
Paris Johnson Jr.: A second-year from Cincinnati. Johnson, an all-world recruit not too long ago, is destined to start at right guard this fall after working out at both guard and tackle as a true freshman. As Miller showed, being a first-year starter isn't always the easiest task, even as a five-star recruit. Still, expectations for Johnson are already through the roof. Even back in high school, he was talking about going to the NFL within three years.
Luke Wypler: A second-year from Montvale, New Jersey. Wypler played only 15 late-game snaps as a true freshman, but a strong offseason that began with him choosing to work out alone in Columbus rather than go home has put him in position to compete with Jones to start on the interior offensive line. He's not that far removed from being a borderline top-100 recruit. That talent combined with the work ethic Studrawa raved about in the spring has him rising.
Josh Fryar: A second-year from Beech Grove, Indiana. Fryar made the least anticipated splash in the spring by putting himself in the mix along with Jones and Wypler for a starting spot. He remains a bit of a longshot, but he can't be ruled out. Fryar came into the program as a three-star recruit and played only four offensive snaps last season. His strong offseason has him climbing the depth chart, though.
Jakob James: A second-year from Cincinnati. James, as expected, used his first season in Columbus as a developmental year. He didn't set foot on the field for any in-game snaps. He's now at center for the Buckeyes, who will likely utilize him as a reserve this fall.
Trey Leroux: A second-year from Norwalk. Leroux, like James, didn't see any time last season. For him, it's all about taking advantage of the weight room and practices before he has a chance to play down the line. Listed at 6-foot-7 and 310 pounds, it's important for him to get his body in tip-top shape, too.
Grant Toutant: A second-year from Warren, Michigan. Toutant, like James and Leroux, didn't play any snaps as a true freshman. See a trend? These three are developmental prospects who won't be needed for several years. Toutant, at 6-foot-6 and 315 pounds, is a true offensive tackle. He just needs some time in the program to get ready before it's his time.
Donovan Jackson: A first-year from Bellaire, Texas. Jackson, whose family have a background in Ohio, was a major recruiting coup as the nation's No. 18 overall prospect and top interior offensive lineman. At 6-foot-4 and already over 300 pounds, he walked into the program with enviable size. Like most freshmen, he'll spend much of the year getting used to college football, but somebody with his talent could make a push for playing time.
Ben Christman: A first-year from Akron. Christman has the ability to play either guard or tackle at the collegiate level. With plenty of underclassmen jockeying for position, he'll try to make a good early impression. Physically, he might be readier than most who come into the program.
Zen Michalski: A first-year from Floyds Knobs, Indiana. Michalski impressed Mark Pantoni and Ohio State's coaches with his senior year film after a growth spurt and some added weight. At 6-foot-9, he's the tallest player on the team. He's a developmental offensive tackle.
The Buckeyes have one commitment from an offensive lineman.
Tegra Tshabola: A four-star 2022 pledge from Cincinnati. Tshabola can play tackle but is expected to eventually kick into guard at the next level. The Ohioan is ranked as the No. 186 overall recruit in his cycle. He'll be joined by at least two other offensive linemen in his class.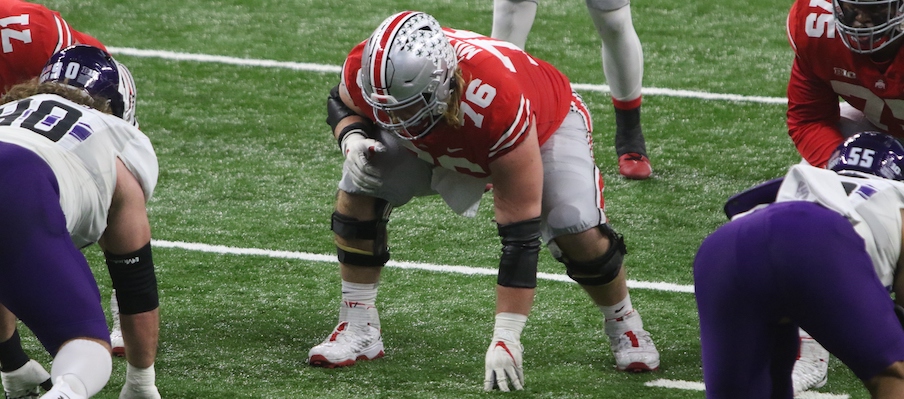 Outlook in 2021
At two of the five starting spots, Ohio State has to feel great. Its two tackles – Munford and Petit-Frere – might just be the best duo at their position in college football. Nationally, they haven't gotten talked about that way, but that could change this fall.
Munford, now that he played a full season, is a perfect veteran left tackle for a first-year starting quarterback. Having a fourth-year starter at left tackle protecting a quarterback's blind spot is nothing short of a luxury. Petit-Frere was a standout pass blocker as well. If he can improve his explosion in the run game, he'll make himself a prime NFL prospect in short order.
State of the Position
Provided both Munford and Petit-Frere stay healthy, Ohio State will be set at tackle. They took care of their duties so thoroughly and so consistently that it was almost boring to watch them last fall – and that's a compliment.
The question marks up front are found at the three spots between the bookend tackles.
Studrawa said this spring that he would "assume" Miller is one of the Buckeyes' top five linemen, making him a likely starter up front even though he wasn't able to fully participate in spring camp due to an injury. The common belief is that the junior will become the starting center. Regardless of where he ends up, Ohio State will want to get better play out of Miller. The former five-star recruit had plenty of errors both in the run and pass games as a first-year starting guard in 2020, missing on grading out a champion in half of his starts. This is a big offseason for Miller.
Johnson, despite being a true sophomore who played only 22 snaps last season, is a shoo-in to start at right guard. He arrived at Ohio State as an all-world recruit and impressed enough as a true freshman that Myers showered him with praise during the lead-up to the national title game.
"I don't know if I should say this or not because it's pretty early on in Paris' career, but in my personal opinion, if Paris isn't an Outland Trophy winner before he leaves here then he's screwed something up, because he should be by the time he leaves," Myers said.
A lot will be expected of Johnson in Year 1 as a starter. But it's important to remember that he's in his second year of school. He could have some bumps along the way. The ceiling, though, is higher than perhaps any other offensive lineman's on this roster.
The main position battle in the preseason – unless Miller gets unexpectedly passed by – will be between Matthew Jones, Wypler and Fryar. They're vying to start at either left guard or center, depending on where Miller ends up, in one of the most open competitions at any position. Jones and Wypler were both taking center reps this spring.
Jones has the unequivocal edge in experience, having started three games last season including both College Football Playoff games. He played well, too, earning champion status for his performances against Michigan State and Clemson. He's also the only upperclassman among the three battling to start.
Wypler made a big push this offseason, and some even now view him as a favorite to start. With a strong fall camp, he can give Studrawa a lot to think about.
Fryar's leap into the mix wasn't anticipated whatsoever, but he's an outside candidate to start. More likely, though, he'll be a top backup at guard.
Depth-wise, Ohio State should be in good shape in 2021. Dawand Jones is the top backup at tackle, and Johnson can move there too. Three linemen – Miller, Matthew Jones and Wypler – have the ability to play center. A bunch of them can play guard.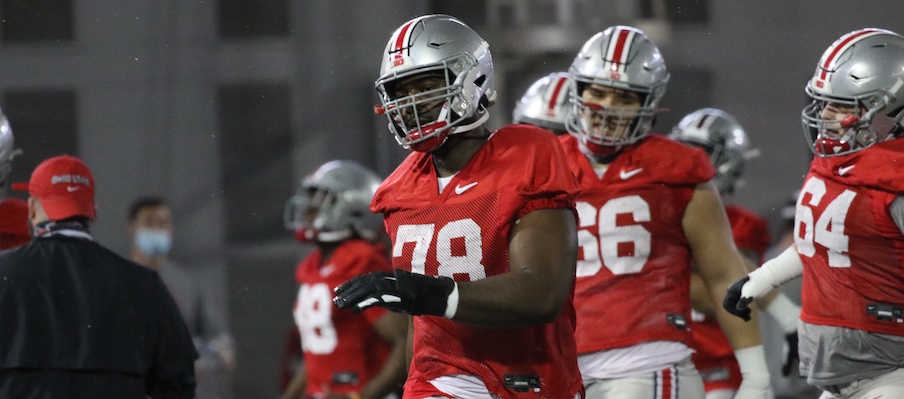 Long-Term Outlook
Projected 2021 Depth Chart
Left tackle: Thayer Munford, Dawand Jones
Left guard: Luke Wypler, Josh Fryar
Center: Harry Miller, Matthew Jones
Right guard: Paris Johnson, Donovan Jackson
Right tackle: Nicholas Petit-Frere, Enokk Vimahi
Projected 2022 Depth Chart
Left tackle: Paris Johnson, Enokk Vimahi
Left guard: Luke Wypler, Josh Fryar
Center: Harry Miller, Jakob James
Right guard: Matthew Jones, Donovan Jackson
Right tackle: Dawand Jones, Ryan Jacoby
Projected 2023 Depth Chart
Left tackle: Dawand Jones, Grant Toutant
Left guard: Josh Fryar, Trey Leroux
Center: Luke Wypler, Jakob James
Right guard: Donovan Jackson, Tegra Tshabola
Right tackle: Enokk Vimahi, Ryan Jacoby
Predicting the future is hard. Predicting the future of an offensive line is borderline impossible given the number of guys who could leave early or unexpectedly stay in school, especially since the NCAA gave everybody a blanket eligibility waiver last year.
But this is our best guess in the middle of June in 2021.
Ohio State is expected to have to replace both Munford and Petit-Frere after this season, though Petit-Frere could still return for another year. More than likely, Johnson – who'll be a guard in 2021 – will shift to his original position of tackle in 2022. How long will he be a Buckeye? That's a total unknown. He spoke to Eleven Warriors in December 2019 and talked about his goal of leaving for the NFL after three years, but a lot of work has to be done before he makes that a reality.
Dawand Jones will be the favorite to join Johnson as a starting tackle in 2022. He'll have waited his turn, and he possesses a rare size-athleticism combination.
If Johnson and Jones do in fact become the offensive tackles in 2022, they could have some familiar faces lining up between them. Miller, who'd be a third-year starter, will likely still be the center. Additionally, whoever wins this fall's Jones-Wypler-Fryar left guard battle would presumably retain their starting gig in 2022. The runner-up of that competition could step in as a starter in 2022 as well. By then, though, Jackson should be very much in the mix as well.
These depth charts highlight the fact that Ohio State's long-term depth on the interior outpaces its long-term depth at offensive tackle. 
The Buckeyes can breathe easy at tackle right now, knowing that they have Johnson and Jones in the wings once Munford and Petit-Frere move on. But what about when Johnson and Jones both leave, which could be after either the 2022 or 2023 season? Who steps in then? Right now, the best options look like two guys who began their careers at guard (Vimahi, Jacoby) and developmental prospects (Toutant, Michalski, Christman). For this reason, it's pertinent to add a high-level tackle or two in the 2022 recruiting class.